Pop up tents are a ubiquitous presence at a wide variety of settings during the Spring and Summer months.  This is because not only are they effective at providing shelter from the elements, but also a great way to showcase your brand and business! Since these are not the only reasons for owning and using a custom pop up tent, we set out to find the best data out there. In an effort to understand why people use branded (custom) and unbranded (generic) pop up tents, we surveyed over 500 people across the US who either own and use pop up tents or are frequent attendees of events where pop up tents are common. Based on the survey results, branded pop up tents are more effective for vendors and businesses at getting people to visit their booth than unbranded tents.
This article shares the details behind pop up tents—what they are, where they came from, and how they can be an effective marketing tool at your next event. The infographic below shows the highlights of our findings. If you're interested in just the survey results you can jump here.

What is a Pop up Tent?
Pop up tents have many shapes, sizes, and uses. This research is based around the standard 10' X 10' pop up canopy tent. The construction of these tents is fairly straight forward. They consist of the frame, a canvas or fabric canopy, carrying case, and stakes with rope for tying the canopy tent down. The frame is designed to collapse and expand easily so that the canopy can be draped over the top. The four legs are telescopic in nature, which allows the tent to be raised and lowered quickly. Most frames are made of aluminum while most canopies are polyester—a fabric that is both durable and waterproof.
Pop up tents have been used for centuries in one form or another to provide shelter in open outdoor markets. One account from Henry Benjamin Latrobe describing an open market in New Orleans from the early 19th century stated that vendors were lined up in two rows as far as the eye could see with stalls or tables with a tilt or awning of canvas. With time, outdoor markets created a demand for what we now know as the pop up tent.
Where are They Used?
Pop up tents make sense from a vendor's standpoint because they are highly portable, easy to use and create a sense of "store" or "market" that entices people to step in and see what the booth has to offer. In the old days, tents were heavy affairs using timber as the structural supports with a canvas or hemp canopy.
As technology improved over time, so did the tents. Today pop up canopy tents are commonplace. We see them used in a variety of locations and for a myriad of purposes including but not limited to:
Farmers Markets
Conventions & Expos
Festivals
Fairs (Including Job Fairs)
Trade Shows
Tailgate Parties
Events – Races, Neighborhood Barbeques, etc.
Beaches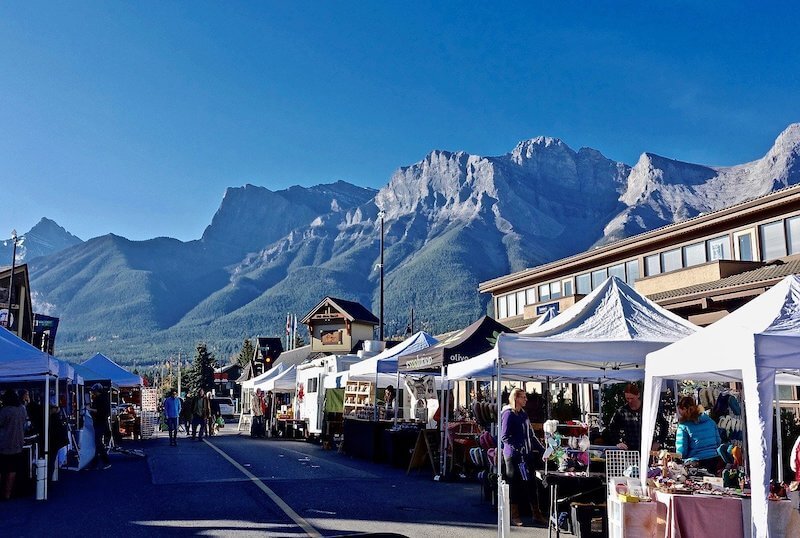 Generic canopy tents are commonplace at these venues, but you may also see custom or branded tents. Individuals who use pop up canopy tents for personal use generally use a single color, generic canopy. These canopies are cheap and can be inferior in quality and durability. A custom-designed canopy, on the other hand, will look great and last longer with proper care.
Why Custom Pop up Tents?
There are 8,600 Farmers Markets registered throughout the US, some of them bringing in as many as 60,000 visitors per day during the peak season. On top of that, the Center for Exhibition Industry Research cataloged roughly 9,400 B2B exhibitions in 2018 that have at least 10 or more exhibiting companies each year. The number of attendees at these and the other types of vendor markets mentioned above gross in the millions. There is a lot of potential for business in these markets and events. Which begs the question, how do businesses and vendors stand out in a sea of canopy tents?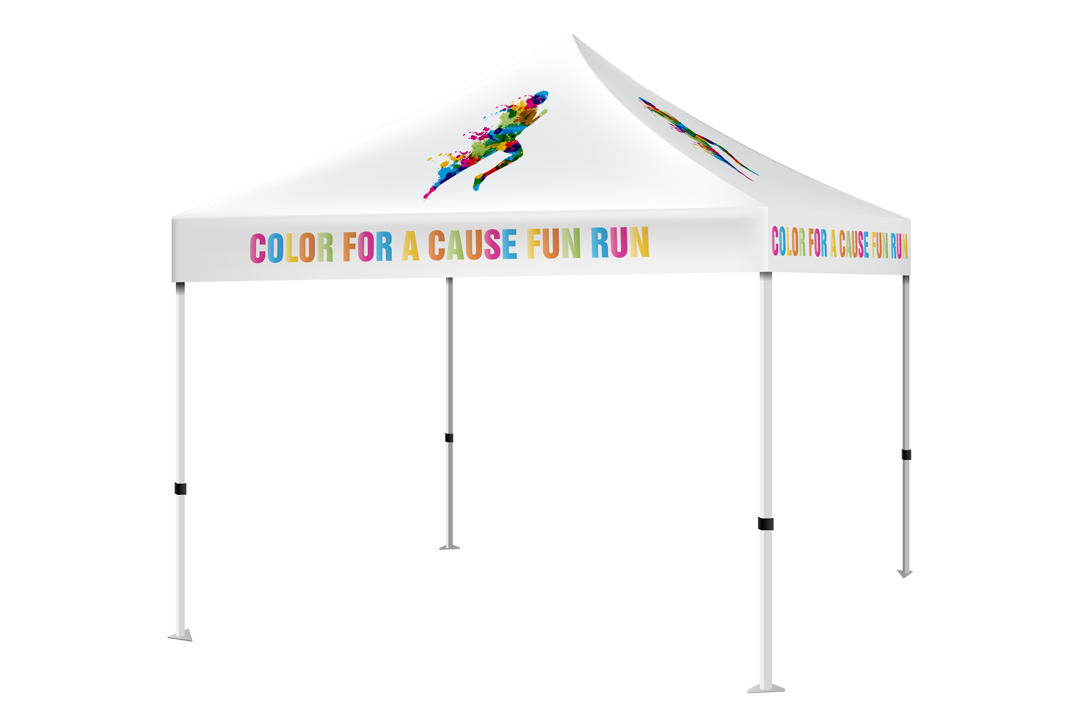 There are several aspects to making a vendor booth stand out. Attracting as many visitors as possible is a priority for vendors who are aiming not just to cover costs of exhibiting but to make a profit and build a customer base! One of the best ways to attract attention is to customize the booth itself with custom pop up tents. Not all venues are suited for pop up tents but when they are, our survey results show that having a custom pop up tent really helps draw the crowds.
Survey Results
In our survey on peoples' perspectives about pop up tents, we wanted to better understand the experience both from the attendees' point of view as well as from the vendors. People who are familiar with pop up tents generally agree that a branded tent is more effective at attracting visitors to vendor booths than generic pop up tents. In fact, people who attend events are 60.2% more likely to engage with vendors who use a custom, branded pop up tent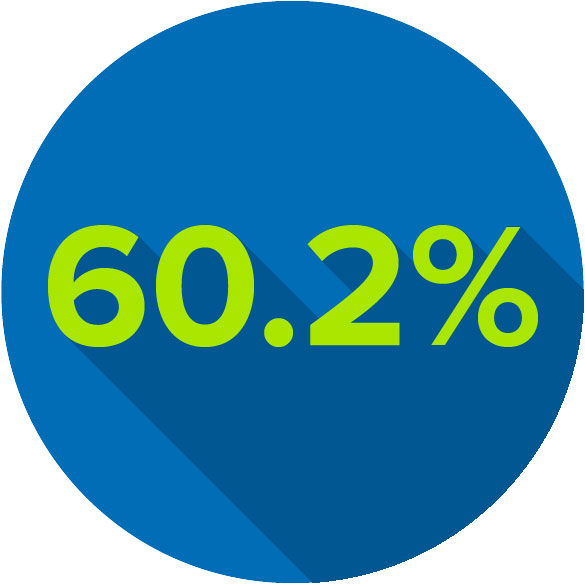 Another question we wanted to research was around the idea of how memorable a vendor is. We've done previous studies around the difficulty of creating a memorable logo yet know it's critical for business success.
Think about it this way, when you visit a farmer's market, event, or something similar, there are several, and sometimes even hundreds of different vendors and booths set up. By the time you've meandered through the area are you going to remember the first or second booth you came across? You might, but it is more likely you will remember the booth if they have something that sets them apart.
Our survey found that 65.6% of event attendees are likely to remember a vendor booth that is branded and colorful versus a cheap generic tent that we alluded to earlier. (This doesn't account for how good or bad the product or service is at the booth, which of course could tip the scales on being memorable for the attendee).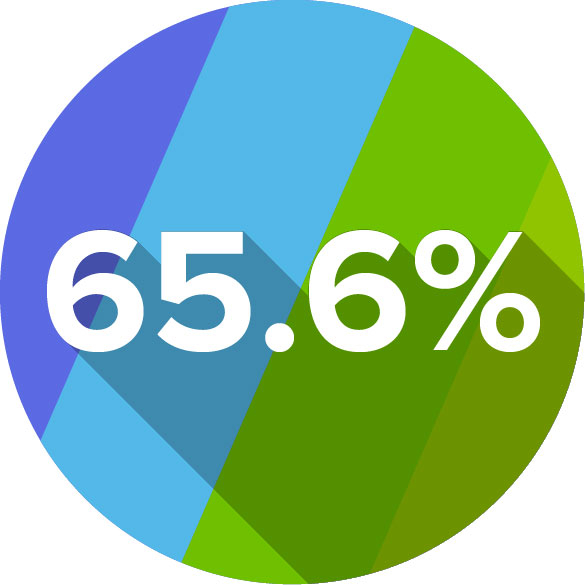 In addition to the fact that custom tents typically provide way more advertising real estate on them, there are other ways to attract attention to vendor booths as well. One of the easiest ways to do this is to stretch a vinyl banner between the back legs of a 10'X10' booth, which is in signage jargon is called a back wall.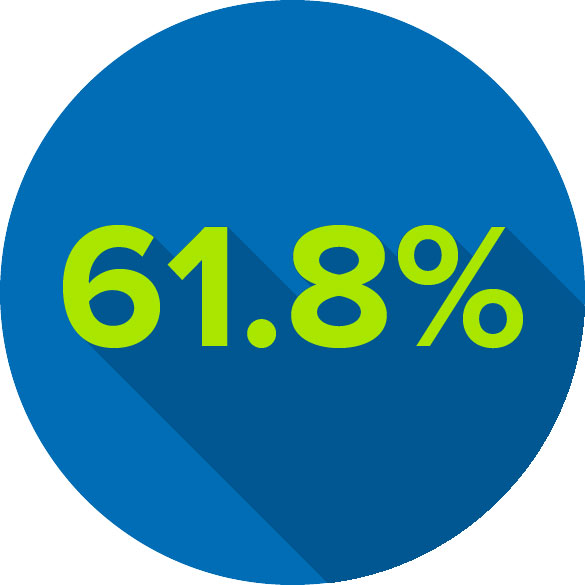 In fact, of the 500+ people who responded to our survey about custom popup tents, 61.8% of them said that feather flags, side-wall graphics, and back-wall graphics increase the professionalism of a vendor booth. It's safe to assume that more visitors are likely to stop by a vendor who has a professional and well put together tent than the generic ones on either side of it! As such, here is a list of the banners and other products you might consider using to add to your custom tent:
No matter how large or small your operation, if you plan on using a pop up tent to promote or sell you should think about the benefits of using a custom canopy. People look for a level of professionalism with the vendors they interact with. Creating a good first impression with your booth by simply displaying your brand boldly on your tent goes a long way. 90.8% of survey respondents said that a custom branded pop up tent gives a professional perception of the vendor.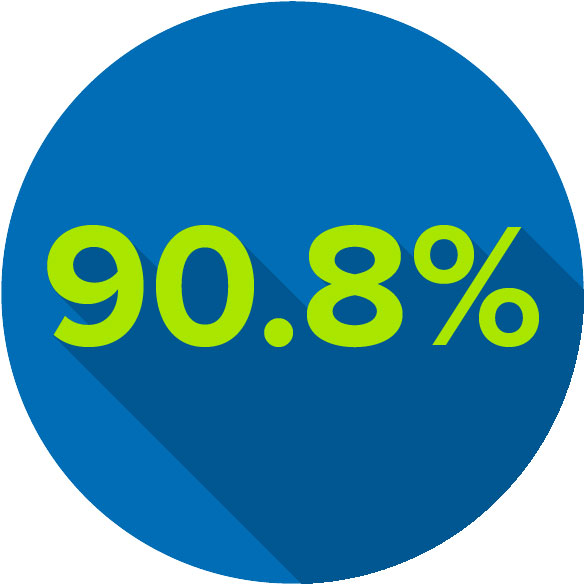 ---
92% of businesses who use custom pop up tents agree that the branded tents are effective at getting event attendees to interact with them. Even so, many vendors and small businesses still opt for using plain, generic pop up tents because of the cost savings. In reality, the increase in visitors to a vendor booth from a branded tent quickly pays for itself!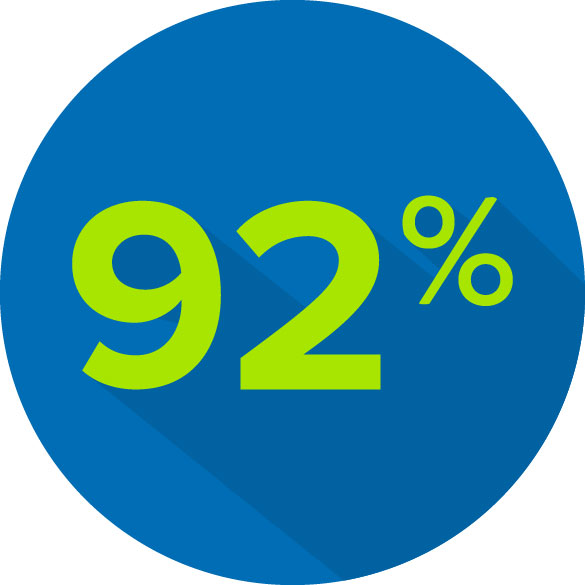 If you are ready to see the success that will come when you employ a custom pop up tent, we encourage you to get started by talking with one of our professional graphic designers. They can help you design a perfect canopy that will literally help shout your brand from the rooftops (in this case tent tops)!