What would a 10% increase in foot traffic to your store mean to you? What if you could maintain at least a 10% increase in foot traffic for an extended period? Most business owners would agree that just getting people in the door will result in higher sales. Did you know that setting out an A-frame sign can increase foot traffic and increase sales?
This research about the effectiveness of signage will show you the impact of sidewalk signs for small business through examples that we personally tested. We'll explain why small outdoor advertising is impactful despite the fact that online shopping continues to grow at a record pace and fewer people visit physical stores. even in the foreshadow of the ever-growing percentage of online sales. If you run a small business or know someone who operates a physical business then you need to know and share this information.
TL;DR — A-frame Sign Research
In a nutshell, using an A-frame sign for small businesses can be very effective. Here are the top indicators that we pulled from our research to show that sidewalk signs help drive foot traffic and increase revenue.
A-frames can be effective in low density / low traffic areas.
Use A-frame signs for pedestrian and roadside traffic.
A-frame signs increase foot traffic by at least 8.3%.
On on average the businesses we worked with saw: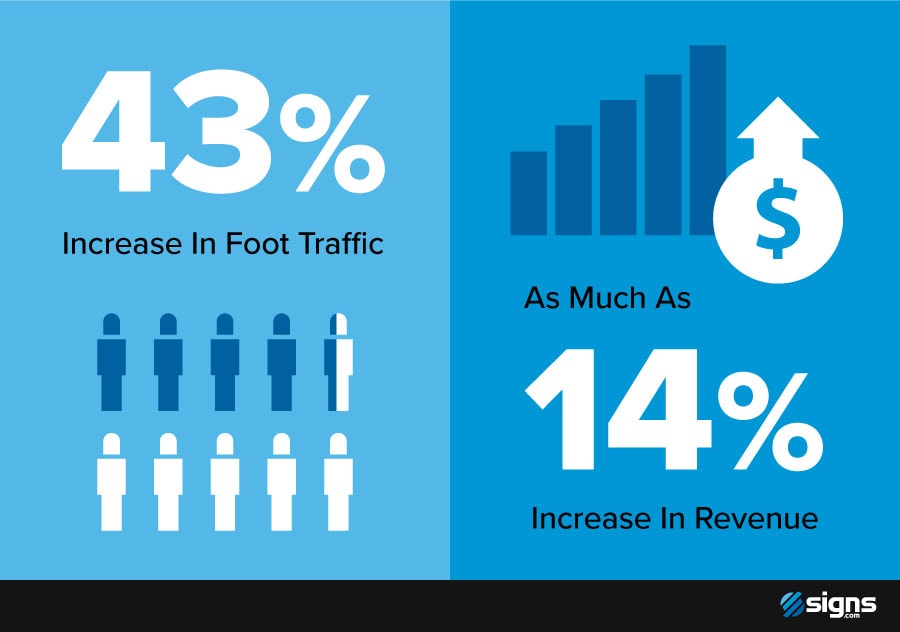 A-frame signs Background
There are several studies on the effectiveness of signage including well-circulated research conducted by the University of San Diego stating that on average, having one additional on-premise sign increases annual revenue by 4.75%. While structural roadside signage or building signs are certainly important, one of the most affordable ways to advertise a physical business be it a restaurant, a specialty store, or what have you, is by using a custom A-frame sign.
A-frames, sometimes known as sandwich board signs or sidewalk signs, are versatile and easy to use graphics for advertising or branding. They enable the sign owner to change messaging and sign location quickly for promotions, events, directions or information by simply writing on them if they are chalkboard or dry erase, or by switching out the printed sign that attaches to the frame. A-frames can be used in almost any weather condition and can attract attention both indoors and outdoors.
Effectiveness of A-Frame Signs
Are A-frame signs effective at driving sales and improving business? In essence, do sidewalk signs help bring customers into a store? (see illustration):

A-frame signs have been used by businesses for many years to advertise and invite visitors in.
But just how effective are A-frame signs? Working with three businesses gave us evidence to show that A-frame signs are an investment you don't want to miss out on. From the businesses we worked with, each one saw at least an 8.3% increase in foot traffic when they set out a branded A-frame sign.
When sustained, that increase will presumably translate to increased sales—no matter the industry. Not only that but sandwich boards and A-frames when designed well, complement a business' permanent signage and can add character to the location around the business as well. A-frames and sidewalk signs when used correctly can also help guide drivers and pedestrians alike by providing wayfinding signage for businesses that may be more difficult to locate.
A Closer Look A-frame Signs Research
We believe that our study, conducted over a month with three different businesses and unique locations, helps answer the question of whether sidewalk signs are effective. Let's dive into the research.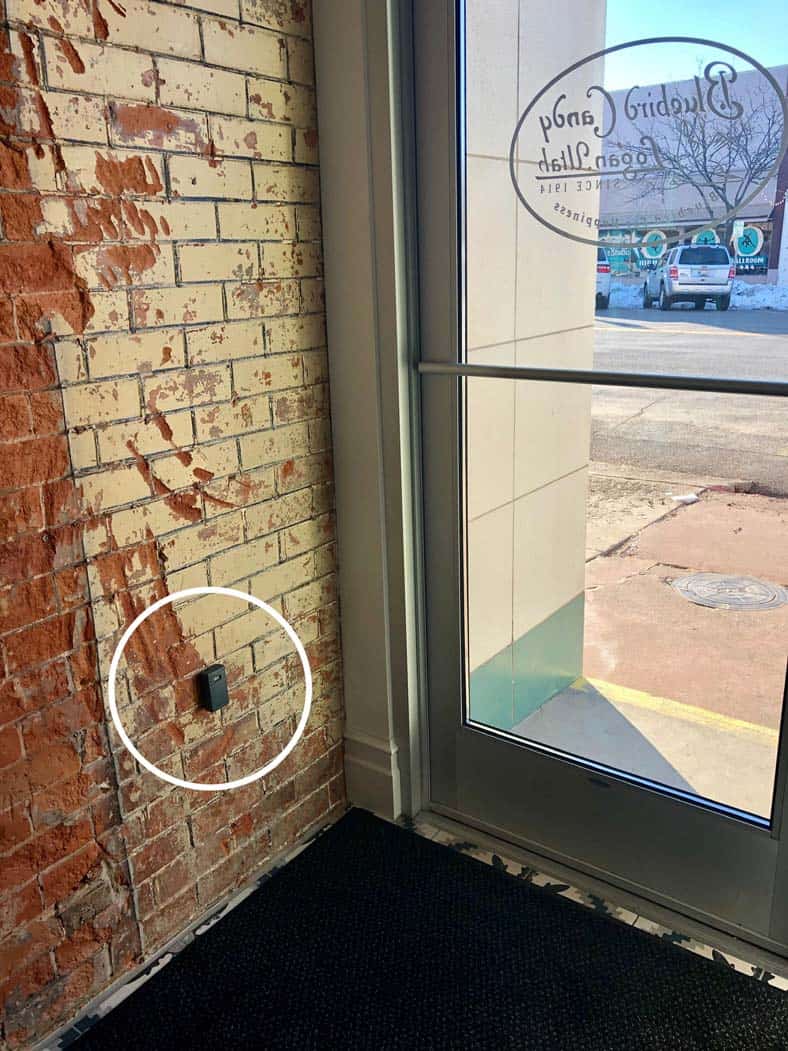 At the start of the project, we did some outreach to small businesses in the local greater Salt Lake City area. To ensure our data wasn't skewed by working with companies all from one industry or location, we worked with a variety of companies: Bluebird Candy Co., a local candy store, in Logan, Ut; Cafe Sabor, a Mexican restaurant, in Layton, Ut; and Beauty Mavens Collective, a lashes and hair salon, in Salt Lake City. The first step was to establish a baseline. In other words, figure out what foot traffic in and out of the store looked like on a normal business week. To do this we set up a sensor by the entrance to each business that counted how many times people moved in front of it. We recorded the number of people going in and out each day and let it run for a whole week.
The next step was to introduce the sidewalk sign and see if the number of people going in and out increased, decreased or stayed the same. We worked with each business on a customized design, specific to each business, for their custom a-frame. Our team of professional designers helped each business through our Free Design Services to get designs that met the business' needs as well as the needs of the study. The goal of each A-frame sign was to invite passersby to "come in" either through a promotion or a simple message. We tested a few different designs for 2 weeks, setting out the A-frame sign in front of the businesses every day while continuing to monitor the foot traffic in and out of each business with the sensor.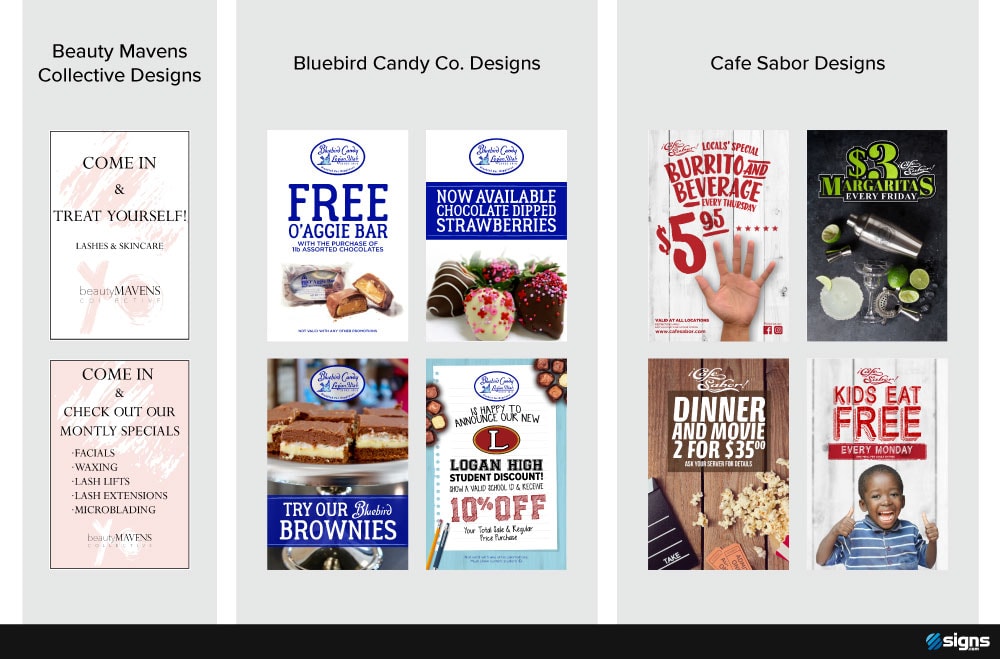 Results From The Study
What we found is that A-frame signs did increase foot traffic in these stores. Let's look at the numbers: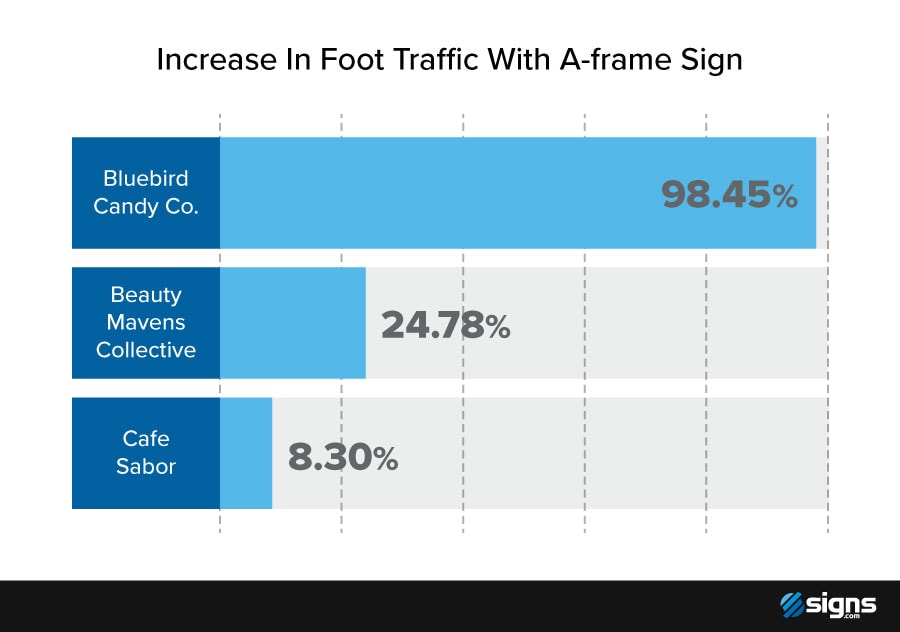 The chart shows the average weekly percentage increase in foot traffic when the A-frame sign was introduced. In the case of Bluebird Candy Co., the percentage increase is dramatic. Bluebird Candy Co. has perhaps the best location for passersby of the three businesses as it is located close to downtown Main Street of a large town. One of the promotions for Bluebird Candy Co also incentivized high school students who are within walking distance from the school to the store. Nonetheless, for the other businesses where natural sidewalk foot traffic wasn't as prominent, the A-frame signs were noticed and heeded.
While the percentages varied quite a bit, we're certain any small business would take an average increase of 43.8% foot traffic. There is little doubt that such an increase would translate to a significant amount of in-store revenue.
We also looked at weekly revenue for each of the three stores during this time period to see if there was a correlation to the increase in foot traffic. Both the restaurant and the candy shop saw a revenue increase in the same period by as much as 14.1% compared to an operating week without the sign.
The Salon actually saw a decrease in revenue during the two weeks where the A-frame sign was used, but this doesn't include the sales from stylists who were renting out booths—we were unable to attain individual stylists revenues which may have increased the overall revenue of the salon. One factor about the Salon to consider as well is that work there is done prominently by appointment. So while the salon did see an increase in foot traffic during the two weeks the A-frames were out and tracked, the increase in paying customers may not have been realized until weeks after the time of this study.
Considerations and Study Limitations
We ran this study in January when outdoor foot traffic is low compared to warmer months in the state of Utah. The potential for increased foot traffic increases as the weather warms up and more people are out and about. Thus, it could be said that the positive impacts of using sidewalk signage are understated in our results.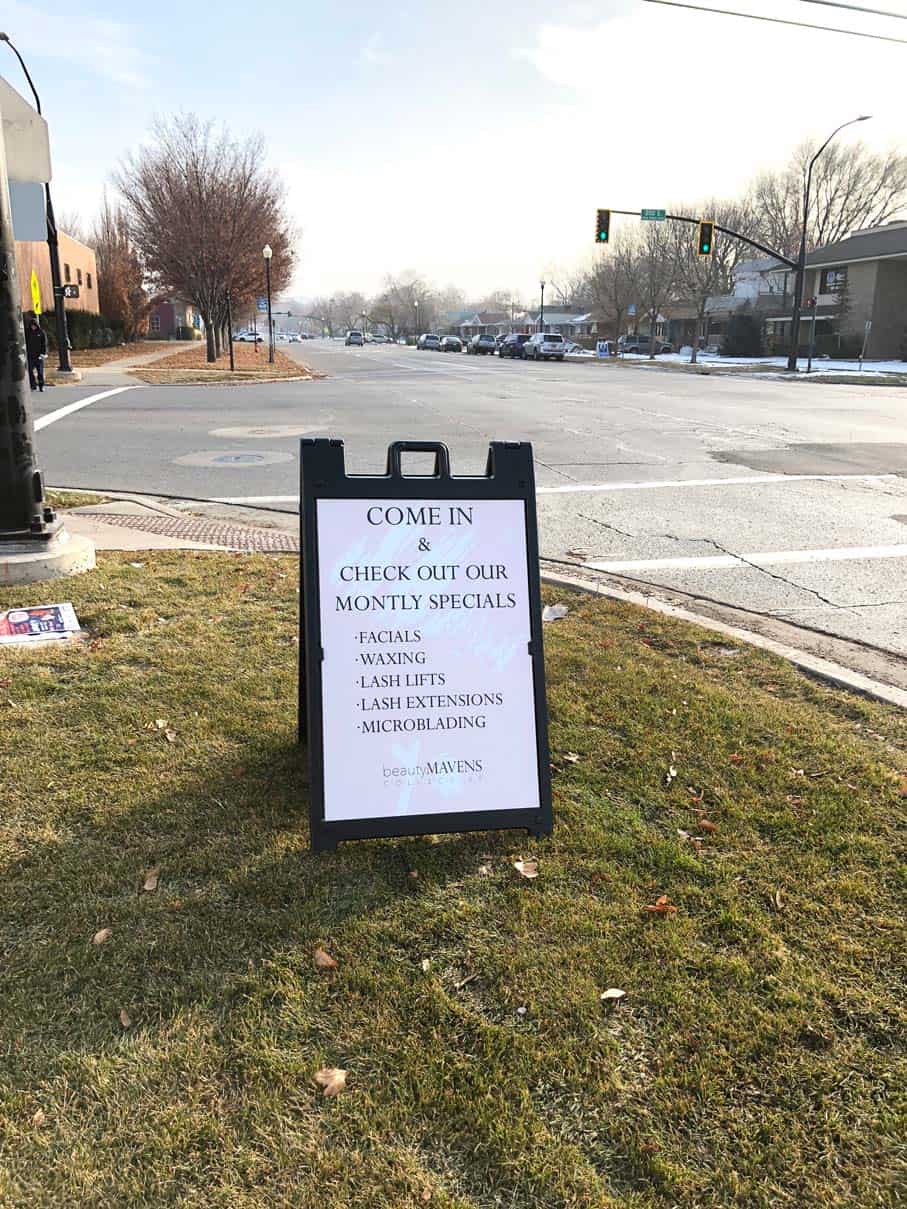 The physical location of the three businesses varied between downtown Main Street of a large town, to right next to a public transportation stop, to a metropolitan side street. While placing a sidewalk sign out in a low traffic neighborhood may also have an impact, businesses that use A-frame signs near urban centers or more dense areas are likely to see a more dramatic increase of foot traffic by using A-frame signs.
For businesses in locations where passersby are less frequent, we recommend using A-frame signs as economical wayfinding tools that guide potential customers in from more heavily trafficked areas of town while a different type of signage or marketing tactic is used to generate brand awareness. This can be done, but be sure to check with your city ordinances on the use of signage on public sidewalks and roadsides.
A-frame Sign Study Summary
A-frames and sandwich board signs have a significant effect in locations where foot traffic is common such as city centers, boardwalks, shopping centers, strip malls, shopping malls, etc. In addition to foot traffic, A-frame signs can be seen by people driving by. The most common size of A-frame signs (36"x24") is large enough to get noticed by road traffic if the messaging is kept simple so that the font is big enough to be legible. Take a look at our previous study on how outdoor signs drive engagement for passing vehicles.
A-frame signs and other forms of sidewalk signs have been used for decades and are still relevant today. Even as online shopping has begun to take the place of bricks and mortar locations, interactive and interpersonal shopping, dining and service experiences can still be viable when advertised properly.
You can better inform passersby of what your small business has to offer when you employ an A-frame to convey your messages. As we've shown through this research, if you have a brick and mortar location—be it for food, retail, services, or whatever—putting out an A-frame sign will likely increase the foot traffic and help you increase your revenue.