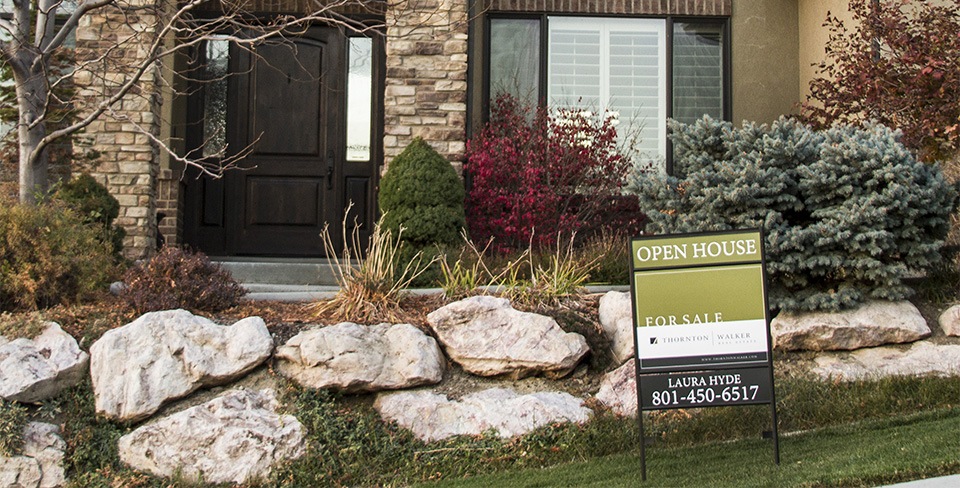 Metal Real Estate Frames
Ordering custom real estate sign frames has never been easier. We currently offer three different real estate frames. Choose your preferred frame type below by clicking the image or the "Get Started" button. Clicking below will allow you to choose your preferred sign material (corrugated plastic, rigid plastic or aluminum) in our design tool. For standard frames, you can then customize your 24"x18" graphic and you're done! For real estate frames with riders, after completing your 24"x18" sign jump over to our real estate sign riders page and customize your riders as well. Riders are sold separately. Frames must be purchased with a 24"x18" sign.
Standard Frames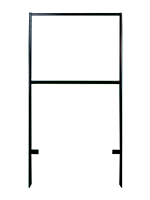 Standard Frame
Our standard metal real estate frame allows for one 24"x18" sign in the material of your choice.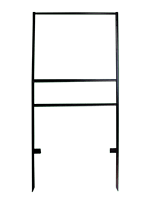 Single Rider Frame
Our single rider frame allows for one 24"x18" sign and a single bottom 24"x6" sign rider.
Frame Specifications
Use our custom real estate frames for all of your residential or commercial real estate signage needs. Constructed from an iron frame, and compatible with several signage materials, these metal real estate frames are the perfect option for your listed real estate. Beyond real estate settings, use these signs for limited-time sales, promotions, grand openings and more. All three frames allow you to change out all signage sections as your needs or real estate offerings change! For a full comparison see the chart below.
| | | | |
| --- | --- | --- | --- |
| | Standard Frame | Single Rider | Double Rider |
| Appearance | | | |
| Height | 47" | 47" | 47" |
| Width | 24" | 24" | 24" |
| Weight | 6 lbs | 7 lbs | 8 lbs |
| Thickness | 3/4" | 3/4" | 3/4" |
| Material | Iron | Iron | Iron |
| Finish | Black Powder Coat | Black Powder Coat | Black Powder Coat |
| Slide In or Bolts? | Both | Both | Both |
| Sign Sizes | 24"x18" | 24"x18"; 24"x6" (sold separately) | 24"x18"; 2 x 24"x6" (sold separately) |
| Sign Materials | Corrugated Plastic, Rigid Plastic, Aluminum | Corrugated Plastic, Rigid Plastic, Aluminum | Corrugated Plastic, Rigid Plastic, Aluminum |
| Other | Spiked legs, foot mounts | Spiked legs, foot mounts | Spiked legs, foot mounts |
| Lifespan | 3+ years with proper care and storage. | 3+ years with proper care and storage. | 3+ years with proper care and storage. |
Popular Templates
Choose from one of the real estate sign templates below to get started in creating your 24"x18" graphic for your preferred frame. You can also select the "Blank Template" template to upload your own file. Selecting one of these templates will default to a corrugated plastic sign but you can easily change your material type, size, options, frame type and more in our design tool. Still need help? Select the "Free Design Help" button in the design tool to let us design your real estate signs for you! Jump over here if you need sign riders as well.
Image Gallery
Frequently Asked Questions
Are the signs included with the purchase of a real estate frame? If not, where would I go to purchase compatible signs for the frame?
When purchasing a real estate frame you will need to include the 24" x 18" sign (referred to as the main graphic or larger sign) with your order. We do not currently sell any of the frames separately. Additionally, the 24" x 6" sign riders are not included with the purchase of a real estate frame. To purchase sign riders, visit the real estate sign rider product page.
What exactly is a real estate frame? What about sign riders?
A real estate frame is a metal frame that can contain one or more signs. Typically, the frame has either one or two sign riders above/below the main display area that holds the 24" x 18" sign.

A sign rider is a smaller sign that accompanies a larger graphic in a real estate frame. The industry standard size for a sign rider is 24" x 6". Sign riders are usually placed either below or above (or both) the primary sign. They are often commonly used on top of posts to provide additional information to a sign. The most common use of sign riders are in the real estate industry.
What are the differences between the real estate frames with single sign rider and the double sign riders?
Real estate frames with a single sign rider has only one rider (or smaller sign) placed below the primary sign, whereas the double sign rider has a rider placed both below and above the primary sign. The overall height of the frame is not changed, nor are the sizes of the primary sign and sign riders. Standard frames can hold one 24" x 18" sign and no riders.
What are standard or common sizes for real estate frames?
Whatever frame you decide is best suited for your needs it will be the standard size of 24" x 47". All three frames feature a primary sign that measures the industry standard 24" x 18". The sign riders that you choose to purchase with your frame and main graphic are also an industry standard and measure in at 24 "x 6". Once you've selected your frame type and design the main sign you simply need to visit the sign riders page and add one or two additional sign riders to your order.
What material is the frame made out of?
The frame is made from a ¾" iron with a black powder coat finish to prevent rusting of the metal.
Is the real estate frame similar to the yard signs you offer?
Though similar in purpose, the real estate frame does differ from our yard signs. The real estate frame incorporates a primary sign with one or two additional signs included in the frame. The frame itself is far sturdier than our yard signs, which use a H-frame (wire frame) and corrugated plastic sign. Yard signs provide a quick and temporary solution to advertising in lawns. Our real estate frame is a far more durable option for real estate needs that require an indeterminate period of use.
What materials are available for use as the primary sign for the real estate frame? Will the frames be a different material or is it just the sign type that is different?
Sign materials that can be used for both the larger 24" x 18" graphic and the sign riders (sold separately) include aluminum, reflective aluminum, corrugated plastic, rigid plastic, and wood. All of these rigid materials are compatible because they are less than ½" thick, which is the maximum thickness that will fit into the frame. Currently, we only offer iron frames for our real estate frames. The frame material will not change regardless of which sign material type is used.
Can I order a double-sided real estate frame sign? What if the back side of my sign is different from my front?
Both the larger graphic (24" x 18") and the sign rider graphics (24" x 6") can be single or double sided. Simply select the double-sided option in our design tool to enable this. If the back side of your sign is different, upload a different design to the back side of the sign using the design tool.
Do you offer blank signs for the larger graphic of the real estate frame?
Yes, we do offer blank signs. Just select a blank template using our design tool to order a sign without a design.
Can you remove the signs from the frame and switch it with a sign of a different material?
Yes, for all frames, all signs can removed and switched out with a different sign of the same or different material. The material of your preferred sign type must not exceed a thickness of ½ inches. Switching out your signs to a different material type or updated signage takes less than a minute with the frames easy tension clip that allows you to slide your sign(s) into place.
What is the lifespan of your real estate frame?
With proper care and storing, the real estate frame should last 3-5 years. This lifespan will vary depending on climate and end use. The lifespan of the actual signs will also vary depending on material type. These lifespans can be found on the respective product pages here on Signs.com.
Do you print directly onto the surface of the sign or simply put a printed vinyl overlay on top?
We print directly on all of the materials offered for our real estate sign riders. Printing directly on the material permanently adheres the ink to the materials, resulting in a vibrant, long lasting design.
What are the common uses for real estate frames?
Real estate frames are primarily used as lawn displays for open houses, pending sales, and recently sold properties for real estate purposes. Metal real estate frames can also be used as point of purchase displays at outdoor events, or used as directional signage at fairs and community events. In all cases all three real estate frames are intended to be put into a soft surface such as grass.
Is there a way to display the real estate frame farther off the ground?
The frame does not have extendable legs and is only designed to be placed in solid ground. Of course, assuming good conditions, there is some variability in how much or how little the sign needs to be inserted into the ground to remain steady.
Are your real estate frames weather resistant?
The iron frame is coated with a black powder finish which helps prevent the metal from rusting. The water resistance of the riders and larger graphic depends on the signage material used.
Will the design portion of my sign fade when placed in direct sunlight?
Our signs are designed to be fade resistant in normal display conditions. Displaying a sign in direct sunlight frequently for extended periods of time can result in the eventual fading of your sign.
How does the real estate frame remain in the ground? Are there are anchor points to tie the sign down?
The real estate frame is designed to be placed into solid ground or soil. The bottom of the legs are pointed in nature for this exact purpose. The legs of the frame can be driven into the soil using a soft-head mallet (to avoid damaging the rider frame). There is also a foothold on either side of the frame to help insert the frame into your desired location.
How do I display or install my real estate frame and sign riders?
Begin installation by placing your larger graphic and sign riders within the frame. To do so, you simply need to pull back the lever on the back side of the sign that will pinch and hold your signs in place. For each sign slot there is a small level on either side of the frame to hold your graphics in place. Pull these away from the frame and easily insert your respective signs into their locations. Once your graphics are installed, take the frame and place it within a soft surface such as a lawn or grassy area. To secure in the ground, drive the frame 4"-6" into the soil using a soft mallet or hammer or the footholds below the bottom sign rider area.
How do I care for my real estate frame? What is the best way to store it?
Caring for and storing your real estate frame is simple. Use a damp cloth to remove any surface dirt on the frame or on the signs. Do not use heavy cleaning solutions to remove the dirt - this could damage the sign and frame. To store the sign, we recommend keeping the box it is shipped in - this will provide sufficient protection when storing on a shelf or against a wall. If you've discarded the box we recommend storing the frames upright so they don't scrape against each other. Do not place any heavy objects on the frames while they are stored. We recommend removing the graphics from your frames and storing these separately to avoid damage to the signs themselves.