Custom Real Estate Signs

Ordering custom real estate signs has never been easier. If you're ready to start designing click the "Get Started" button or the image of the real estate sign you need and then use our design tool to create your signage. If you're looking for additional product information for any given product click on "Product Details" to be directed to the product page before you start the design process. Need help designing? Contact us for free design help. All of our custom real estate signs are shipped the next day and come with a 100% satisfaction guarantee.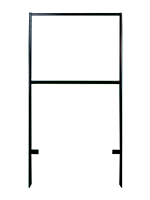 Standard Frame
Our standard metal real estate frame allows for one 24"x18" sign in the material of your choice. Product Details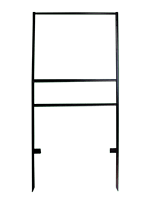 Single Rider Frame
Our single rider frame allows for one 24"x18" sign and a single bottom 24"x6" sign rider. Product Details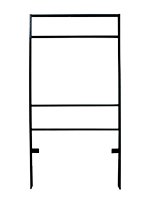 Double Rider Frame
Our double rider frame allows for one 24"x18" sign and top and bottom 24"x6" sign riders. Product Details
The templates below offer a cross section of our wide variety of real estate sign templates. Click on one to get started or upload your own file by starting with the blank template. Sizing, material type, options and more can be changed on our design tool after clicking on the template you want. For additional help contact us for free design help.
Frequently Asked Questions
Frequently Asked Questions
Where can I find more information on the specific real estate products?
For a complete overview of a product, click on the image thumbnail of any given product listed on this page. Doing so will take you to the product page which has additional information. Alternatively, if you're ready to start designing clicking "Get Started" will allow you to jump right into our design tool to start designing your custom real estate sign.
Do all your real estate templates work with any real estate product?
To format the pre-existing template to the sign of your choice, begin by selecting the template from the list of available real estate templates. This will take you into our design tool, which will allow you to change the sign type used with the template. The sign type is listed above the design area of our design tool. Click on the dropdown menu and choose the sign that you wish to use with the template.

It's important to note that you may have to readjust the template design once the new sign type is applied in the design tool. Thus, we recommend selecting your sign type before spending lots of time designing your sign.
Do all real estate signs have to be placed in the ground?
While some of our real estate signs are designed to be placed within the ground (metal real estate frames, flag banners, yard signs), we do offer more portable A-Frame signs that are placed on the ground.
Is professional installation assistance offered when I purchase a real estate sign?
Real estate sign installation does not require professional installation. Specific installation instructions for individual sign types can be found on each product page. Additionally, installation and assembly (if applicable) instructions will come with your sign(s).
Are your real estate signs easy to install and set up?
Yes, all of our real estate signs are designed for quick set up and installation, allowing you to place them outside within in minutes without any hassle.
Can I purchase different types of real estate signs using the same design (ie. flag banner, yard sign, sign rider with same design) in a single order?
Yes, this is possible. To order different sign types with the same design, you will need to design each sign type separately in our design tool. This means that you must upload your design to a flag banner and add it to your cart, then upload your design to a sign rider and add it to your cart. Because sign dimensions and shapes vary, it is necessary for you to upload each design to the corresponding sign type individually to ensure it meets your satisfaction and is compatible with any restrictions per sign type.
Can I use real estate products for other display and advertising purposes?
Yes, these sign products can be used in a variety of settings. We simply refer to them as real estate signage due to their primary use in the real estate industry.
What other signs can be used as real estate signage?
While these are the most common types of real estate signage other products that are often used as custom real estate signs include vinyl banners, other types of advertising flags and even larger wooden signs.
Do you offer any other custom real estate signs beyond what is listed on this page?
As noted on the page, we will soon offer two different types of real estate posts. Additionally, we are regularly adding real estate products to this page. If you are looking for a product that is not listed at the current time please contact us as more often than not we can offer products beyond what is listed on the website.