The end of 2019 is drawing near and New Year's Day will soon be here! We hope that you have had a wonderful year in 2019. We also hope that you are excited and prepared for the new year and new decade in 2020. New Year's Eve and New Year's Day are typically holidays for many businesses which means changes in schedules. At Signs.com we decided to provide some free templates for your storefront to notify your customers of your holiday schedule. These templates are free to download and you can print them on your own. Consider them a New Year's gift from us to you!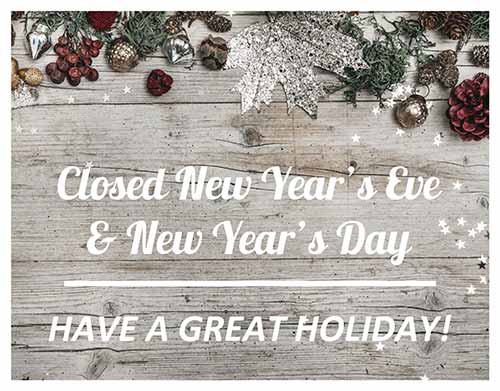 Since January 1st is such a common holiday and a day off for businesses and shops around the United States, those businesses need a way to notify their customers of their change in schedule. Signs.com has a team of professional graphic designers that created 25 printable sign templates for New Year's. These sign templates are for anyone that is looking for a last minute sign to advertise their New Year's hours. If you will be closed for New Year's, there is a sign for you. If you are simply changing your hours for January 1st, there are templates for that as well.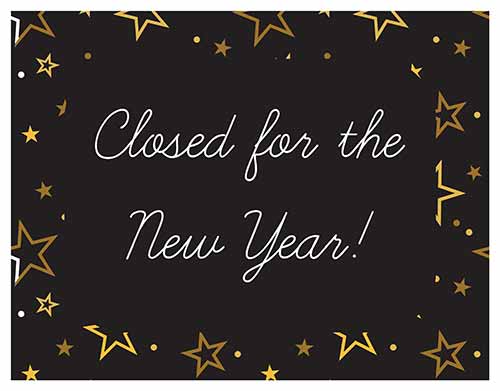 If you have determined that you could use one of these free downloadable templates to print and display in your store, here is a quick guide on how to do it. Start by going to our free printable New Year's sign page on our site. Browse the 25 templates and pick the one that is right for you. When you click on that template, you will be asked to fill out a form with your email address. We will send a PDF file of the template to that email address within 10 minutes of you submitting the form. From there you can download the PDF and print it on paper from your own printer. The email we send you will also include a promo code for 10% off any order from our website that is good for 2 weeks from when you receive it. The last thing you should know is that when you submit the form, we will invite you to subscribe to our email list. If you choose to subscribe, we will send you future emails about sales and special offers at Signs.com.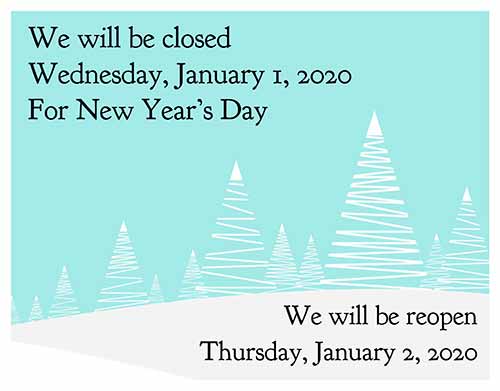 While these free templates are a great option for a last-minute display, most businesses will want a long term solution for future holidays. Signs.com is here for that too. Each of the 25 templates that we offer for free are also easy to order and print on Signs.com. Head to Signs.com's homepage to find the perfect product for a long-term solution. Any product from Signs.com could help you with this, but a good place to start would be our opaque window decals or plastic signs. Feel free to use the 10% discount code that we are sending with the free templates if you want a discount on your sign order.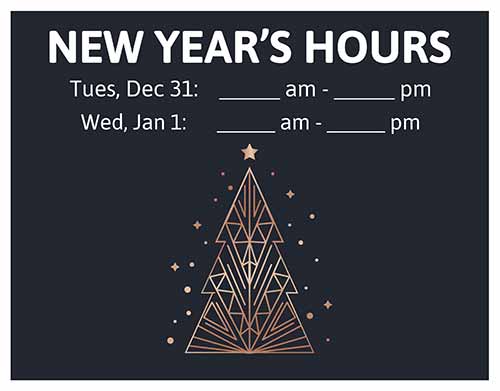 Thank you for supporting Signs.com in all of the ways that you do. We appreciate each and every reader of this blog. Keep us in mind as your business grows over the next year. We will always be here for any and all of your signage needs. We hope that you have enjoyed the holiday season and we wish you a Happy New Year!