Running for any elected position requires hours of planning, research, and determined dedication to constant campaigning. It's not an easy endeavor. There are numerous aspects of campaigning that need to be addressed and planned for before putting your name forward for candidacy. Once your campaign begins, there are still plenty of hoops to jump through and obstacles to overcome in order to win an election. This is true at the federal level but also at the local and state levels as well.
There are specific plans and procedures that must be implemented for maximum campaign exposure and success when running for any elected position. Knowing how to effectively campaign will give you the edge you need to win the people's hearts and votes. From planning your campaign to leading public rallies, we're here to help organize your winning platform whether you're running for the local school board, a councilman position, or mayor of your city. And while this article focuses on campaigns primarily at the city or county levels many of the principles can also be applied to campaigns at both the state and federal levels of government.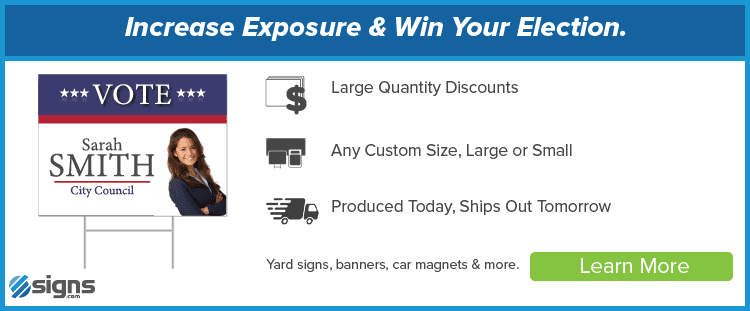 Before You Campaign
If you're running for office, you need an organized plan to enact in order to successfully campaign. There are many aspects to consider when creating a campaign plan, some of which will require careful consideration. Here's a list of areas of the campaign that at the very minimum should be considered prior to running:
Creating a support group and getting family approval
Building a campaign team
Researching local (or state) issues
Picking a platform
Applying for candidacy
Communicating Your Platform
Fundraising
With these areas, it's important to understand how you, an aspiring candidate, can utilize the tools and resources that are within reach to plan an effective strategy. You don't have to be a seasoned politician to organize and launch a successful campaign. Planning, researching, and following through with those plans will be your biggest asset in putting your best campaigning foot forward. Luckily, you won't have to do it alone. So let's dive into the areas listed above and so much more as you start your political journey!
Creating a Support Group & Getting Family Approval
Even before you hit the ground running in a campaign, you must create a support group that can rally around you, assisting you in operating your campaign. Think of this support group for your local or state campaign akin to campaign confidants or unpaid advisors at the national or federal level. These people will be able to lend their wisdom and insight into your campaign as you determine whether you want to run and later as a sounding board in addition to the campaign staff you will need to build.
Of course, the number one support that you can have is from your family. Discussing your desire to run for office with family is imperative for receiving support, plus, it's a courtesy to fill them in to give them adequate time to prepare for the rigors that attend a family during a campaign. Explain to your family that your candidacy will potentially put the entire family into the public eye. Though this won't be to the extent of a national candidate's family being thrust into the spotlight, with all the good and bad that may come with it, there is no doubt constituents will still partially judge you off your family. Even though you're the candidate, your family's actions, both current and past in many cases, will be in the spotlight and up for election as well.
As you're probably aware, building a support staff can extend outside of your family as well. Enlist the help of close friends and neighbors to increase the efficacy of your campaign. To help encourage your friends to help with your campaign, invite them to attend a focus group that you host. The purpose of this focus group is to announce your plan to run for office, while holding an open question and answer session that will help you understand the needs of local citizens. These initial focus groups, when the campaign is serious enough (think: Mayor, State level, etc. ), can help the support group made up of family and/or friends help you get a feel for the viability of your campaign and lend a hand to picking a campaign team and building your platform.
When preparing to host a focus group, select people of all walks of life to attend. A focus group consists of a diverse audience, which you will be able to ask questions about local issues and they will be able to respond and ask questions of their own. This meeting will be a great opportunity to gather information on the issues that are on the forefront of the minds of the people. As noted above, this information will be crucial for future planning of a campaign platform and other strategies throughout the campaign.
Building Your Campaign Team
Once you're backed by the support of family and friends, you're one step closer to launching your campaign. Now it's time to officially create your campaign team. Members of your support team may or may not also be official members of your campaign staff. Remember in the end it is critical to choose qualified individuals that will assist you in running for office and help you bear the load of your political venture. Depending on what type of office you are running for, you will need to fill certain positions (if you're running for a PTA or smaller elected position it's unlikely you will need a large campaign team). Brainstorm who you feel will best fit in each position listed below:
Campaign Manager – the campaign manager is your right hand man (or woman) in helping to operate the campaign. Ideally, your campaign manager is knowledgeable about all aspects of campaigning and can deal with the day-to-day operations in your stead. Look for well-organized individuals with strong communication skills to fill this position. Previous experience as a campaign manager isn't required but definitely doesn't hurt depending on which level of government you decide to run for office.
Treasurer – money is necessary for operating a campaign, so having a treasurer will allow you to be at ease when it comes to finances. Your treasurer should have a strong understanding of keeping finances in check, while also being able to head the fundraising efforts. Most importantly this person should be one hundred percent honest and have a squeaky clean background. Any mistrust or misuse of campaign funds can cast doubt into you as a candidate and everything you may say during your candidacy.
Public Relations Coordinator – along with your campaign manager, having a public relations (PR) coordinator will allow your campaign to present itself professionally to news media outlets. Building relationships with the media is one of the priorities of the PR coordinator. Other responsibilities include writing campaign literature, drafting speeches, and coordinating social media efforts. In particular, a PR coordinator who is savvy digitally will be a huge help as more and more campaigns successfully leverage digital marketing as a way to educate about a candidate and positions and get out the vote using digital tactics.
Volunteer Coordinator – coordinating volunteer efforts of your campaign is an integral part of seeing success among the people. The volunteer coordinator will manage all efforts of the volunteers helping you spread your message to the community. Organizing volunteer events, setting up training, and coordinating phone banks/campaigns.
Along with the positions listed above, you have the freedom to appoint to a variety of jobs and responsibilities within your campaign. Depending on the level of government you are running for and the amount of money you are able to raise the biggest challenge in building a campaign staff may just be how much you can pay someone. For some, being a campaign staffer is a volunteer role with idealism driving their civic duty. For others, this is their career and they expect to be paid as much. Do your best to find that balance between paid and competent staffers to those less experienced but maybe willing to work for free. Additionally, here's a list of positions that could be considered when creating your team.
Do Your Research And Pick A Platform
The political landscape is always changing. Becoming familiar with local issues and grievances within the government is essential in crafting your campaign platform. Thoroughly vet those who are currently in the position you are running for. Familiarize yourself with the platforms that current officials ran with and how effective they were in reaching out to the voters. Websites like votesmart.org can help you determine current political issues as well as providing information on elected officials in your area. Knowing the incumbent's stances, and those of your potential competitors as well, will help you not only hone your message but be essential if your candidacy requires any kind of live debate.
Knowing the voters is also paramount in tailoring your campaign to meet their needs. Find out the local voter demographics (age, gender, income, etc.) as well as trends in their voting history. Information on past elections and voter demographics can be found on the website of your state, county, city, or town. Information on demographics can also be found on the census.gov website. While it's obvious for many, some candidates fail to realize that picking a platform that is in opposition to the actual voters' opinions is the fastest way to lose an election! This is particularly true at the local level where many people want greater say in everything from schooling to funding for different city projects that directly impact the voter and their families. So while you may hold strong positions in certain areas if these don't align with the voters interests you either need to be willing to be a voice for the people or take a long hard look at whether it's worth running for office or not. Ideally your views are similar to those of your constituents and you can run on a platform that aligns the two.
Research what it takes to win. Are there areas in your community that hold the key to winning an election? Will increased voter turnout in less effective precincts give you the edge? What will it take to win those areas? These are just a few questions you should ask yourself when planning your campaign. Put yourself in the shoes of the voters; what would you want as a voter and how could you meet those needs?
Finding information about local and state issues is rather simple and only requires time on your part for researching. Following local and state news organizations will be your prime source for finding out about current political issues. You can also research local issues by following current local and state government officials on social media, as well as how those officials react to such issues. Attending local political meetings and events will also benefit you in understanding the political topics of the day. Participating in local The Council of State Governments (CSG) is also an excellent resource for finding state issues. Perhaps the easiest way is to simply go out and talk to as many, and as diverse a representation as possible, people from across your geographical area that you are able to. This information straight from potential voters is the very best way to do research!
After you've organized your campaign staff and have researched local issues and voter demographics, you're ready to choose a platform. At this point you should have a general idea of what stance you want to take on issues. If you're aligning yourself with a particular political party, then your stance on issues typically reflect the party's belief system. Whether you're running as a party representative or as an independent, you have to pick the issues that are pressing. Meet with your campaign staff and discuss what needs to be addressed in your local community.
Applying for Candidacy
In order to be recognized as an official candidate you must apply for candidacy. When running for any government position there are certain requirements for being eligible to apply. In most cases, elected positions in any state or city require a candidate to be a United States citizen and resident of the city for at least 9 months before the election. For specific requirements, each state's secretary of state website provides information on running for office.
Along with legal requirements there are a list of forms and fees that must be submitted before a filing deadline (which is usually in February). Required forms can be found on your state's secretary of state website. Local city governments can also provide information on forms and deadlines. Generally, there are a couple commonly required forms that must be submitted:
Affidavit or Certificate of Candidacy – this form is required to state that you are legally qualified to run for office. Each state may require different information on the form, so it's best to check with local or state officials on what is required. Here are a few examples of what this form looks like: Virginia, Washington State Board of Education, Maryland.
Statement of Organization Form – file after receiving a certain amount of contributions (typically $2,000) or 10 days after you've become a candidate. This form will be completed to declare your campaign organization and finances so that they are on record. Forms can usually be located on the secretary of state's website. Examples of what this form looks like: California, Michigan, Florida.
Campaign Finance Disclosure Form – laws are established to regulate finances of campaigns, including fundraising and donations accepted. There are different types of disclosure forms that must be filed depending on income and expenditures. Each state has its own regulations and requirements for forms which can be found on a state's Secretary of State website. Examples of what this form looks like: Idaho, Colorado, Wisconsin.
As it varies from state to state, it's best to check with your state or local officials for the required filing forms and timeframe on when to submit them.
In cases where a candidate is running as an independent, a petition may be required to file for candidacy. This petition is signed by registered voters and claims that you are qualified for running in the election. A petition is required to prove that there are people who support and consider voting for you. When running as a party's candidate, you will already have the seal of approval to run and a petitions is not necessary. Here are a few examples of petition requirements in New York, Florida, and Georgia. Petition requirements can be found on your Secretary of State's website on Ballotpedia.org.
Communicating Your Platform
Starting a campaign from scratch as a new candidate will require publicizing your candidacy. Before you announce your campaign, you must prepare for the ongoing stream of inquiries and increased exposure that will pique the interest of voters. Communicating your campaign platform must be consistent and clear for voters to discern that you're trustworthy. There are a variety of ways you can communicate your platform and engage voters in participating in your campaign. Commonly used mediums include specialized campaign websites and news media outlets (news stations, newspapers, talk shows). In today's digital world it is absolutely critical your campaign website be professional and clearly outline your stances. This way people can discover who you are and what your platform is according to their schedule and at their convenience. This doesn't mean you have to spend thousands of dollars for a website. We've outlined below how you can build a professional yet affordable website.
Building Your Website
Creating a central hub for your campaign on the internet will enable your platform to reach the voters instantaneously while presenting the opportunity for them to participate in your campaign through fundraising and other activities.
This website should be separate from a personal site or blog and is dedicated to informing the public of who you are and what you stand for. Websites can work in conjunction with a Facebook campaign page to increase campaign awareness online and in the community. There are a variety of website hosting services that you can use to set up a domain name. In most cases, you will need to purchase a domain name and a subscription fee when using a website hosting service. Hosting services are relatively inexpensive and should not affect your campaign budget.
Once you have a website, it's time to design and create content for your website. If you're not a web designer yourself, it could be challenging to create a website from scratch. Some hosting services provide pre-designed layouts or design assistance. There are other services such as Wix and Weebly that provide easy to build websites. We would recommend a WordPress based website and theme over these either of these two if you're going to go the DIY route. You can also use a local digital marketing agency to help with your design and content creation. This will of course be a more costly route with small business websites costing anywhere from 1-10,000. There are also websites that offer campaign website design (onlinecandidate.com, campaignpartner.com, mycampaignpage.com).
For an effective campaign website, focus content on the issues of the election, while emphasizing your stance on each topic. The stances on your website should be easily discernable for voters, clearing up confusion and informing them of how you will make a difference when elected. Create separate pages for each debated topic of the election, explaining what the issues is, why it's an issue, and how you will solve it. Along with content explaining the issues, create a page that explains who you are. An 'about me' page will help you connect personally with voters and tell your story. Use this page to give a brief background on your life, accomplishments, and qualifications for office. Pictures of you and your family will enhance the quality of this page.
You should also include an email sign up form for interested parties. Building your email list will not only help with this election but future ones as well.  We would also recommend blog functionality on your website to allow for regular campaign updates and news that can then be shared across social media.
Perhaps the most important aspect of your website should be the ability to collect campaign donations. Implementing a 'donate now' button on your page is just one of the ways your website can increase fundraising awareness among voters. Creating a dedicated fundraising page will provide voters with the information on where funds will be allocated and how important their contributions are to changing the political landscape. It also allows for instant contributions rather than those collected via check or at campaign events.
Creating a Brand
Marketing yourself as the leading candidate requires a captivating slogan and recognizable campaign logo. Voters gravitate towards those they recognize, so creating an identifiable campaign brand will stretch your influence farther. Campaign slogans reflect the ideals of the candidate. In order to create a memorable slogan, it must evoke an emotional response with voters. This is achieved by focusing on core values like health, safety, and families, which voters will recognize as values they want in a candidate.
When designing a campaign logo, focus on drawing attention using text and a unique color scheme. Use your name and indicate the position you are running for or include your campaign slogan. Beyond that, too much text can overwhelm voters and not resonate nor stick in their minds. Simple logos that convey your campaign message will become recognizable as you advertise during the campaign.
Beginning Your Campaign
Now that you have set the groundwork for your campaign by creating your campaign team, thoroughly researching the issues at hand within your local jurisdiction, and having filed for candidacy, it's time for you and your campaign staff to labor in the political battleground. Even with a team of advisors, managers, treasurers, and volunteers, you will need to be involved in all aspects of the campaign process.
Fundraising
It takes a good chunk of money to run for office. It's been calculated that it can cost anywhere between $1 to $3 per voter in your area. While you plan for your campaign, look to see how much you will need to raise in order to fund your run. Coordinate fundraising efforts with your treasurer and volunteer coordinator. Set measurable and timely goals for raising money.
So what exactly is all the money for? The costs from operating and running a campaign can range from paying for propaganda materials to renting spaces for rallies or events. In your planning efforts, list all the probable expenditures that will be incurred. Your treasurer will be in charge of updating and managing any variations throughout the election.
There are also restrictions in place to regulate finances received from fundraising. Knowing the laws behind fundraising will keep you in check with the law. All states will require you to disclose the amount of contributions received. The government has also imposed donation restrictions which limit the amount a group or individual can donate to a campaign. Each state has varying laws, which you can find links to each state's restriction here.
The best ways to raise money will involve an all around effort from your campaign. Below you will find effective and simple ways to raise money.
Volunteer canvassing – effective fundraising starts with volunteer efforts. Canvassing can either be done door to door, or in a public area with heavy foot traffic. The purpose of canvassing is to get campaign exposure and gain voter and financial support from the locals. Make sure to attack the ground game early in your campaign. Doing so will give you a clean slate to work with when it comes to the perception of voters.  If you wait too long, voters can be swayed by opposing candidates and jaded by false accusations from opponents.
It's crucial to have your volunteers knock on doors that you know will support you and talk to as many people as possible to expand the campaign's influence. Use voter lists to find registered voters and those who align themselves with a certain party. Collect data and monitor the response from those who are spoken to.
Business Owners – Business owners are a great resource for money. Usually business owners involve themselves in a political campaign to promote their business or get their name out there, so aligning themselves with you will be a win-win for both parties. Businesses want to show the community that they are involved in local politics. Look for business owners that have aligned themselves with your party, or those that are looking to make a name for themselves in your community. And let's be completely honest, some business owners will be willing to contribute money for future political favor. Make sure you know your limits of what you want to promise to any particular person or business owner who might contribute money. Complete transparency of fundraising and relationships not driven by political favor are the best routes in any candidacy.
Everyone You Know – It may seem obvious, but involving everyone you know in the fundraising efforts will be a lock for money. Those who you are close to will likely support you in your campaign and every little donation helps.
Be The People's Candidate – As great as volunteers are, nothing beats hitting the streets yourself to work the voters. Personal contacting is an excellent way to sway votes and gain financial support. It's hard to say no to a candidate who is personable and likeable. Grassroot efforts on your part will help you go the extra mile toward winning an election.
Online Fundraising  – In today's day and age fundraising has gone digital. With sites like GoFundMe.com and Indiegogo.com, raising money is a simple click away. Online fundraising gives you an unlimited reach for asking for support. The only catch with using crowdfunding sites is a percentage fee that is taken from the end amount. We have a dedicated blog post on online fundraising tools for non-profit groups that goes into detail about using such websites. As noted above, we would recommend simply using your official campaign website to collect online fundraising. Include a donation button on your site with various ways to pay and you shouldn't need to use the third party sites that collect a fee.
Advertising
Advertising goes hand in hand with your fundraising efforts. As your campaign moves across airwaves, signs, and online media, you will be able to win over the voters. The methods of advertising just mentioned here are just a few of the ways which you can spread your campaign message. Utilizing all avenues of advertising is a must for maximizing exposure and diversifying your campaign.
Signs and banners – the age old method of using political signs to garner interest is still effective nowadays. So much so that we've dedicated an entire blog post to the benefits of using political signs. Signs are a simple, cost-effective way of advertising that reaches voters as they are out and about. There are a variety of sign options available that will help to kickstart and maintain advertising. From vinyl banners, yard signs, and posters, to car decals and billboards, there are plenty of ways which you can use political signage to publicize your campaign.
TV – Even though TV advertising has become less effective over the years, political candidates are still using this medium to reach voters. Depending on your competition and the political landscape of your area, TV ads from opponents may paint you in a negative light. Attack ads are common on the air but, if you use your TV ads to honestly portray your campaign. TV ads can often be costly, so be wary of how you utilize them in your campaign. Purchasing TV air time allows you to advertise during primetime hours. To help gauge the effectiveness of TV advertising, include a call to action to invite voters to visit your website for more information and donate to the cause. Tracking online traffic before and after your TV ad airs will show if it is effective. TV ads are typically only seen at the state level and above. If you're running for local office we would recommend you choose far more cost effective mediums to reach your voters.
Social Media – Social media can be a powerful tool to reach the voters in your area. The internet is where those considered Millennials and Generation X spend a lot of their time, so make sure to fish where the fish are if that is the voter demographic you need!
Creating official social accounts for your campaign will allow you to constantly update voters about your campaign and interact with those that would rather do so digitally. You can respond to questions, create videos updating on campaign progress, and allow the people to see you in a more casual environment. Just remember anything posted on the internet is there to stay! Edited posts or shares will undoubtedly be noted and copies made of any gaffes or insensitive posts.
Your campaign can also participate in local groups and online communities to see what the people are saying about the upcoming election, as well as responding to voter feedback or questions. For example, this can be done through neighborhood Facebook groups.
Social media platforms also have the option of advertising using online targeting tools included in the site such as demographic data on age, zip code, interests and more. Social media in many ways can be a powerful tool to both fundraise and publicize your campaign.
Online Advertising – Targeting voters in specific geographic locations is one of the benefits of implementing online advertising. Google AdWords is one of the leading platforms for creating online ads and offers you the advantage of marketing to specific geographic areas and groups of people. Have your ads geo targeted to specific areas that you are looking to win over in the campaign. Here's a step-by-step guide on how you can set up your AdWords campaign.AdWords are pay-per-click, meaning that you pay depending on how many clicks your ads receive. With this in mind, have your ads link to specific pages of your website. If your ad teases a certain political issue, for example, gun control, then you can have that ad link to a more detailed webpage on your campaign website that explains your stance and information regarding other political issues.
Online Targeting – Whether you're looking for an inexpensive way to advertise online without spending money on pay-per-click ads, or are looking to cover all your advertising bases, implementing online targeting will be of great use to your campaign. Online targeting allows you to advertise directly on social media sites such as Facebook, Pandora, Instagram, and LinkedIn. By clicking on the links given, you will be directed to how to set up advertising on each social media service. Advertising directly on social media allows you to target specific demographics, profile types, other specific audiences.
An effective advertising campaign integrates every possible means to reach the voters. Because the world is becoming more and more digitized, planning a comprehensive online campaign is vital in an election. Again, it depends on the type of office you are running for and the quality of the competition but, no matter what environment you are running in, getting your name out to the people in a positive perspective is how you win votes.
Events
There are many facets of campaigning that work in tandem with one another. We mentioned earlier that your own presence in fundraising efforts can make you more likeable and transparent among voters. In conjunction with both fundraising and advertising, planning campaign events will boost the effectiveness of those efforts.
Start your campaign with a kick-off event. Use this opportunity to 'rally the troops' in a sense by calling to action those who support you and inviting undecided voters to consider your platform. In a kick-off event, plan to be the headline speaker, with supporting speakers to compliment your speech. This is where partnering with local businesses and other prominent locals can come into play to bring notoriety to your campaign. Even though you may be running in a local election, having 'bigwig' support will give you a great advantage over the competition. This support is the equivalent of the sought after political endorsement at the national level. The same principle applies, if voters don't know you and your position fully just yet, then get someone they trust to vouch for you and that trust passes on to you.
Other events that you can consider while campaigning are pep rallies, debates, dinner fundraisers, open-houses, and volunteer team building activities. Consider activities that encourage and inspire volunteers to go out and spread the message of your campaign. Ways in which you can involve volunteers are:
Social Media Blasts – enlisting your volunteers to post about your campaign on social media outlets. It's best if you create specific content to share that explains who you are and why you are running. Don't be afraid to ask specifically for donations in your shared content and also encourage volunteers to include a call to action when sharing. Use these blasts to attract visitors to your website to bring them to the hub of information and fundraising that you have set up on your campaign's site.
Event hosting – Use volunteers to staff events and functions you are hosting. Volunteers will need to be trained and caught up to speed on how to facilitate events. Your volunteer coordinator will be in charge of organizing trainings and sign-ups for these types of events.
Voter Contact – we mentioned earlier that volunteers are a great resource for hitting the streets and contacting voters. Using volunteers gives you a greater reach in how many people you can contact within a given period of time. Train volunteers in what to say and how to go about contacting voters at the door or over the phone so they are confident in communicating the message of your campaign.
With any event that you host, incorporating volunteers will help to reduce the cost and increase the involvement the community has within your campaign. Becoming the 'people's campaign' is made possible when you involve everyone in the campaigning process. Events allow for the collaboration of like-minded voters in tandem with your platform being delivered. They also allow people to see and interact with you as a person. Because at the end of the day people vote for people they know and/or trust.
Speaking To The People
Winning over voters comes down to how well you can convey your ideas and platform through your public speaking skills. Don't worry, even if you're not the strongest public speaker or are hesitant in front of a large crowd, we have some tips that will help you prepare an effective and professional speech to capture the attention of the voters. If you're giving a speech or being interviewed by the local news station, knowing what to say and how to say it will help you be an effective and persuasive communicator. Your speech, presentation, or interview is an opportunity to connect with voters. Voters want to see a candidate that can communicate with and for the people.
Prepare your speech or presentation with the people in mind. Knowing your audience is crucial in speaking to their needs. If you're speaking to a group of teachers, then know the issues that teachers want to have addressed. If you're addressing a general audience, cover a variety of topics in a simple, easy to remember format. When stating your stance on an issue, be clear and concise, do not dance around the issue or create any confusion with what you say. A voter wants to know you're willing to be upfront with your position on issues so don't beat around the bush.
If you're involved in a debate, you will need to prepare and research the common issues that are being discussed during the election. Debate preparation involves you and your campaign staff thoroughly researching topics and analyzing ways in which opponents will respond.
The saying, "practice makes perfect," applies to preparing for any speech or presentation. Going over your material will give you added confidence knowing that you've rehearsed the speech and have become familiar with it. Practice hand gestures (body language) and voice inflections to infuse passion into your speech.
Know whether or not the venue you will be speaking in will have teleprompters for you to read your speech from. If the location is lacking teleprompters, then memorizing the content of your speech will be your best bet for presenting a professional and prepared talk. You want to prove to the audience that you know your material by heart, while presenting naturally and not robotically.
When it comes time to speak, be confident. Yes, nerves will be present and you might have a few butterflies but, if you're passionate about your campaign you will be able to use the adrenaline to overcome the nervousness. With that nervousness or adrenaline might come the tendency to speak quickly. Avoid this at all costs! Rate of speech is just as important as eye contact and body language. Speaking with clarity gives the audience the capacity to take in and comprehend your message.
Incorporate the art of storytelling into your speeches. Entice voters by portraying captivating, relatable stories that relate to how you take a stand on issues. Arousing emotional responses from the audience is one of the best ways to leave a lasting impression on them. Be the candidate that connects with the people!
Get Out the Vote
Motivating voters to actually vote is one of the biggest challenges nowadays. Voter turnout has decreased in recent years at both a national and local levels. This decrease can be attributed in shifts in demographics, election types, and voting laws. Knowing how to overcome voting obstacles and encourage voters to cast their vote will give you the edge needed in the election. But how do you overcome this decrease in voter participation? Obviously, paying voters is out of the question, so you will have win over voters with your platform and personality.
Get out the vote (GOTV) initiatives have become popular as voter turnouts have become less than ideal. This type of initiative happens towards the end of a campaign but it's never too early to start. One of the key components in GOTV initiatives is making election information readily available and digestible for voters. The more informed voters are, the more confident they will be in voting. When initiating a GOTV campaign, target only those who have expressed the will to vote for you. There's no sense in motivating opposing voters to vote against you. Your loyal followers can be used as a means to help perpetuate a GOTV initiative by encouraging their friends to vote for you too. This initiative is not used to persuade voters to vote for you but simply get them to the polls to cast their vote.
Contacting supporters frequently to remind them of the upcoming election day is key in getting people out to vote. Naturally, people forget to vote, so regularly planting in their minds the idea of voting will help to resolve any forgetfulness or apathy. Reaching out to voters can be done over the phone or in person. When contacted, a voter is invited to commit to vote for you. Providing information on where local polling stations and times are will also help voters get out and vote. This is particularly critical on voting day as your campaign should have sufficient volunteers to make calls, send texts and emails and whatever else is needed to prompt people to act. In cases where online or absentee voting is part of the process these GOTV efforts may need to start well in advance of the actual voting day!
The most common way of executing GOTV campaigns is for your campaign staff and volunteers to divide up your area geographically and make sure every known supporter is contacted and encouraged to go vote. Staffers and volunteers should remind potential and actual supporters of when, how, and where to vote. On a local or state level, the effectiveness of these effort will most likely be the difference between a win and a loss!
Race to the Polls
Ideally, your campaign will continue to implement all of the aforementioned ideas and plans to have a successful run for office. It will be a juggling act to balance all of the different portions of the campaign but, with proper support from family, friends, and your campaign staff, you will be able to accomplish your campaign goals. The weeks leading up to voting day will be the turning point in the election. This is where you will expend all of your efforts and manpower to get undecided voters to swing your way.  Your campaign isn't over until you are elected and, even then, you still have to prove to the people you are electable for years to come.
It's necessary to remember the aspects of your campaign that you will need to focus on:
Creating a support group
Researching local issues
Picking a platform
Applying for candidacy
Building your website
Fundraising
Advertising
Events
Volunteer organization
Speech preparation
Getting out the vote
Running a campaign will test your mettle in many different ways but, as you apply the simple principles we have suggested, you will be well-organized and prepared to run with confidence. Make sure to download our summary PDF that outlines the main topics of this piece that you can use as a go-to reference guide to running your campaign.