At Signs.com we offer a variety of signage solutions to enhance your business or home. Two products that stand out are our clear acrylic signs and frosted acrylic signs, which bring a professional look for your display needs. We're often asked how our clear acrylic differs from frosted acrylic and milky acrylic signs and which is the better option. Though we don't currently offer frosted acrylic or milky acrylic on our site, we get plenty of requests to provide them as an option to our clear acrylic sign. As such, we've outlined not only these different types of acrylic but some alternative options to achieve the similar appearances. Knowing the difference between these acrylics can help you decide which will be the best for you.
Clear Acrylic
Our clear acrylic signs are made from a durable, lightweight, and transparent thermoplastic which acts as a glass substitute. Like glass, clear acrylic allows for perfect transparency. The design is printed directly onto the acrylic, which adds a lasting finish to your sign. Though it acts as a glass substitute, acrylic is far more lightweight and can be slightly bent without breaking.
The printing method we employ allows for your design to be printed on either the front or back of the acrylic. When printed on the front side (called standard surface), the image will be presented with a matte finish. The texture of the ink will be evident when handling the sign and the transparency will be affected in the areas where the design covers the acrylic. Having the image on the front of the acrylic also exposes it to a higher risk of scratching.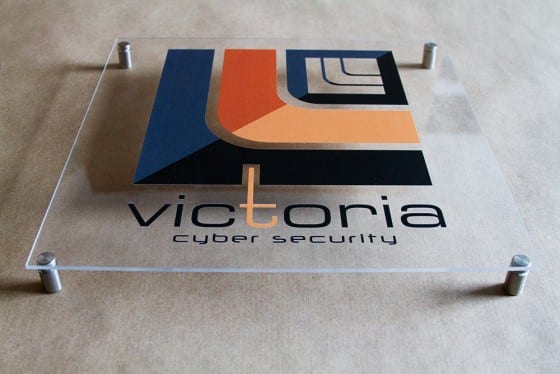 Printing the design or image on the back of the acrylic (known as second surface printing) will give a transparent, glossy, or sheen effect to the sign, allowing you to view the design through the acrylic. This printing method will give an added depth to your sign. Second surface printing can also help protect your design since the actual print is behind the acrylic, shielding it from being affected by elements or scratching. The front surface of the acrylic is still prone to scratching, so make sure to handle with care when installing and place your sign in an area where it will avoid being frequently contacted.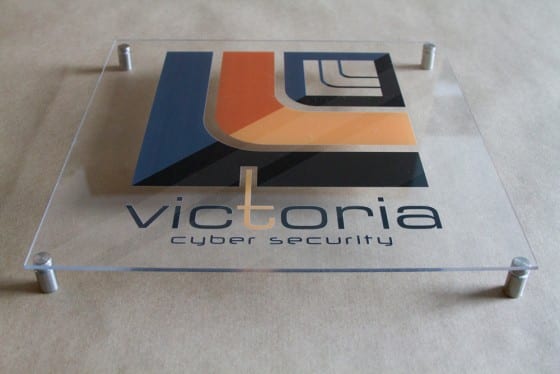 Using our design tool will allow you to customize your clear acrylic sign to meet your needs. Within the design tool you will be able to see which parts of the sign will remain clear. The white and grey checkered area of the sign will indicate where your sign will be clear. If your design is uploaded with a colored background, that color will print along with your design. To remove any unwanted background on your design, you can upload a PNG file with transparency which will then show the white and grey checkered background anywhere your design isn't.
Frosted Acrylic
Like its clear counterpart, frosted acrylic is a durable and visually appealing signage solution. Similar to frosted glass, frosted acrylic is not completely see-through but does allow a certain amount of translucency. This translucency can be likened to a 'blurred' effect of the acrylic. Looking through frosted acrylic will be as though you are trying to look through glass that has been fogged up, or as its name implies, a frosted window.
This frosted effect is great for diffusing light, which gives frosted acrylic signs an added dimension when placed in front of a light source. This acrylic can make for an attractive name placard for your office, or it can be used to indicate points of interest within a business or office building. We print designs or text with white ink first on frosted acrylic signs so that the design will pop and look bold and professional. 
The frosted effect offers a level of privacy as a partition or wall in conference rooms, reception areas, or cubicles. Using this acrylic as a means of privacy will allow you to maintain a visually appealing space in your business or home while still giving you privacy.
Frosted acrylic signs are now available to you at a great value. Using standoffs and drilled holes to mount your frosted acrylic sign will provide a stunning display to any office entryway or wall. You can learn more about frosted acrylic signs by checking out the product page, or in this recent blog post.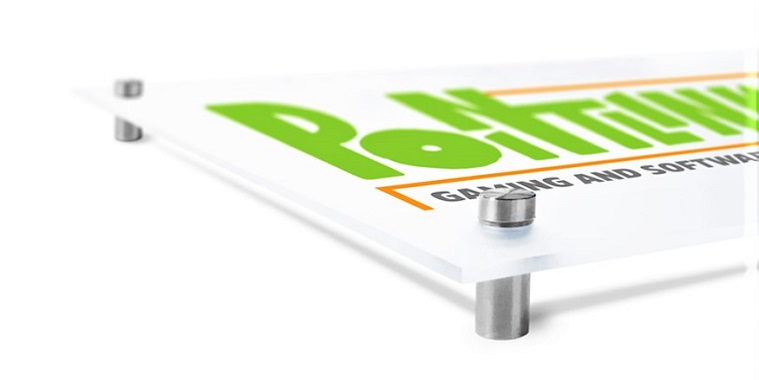 Milky Acrylic
An alternative to both clear and frosted acrylic is milky acrylic. As its name implies, milky acrylic is milky white in color and offers a white translucency. Unlike frosted acrylic, the design or image printed on the acrylic will not be transparent. The milky portion of the acrylic will allow light to travel through the product, though it is not as transparent as its frosted cousin.
Milky acrylic can be used in similar ways as frosted acrylic. The appearance of this acrylic can be enhanced by using a light source with this acrylic, especially when implemented as a sign material. We recommend using a light source or placing the sign where light will travel through it to increase its visual prominence. The milky white color will diffuse the light differently than a frosted acrylic would, allowing for a unique and visually appealing display. The light passing through this acrylic will be softer to the eye, whereas light passing through a frosted acrylic will be brighter.
The decorative aspect of the milky white acrylic is one of its selling points. You can use this acrylic as a covering for light fixtures or use it as a surface for a countertop or table. When used as a surface, including a light underneath the acrylic will bring your milky acrylic surface to life.
Creating greater privacy is another benefit of using milky white acrylic. The lack of complete transparency gives this acrylic a range of uses for privacy. Create barriers in restrooms, add a partition in a room, or place in doors or window frames.
We do not currently offer a milky white acrylic, but we do offer an alternative that allows for a similar effect. In order to create this effect, use an entirely white background on a clear acrylic sign, then adjust the opacity to 25-30% to give a milky effect to your acrylic sign. Currently, this is not possible on our design tool. You would need to adjust the opacity in your file and then upload it. Alternatively, by sending us a design file we could make the appropriate changes before uploading it for you. Simply contact us for free design services.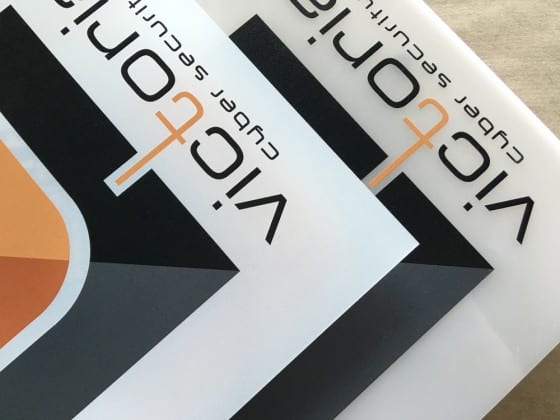 The Choice is Clear
The lightweight and durable acrylic or frosted acrylic signs that we offer are perfect for decoration and displaying logos, information, or directions. Our custom acrylic signs are also commonly used in offices, reception and lobby areas, board rooms and many more professional settings. With several different options of acrylic, it's really up to your preference and use of the material that will ultimately decide which option is the best for you. Our alternative options to the typical clear acrylic or frosted acrylic add variety to this versatile material. We're positive that your acrylic sign will enhance your business or home!