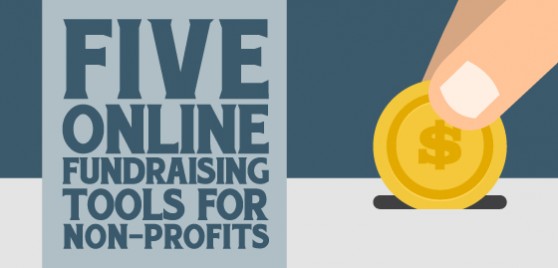 Raising money for a non-profit or institution is a commendable, yet arduous, undertaking. While the common phrase may be "it takes money to make money," non-profits do not have the luxury of endless disposable dollars to pour into fundraising efforts.
The online world creates an amazing new opportunity for non-profits to reach new donors. In fact, 72% of all charitable giving in the United States comes from individuals, not big corporations. In addition, online-based fundraising tools increased donations by 13.5% in 2013 alone.
With the multitude of options for digital fundraising, it's important for every non-profit or institution to weigh the pros and cons of these tools. Below, you will find 5 of the most widely used and popular online fundraising sites and their respective benefits and drawbacks. To save your non-profit precious dollars, each are no or low cost.
1. Kickstarter
Cost – 5% fee from a project's total funding if it is successfully funded.
Overview – You may or may not be familiar with Kickstarter, it is one of the leading sites in the ever-growing "crowd funding" landscape. Kickstarter is specifically for creative projects in the worlds of Art, Comics, Dance, Design, Fashion, Film and Video, Games, Music, Photography, Publishing, Technology, and Theater.
Pros
Free!
Payments are securely processed through Amazon Payments.
Creators never give up any ownership of their work to Kickstarter or backers.
$1.11 billion has been pledged on Kickstarter; more than every crowdfunding site combined.
Cons
If a project on Kickstarter doesn't reach its funding goal, NO backers are charged and NO money is collected. It's truly an all-or-nothing fundraising tactic.
Limited scope of possible projects to list on Kickstarter.
2. Fundly
Cost – For the Basic subscription, there is no monthly fee. However, there is a 4.9% fee from total donations and a 3% additional credit card fee.
Overview – Fundly helps first time fundraisers and pros. The team at Fundly helps you create a dedicated webpage for your cause, which is also optimized for mobile. It doesn't stop there, Fundly understands the importance of social sharing. Accordingly, they'll get your donation set up on your social networks and send email outreach to your contacts.
Pros
No minimum amount to raise to keep your funds.
Payments are processed quickly and can be withdrawn in 24-48 hours.
Customizable donation page with options to add photo and video.
Optimized sharing across all social networks.
Cons
The total fees near 10% of your fundraising dollars.
3. YouCaring
Cost – Credit card processing fees of typically 2.9% plus $0.30 per transaction
Overview –  YouCaring is a free fundraising platform catering to individuals who want to raise money for medical expenses, memorials and funerals, education and tuition assistance, adoption fundraising, funding for mission trips, pet expenses, animal rescue, and generally helping others in need. The YouCaring website provides simple and organized methods to run your fundraiser.
Pros
Free!
No fundraiser has ever been charged for using YouCaring.
Ability to choose your credit card processors: PayPal or Wepay.
The site is supported by donors all over the world.
Cons
Limited scope of what can be funded through the site.
No webpage or social sharing optimization.
4. GoFundMe
Cost – 9.25% in total fees (5% fee deducted by GoFundMe, plus payment processing fees of 2.9% and $0.30 per donation).
Overview – GoFundMe is an efficient and effective way to provide financial support to individuals you care about most. Donors can give in an extremely targeted way, and GoFundMe prides itself on allowing more money to go directly to the intended causes than what other funding sites claim.
Pros
Donors are charged only they amount they choose to donate.
You keep all of the money you raise, unless you select an all-or-nothing campaign.
Facilitates social sharing on various platforms.
Cons 
The main uses of GoFundMe are: medical, educational, volunteerism, personal emergencies, and sports teams. Essentially, there are limited causes to which you can set up a GoFundMe campaign.
5. CrowdRise
Cost – No annual fees, but there is a 5% fee CrowdRise deducts of the total donation amount as well as the typical credit card processing fees.
Overview – Individuals and charities can use CrowdRise for their donation efforts. The site offers a wide range of fundraising types, including marathons, volunteering, and creative. The most recognized charities in the world use CrowdRise for funding, including the American Red Cross, UNICEF, and Stand Up to Cancer.
Pros 
Charities can choose to receive a lump sum check every 30 days or can choose to receive each donation in real-time.
Safe and secure payment processing.
Full transparency and compliance from CrowdRise.
Cons 
Limited services with a Free Account, there are two upgraded account options that carry yearly rates.