Business and consumer-friendly signage is what we excel in. To help simplify your display needs, we provide inexpensive, foam-based signs that make for an excellent product for signs, presentations, and storefront displays. Foam board (also known as foam core) and gatorboard (also referred to as gatorfoam) are both viable signage solutions that excel in lightweight versatility. Though both are comprised of a foam core, there are distinct differences between foam board and gatorboard. We'll also compare how these two foam signs match up with another lightweight sign option called falconboard.
You may be familiar with foam board signs used for display or presentation purposes but, you might not know about our unique falconboard signs. While the regular foam board options outlined above are versatile in use, the additional option of falconboard will bring to life any display. We've gathered together all that you need to know about these three similar sign types so that you can choose the one that is best for your needs.
We're here to help make your decision between foam board, gatorboard, and falconboard signs as easy and straightforward as possible. Each sign type is unique in its own right, differing in physical attributes and applications. That being said, each sign is a quality display choice for a variety of uses.
Foam Board Signs
One of the most common display boards used in presentations, school projects, and advertising is foam board signs. As its name implies, this sign is produced with a lightweight, rigid foam core sandwiched between white paper faces. Your design is printed in full color with fade and abrasion resistant UV ink. The result is a high-quality, matte finish that will surely impress.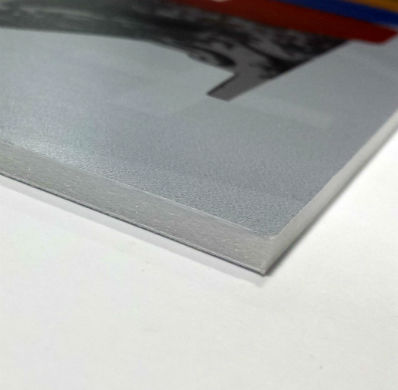 Weighing in at .13 lbs per square inch (comparable to the weight of 13 quarters) and 3/16" thick, foam board is ideal for both business and personal use. If you're looking for a thicker foam board, you can contact us at support@signs.com or 888-222-4929 for additional options. The cost effective and lightweight foam board makes it a great option for one-time use signage. This board is slightly pliable, but over-bending the board will result in it creasing or snapping. The pliability of foam board signs does increase with size. Bigger foam board signs should be handled and used with care.
Creative Uses of Foam board Signs
Businesses can utilize foam board signs as a display for products at tradeshows or conventions, window displays for sales or promotions, or a base for mounting papers using thumbtacks. Another common use is to display directions or important information needed at events and conferences with a custom foam board sign.
If you have a project or need for a display as a student or teacher, a foam board sign will be a cost-effective choice. You can also use this material as a base for creating seasonal displays for Christmas, Halloween, the 4th of July, and other holidays. You can display the board using adhesive against a wall, propping it on an easel, or hanging with zip ties, rope or hooks. If you do decide to pierce the board for hanging purposes, do so carefully and away from edges to prevent any breaking of the board. We do provide the option to drill holes in our production facility; you can select the 'drilled holes' option in the design tool to request this with your sign.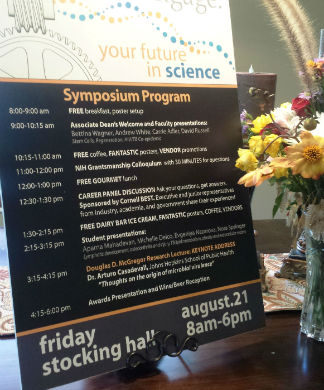 Using multiple foam board signs can help you create an appealing display, or you can incorporate double-sided printing to have a design on either side of the board. When implementing double-sided printing, make sure to hang the sign in a way that allows for both sides to be seen.
The design of foam board signage does make it susceptible to easy breaking or denting if not handled correctly. Any weight applied to a foam board sign could result in it bending or snapping, so we recommend not placing heavy items on the board. Likewise, this board is not waterproof and we highly caution against using the board outdoors, especially in harsh weather conditions.
Gatorboard Signs
Gatorboard is a durable display board that is constructed with a rigid foam core. This foam core is comprised of a dense polystyrene, which gives a rigid frame while maintaining a lightweight nature. With a 3/16" thickness, our gatorboard signs are comparable to foam board (we also offer additional thicknesses by contacting us at support@signs.com or 888-222-4929). Though similar in appearance to regular foam board signs, the durability of the polystyrene core gives gatorboard signage a superior sturdiness in comparison to foam board signage. This quality of gatorboard with its lightweight and solid construction is noticeable when handling or hanging the signs. Like with the our other foam or cardboard signs as detailed in this post, your design will be printed using fade and abrasion-resistant UV ink.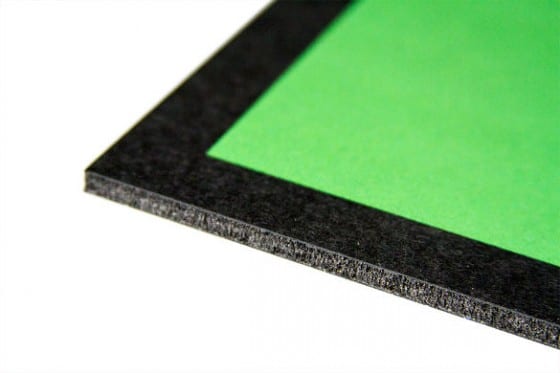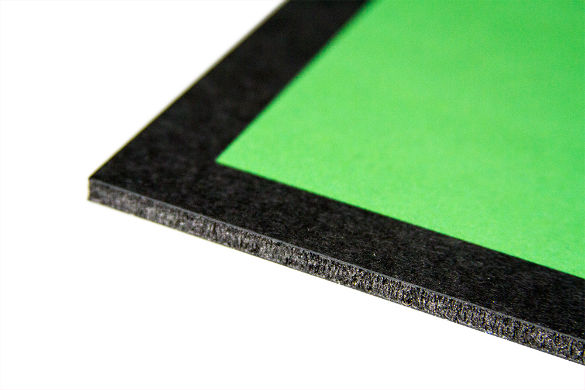 Though made to resist scratching and breaking, gatorboard is still liable to damage when too much pressure is applied to the surface. Gatorboard, though named after an amphibious creature, is not entirely waterproof. The UV ink will give a slight protection from water and the polystyrene core can withstand only very slight moisture. That being said, we recommend not exposing your gatorboard signage to large quantities of water or moisture to maintain its quality. If handled and stored correctly, a gatorboard sign or display will last at least 2 years.
Because gatorboard signs are considered to be a stronger version of foam board signs, it will cost slightly more to produce signs and products using it.
Creative Uses of Gatorboard Signs
Taking advantage of the lightweight and increased durability of gatorboard signs for your display purposes is a viable alternative in some cases to even rigid plastic signs. Gatorboard signs can be considered a more permanent signage solution than foam board because of its quality. The high quality of the gatorboard will allow for use as professional logos, directories, and product displays for businesses and stores. If you're opening up a restaurant or catering business, gatorboard would make for a perfect portable menu or sign.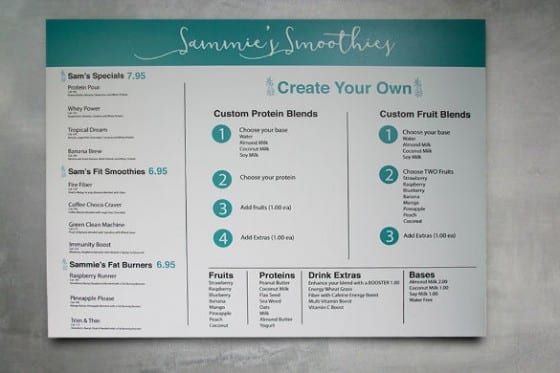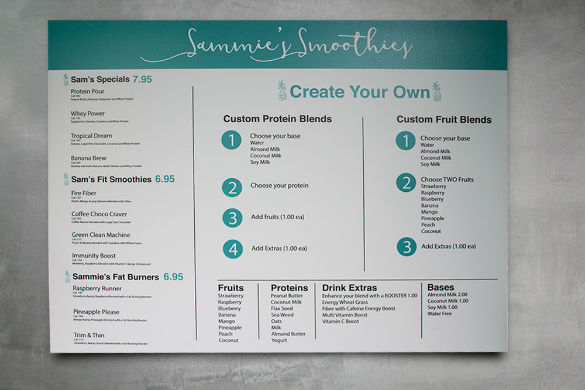 Gatorboard can be easily mounted on a wall using screws or hooks, making for an excellent wall display in any business or home circumstance. The sturdy design allows for holes to be drilled in the board without damaging or cracking the material. If you're looking to add nameplates or directional signage to your business and do not want to spend money on an aluminum or acrylic signage, then custom gatorboard signs can be used as a cheaper yet durable alternative. Using gatorboard signage as a decorative element during a seasonal sale or holiday can enhance your storefront display. Gatorboard can also be cut to any shape (contour cut) as long as any given portion of the sign is never less than ½" in width.
Falconboard Signs
Falconboard is constructed from two white paper faces attached by a honeycomb paper core. This board is comparable to a very rigid cardboard that is ½" thick. The honeycomb center allows for an incredibly rigid yet lightweight sign. Unlike foam based signs as discussed above, falconboard signage is unlikely to bend or snap. This design also gives off a 3-D appearance when displayed. Because of its paper composition, this sign is 100% biodegradable and is comprised of renewable resources.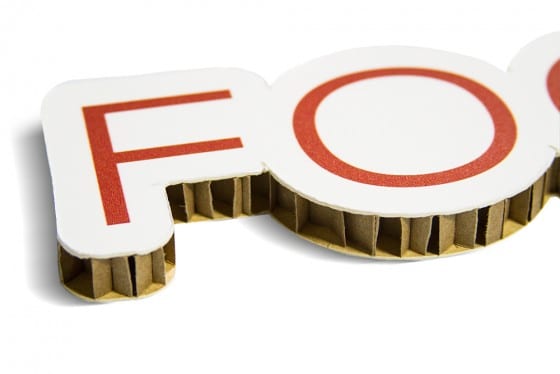 Like most of our signs, your design will be printed onto the surface using scratch and fade resistant UV ink. Falconboard can be contour cut, meaning that it will be cut to the exact shape of your design (the thinnest portion of any given contour cut can be ½"). Just select contour cut in our design tool to ensure that this is done.
Since falconboard signs are comprised of paper product, we highly discourage you from placing it outdoors, especially in harsh weather conditions. Even though it is a rigid sign, water can cause the honeycomb core to deteriorate in strength, causing the core to collapse. It is also possible for the surface of the board to be pierced or punctured if too much pressure is applied, so avoid placing objects on top of the sign.
Creative Uses of Falconboard Signage
This product will allow for professional window displays, signs for storefronts, seasonal and point of purchase displays and present a unique 3-D effect for exhibits. The 3-D nature of falconboard signage allows for it to be freestanding without any additional support. The unique 3-D effect is sure to entice eyeballs to focus on a display at any tradeshow or convention. Add the fact that it's as light as air and you have a perfect, portable display. With that in mind, you can also hang falconboard using string, zip ties or rope.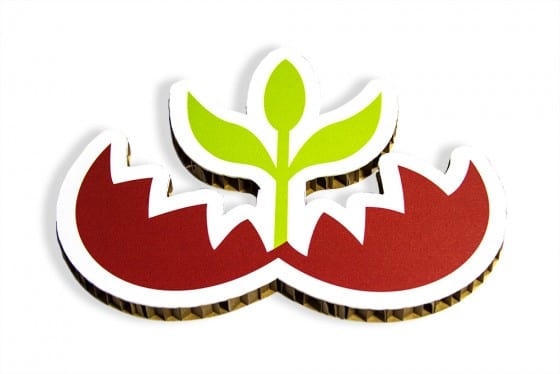 Falconboard can also be used to create in-home displays for birthdays, graduations, or anniversaries. Much like channel lettering in a business setting, one can easily use cut-to-shape falconboard for a kid's room using falconboard letters for names or initials.
Choosing the Right Sign Type For Your Needs
Now that you know more about each type of board product it's up to your discretion on which will be best for your needs. We've included below a comparison chart that will simplify the decision process. If you're still unsure don't hesitate to contact us so can help you get the right sign type for your needs!