It's officially election season. Driving around town you'll probably see a sign or two, or a whole lot more than one or two, for a political candidate from now until November. It seems that every election year, our yards and neighborhoods become filled with political advertising. For years this has been a popular method to get the word out about a candidate or an issue. But what affect do these signs have on the voters? Do they have much sway at the ballot box? Or are they simply a waste of time, effort, and money? A nuisance in an already noisy and over-saturated advertising world?
As a continuation of one of our previous posts on whether campaign signs work or not, we set out to gather our own data concerning the efficacy of political signs. In particular we wanted to explore two areas. The first thing we wanted to ascertain was whether political signs are effective at increasing name recognition of candidate 'x'. The second question was what, if any, impact yard signs put up by trusted neighbors had on potential voters eventual voting preferences and actions. For more information on the methodology of our survey please see the end of this post.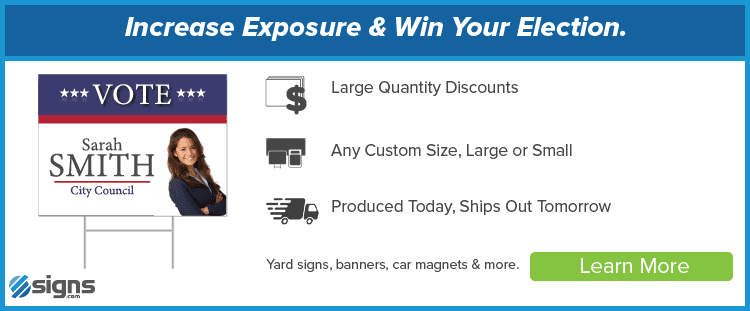 Impact of Political Signage On Name Recognition
One of the reasons signs are used during election season is to get the name of the candidate or issue out. Signs are a great way to catch people's eyes. They are also great at the long practiced advertising tactic of repetition (or effective frequency in advertising jargon). Signs are placed where they are seen repeatedly by the same people during a daily commute, errands or otherwise so that the message or name recognition sticks! Compared to incumbent candidates, signs can be a critical way for new candidates to get people to first learn of them. We wanted to know if this technique was actually effective.
In our study, the question was asked, "Have you ever first learned of a local political candidate from a sign?". Out of the 1,500+ responses received over 40% over people said that they had first learned of a local candidate through a sign. Without signage to influence those people, 2 out of 5 people may have voted in a different manner simply because there was no name recognition for candidate "x".
As it relates to the efficacy of political signage on name recognition, some other points of interest we found from the study were:
More women first learned of a candidate from a sign than men.

More 25-34 year olds first learned from a sign than any other age group.

More people in the US Midwest first learned of a candidate from a sign than any other region of the country.

More people living in urban areas first learned of a candidate from a sign than suburban or rural areas.

More people with an inferred income of $150K+ first learned from a sign than any other income bracket.

More people that are parents first learned from a sign than people that are non-parents.
Traditional signage such as yard signs have been a traditional median to influence the voters and since 1984 the use of yard signs has quadrupled. If 40% of the electorate could be potentially swayed by increasing name recognition there is no doubt campaigns far and wide should be using political signage in every way they can!

Impact of Political Signage Used By Trusted Neighbors
We also wanted to find out whether political signs used by trusted peers and neighbors had any impact on one's own voting preferences. Much like the marketing principle of effective frequency alluded to above, we wanted to know if the advertising theory that buyers trust recommendations from friends more than anything else also applied to political signs used by trusted peers and neighbors.  The question we used to gauge this was: "How likely is your vote for a local political candidate to be influenced by a sign in the yard of someone you trust?". This question showed that 20% of people were likely to be influenced by signage displayed by those they trust. This data shows that at least one in five people willingly admit that often deeply and privately held political opinions can be influenced by a simple yard sign used by someone they trust.

Additional data found from the study showed us that:
Men were more likely to be influenced by a sign than women.

18-24 year olds were more likely to be influenced by a sign than any other age group.

People in the US South were more likely to be influenced by a sign than any other part of the country.

People that live in rural areas were more likely to be influenced by a sign than people living in urban or suburban areas.

People making $75-99K were more likely to be influenced by a sign than people in any other inferred income bracket.

People than were non-parents were more likely to be influenced by a sign than people that are parents are.
Cost of Political Signage
Political signs have been shown to improve not only voter turnout but they also have been proven to increase the vote share. Residents who post political signage in their yards are 2.4 times more likely to vote than individuals who do not.  With these noted benefits, as well as the survey results that show the ability to increase brand recognition and influence voting preferences, the question becomes one of which channel is most cost effective to help the candidate win.
One of the most cost effective ways to get your name or the word out on an issue or for an election in general is a yard sign. Compared to many other forms of advertising these yard signs can easily be the most cost effective yard signs. To ascertain this you'd have to have an idea of how many thousands of impressions the yard sign will garner (as advertising is typically measured on a CPM or cost per mille basis) but when 100 yard signs measuring 24" W x 12" H would cost just over $4 per sign, it's a pretty good bet that your yard sign CPM will be very low!
The cost effectiveness of political yard signs is even more apparent when compared to other advertising channels to increase name recognition and sway voters. For example, according to the Houston Chronicle, the average cost for a 30 second local commercial is between $200 – $1,500 for a one-time run. When it comes to billboard advertising you are likely to pay between $650 and $2.4 million for a 6 week period of time depending on the location based on research from Grasshopper.com. Online marketing and advertising efforts can be appealing to many but if not managed correctly can quickly spiral out of control due to high cost per click or unseen ad inventory that still must be paid for. Representative Dennis Kucinich told Cleveland.com why he believes yard signs can be more beneficial, "This is better than a paid billboard, because it's a personal endorsement. It shows that I have support at the neighborhood level." Traditional signage like yard signs are not only a cheaper route than some more technological options but has other benefits that aren't found elsewhere.
We'd highly recommend political yard signs and other forms of signage as a cost effective way to increase name recognition and attempt to persuade voters on issues and candidates. Based off our survey results it is definitely a probable outcome when done correctly!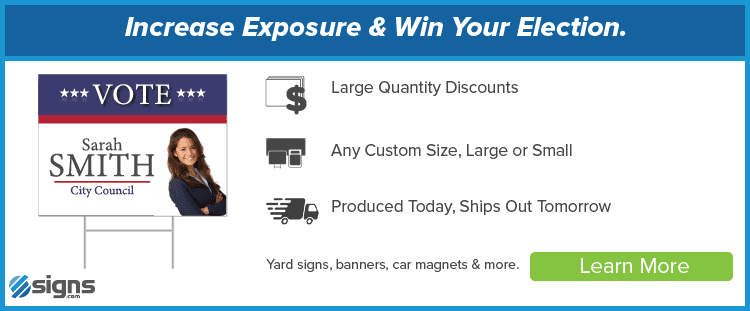 Methodology: To measure the impact and trust of political signage during during election season we presented two questions to separate groups of 1,500+ individuals from all backgrounds through the United States. The data was collected over a period of a couple of days in April of 2016 through online surveys hosted by Google.