Trade shows: the perfect opportunity to meet one-on-one with prospective and current customers in your target audience. There's no better place to flex your business' muscle and show that you're committed to excellence in your industry than a trade show. New products, services, or an innovative business approach are all commonly found at these events. No matter what you have up your sleeve, you'll need to know the ins and outs of trade show planning to harness the full potential of these industry events. We're here to layout the details of trade show planning; from goal setting, to booth design and setup, we've got you covered on everything you need to know to successfully attend and exhibit at a trade show.
Pre-show Planning
It would be a mistake to underestimate the work that goes into planning and executing an effective trade show appearance. Attending a trade show is not a decision that can be made overnight. For shows that require considerable travel time, planning 6-12 months in advance is recommended (and might we add, extremely necessary) to iron out all the fine details. Simply put, there's more to a trade show than just purchasing booth space and presenting to the crowd. To help you cover all the bases, we've gathered everything you need to know about pre-show planning and how you can best prepare your business for trade show success. We've also included a check-list to help guide you in your trade show planning.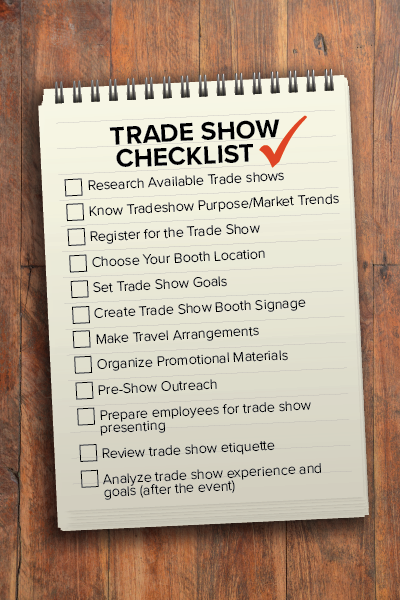 Find The Trade Show For Your Business
Trade shows come in all shapes and sizes no matter what industry you are a part of. With an extensive list of available trade shows throughout the nation, it's important to narrow down your choices to find the one that best fits your business. Luckily there are a handful of comprehensive, online databases that can help you sift through all the options.

Trade Show News Network (TSNN) – The Trade Show News Network offers a detailed search engine for finding the ideal trade show. Search criteria includes industry type, date, location, vendors, and organizers. When viewing individual trade shows, a description of the event is available as well as event contact information. The number of available booths and floor size / booth size will vary depending on the trade show, so we recommend contacting the organizer for such information. Contact information for the host can be requested on this database. Not only does TSNN offer a detailed A-Z list of trade shows, the site provides news about upcoming events, research reports, and event statistics.

Expodatabase – Expodatabase allows you to search through a thorough list of industry categories to pinpoint your go-to trade show. This database provides information on event venue, times and attendance statistics. Organizer information is provided as well as an overview of the trade show.

10times – 10times is a quasi social network for trade shows. You can create an account to RSVP for trade shows as a guest or send in a booth booking request to become an exhibitor. All participating exhibitors are listed on the trade show's profile page. Individual trade show pages include information on the event, organizer, and hotels near the event (including star ratings and prices). The trade show search engine features a detailed search query for finding domestic and international trade shows.
With plenty of online resources, it's hard not to find a trade show that fits your business. Beyond the sites above, typically each industry will have some kind of news source where trade shows themselves are advertising themselves in order to have a successful event.
If you're attending a trade show for the first time, you may want to narrow your search to events that are tailored for smaller businesses. Exhibiting at a larger industry trade show may not be the best idea initially; big shows mean more competition on the floor and less quality time with prospective business leads.
Testing out small to medium-sized trade shows will give your business a chance to iron out the process and gauge the return on your investment before exhibiting at the bigger and more expensive trade shows within your industry.
We highly recommend looking at the vision or reason for the trade show. Is the trade show held for product launches / demonstrations, or is it specifically designed to meet potential clients? Trade shows come in all shapes and sizes, so knowing the purpose behind the show will help you tailor your booth and goal setting to optimize your business' trade show performance. Types of trade shows include:
Industry trade shows – industry specific trade shows that are generally used for networking and seeing industry trends and innovations

Vendor trade shows – vendors within your specific industry market and advertise at these events

Product trade shows – new product launches and product innovations are found at these trade shows

Consumer trade shows – trade shows open to the public, giving the public opportunity to view businesses and products within a specified industry
Research Your Market/Competition and Customer Trends
Trade shows are a battleground for competing businesses to gain an edge in their respective market. Knowing current market trends and customer habits will provide you with valuable data to tailor your trade show marketing strategy. Each industry is unique in its own right, so market research strategies will vary depending on your business.
Going into a trade show with the confidence that you're prepared to address needs within your industry will help boost performance, resulting in a higher ROI for trade show participation. Ultimately, getting more bang for your buck is what you want to achieve; building a foundation on market research will help you achieve just that.
Knowing where to look and what to look for when conducting market research is necessary for you to correctly identify current trends. The internet has a colossal amount of resources at your fingertips to help you analyze the mindset of the market and consumer. It's also advised that you research competitors within your industry to understand how they are adjusting to common trends. Here are a few trend websites that will benefit your trade show planning.
(Note: these are general trend sites. For specific industry trends, simply Google your industry with the trends keyword).
Google Trends

– Google offers incredible insight into their search analytics, providing you the ability to see the search value of terms and topics. The Google Trends homepage gives stories that are currently trending, which can be used for your business to piggyback off of. Doing so can help consumers associate your brand with trending topics (for example, brands associating themselves with

trending Olympic hashtags

).
U.S Small Business Administration

– The U.S Small Business Association (SBA) offers a list of available (and free) sources that provide business statistics and data in the United States.
With data in hand, you'll be able to adjust your marketing strategy for the trade show, giving your business an advantage in catering to the needs of those in attendance.
How to Register
Registering for a trade show is usually straightforward and can be completed through the trade show's website or mail-in application. Applications are typically referred to as exhibitor applications. In some cases, you may need to contact the event organizers to request an exhibitor application. Here are a few examples of what an exhibitor application looks like.
Along with the general application, you will be required to fill out additional forms, including fee waivers for electricity, wifi, and additional booth supplies like tables and chairs. Each trade show is different in regards to additional forms, so double check with organizers to ensure you're filling out all the required forms.
Set Goals For Your Business
Goal setting is a common business practice that should be applied to trade show attendance. Quantifiable goals will allow you to measure if your trade show attendance is successful or not. There are plenty of measurable variables that are possible at trade shows, so knowing what you should track will help you analyze your trade show performance. Each industry can have goals or performance metrics that are unique to its own industry. Nonetheless, here is a list of common metrics for goals that any exhibitor can set as well as methods to track them during the trade show:
Number of prospective contacts and leads

– track using signup sheets for email lists or kiosks using mobile tablets (personally assist in helping them sign up)

Attendance to your booth

– this can be achieved through a headcount method, or can be done scanning badges (some trade shows provide badge scanners for this purpose)

Materials handed out

– track the number of materials brought to the trade show and analyze the amount handed out during the course of the event

Amount of sales increase after trade show

– this requires tracking sales trends before, during and after the show – specifically look at the percentage increase of sales after the show in comparison to before to analyze whether or not your trade show efforts affected sales

Website traffic during/after trade show

– website traffic during a trade show can be used to track visitors who are not in attendance at the actual event, drive traffic using social media and encourage visitors using limited-time discounts

Interviews with media representatives

– track the number of interviews done with representatives from local media (news organizations, industry blogs, etc.) as well as follow up with media reps after the event to see how your interviews will be used and when

Social media interactions and followers increase

– use the analytics provided on social media sites to track follower and interaction trends before, during and after the trade show. This will give you a better idea of how effective your social media strategy was in the trade show planning and executing process
Choose Your Booth
Choosing floor space should be done as soon as registering for the trade show begins. Premium booth space goes quickly, so the sooner you register, the better. We recommend scoping out the floor plan of the trade show venue to locate where the premium spaces are located. Trade show venues often provide online floor plans for this purpose. If possible, attend the trade show you're planning on registering for a year in advance as a visitor; doing so will help you get acquainted with the overall feel of the event and a sense of where heavy foot traffic occurs. Of course, any attendee should know that the booth locations with the heaviest foot traffic will also come at the highest costs. Thus, it may be wise to test out the trade show at a cheaper booth spot and verify that your company generates a positive ROI from the show before committing to one of the more expensive and/or larger booth spaces.
The cost of renting space varies depending on the trade show and where the space is located in the venue. Expect to pay around $2,000 for a 10'x10' booth space at a smaller trade show. For bigger, well-known shows a booth may easily cost upwards of $100,000 or more.
Trade Show Booth Signage Options
Booth displays are designed to entice attendees and prospective buyers to check out what your business has to offer. It can be considered an artform creating a display that entices and informs without being overcrowded or 'noisy' in design. We have a blog post dedicated to effective trade show displays that details all that you need to know about the design portion of your display and booth.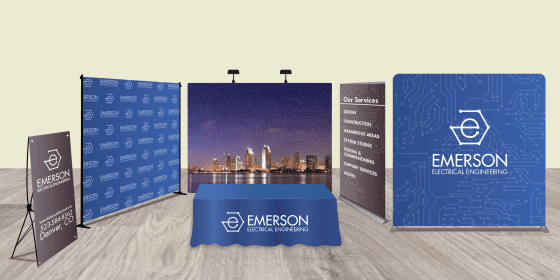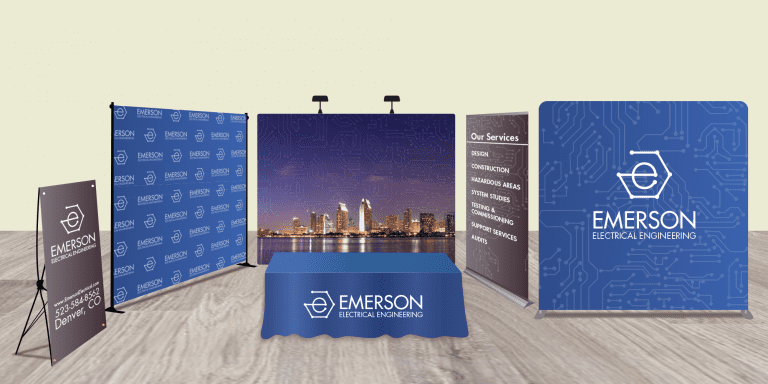 Besides the actual design, knowing what types of signs and displays are available will ensure you choose the right one for your booth needs. While some will choose to buy exorbitantly expensive trade show set ups (think 10's of thousands of dollars), we believe you can have a professional booth at a fraction of the cost. There are a variety of portable trade show displays and sign options at your disposal to create a compelling booth. So, which one do you choose? Here's a list of available trade show displays that you can incorporate into your booth's space.
Step and repeat displays

–  This display has pole pockets located on the top and bottom of the display fabric, which allow it to be attached to an assembled frame. These displays are ideal for showcasing company products, logos, and sponsors. Place step and repeat banners towards the back or sides of your booth to maximize booth space.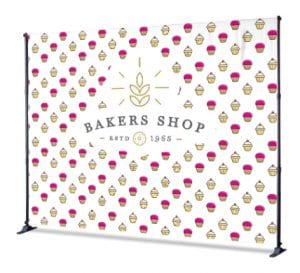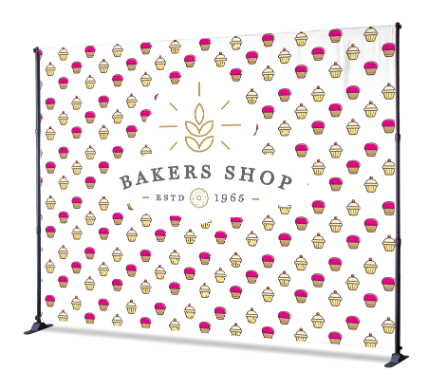 Tension fabric displays

– The tension fabric display is stretched over the top of a lightweight, aluminum frame, resulting in a smooth, taut display. Tension fabric displays are great for product launches and photo backdrops. We recommend placing these displays off to the side in your booth or near the back to maximize booth space while providing a vibrant, sharp display.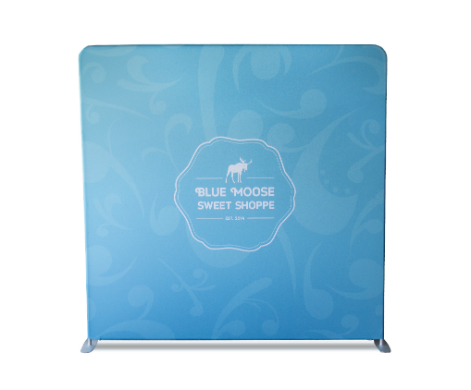 Pop up displays

– The aluminum frame is extended in seconds to fit a polyester fabric display that is attached using velcro. The fabric wraps around on both sides of the display to give it a 3 dimensional final display. Pop up displays are great for displaying large images of products or sponsors and are great as backdrops for your booth.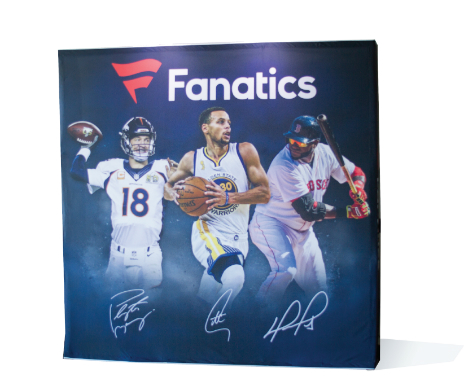 Retractable banners

– A smaller display banner that pulls out from a solid metal stand, making for easy setup and excellent portability. Retractables are perfect for displaying company information, product images, logos, and limited-time sales. Place towards the entrance of your booth area for best exposure.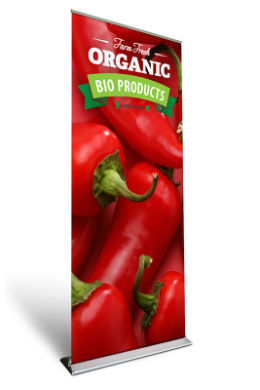 X Banners

–  The x-stand is designed to be the ideal portable display for trade shows. The x-frame provides excellent stability for the vibrant, vinyl banner. The x-stand is ideal for displaying information at the entrance or off to the side within in your booth. These displays are great for alerting attendees about product demonstrations and other trade show events you will participate in.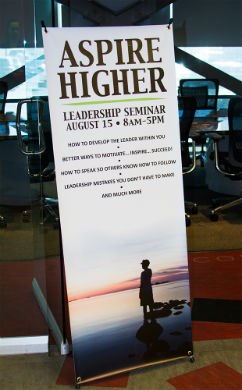 Feather banners

or

Teardrop banners

– These tall, flag-like banners are perfect for placing right outside your booth to draw immediate attention to your booth location. The taller the flag, the easier it will be seen among the crowds of the trade show floor (our tallest flag banner is 18 ft in height).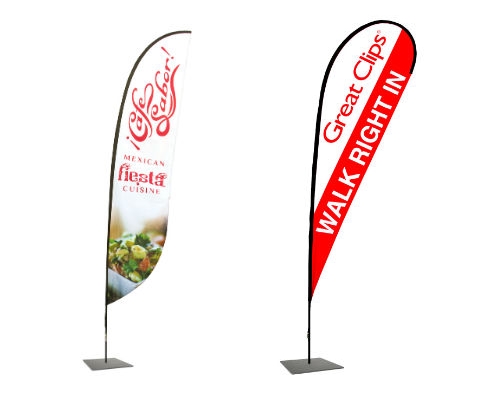 Foamboard

,

gatorboard

,

falconboard

– These lightweight display options are perfect for temporary displays. Both foamboard and gatorboard products are viable options for displaying new product information, limited-time offers, and trade show specific information. Falconboard is used to form 3-D lettering, logos, and images, giving your trade show booth added prominence.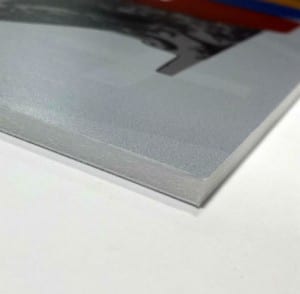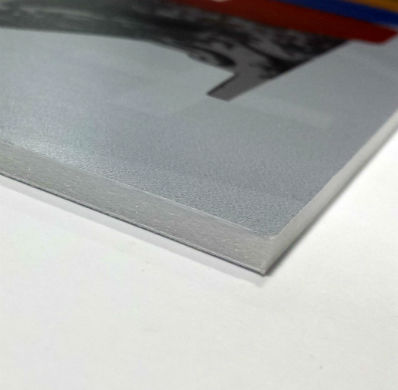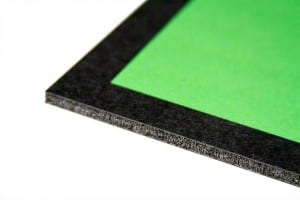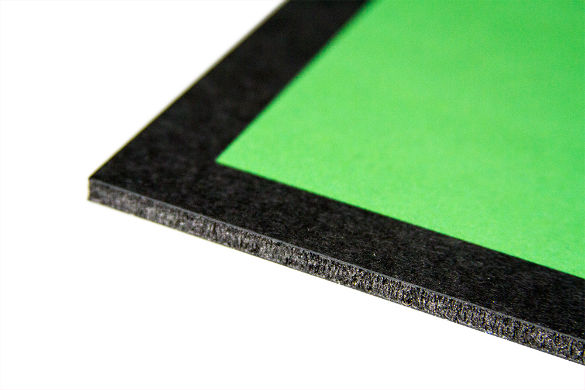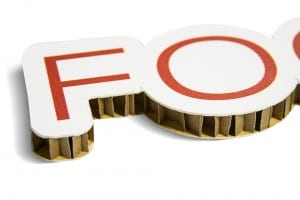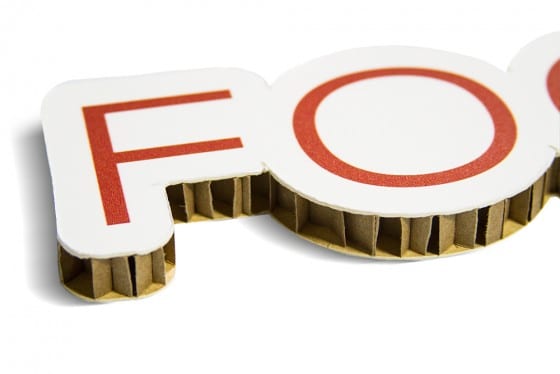 Use a combination of these trade show signs and displays to create an environment that promotes a professional and inviting booth for attendees. Of course, you want to avoid overcrowding your booth with displays, so use discretion when planning your booth layout.
Designing your Booth
Putting effort into designing your booth displays will give you an upper hand on the trade show floor. We have an entire blog post dedicated to attractive trade show displays; in summary, your trade show displays should have a simple design and that is easily understood (meaning, not text or image heavy). Clearly portray your booth's purpose by using concise wording and simple images; the goal of your displays is to create curiosity and inform. Be unique by using bright colors and attractive images to instantly draw attention to your booth.
Make Travel Arrangements
Travelling can either be a nightmare or a smooth-sailing experience. We're here to help you experience the latter with a few tips that will make travel a breeze. Obviously, it's best to book flights and hotels months in advance in guarantee that you're getting the best deals. Airlines, like Southwest, United and Delta, offer benefits to businesses that fly often, so consider signing up for a travel plan to reduce airfare.
Travelling with all of your trade show materials can be a logistic challenge if not done correctly. There are multiple ways that you can get your trade show materials to the venue.
Airlines / checked baggage – The portability of our trade show products will make taking them on airplanes a viable travel option. Check with the airline to know their limits on the number of checked baggage you can bring per person. Make sure when packing up your trade show displays and materials that you label them 'fragile' to protect against mishandling by the airline.

Shipping companies – Shipping providers like

UPS

can provide trade show shipping solutions for all your materials. With trade show shipping, these providers typically guarantee the shipping dates, giving you added assurance that your materials will arrive at the venue on time (if the venue does not accept shipped materials, use your hotel as the shipping address). When using a shipping provider, consider purchasing hard, protective cases for your materials  to ensure they are not damaged while being shipped (we do not offer hard cases for trade show products).

Trade show organizers – some trade shows offer assistance in material transportation. This can include shipping services, picking up materials from airports, and receiving / processing booth materials at the venue. Check with the trade show organizers to verify if they provide these services.
Pre-show outreach
Showing up to the trade show and expecting prospective leads and contacts will immediately flock to your booth is a naive mindset that won't help you achieve your marketing goals. Communicating with prospective leads is a necessary step to an effective trade show. The idea of prospective leads comes two-fold; there's obtaining leads and then there's contacting them. Ways that you can obtain leads prior to a trade show include:
Online Content: Blogging, social media, and other content platforms are excellent means for reaching a diverse audience and motivating people to attend your trade show booth. Unique, relevant content helps drive traffic to your website because it is applicable to the reader, motivating them to interact with your website and encouraging booth attendance at the trade show. Use online content as a way to promote your trade show appearance, giving exclusive information to those who sign up for your mailing lists. Invite readers to click on links to sign up for trade show mailing lists and to follow social media accounts. Focusing on trade show advertising and content should coincide with your standard marketing strategy.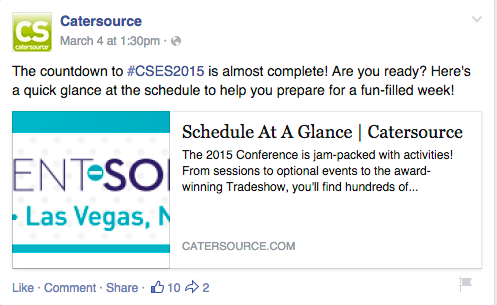 Email marketing: Use email marketing to specifically spread information about your trade show appearance in conjunction with your ongoing marketing strategies. Email blasts leading up to the trade show can include a backgrounder of the trade show, notable companies in attendance. discounted floor passes, trade show venue / city spotlights, and exclusive deals during the trade show. Email marketing allows you to contact potential leads who have signed up for your mailing list. Services like

MailChimp

and

Constant Contact

provide easy-to-use interfaces to send out emails to aggregated mailing lists.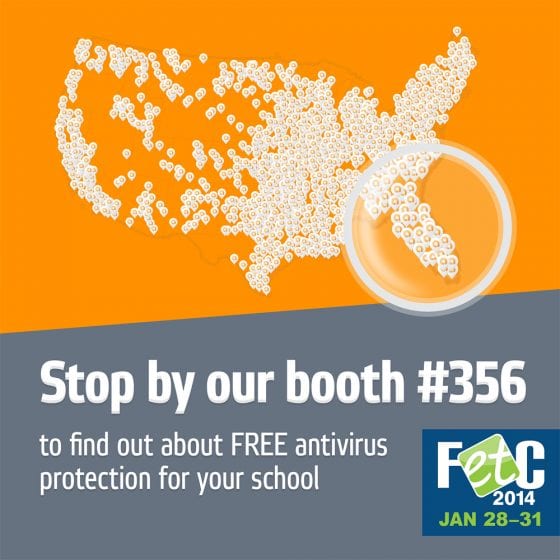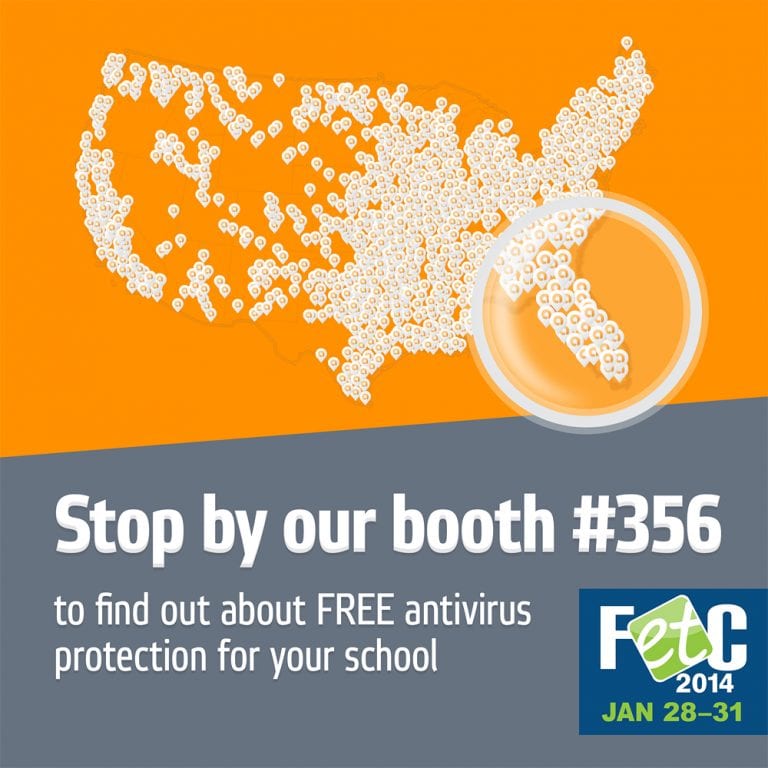 All pre-show outreach will happen simultaneously with your current marketing plan, giving you greater diversity in content produced. The purpose of qualifying appointments for trade shows is to ensure that your booth is being constantly visited by potential partners, customers, and sponsors. Making your target communications towards high-potential prospects will increase the odds of cementing meetings throughout the trade show. It's all about building positive relationships, and reaching out shows that you value their time and input.
Day of the Trade Show
Arriving/Setting Up
It's finally the big day! You've spent countless months preparing for the trade show – now it's time to excel in your craft. Like with any big event, it's best to arrive at the venue hours beforehand to make sure you have all the loose ends taken care of (booth set up, marketing materials distributed, personnel ready). Depending on the trade show venue, booth set up can be done the day before the actual event to ensure that the day-of activities are not hindered by set-up time.
Trade Show Etiquette
It probably goes without saying: be respectful and courteous throughout the trade show. A professional attitude goes far beyond your trade show appearance. Professionalism, coupled with one-on-one, personable interactions will define your business in the minds of attendees.
Remember to include these tips in your personnel training to uphold a professional attitude:
Dress for success – wear clothing that is appropriate for the show, the attendees, your industry and how you want your business to be perceived.

Be active in front of your booth – sitting down is a no-no, as well as standing behind a table. Actively engage attendees to ensure that they are engaging with your business.

Put the phone away – eliminate the distraction of phones by turning them off.

Be consistent and honest in your message.

Be humble and polite. Don't be overbearing, pushy or annoying to potential booth visitors and passersby.

Always listen to the contact and their needs.

Don't chew gum or eat while on the floor.

Be engaging, smile, have fun, and enjoy the experience.

Respect your neighbors – be courteous of your booth neighbors and their space. Get to know your neighbors (a great networking or partnership opportunity) and be mindful not to encroach on their booth space.
Marketing Materials and Strategies
There are many ways to increase your trade show ROI, including the use of marketing materials. Handing out marketing materials is the go-to method of advertising on the trade show floor. To this point, most shows will provide a free bag for attendees to hold on to materials passed out by exhibitors. Flyers, business cards, and postcards are all excellent options to provide more information to those who stop by your booth.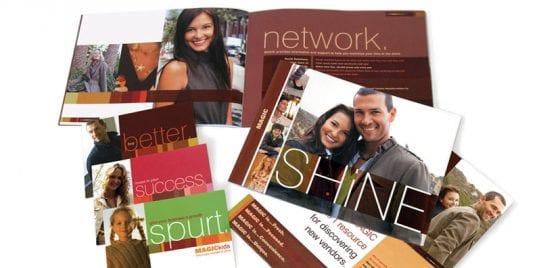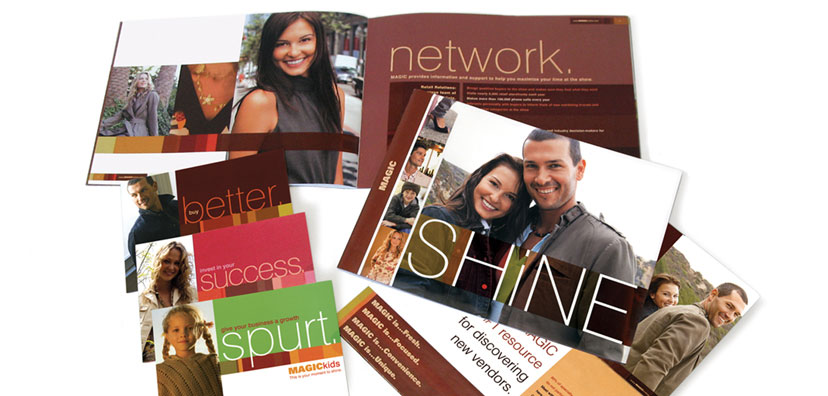 When using handouts, incorporate specific offers that are only available to trade show attendees. Use unique website links and QR codes to direct people to these offers. When talking to quality, prospective leads, hand out brochure-style booklets to inform them of your business endeavors. These booklets should include information about products and services your business offers, as well as an overview of your company's vision.
Besides handouts, equip your booth with mailer sign-up sheets or mobile tablet kiosks to allow attendees instant connectivity with your website and social media profiles. Have your booth staff carry tablets or notepads to use while interacting with the crowd; this allows instant sharing of relevant data and product images, as well as a means to sign up quality leads on the spot.
Giveaways and Swag
One way to encourage mailer sign-ups is to do giveaways at your booth. Giveaway your product or service, or current tech toys like iPads, Beats headphones, or an OLED TV. To enter the giveaway raffle, visitors can provide the email and contact info or leave their business card with you. Have multiple giveaways throughout the course of the trade show to ensure your booth is a hub of activity.
Giving away company swag is another way to bring visitors to your booth. Honestly, who doesn't like free stuff? Branded t-shirts, pens, water bottles, and USBs are great to handout or giveaway. If you're going to giveaway company swag, incorporate a wheel or chance or a random drawing to increase participation at your booth. The more time someone spends in your booth, the more they will be influenced by your trade show appearance.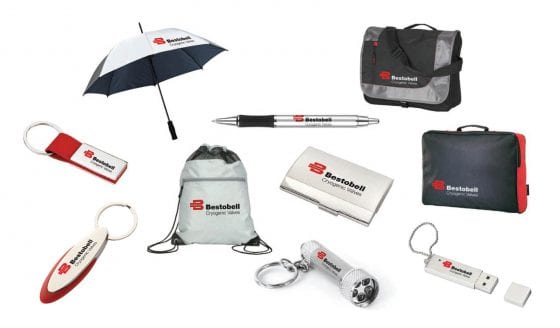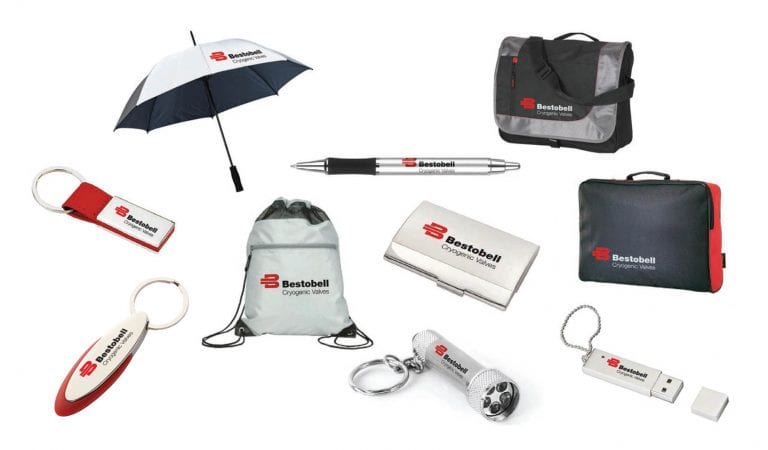 After the Show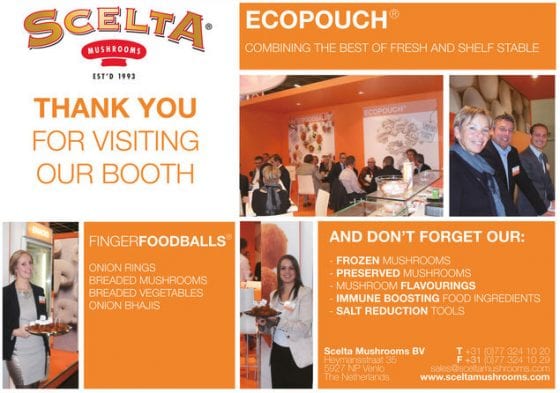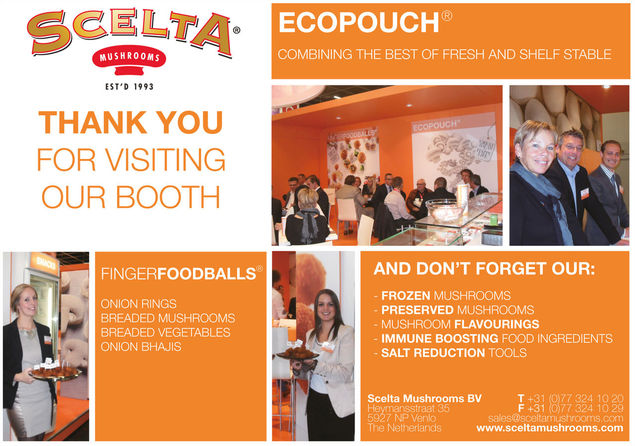 The work isn't over when the trade show ends. If the show is successful the work has just begun. The moment you begin packing up your booth and preparing to head back home is when you should begin contacting all of the potential contacts and leads you obtained at the show. This initial outreach doesn't have to be complicated. Contact booth visitors via email or phone to thank them for their time, as well as remind them of any invitation you extended to them on the floor. Doing this can go a long way in helping build the relationship between future client and your business. Make sure to note which visitors to your booth will be most valuable to contact after the show and prioritize your list when doing this outreach.
Analyze Your Experience
Once you return home, it's crucial you objectively review your trade show experience. This is the opportunity to evaluate the goals you set beforehand, comparing them to actual results. Reflecting on and analyzing the trade show experience is a learning experience, helping you gauge where your business stands in comparison to the competition, while also providing you with data and feedback that you can implement to grow your business.
In order to make a correlation between trade show success and business growth, it's necessary to segment sales specific to the trade show. This can be done through exclusive coupons, discount codes, and website landing pages only accessible to trade show attendees.
Evaluating the goals set and tracking business income tied directly to show attendance after the show will allow you to measure the effectiveness of your trade show appearance against the cost of attending the show.
You can calculate your ROI by using a simple formula (provided by HubSpot):
(Gross Profit – Trade Show Marketing Expenses) / Trade Show Marketing Expenses
It's impossible to determine the gross profit immediately after a trade show; wait a few weeks for profit figures to come in due to the trade show. Gross profit numbers should only consist of figures based on results of the trade show (these results are based on those exclusive trade show offers / discounts).
Ultimately, whether it is your first, tenth or hundredth trade show, measuring results with your goals is a must! If your business is growing after a trade show appearance, then you should adjust future trade show goals to continue to grow. If your business begins to falter after a show, an evaluation is in order to prevent a further loss.
Show's Over
The trade show experience is a giant leap for a business. The planning involved, the cost involved, the sacrifices made and the potential hassle of attending the trade show will hopefully provide an excellent platform to market your business. Trade shows offer the opportunity to receive insight of your industry and competitors while giving you a chance to meet consumers face to face. No matter what stage you are in with your business, highly consider incorporating a trade show to help in growing and marketing your business.