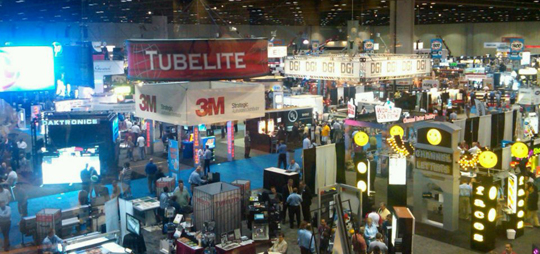 Yesterday's article discussed how to design an effective trade show booth. Today, let's focus on activities to make the booth pay off. In addition to great booth design and eye-catching signage, there are other things you can do to create buzz around your booth, but you'll need to start planning months in advance. To get the highest trade show ROI, you'll want to define goals and generate creative ideas early on. At the International Sign Association (ISA) trade show last week, we saw companies that had obviously spent time thinking about their ROI, and companies that had not.
Goals
Your trade show booth can't be everything to everyone all the time – a scattershot approach isn't nearly as effective as a targeted, goal-oriented approach. So, what do you want to accomplish during the show? Are you selling product in your booth, or do you want to finish the show with a huge list of potential clients? Some businesses profit from increasing awareness of their website and adding subscribers to their blog or newsletter. No matter what the goal, it's important to define it early on and structure all activities and give – always around that main goal. We noticed that some representatives at the ISA show were very focused on their goal. We were asked to scan a QR code for more info, sign up to receive magazines and asked if we would give our information to receive follow-up emails.
In order to track your ROI, you'll need to get current numbers before you participate in the trade show. How many widgets do you sell per month now? How many hits on your website? How many people subscribe to your newsletter? Garner relevant data so you can see the impact created by your booth and make adjustments for the next trade show if necessary.
A Call to Action
Don't assume that people will leave your booth with a business card and then visit your website later. You need to help guide them to a specific action and offer something of value when they comply.
If the goal is to get new leads, request that visitors give you basic information such as name, phone and email in order to enter drawings or receive special take-away goodies. Many trade shows offer scanners to make this easier – simply scan the visitor's pass to get digital access to their info.
Offer a free eBook, white paper or discount for visiting your website or subscribing to your newsletter. Advertise your freebie and website on all promotional materials
Use QR codes on all signage and handouts. Visitors who are interested in your product or service can scan the code while still inside your booth, minimizing the risk that they'll forget about you completely the moment they leave. At the ISA show, we quickly accumulated tons of brochures and catalogs. We appreciated the booths with QR codes, since we could get the information without toting around three pounds of paper.
Attract Excitement with Visual Cues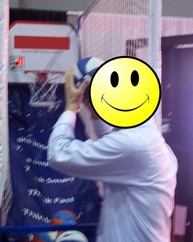 Create an interactive display that showcases your product or service or just put up something like a mini-basketball hoop and people will stand at your booth all day long! We spent some time at this booth, trying to hit the all-time high score. If it's glitzy or entertaining people will want to play with it.
Dress your staff in the same clothing to create brand awareness and generate interest. Don't go with the same boring golf shirt with embroidered logo that everyone else is wearing. At the ISA show, one company's staff was seen in brightly-colored, matching track suits with the company logo on the back of the jacket. Not only were they comfortable – they advertised their company no matter where they went.
Attract Excitement by Filling a Need
Think about what people need while they're at the trade show and be the company that fills those needs. Set up a charging station where visitors can plug in cell phones and laptops to recharge the batteries. They'll sit and wait for the device to charge and talk to you in the meantime. Walking a trade show is also thirsty work. Offer water bottles or other cold beverages.
People who attend trade shows collect tons of brochures, give-aways and promotional materials and quickly find that they can't carry it all. Be the solution to their problem – offer them a tote bag to store everything in. Come up with a unique, creative tote that they'll want to keep – an insulated bag to keep picnics cool, a messenger bag with stylish details, etc. Put your logo and company name on it and your visitors become walking advertisement for you all throughout the show.
Set up a small bank of computers where visitors can check their email and send Twitter alerts or Facebook updates. The ISA show offered kiosks throughout so that attendees could update social media or check in on happenings back at the office. If you place a kiosk in your booth, you can capitalize on it by requesting that people sign in using a form that captures their data and offers them a subscription to your newsletter.
Attract Excitement by Offering Goodies
Instead of having one drawing at the end of the show, offer a drawing multiple times every day. Require that visitors be present to win, so that they'll return to your booth. Advertise your prizes and drawing times in the trade show guide that is usually available online several weeks before the show and available in print at the entrance to the trade show floor. By afternoon, attendance at the show starts to wane as people head off to check out the local sights. The ISA had a great solution to this problem. Beginning at 4:15, they offered a Happy Hours Dash for Cash. Five names were read over the loudspeaker, and the first person to get to the ISA booth won $1,000. Sadly, none of the staff at Signs.com won a prize. But we did stick around for the drawing, along with countless other hopefuls, so the strategy definitely worked.
Launch a contest and gain insight at the same time. Offer a prize to the person who can come up with the most unique way to use your product. Have visitors write down their top five favorite and least favorite features of your booth and find an impartial judge to choose the best list. See who can bring the most friends past your booth as referrals and reward him with a cool gift.
Schedule "Happy Hour" breaks throughout the show. Bring out wine or snacks at designated times to encourage people to come back and see you again before they leave. At the ISA show, we noticed that the free beer from 4:00 to 5:00 was very popular.
Attract Excitement Through Social Media
Start your social media campaign early – weeks before the show. Announce some of the offerings that you'll have at your booth, and post teasers about others to generate curiosity.
Use social media platforms to generate early leads, too. Post details about contests so that people will start thinking about ways to win your cool prizes. Offer a special give-away to people who visit your site before the show and subscribe to your newsletter or blog.
Don't forget to put someone in charge of monitoring social media during the show so that you can respond immediately to tweets and posts. Our Communications Director kept everyone in the loop throughout the ISA show with tweets and Facebook updates.
Don't Waste a Moment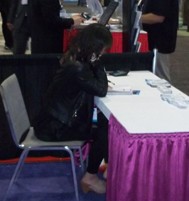 Make sure that your entire staff is tuned into the goals of the show and keep them energized while they're there. Provide plenty of snacks and water and schedule regular breaks so that your booth is always staffed with enthusiastic folks who are eager to extol the virtues of the company. Offer incentives to keep people motivated. The woman in this photo was not projecting a sense of excitement; she was sitting with her head down, reading. Needless to say, her booth was empty.
Connect personally with visitors. Instead of just handing them a printed give-away or a brochure, engage them in conversation. Ask them what their needs are and what challenges they are facing so that you can show them how your company can address their needs. Listen more than you talk. If you can be the one person who cares about their needs, you'll be memorable to potential clients. Take notes about the people you connect with so that you can remember details about them after the show is over.
After the show is over, follow up on leads within two weeks. We met lots of great people at the ISA show in Orlando. Most of them were focused on getting the maximum ROI. We hope they were all successful, and look forward to speaking with many of them again.