Arguably the most important part of any trade show booth is the signage and displays that convey the company's brand and products or services. An eye-catching display can be like a magnet to prospective business leads, drawing in attendees to your booth. But, what kind of display and signage should you choose? Signs.com offers many trade show sign options with three of these serving a similar purpose despite being very different products. These are: the step and repeat banner, tension fabric display, and pop up display. Each display is unique in its own right; learning about their features will help you find the perfect trade show display to incorporate into your booth layout. We've gathered together all that you need to know about our trade show displays and how each can be incorporated into a compelling booth setup along with other trade show signs and materials you choose to use within your booth.
Step and Repeat Banner
The cost effective step and repeat banner is a trade show staple for its simple construction and unique frame. Also known as an adjustable backdrop, the step and repeat banner's name is derived from the repeated pattern often found in red carpet backdrops, which the trade show industry has adopted for advertising use.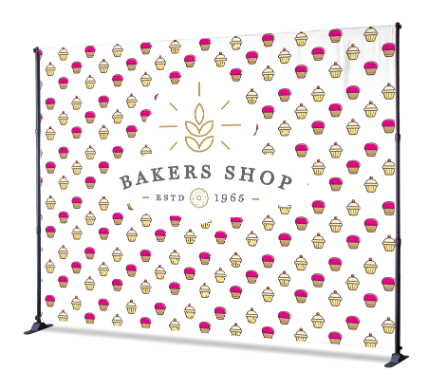 The adaptability of this banner is what sets it apart from the rest; an adjustable pole frame with a pole pocket display provides for quick adjusting to accommodate different booth and display sizes. When finished displaying, the step and repeat banner is easily disassembled and fits in a custom carrying bag. The ultra-portable nature adds to the versatility of the display.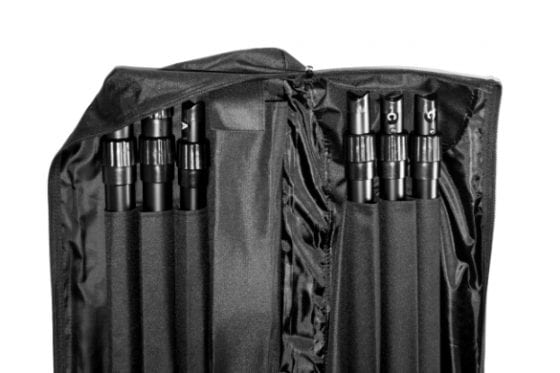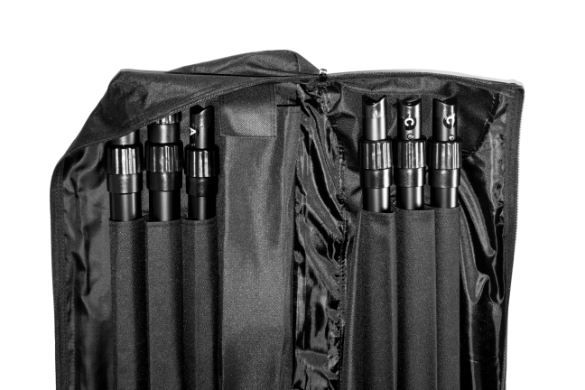 The design is printed using dye sublimation, which is a process that permanently infuses vibrant color into the fabric backdrop. The polyester display is designed to last for 3+ years and is suitable for both indoor and outdoor use (in fair weather conditions).
Step and Repeat Creative Uses
There's really no limit to how you can use the step and repeat banner as a backdrop. It goes without saying that this display is ideal for trade show use. When considering designs for trade show use, we recommend employing the display as a backdrop in your booth. Here are some suggestions for backdrop designs:
Business logo and branding – Make your logo and brand stick out using the large surface area of the step and repeat banner

Sponsors and accolades – Let everyone on the trade show floor know who you're working with as well as any awards or accolades your business has received.

Product launch – Show off your new product with images and simple text.
The step and repeat banner is a versatile and portable backdrop that is best chosen if you are operating on a tight budget when putting your booth together.
Tension Fabric Display
A truly professional, lightweight and visually appealing backdrop, the tension fabric display is a go-to marketing tool at trade shows. The main feature of this display is the unique elastic fabric used in the display. This fabric allows the display to stretch over the aluminum frame, resulting in a virtually smooth display surface; indeed, it's a professional business display. This contrasts with the more affordable step and repeat banner as outlined above, which at times will not be nearly as taut as the tension fabric due to the material being used for the respective displays and the way they hang on the frame.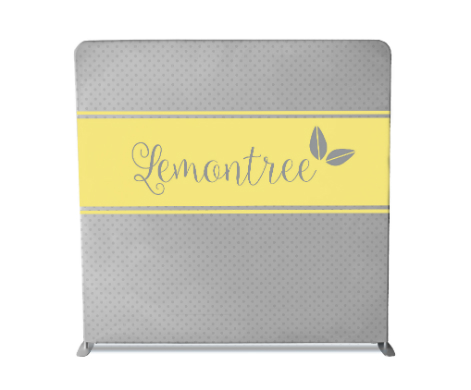 The durable aluminum frame is constructed like a tent. The poles have a bungee-type string that helps to keep poles tightly attached to one another.  Poles are secured using a metal spring button and are easily disassembled when needed. These features mean setup and take down literally only take a couple of minutes. Both can be done with one person if needed but putting up your tension fabric display with the help of a second person is recommended and is even faster.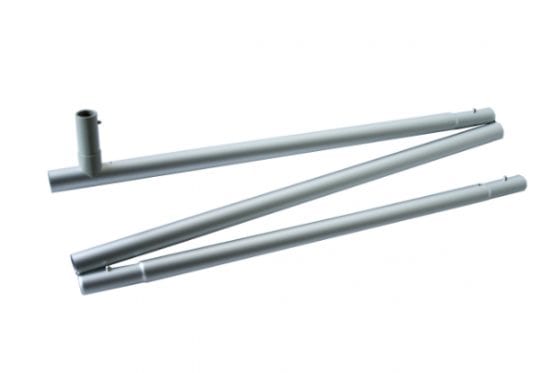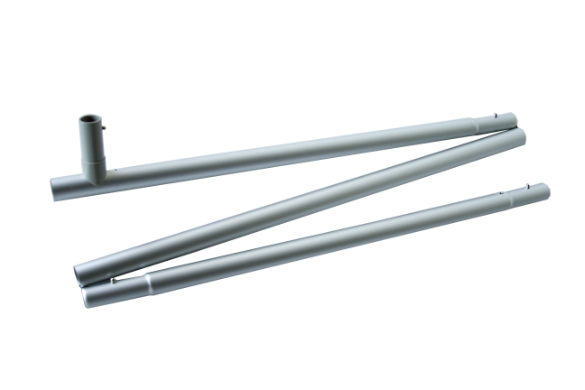 Like the other trade show displays, the tension fabric display is printed using a dye sublimation process, because the ink is infused into the fabric it allows the design to remain clear and beautiful when the fabric is stretched over the frame.
Creative Tension Fabric Display Uses
The tension fabric display is a dynamic choice for trade show use. Not only can it be used as a typical backdrop, it can also be implemented as a dividing wall between booths (or a partition in larger booth spaces). The slimmer frame gives this display greater versatility in a booth space. Uses include:
Informative product walls – Display new and popular products on the tension fabric display. Product details and images should be included on the display to compliment your product.

Company Information – the tension fabric allows detailed text to be easily read, making informative display about your business stand out among other visual elements. This is essential in your efforts to get passersby to engage with your booth and its representatives.
A tension fabric display has the same portability and versatility of a step and repeat banner. It also serves many of the same purposes of what a step and repeat banner can do in a trade show setting. We would recommend the tension fabric display for those with a slightly bigger budget and those seeking a very clean, professional appearance in their booth.
Pop Up Display
Yes, this display really does 'pop up' when you set it up. No, there isn't a button you press that does it, you simply have to begin pulling up on the frame. Pulling the frame expands it both vertically and horizontally, sort of like those cool Hoberman spheres. The architecture of the framework produces an extremely rigid and three dimensional display.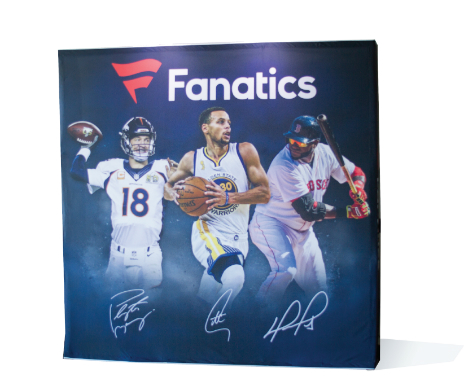 The fabric of the display has a slight elasticity to it, allowing it to stretch across the front and sides of the frame. The display is attached using velcro, so once it's on, it's not going anywhere unless you remove it. As mentioned, the display not only covers the face, but each side has 12" of display. As alluded to above, this makes your trade show display more 3-dimensional than other displays offered.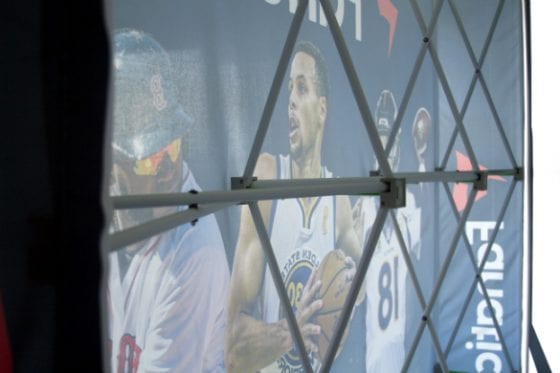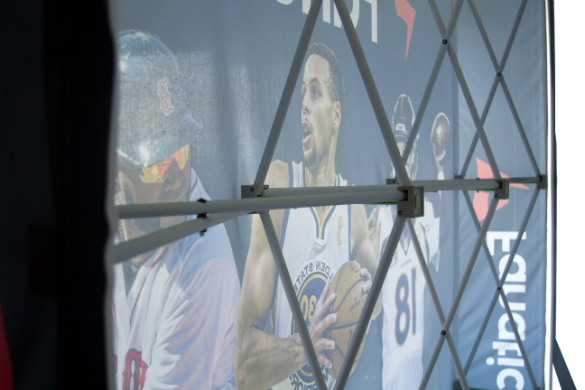 Of course, the size of this display does require more room than other displays, thus requiring you to plan in advance for a larger booth, or accommodate the size of the display in a smaller booth. The added display space on the sides of the pop up display is worth the extra space required.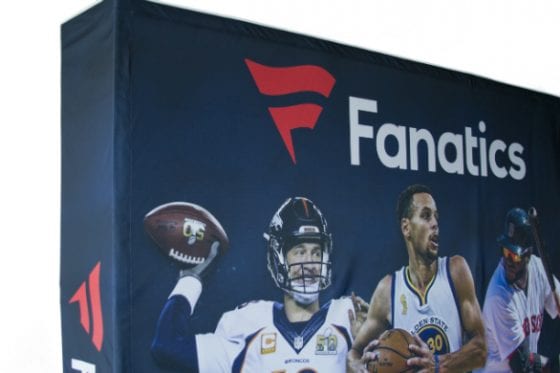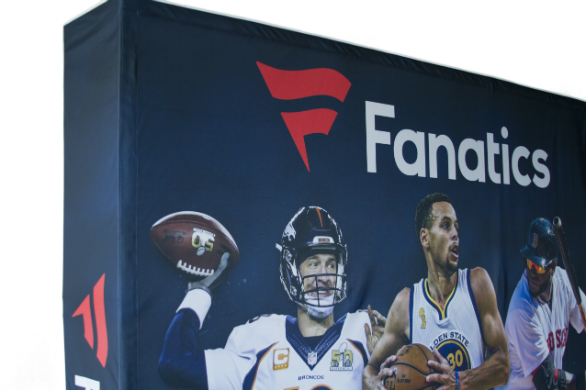 Creative Pop Up Display Uses
The pop up display can be utilized to help highlight older and newer products alike. Knowing where to place the display is half the battle; we recommend making the pop up display the center of attention in your booth. Of the three products in this article the pop up display is the best option for a professional backdrop for a trade show booth. The three dimensional product adds professionalism to any booth where it may be used. Add lighting elements to make the display the focal point of presentations to give you the perfect platform for marketing. These are a few ideas that you can use to increase the effectiveness of the display.
Full-size images: Printing full-size images on the pop up display will make an immediate visual impact. The sides of display can be used as a continuation for the main image or can be used for logos and text.
Split display: The pop up display is large enough to incorporate two different designs for a 'half and half' style of design. This can help in showing off two products or services, or help in giving you more space to add text and other elements.
For those with larger budgets in need of a back wall for their trade show booth we'd recommend a pop up display. It is both the sturdiest and most professional of the three display options outlined on this page.
What Display is Right For You?
Each display is built to help your business make the right first impression at a trade show, so choosing which one will fit you depends on your budget and the other signs you plan in incorporating into your booth space. If you have any questions about our trade show displays or need help in choosing the one that's right for you, give us a call at 888-222-4929, or email us at support@signs.com.