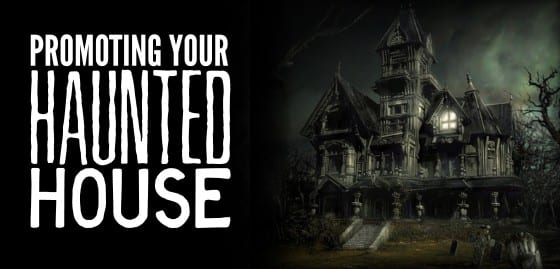 According to Matthew Shay, CEO of the National Retail Federation, Halloween is one of the "fastest-growing consumer holidays"  in the United States. To point, the NRF estimates that 2014 Halloween spending will be an estimated 7.4 billion while other estimates put it at 11.3 billion!
Simply put, people love everything that Halloween is about. They love putting up black and orange decorations around the house. They love dressing up in creative costumes. They love eating pumpkin-shaped candies and all other things pumpkin. And they love getting scared by horror films and haunted houses.
There are more than 2,000 haunted houses in the United States. These haunted houses average about 8,000 paid guests during the Halloween season. Some of the bigger haunted houses attract between 40,000-80,000 guests, but the majority of America's haunted houses — roughly 80% — draw in between 7,500-10,000 annual paid guests.
With average haunted house ticket prices around $15, being a haunt owner and operator can be an extremely lucrative seasonal business. But how much of this top line revenue is actual profit? After all, running a good haunted house is no small venture but rather one with many complexities and  a wide variety of costs. Here are some of the costs involved:
Renting or buying a building (or tent, field, etc.)

Actors

Costumes & makeup

Lighting equipment

Sound systems

Fog machines

Decorations

Insurance & permits

Advertising
While it's nearly impossible to determine what an average year will profit a haunted house the fact that there are so many of them lends credibility to the fact that they can be very profitable. Ticket sales alone account for around $400-500 million in revenue across the haunted house industry. Most haunted houses will also have ancillary revenue streams including but not limited to: concessions, memorabilia and even live shows or presentations.
Despite the gaudy revenue figures haunted houses also spend tens of millions of dollars on advertising, building supplies, insurance and supplies.
With this in mind there's no doubt running a haunted house is a complex business venture that requires an incredible amount of work. Add to this fact the challenge of having a 6-10 week window to advertise and sometimes as few as 20 days for the actual haunted house, making money and running a haunted house can be just a frightening experience as going through the haunt as a paid customer.
So if Halloween is your holiday and running a haunted house is how you want to make a living, then implement these five tactics to better market your haunted house and make more money during the Halloween season.
1. Attract "Walk In" Customers With Large Banners & Signs
How do you catch a driver, biker or jogger's attention? You put a big, colorful banner along the roads where they drive, bike or run. It's just natural to look around you when you're on the road, and that's exactly what your potential customers will be doing. Put up a sign these potential customers can't help but see and read, and one that gives them enough information to act. Details may include cost of admission, open dates and times and maybe even a "why" they should come. For example, if you've been named the area's scariest or best haunt then make sure to advertise that! While there are many people who are going to visit a number of haunted houses regardless of whether they see your sign, the enthusiasts, there are even more people that need a call to action. They are the equivalent of retail foot traffic and any retail operator can tell you that these customers are critical to success.
Outdoor signs such as vinyl banners are the best choice for road signage. They not only look good at an affordable price, but they can be used for several years because they're durable and weather resistant.
Here are a few tips when creating your haunted house banner:
Keep your message short and simple

Use words and images

Make sure the name and location of your haunted house are clearly visible

Advertise your "value proposition"

If you want to reuse the banner from year to year don't list any dates or times that may change

Make the banner consistent with the rest of your marketing material
A well placed banner truly can be an effective marketing tool. In an industry that spends at least $2-3 of advertising per paying customer, an extremely large banner that costs no more than $500 and generates tens of thousands of impressions and hundreds of customers easily pays for itself at a fraction of the industry average.
2. Place Ads With Local Radio Stations
The most popular age demographic for those who participate in Halloween festivities are in the 18-34 age range. This age group is referred to as Millennials. They spend about 11.5 hours a week listening to the radio, most of those hours coming between 3:00-7:00 p.m. With your main age demographic of customers spending much of their daily drive home from work and school listening to the radio, it only makes sense that you place ads with popular local radio stations. Do some research and find out which stations reach the biggest audiences (and which ones have the best advertising deals), and then place your ad with them during those times.
You can either write up a short, 30 second announcement the radio host can read in between songs, or if you have a way to create a radio ad, then do it and have them play it during their commercial breaks. If you have a connection to someone at a local radio station or offer them a couple free tickets, they might just give you a shout out during their segment.
Another option with radio stations is having them give away tickets to your haunted house. Many radio stations gladly do this for local businesses. They say the business (in this case your haunted house) gave their station 4 free tickets to give out to a lucky listener so whoever is the 13th caller wins the tickets. People enjoy radio contests, and even more people love winning free things. The cost of the free tickets will undoubtedly be offset by the additional revenue generated by the exposure to your main demographic.
Remember to also consider the digital versions of radio stations such as Pandora and others. For those who listen for free and still hear ads every few minutes Pandora can target your ads to potential customers by age and geographic area. This can be a cost effective way to reach the digital radio listener who also will most likely visit a haunted house this Halloween season.
3. Take Advantage Of Social Media
Like radio, social media is another great channel to reach your biggest group of potential customers. According to the Pew Research Center, 89% of adults ages 18-29 use social networking sites as of January of this year. These people can't go a day without updating their Facebook status, retweeting a good sports article they saw on their Twitter timeline or commenting on their friend's latest Instagram photo. Your haunted house could benefit from socially promoting your business on each of these social networks.
This promotion can be done before, during or even after the period in which your haunted house is open for the year. The options to use social media really are limitless. The best way to use it will vary from house to house but should have two primary goals. The first is to engage your potential and returning customers while the second is to leverage social media to generate actual revenue!
One great example of engaging people who go through a haunted house is what Nightmares Fear Factory in Niagara Falls, Canada did with their social media efforts. They ingeniously placed cameras throughout the haunt and snapped pictures of scared customers. They then shared these pictures to Flickr (no seriously check them out!) and Facebook accounts so that others could see and share them. According to some accounts Nightmares' web traffic went from 600 visits to 60,000 in less than 24 hours and their Facebook likes went from 3000 to 13000. The social campaign and pictures were featured in countless media publications including The Daily Mail in the UK, The Huffington Post, Yahoo! and more.
What undoubtedly cost very little has successfully engaged potential customers and given them a reason to talk about the Haunted House during off-season months as well as significantly increased brand exposure for the haunted house. One can only assume that this also generated actual revenue!
Whether you use it for pre-open promotion or during the actual visit social media due to its virality can be very cost effective. Further, while not all campaigns will be as successful as Nightmares Fear Factory's campaign, social media should be a required aspect in any haunted house owner's marketing plan.
4. Hold A Contest
Contests are not only fun for you as the owner, they're fun for your customers. Contests get people excited and motivate them to get involved. Whatever type of contest you hold is of course up to you, but make sure your choice matches your brand and its message. You could hold a costume contest and the best costume wins something or you could give a prize to whoever gets the biggest group of people to go through your haunted house at once. You could even combine the two and give a prize to the best dressed and biggest group that comes out to your haunted house.
Make sure you spread the word about your contest. Let people know when it's happening and what the rules are, so people actually participate. Announce it through social networks and ask those radio stations you partnered with to announce it. You could even reach out to your local news stations and let them know what you're doing. If you pitch it right, they'll send a reporter out to cover your event, and once it airs, everyone watching the news will learn about your haunted house.
Perhaps the most important aspect of any contest is keeping it simple. Making it too complicated will not only confuse customers or participants but also may deter people from promoting it for you.
Another often overlooked element of holding a contest is to ensure that you are properly insured for any outcome. If the prize is a big enough one then make sure you are prepared to stay true to your word and reward the winner(s).
5. Create An Unforgettably Spooky, Suspenseful Experience
Last but not least, make going through your haunted house the best Halloween experience your customers have this season. While this is easy to say it is perhaps the hardest thing to achieve.
Much the same as professional sporting events, restaurants or even airlines (specifically Virgin who tries very hard to differentiate what otherwise is strictly a price driven purchase by showering their customers with perks) the experience itself is what people are seeking. Due to the fact that a haunted house has so many moving parts it can be difficult to get it just right. From actors, makeup, costumes, layout, music and noises, decorations and scare techniques the possibilities are endless. A smart haunt operator will continually be testing what works and what doesn't.
A great way to figure out what is working is to engage customers just finishing your haunted house. Whether it's informal or formal survey them and gauge whether they had that "unforgettable experience" that you are after. Based off the results improve the weak areas and continue to do what is working. It is also recommend to have a certain portion of the haunt that is set aside for testing and trying new aspects from year to year. Thus, you can stay on the leading edge of the curve and market this to potential customers.
Creating this experience will not only create loyal customers who return year after year but also generate word of mouth marketing and a strong brand. People who have an unforgettable experience are much more likely to tell their friends, families and coworkers about how much fun they had at your haunted house. Word of mouth referrals in many industries are truly unparalleled as they are instantly trusted by potential new customers. And even better, it's free advertising that requires no further effort from you or your marketing team! All you have to do is put the time and money into creating a memorable spooky experience for each and every one of your customers. Make your haunted house the only one people want to talk about this Halloween.
6. Bonus Tip – Have Contingency Plans
While not necessarily a marketing tactic and perhaps somewhat obvious, the following tip must be mentioned, have contingency plans! There are many haunt operators or owners who have literally watched their haunt and livelihood go down the drain due to a rainy season which completely suppresses the volume of customers going through the haunt. Setting up shop outdoors, such as a corn field, may provide some advantages but also completely exposes you Fall weather. Needless to say you will not be able to control the weather! If you have any ability whatsoever to partially control this variable take advantage of it. Be prepared to stay open for extended hours, add days or even have part of your house indoors.
A haunted house may be the furthest thing from a simple business venture. It is a complex and challenging business to run profitably. Nonetheless, savvy marketing and contingency plans can go a long way in ensuring that the short Halloween season proves to be a successful one.