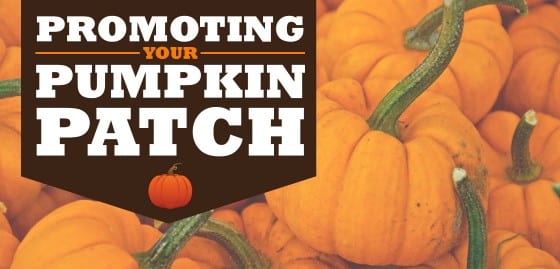 Everywhere you look you see shades of red, orange and yellow. The air is filled with scents of pumpkin, cinnamon, ginger and candy apple. Halloween decorations overflow store shelves, and football games are on everyone's weekend plans. Fall has officially arrived.
What else do people love about fall? The thousands of acres of pumpkin patches open from late September until the end of October. These small and large orange gourds are all people want to get their hands on during this fun season. Roughly 18,952 tons of pumpkins are sold in the U.S. and UK during the Halloween season. Pumpkins make great decorations and are fun to carve into spooky jack-o-lanterns, and people can't get enough of pumpkin-flavored foods. Last year, Americans spent $308 million on pumpkin-flavored products!
Even though people love pumpkins and this time of year, this love and season only lasts for a couple of months, which is a challenge for pumpkin patch owners and operators. While owning a seasonal business is exciting and can be very profitable while it's open, it has some big challenges which must be overcome to be a successful year.
For pumpkin patch owners, there are 5 main challenges you deal with every year:
The pumpkin-picking season is only a couple of months long but caring for a pumpkin patch is a yearlong investment.

You have to make sure you're harvesting the right amount of pumpkins for your customers every year.

If the weather doesn't fully cooperate, you're going to have crop failures or supply shortages.

Setting your pumpkin patch apart from local competitors and price competition.

An extremely small window to effectively market your patch to potential customers and get them to visit AND buy from you.
Notwithstanding, challenges can always be overcome, and here's how you can overcome the challenges of running and having a successful pumpkin patch.
Challenge 1 — Be prepared to spend more time planting and caring for your pumpkins and pumpkin fields. Go in with the mindset that selling pumpkins is only a small fraction of what your job entails, but that maintaining the fields and harvesting the pumpkins is worth the time because it provides you with a profit and a product enjoyed by millions of people.
While we're not farmers it goes without saying that pumpkin patch owners need to do their research and educate themselves to the fullest extent on common pumpkin diseases and other nuances of growing a healthy crop year in and year out. Education and experience will lead to sufficient supply year after year.
Challenge 2 — Keep track of the number of customers you have and the sales you make every year! While this seems obvious many pumpkin patches don't track this kind of information and just blindly hope that the year has been profitable. This data also gives you an idea of how much you need to plant so you're prepared and able to harvest enough pumpkins for the upcoming year's customers. It is also important to factor in the average yield of pumpkins in your area, based on pumpkin type or even within certain areas of your farm when trying to forecast the needed harvest amount.
Tracking these types of metrics will also lead to better cost controls and promotion of activities or ancillary products that may prove to be more profitable than the pumpkins themselves. Accurately tracking costs (Shoeboxed is an easy to use service that allows receipt tracking) and recording sales will provide the data for analysis and planning for subsequent years.
Challenge 3 — As a farmer, just know the weather rarely cooperates 100% of the time. Weather is going to act up and crops are going to fail, so be sure you plant plenty of acres of pumpkins so you harvest enough for your typical seasonal sales.
As per Challenge 2, if you've tracked costs and sales year after year you'll have a better grasp of what kind of situation you'll be in based off crop size. Some years the emphasis may need to be on the hay ride, maze or food products rather than the pumpkins themselves. Armed with historical data pumpkin patch owners can better offset the variable of weather.
Challenge 4 — First, know your market. When you know your market, you know what you can do to better attract them and set yourself apart from your competition. People think price is what sets businesses apart, and while that's true to a certain extent, it's not always possible or smart to drop your prices. This can be particularly difficult for pumpkin patches who are close enough to city centers and have to compete with Big Box department stores or grocery chains who are able to offer very cheap pumpkin prices due to the volume they purchase from farmers.
Perhaps the safest option for pricing is to be a wholesaler to the aforementioned bigger competitors at a set price. This guaranteed revenue may be enough to allow you as a "retailer" to offer slightly higher prices that customers are willing to pay for due to the experience and brand you develop. In this case you can be both the wholesaler and retailer without your customers ever knowing it! Regardless of what you choose to do, be extremely careful with your pricing so that it doesn't offset an otherwise good marketing and promotion plan.
In addition to pricing decisions, differentiating your pumpkin patch from other competitors will be one of the most difficult challenges due to the fact that in the end pumpkins are a commodity. A pumpkin is a pumpkin is a pumpkin. While you might have the biggest, roundest and orangest pumpkins one year you can't one hundred percent guarantee this from year to year. Thus, to differentiate yourself you must use other selling points.
These points of differentiation could include how you promote your pumpkin patch, the availability of your pumpkin patch (your seasonal and daily open schedule as well as your location), and perhaps the easiest and most obvious way by offering additional products and services beyond pumpkins. Examples of several of these additional products are included in the final section of how to effectively market your pumpkin patch despite a short season.
Challenge 5 — This is another one where the first thing you need to do is understand your market. Not only will this help with where to reach your customers but what messaging you should use in marketing to them. Sometimes you have to go through trial and error before you learn what works best and what doesn't work at all. But over time your knowledge and experience should mean effective advertising to the right people.
The last 2 challenges are typically the hardest ones for pumpkin patch owners. Most cities have multiple pumpkin patches, so how do you make yours more appealing so people choose your pumpkin patch over the others? And how do you reach your customers in a cost effective way in what amounts to a very short window to pitch them on your pumpkins? With this in mind we've outlined some specific tactics to help differentiate your pumpkin patch and market it to the right customers.
Integrate With Local Institutions & Schools
One really effective way of reaching your customers in your area is to integrate or market through local institutions. For example, by offering additional activities such as corn mazes, hay rides, etc. (as discussed below) you can then partner with local schools. The children coming to your pumpkin patch can either buy pumpkins as part of the field trip or in the more likely scenario talk about it enough that the rest of the family returns to buy pumpkins and experience the rides/food. Restaurants such as Chick Fil A do these types of promotions and marketing through local schools extremely effectively. Likewise, toy companies and fast food chains have known for years that if you can market to children on a consistent basis then eventually their influence on the buyer will result in a purchase. There's even a term for such behavior, "the nag factor", which is pretty self-explanatory within the context! That doesn't mean pumpkin patches need to be devious in their marketing but that by promoting through schools pumpkin patches can successfully implement the same type of tactic and reach the actual buyers in their local area!
Put Up Road Signs
There's no better way to catch a driver's attention than with road signage. Your eyes can't help but look at signs along the road as you drive, and it's the same thing with your potential customers. Vinyl banners are a great choice. They're durable, weather resistant and look really nice on the side of the road and/or right in front of your pumpkin patch. They can even be used from year to year!
Consider these things when creating a promotional banner:
Incorporate words and pictures.

Keep your message short.

Include your business name and hours, as well as the address if it's not placed near your pumpkin patch.

Use fall colors, but don't use too many colors.

Make sure the sign's design and message match your brand.

If you're going to use it from year to year avoid putting specific dates or years on the banner.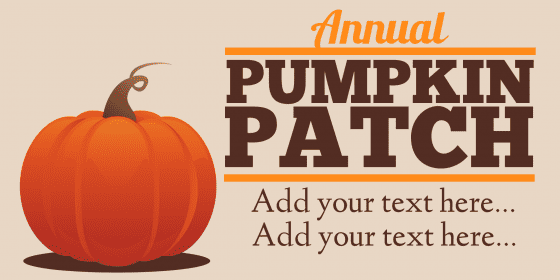 Just remember that it is easier to make roadside signs be an effective marketing tool when your pumpkin patch is in a prime location. For example, on a high traffic road or literally road side. For pumpkin patches with less than desirable locations there are two solutions.
The first is to move the pumpkin patch to a roadside location. The advantage of this one is obvious – easy accessibility and greater visibility. But the disadvantages of only being able to offer pumpkins at your stand, increased costs due to transportation, and storage and permit fees; in our opinion outweigh the benefits.
We would actually recommend just placing signage in the right places and keeping your pumpkin patch at the original location. Advertise where there is guaranteed traffic on busy roads and then lead them step by step or turn by turn with directional signage to a location that allows you to make it more of an experience. While the primary signage should be large enough for easy reading while driving, the directional signage doesn't need to be oversized banners but simply visible enough (think yard signs or posters) to direct customers to your location without them getting frustrated. Thus, costs will remain low despite the increased signage. The ability and importance of creating an experience at your normal location is discussed at length below.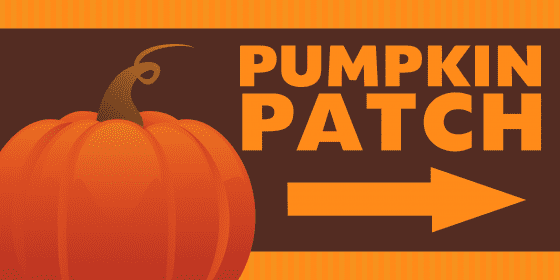 Take Customers On Hayrides
Families make up the largest percentage of those going to pumpkin patches, especially families with younger children, and children love hayrides. Hayrides are like a fun carnival ride to them. You don't have to do anything elaborate, just hook up a trailer filled with hay bales to a tractor and slowly pull riders around an area you've marked off. As alluded to above offering something like a hay ride can help provide an experience rather than just a product. A corn maze, whether simple for kids or difficult for adults or both, can accomplish the same thing. Both of these will help to differentiate your patch from a simple roadside stand or pumpkins in front of the local retail store.  Help create a yearly tradition for families that are enjoyable for all members of the family and you will also create loyal customers who return year after year for a festive fall family night.
Host Special Events
Similar to hay rides, hosting special events is another way to help promote your pumpkin patch as an experience or destination and differentiate from your competitors. Examples of special events could be a weekly pumpkin painting or carving contest on a certain night (maybe your slowest night!), a children's jack-o-lantern picture drawing contest or even a costume night where customers who come dressed up in their Halloween costume receive a discount on the pumpkins they purchase. Or even free pumpkins for really awesome costumes. Again, your customers aren't just buying pumpkins, they're buying an experience, which more and more people are willing to spend their money on nowadays. More important than the experience itself is the time spent with loved ones. If you can create memories for families it is not uncommon for traditions to pass from generation to generation. If you're going to use rides, mazes and special events as a key component to your plan make sure that it is clear to your customers what is happening and when. Additional marketing material such as flyers, local radio, direct mail and onsite signage should be used to accomplish this objective.
Provide Fall-Flavored Refreshments
There are two main approaches in using food as part of your pumpkin patch. The first is to offer free food as an enticement. The second is to sell food products in addition to the pumpkins. Both are discussed below.
While it's more of a digital term, freemium, is a business model that relies on some aspect of a product or service to be free and some to be paid. This is common with software and mobile applications in which trial and paid versions exist, or even limited and full version of apps. Or alternatively, games that are always free but have in game purchases that drive revenue. Notwithstanding the digital examples the same model can be applied to offline businesses such as a pumpkin patch.
Food at a pumpkin patch is an excellent example of an offline freemium model. Food is a great enticement to get crowds of people to meetings, parties and church events, and it can also be a fantastic way for you to get more customers to your pumpkin patch. You can offer free refreshments, like cider, cookies, doughnuts and kettle corn amongst others. Taking the free approach can help families come and have the experience that has been discussed at length in this post. The danger in doing this is not controlling the costs of the food that acts as an enticement. Pumpkin patch owners need to accurately weigh the costs and benefits of offering free food. Does the additional revenue from pumpkin sales justify the cost of giving away free food? If not, then stay away from the purely freemium model at your pumpkin patch or scale it back to the point it does. If sales far outweigh costs then determine what will be most popular with your customers and entice away!
The alternative to the freemium model is to simply sell additional products at your pumpkin patch. These can be crafts and other country related items or more likely food products. Examples include:  pumpkin bars, pumpkin chocolate chip cookies, pumpkin scones and pumpkin seeds are not only tasty, they're perfect to sell since you also sell pumpkins. Reasonable pricing, a little pre-marketing and easy access to these products can add additional revenue streams that help your pumpkin patch's profitability tremendously.
Technically a third option exists as well. This third option is using the freemium model in a scaled down way. Free samples of certain food products, one free hay ride, etc. could all be enough to entice customers to your pumpkin patch without having to make everything free. While circumstances will vary from patch to patch this is the most likely scenario to help your pumpkin patch be profitable.
The key for any of these tactics is to correctly forecast the costs of any freemium aspect and compare it to the return generated. Many owners and operators don't specifically record how much money they make or pumpkins they sell year to year but most can give a good ballpark estimate. Even with an estimate this can give you an idea of either how much cost you think you can cover using this model and/or a benchmark to see if the freemium model truly does generate significant additional sales and revenue.
While running a profitable pumpkin patch comes with a number of challenges it is not impossible to make it a steady stream of revenue for your family or farm.  Follow these pricing, positioning and promotion tips and then watch as the crowds of pumpkin-crazed customers roll your way to enjoy your pumpkin patch and spend their money with you!