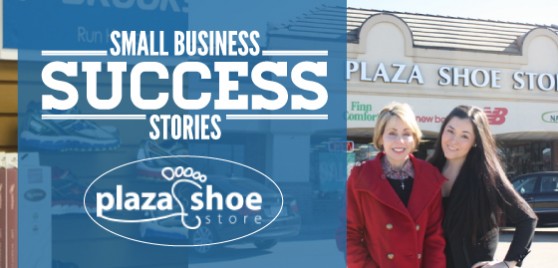 Our first interview in our Small Business Success Story series is with Cathy Swearengin from Plaza Shoe Store in Springfield, Missouri. Like many other SMB owners Cathy works in a family owned company and exudes passion for her business!
Cathy bought a small foam board sign from us to help advertise the shoe brand "Brooks" within her store as seen below.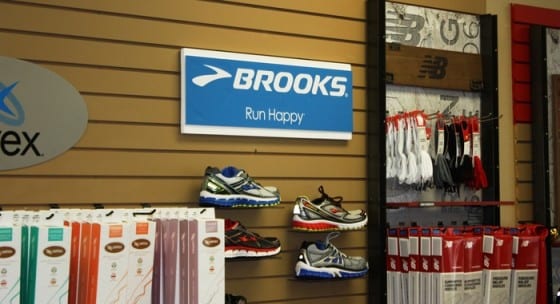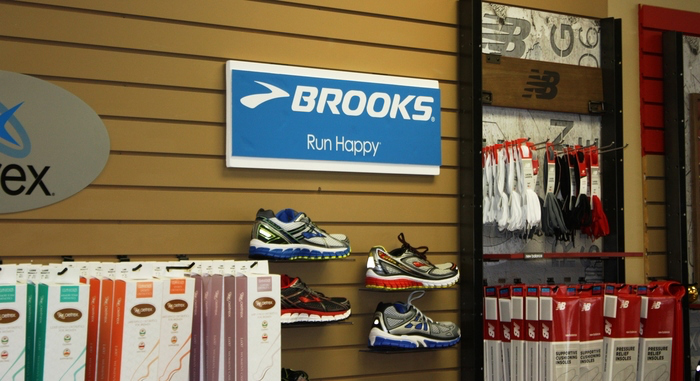 Without further ado, here's our interview with Cathy.
Tell us a little about yourself
My name is Cathy Swearengin and I am the 3rd generation owner of Plaza Shoe Store. I am married with 2 adult kids. My oldest, Mallory, also works with me and has for 12 years. We are truly a family business, and that is what makes it fun. We are building something together, and that has created a lot of purpose in our lives.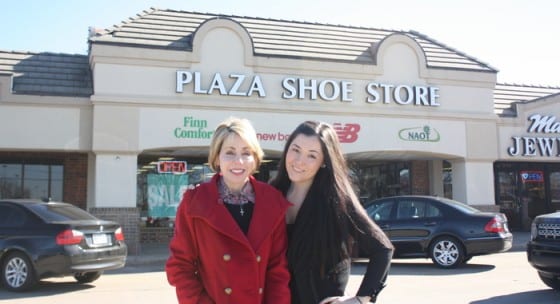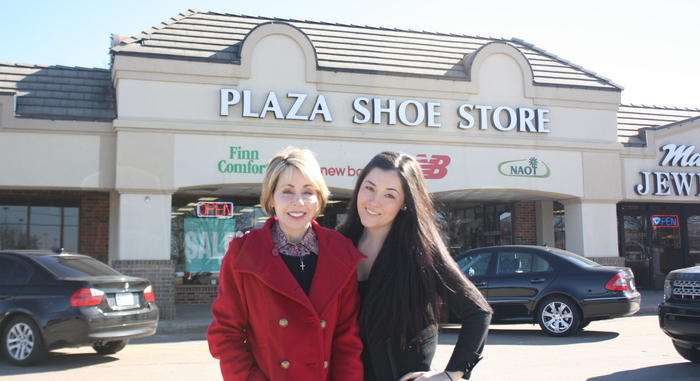 Tell us seven things that people may not know about you.
My daughter and I are 3rd and 4th generation of our family business.
Both of us were born and raised in Springfield, MO. I went to Glendale and my daughter is a graduate of Kickapoo. We are both Missouri State Alumni.
I have never worked anywhere else but Plaza Shoe Store, and neither has my daughter.
I started selling shoes when I was 13.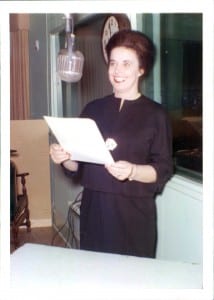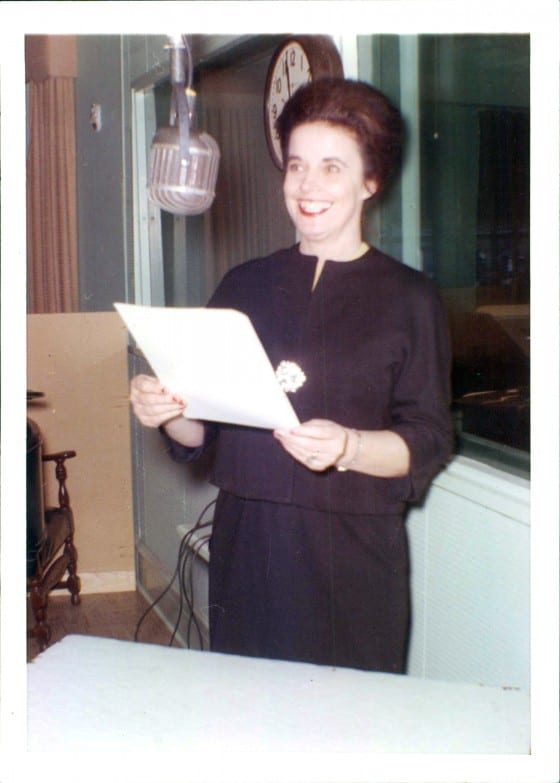 Norene's commercials really embarrassed me in my advertising class in college. Now I am old enough to appreciate her courage.
I live a very active lifestyle. Working out and staying fit is very important to me.
I love Made in USA products. I am always wearing the New Balance 990, because it is 100% American Made.
What does your company do?
Plaza Shoe Store is a family-owned, premier Sit&Fit store. We strive to enrich the lives of our customers with expert knowledge, unforgettable personal service, and a focus on providing a remarkably unique experience. We have always lived by the motto "shoes matter" and that what you put on your feet makes all of the difference, and that motto is the single most driving force in our business.
It's more than just making a sale, it's about influencing someone's life. This can only be done with passionate and whole hearted dedication to customer service and "shoes that matter."
What is the history of Plaza Shoe Store?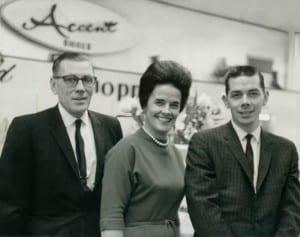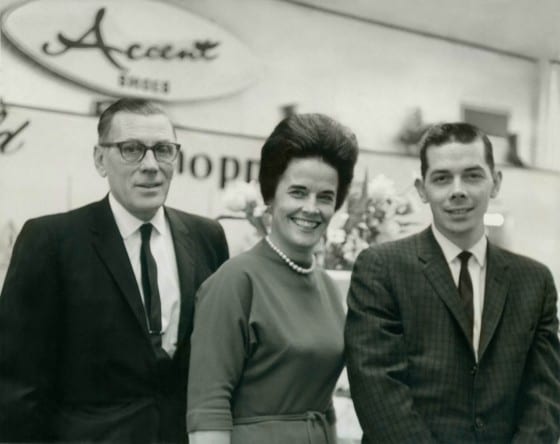 Plaza Shoe Store was formed in 1953 by Oscar and Norene Lee and their son, Robert. Robert had four children, which all worked in the stores through the 80's and 90's. Although, all siblings are in the shoe business, third born, Cathy Lee Swearengin (me!) and her daughter Mallory Pittman along with Garon Todd run Plaza Shoe Store today.
What sets you apart from your competition and what is your unique selling proposition?
What sets us apart is the money and time we have invested in our inventory. We try to have plenty of selections at all times for all different types of feet. We have also cultivated a reputation for having knowledge and expertise in the areas of fitting, brand knowledge, foot and ankle issues, and orthopedic fitting.
More than that, we have dedicated years to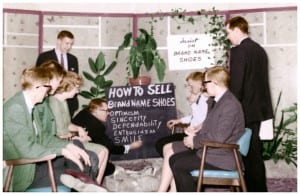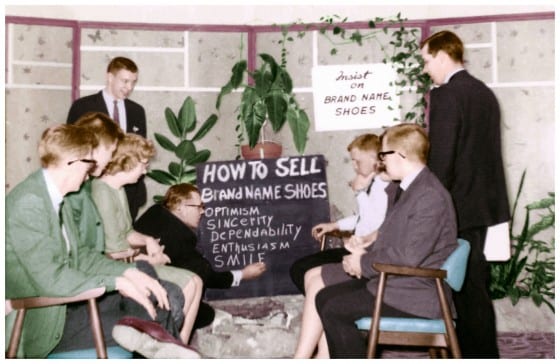 finding and carrying brands that stand for quality and craftsmanship. We are adamant that we carry footwear with a conscience. Above and beyond that it has to look good! We love style and fashion and try to make sure that we are able to represent the best of both worlds. Many people come to us for something unique and different than all of the repeats you see online and at the big box stores. 
What is one strategy for gaining customers that you have been successful with? Is there any area where you think you have to improve that is critical to future success?
That  is something we think about and strive to improve daily.  Getting the word out is critical so we advertise.  Having the right inventory and great sales staff is equally important.  In the future we are going to continue to look for ways to improve customer service and our ability to reach customers in new ways. Creating online shopping capabilities on our website, and continuing to increase in store selections is definitely a priority. It is never going to be perfect, but we can always try to make it better.
How do you compete with the bigger or more established stores? What about e-commerce giants that sell shoes such as Zappos and Amazon?
We are constantly looking to improve customer service, customer experience and our selection of footwear. Really our leg-up is reaction time. We are small enough that we can see our customers' needs and meet them very quickly. More than that we actually wear our products every day, and that helps us determine which footwear manufacturers actually make a product that has value and quality as opposed to just marketing well on a shelf.
E-commerce has been a major issue that undermines all brick and mortar businesses. The sales tax loophole and the inability for our congress to pass the Market Place Fairness Act undoubtedly puts every small business at a disadvantage. All any business owner wants is a chance to succeed, but when you are playing against a team that has been given every advantage it is hard. We have continued to fight this issue both in the state of Missouri and in our Congress.  That being said, there has been a significant shift in our customers in the past 5 years. The "shop small" movement is gaining traction. People want vibrant and thriving communities. They want to walk in a store and see a familiar face. We are accountable to our community and we take that very seriously. And that is what makes us competitive with online giants, they will never replicate that.
What is one of the biggest challenges you have had and how did you overcome it?
Moving. After 50+ years in business we made the hard decision to move to our current home in the Brentwood Center. Moving is always scary, but we have been fortunate enough to have a lot of loyal customers who have continued to support us. The move ended up being the most positive and exciting change we made in our business. We have had the opportunity to rebrand ourselves and find new relevance in our ever changing and growing community.
If you could rewind time is there anything you'd do differently? If so, what?
Yes, every day there is something we would do differently. We learn from our mistakes constantly and we are always trying to improve our business. It is ever evolving.
If you had advice for other SMB owners, who are well behind the cycle when compared to where PSS is at today, what would it be?
Listen to your customers. What do they need every day, and have it, so they can trust to always come to you.
Experiment with your brand. Try something new. A new way of advertising, a new way of reaching your customers, a new brand or service offering. It never stays the same. Complacency is death.
Treat your business like a living breathing thing. It deserves respect and protection. It is not there for you to take, but for you to put in. Put in time, sacrifices, and passion.
Have fun. Love what you do. Sell the products and services you believe, and surround yourself with staff that believes that same things you do. Owning is business is embodying a lifestyle. You have to be there every day, and build something every day. Every day you are not there is a day lost.
How do you "WOW" your customers?
Changing things constantly. People can feel energy! Keep the energy up, shake things up!
Customer service and passion. This store is our home and we love all of our customers. We try to have fun every day, and do our best every day. We are always passionate and excited and customers really get that. It is really nothing that can be faked. If you don't love it you can't make it.
Is there ever pressure to keep the family business going?
Most certainly there has always been a sense of obligation to keep the business going. Not only for the future but also to honor and respect what our family has built. But the obligation isn't a burden, it is a driving force. We respect this business as a living breathing thing, and our obligation has forced us to look even harder for solutions, a new way of doing things, and to overcome many obstacles. Without the pressure, or obligation, I think it would be easier to walk away. But I am proud of staying, of "sticking it out", and fighting for the vision I have for this business. The pressure is a motivator, it makes us tenacious.
Many family owned businesses fail upon death of the original owner. How have you continued to be successful beyond the passing of the original owners?
The face of retail is constantly changing. Our customers and our community are constantly changing. Knowing that, and not being afraid of that, is what has kept generations in our business. You have to constantly be engaged in the business, in the community around you, and retail as a whole. That being said, there are certain fundamentals that are just as true today as they were in the 50's. Such as, taking care of the small things every day. Retail is details. Sticking by those things, but not being afraid of taking chances is something we strive for. It isn't perfect, but we are always working hard to "get it right."
Do you foresee future generations picking up the torch?
I am not sure. That future is so far away. We hope, but that takes the future having something to carry on. That is our focus: creating a sustainable and honest business.
Do you have a formal and/or informal succession plan?
Succession plans are very complex and difficult in a family business. We have both a formal and informal succession plan with my father and my daughter. You have to talk about it, and too many family businesses find the subject difficult. Speaking from personal experience, in previous generations of this business, that has been a major obstacle. Succession plans are critical to keeping your business protected. It can be the beginning or the end of everything.
What general advice would you give to other family owned businesses?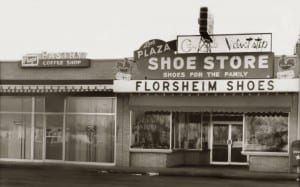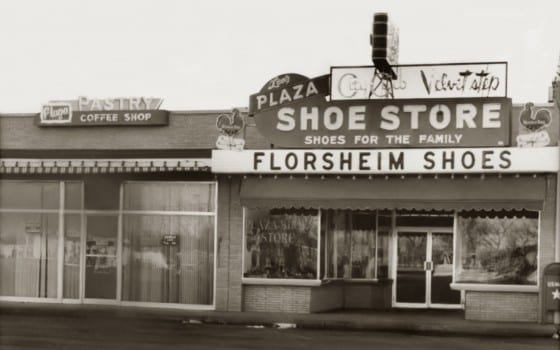 Checks and balances. Surround yourself with a good team and be accountable to one another. Be passionate. Owning your own business is the hardest thing you will ever do. It has to be innate, and it has to fulfill you, as you will spend your life putting everything you have in it. But when you find what makes you tick, what drives you, and you can be successful at it too? There is nothing like it.
Don't be an absentee owner. Your employees will never be as passionate as you, and will never see things with the same critical eye that you do. You have to be there EVERYDAY. You have to make your passion your greatest tool. That factor is what makes you a business OWNER not an employee, use it to your advantage. Use your critical eye to make changes, to continue to fine tune your business. If you are not there or you are holed up in an office, you become blind to it. If you just accept that "this is how things are" you have missed an opportunity.
Fight for your business. If you have lost passion, fight to get it back. If you have a family member you don't trust, fight to get them out. If you see something you don't like, fight to change it. When it is your business – it is all you. Make the hard choices, make the sacrifices, be courageous, surprise yourself. It is worth it, I promise.
What do you think the future holds for your business?
We aren't sure what the future holds, but we do know that we are going to show up every day and fight like hell to make it great.
Without sharing detailed financials can you speak to your growth to this point and why you think it will continue?
We have had consistent growth since our move to the Brentwood Center in 2007. We have doubled our part-time and full-time staff. We have been able to increase the amount of inventory and brands that we are able to offer. It has been a very fun and exciting time for our business and we are looking forward to many changes in the next couple of years.
Where can you be found on the internet?
We can definitely be found on the internet. Check out our website: www.plazashoestore.com. You can also find us on Facebook: www.facebook.com/plazashoestore.
Editor's Note: It was awesome to see the passion that Cathy has for her business that was clearly evident in what can be an emotionless medium…email correspondence! She shares great advice on how to compete with bigger companies by leveraging the fact that small businesses are inherently closer to the customer and can offset big data by face to face interactions and long term relationships. Despite the obvious passion and commitment to her business, it is also interesting to read first hand how small businesses have to compete with big online retailers who get to avoid charging sales tax in many cases. Cathy also sheds light on life in a family business, succession plans and more. Thanks Cathy for the great lessons and advice!