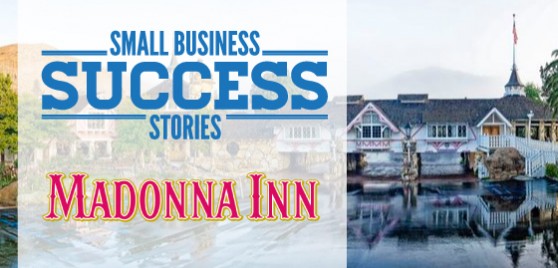 Today's interview is with Amanda Rich who is the Artistic Director at Madonna Inn and has been with the Inn for nearly 15 years. Established in 1958, Madonna Inn is one of California's iconic hotels and resorts located in San Luis Obispo, California.
Madonna Inn purchased some custom aluminum signs ("Autos Only" and "Clearance 7") from us that are used to direct traffic to on-site parking as seen below.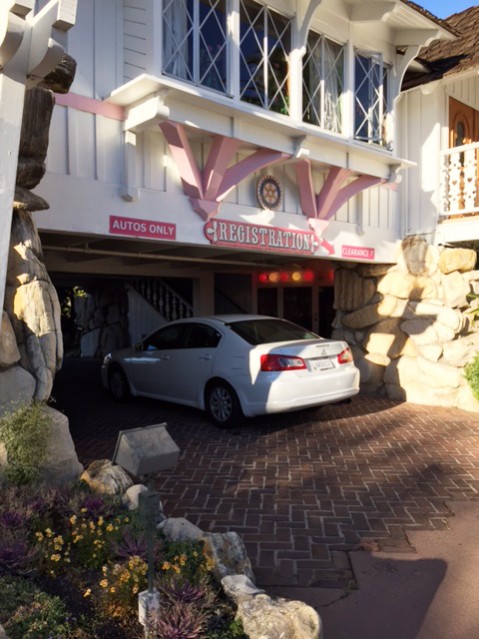 Can you tell us seven things about Mr. Madonna (the original founder of Madonna Inn)?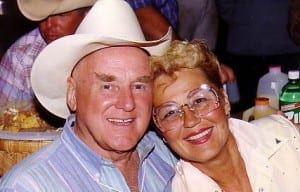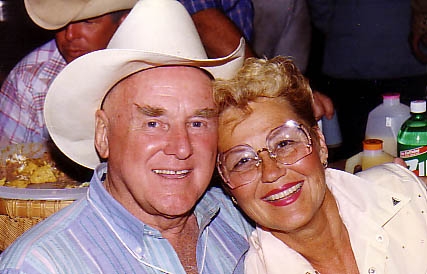 Mr. Madonna was born on November 19, 1919.
He was raised in an old ranch house which is currently Camp San Luis. They raised corn, wheat, barley, beef cattle and dairy cows.
Mr. Madonna's grandparents came to America from Switzerland.
Mr. Madonna went to a one room school house called Hope School.
In 1935, Mr. Madonna started his own construction company. His primary tools were an old model T ford and a pick and shovel. A number of years later, when he went into the cattle business, he chose the pick and shovel as his cattle brand.
Mr. Madonna's company paved many of the roads here in San Luis Obispo.
Mr. Madonna passed away on April 22, 2004.
What is your role at Madonna Inn?
My role at Madonna Inn consists of many jobs. I am the Artistic Director, Mrs. Madonna's Personal Assistant and Assistant Clothing Buyer. My jobs is constantly changing and is always interesting!! I have been at the Inn for 14 years, and feel as though I am not only part of a team but a family.
What is the history of Madonna?
As an international landmark destination, Madonna Inn is nestled on over 1,000 pristine acres of rolling hills and is renowned for its whimsical decor and timeless elegance. Established in 1958 as a unique retreat between Los Angeles and San Francisco, Madonna Inn is ideally located in the heart of the Central Coast Wine Country and minutes from historic, downtown San Luis Obispo. Madonna Inn's distinct guestrooms, resort-style amenities, and multitude of activities and experiences make this a local gem and traveler's oasis.
Mr. and Mrs. Madonna traveled quite a bit for different construction jobs all over California. They experienced numerous hotels on their travels and discovered what they liked and didn't like. They wanted to create a destination for travelers that would make everyone feel at home.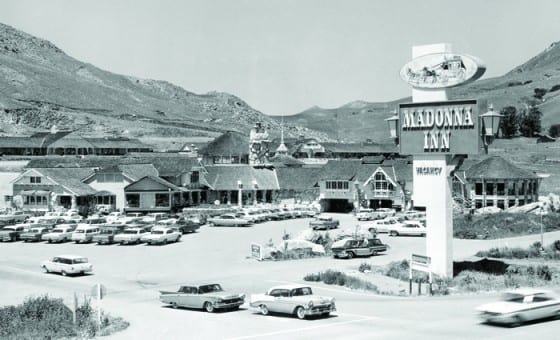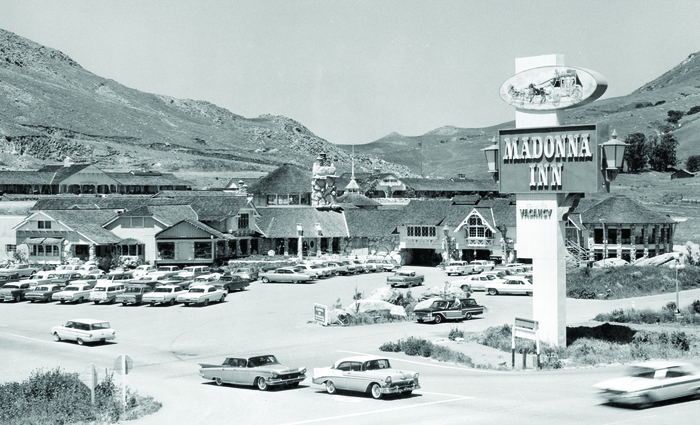 What sets Madonna apart from your competition and what is Madonna's unique selling proposition?
Madonna Inn is different than any other cookie cutter resort because of our 109 unique themed rooms. Mr. and Mrs. Madonna took great care in making the Inn one of a kind!
What is one strategy for gaining customers that you have been successful with?
Over the years, families have made coming to the Inn a family tradition. I think that is one thing that keeps us going strong, people handing down their traditions from one generation to the next. During the holidays the Inn is transformed into a winter wonderland. From Christmas trees to tiny little elves, people come from near and far to check out the decorations. People are not just paying for a meal or hotel stay they are getting a whole experience!
How do you compete with the standard hotels and in many cases companies that offer a hotel chain at every price point despite consumers not knowing it's all the same parent company?
At Madonna Inn we are always striving to make things bigger and better and I think that is how we compete with the standard cookie cutter hotels! We want our customers to feel as though Madonna Inn is their home away from home. Over the last couple of years we have renovated all of our rooms, added a luxurious Spa, Infinity Pool, Basketball & Tennis Courts, and most recently revealed our Secret Garden.
What is one of the biggest challenges the hotel has had and how did you overcome it?
I think one challenge the Inn has faced over the years is getting new customers. We have a lot of repeat customers but are always looking to expand our market. In the last couple of years we have gained an amazing marketing team. We have expanded our advertising outlets and have been able to reach all types of people.
If you had advice for other hotel owners/operators, who are well behind the cycle when compared to where Madonna is at today, what would it be?
If I had to give one piece of advice for prospective hotel owners I would say the key to a successful business is to surround yourself with trustworthy hardworking individuals.
How do you "WOW" your customers?
At Madonna Inn we go above and beyond to WOW our customers. From our over the top decorations to our unique themed rooms, there is always something to see or experience at Madonna Inn.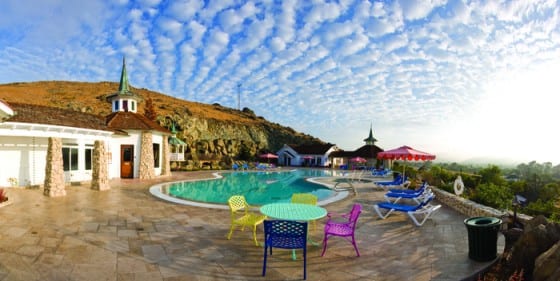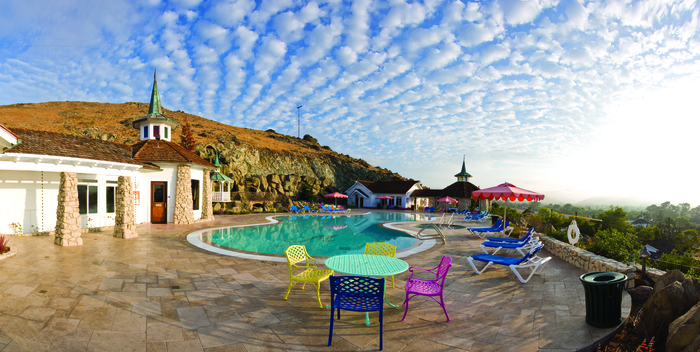 Do you think there are lessons that could be used from the success of Madonna that could apply to any small business? If so, what?
The lesson someone could take away from the success of Madonna Inn is "If you can dream it, you can do it!." Mr. Madonna drew his original Madonna Inn plans on the back of a napkin. It was simply a dream and he made that dream come true!
You alluded to Mrs. Madonna. Does this means she's still involved in the management of the Inn? Is the Inn still family owned/operated?
Mrs. Madonna is still alive and well. Although she is retired, she comes in every day for lunch and keeps an eye on all that is going on.
Statistics often show that many family owned businesses don't do as well beyond the death of the original owner. How have you guys been successful despite the passing of Mr. Madonna and the limited role of Mrs. Madonna?
Mr. Madonna's daughter, Connie Pearce, is the General Manager of Madonna Inn. She has been in this position for many years…even before her father's passing. She has been able to keep the business going and has actually improved it to what it is today!
Do you foresee future generations picking up the torch and continuing with Madonna Inn?
Yes, I do foresee future generations picking up the torch. Connie's daughter, Audrey Pearce, currently works as the assistant marketing manager.
Does the Inn have an informal or formal succession plan in place to continue the family owned aspect?
Yes, they do.
How do current employees/management ensure that the brand/Inn carries on the legacy/vision of Mr. Madonna himself?
We actually have a brand guideline as well as an employee handbook that all employees must follow. This keeps our brand consistent and Mr. Madonna's dream alive.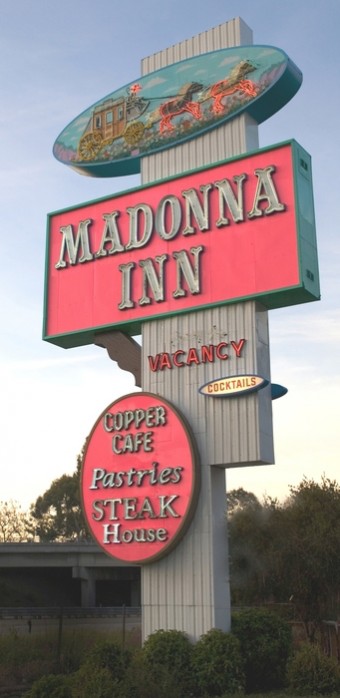 Without sharing detailed financials can you speak to your growth to this point and why you think it will continue?
I think with our continued improvements that Madonna Inn will just continue to grow and succeed.
Where can you be found on the internet?
Yes, we're definitely on the web and can be found in a few places as noted below.
Website – www.madonnainn.com
Facebook – MadonnaInn
Instagram – @madonnainn1958
Editor's Note: Despite not being able to interview Mr. or Mrs. Madonna themselves our interview with Amanda was very insightful. In particular it is obvious that some, such as Mr. Madonna, simply have the entrepreneurial spirit and all that comes with it. Often these entrepreneurs have great vision, the ability to recognize a need and unparalleled drive to make it happen. With several business ventures it is evident that Mr. Madonna fits this description. Despite his humble beginnings Mr. Madonna created a company that inspires loyalty through a "family" type setting that is evident even today. Madonna Inn has also successfully created a unique selling proposition, leveraged experiential marketing and successfully created repeat customers through these successes. Great lessons for any small business looking to survive for the long run!