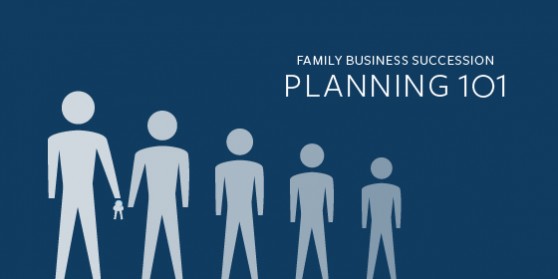 A whopping 90 percent of businesses across the nation are family-owned. Odds are this means you either know someone who is part of a family-owned business or are involved with one yourself. While the casual nature of working with family definitely has its perks, it's important to take the necessary steps to protect your business for the future.  Approximately half of such companies have no succession plan in place.  So, to help your family-owned business stick around, let's look at some of the basics of business succession planning.
What Is Succession Planning & Why Is it Important?
According to Wikipedia, the definition of a succession plan is "a process for identifying and developing internal people with the potential to fill key business leadership positions in the company." In short, in a family business it is a plan put in place to smoothly transition from the original leader to the next. Succession planning is often critical in family-owned businesses where an individual has become not only the face of the company but also has an immense amount of business knowledge and contacts that are critical to the businesses' success. Research has shown that 70 percent of family-owned businesses fail or are sold before the second generation gets a chance to run the company and only 10 percent of family owned businesses make it to the third generation successfully. While there are many reasons for failure, often in these cases no succession plan has been put into place and the business simply can't move forward without the knowledge and experience of the original owner.
Succession Plan Basics
There are a number of guides and articles detailing the process of creating a succession plan. Some have even outlined common traits of those successful in perpetuating the business. We've included below some of the questions that get asked most often as part of the process of creating a successful succession plan in a situation where the business is still relatively small, albeit successful. In contrast, answers to these questions will obviously differ immensely when building a plan for a bigger family-owned business, such as Marriott, due to its size and complexity.
Using the resources linked to throughout this article and the answers below, family-owned businesses should be able to put in place a succession plan that ensures future success.
How detailed or long does a succession plan have to be?
Simply put, your plan should be as detailed or as long as it needs to be. If your business is a mom-and-pop shop, then something pretty simple may work well.  But even in this case, putting something in writing and leaning towards being thorough rather than just trying to get it done will clear up future misunderstandings and improve the plan as it is revised and recorded. This will also help to ensure that aspects beyond just control or leadership, such as taxes or even legal considerations, be considered and carefully planned and documented.
How far in advance should a succession plan be created?
The most important factors are the age, health and plans of the founder/owner. An owner that is in his 50s, healthy, and has no desire to retire may lead to a succession plan that isn't formulated for another few years. Though even in such a case, some experts recommend that a succession plan be laid out as far as 15 years in advance. Alternatively, if the owner has health issues and longs for the day he or she can retire, then a succession plan should be laid out immediately. Life is unplanned and it's never too early to have a plan in place for succession. Plans can always be revised and adapted as needed if circumstances change.
Who should create a family owned business succession plan?
Ideally the original founder and/or owner should create the plan. Making definitive decisions and properly outlining roles and authority in a post-owner world will reduce friction and possible legal battles if there are several who wish to assume the role. Enlisting outside help by way of professional business consultants also adds credibility and objectivity to the succession plan.
Do all employees need to buy off on the plan?
Yes. While not all employees are going to agree — especially those passed over for promotions — it is critical that the company guard against bitter and disenfranchised employees since they can ultimately lead to serious internal problems that can cause the demise of an otherwise successful company.
Where or how should the plan be recorded?
Whenever possible, the plan should be formally recorded and distributed throughout the company. Even better would be if, as noted above, it goes through some objective reviews until a firm plan is in place. Writing the plan on a napkin at an informal family get together or something of the like is a recipe for disaster when trying to ensure future success. A formal plan will not only detail authority, roles, and titles, but can also shed light on strategic shifts that may be required of the company which the owner may be able to more clearly illustrate due to industry experience.
Should companies prepare for succession beyond just forming a plan before the actual time of succession?
Experts are unanimous in saying that a well-planned succession plan should involve some kind of training or phased period. Whether this period is an informal or formal one, ensuring that the successor is well trained and has had a chance to learn his or her new role before the complete departure of the owner is critical to success.
Should I pay "experts" or "consultants" to create a succession plan for my business?
In most cases the answer is no. The owner or founder has knowledge of the business and is best suited to formulate the plan. Having said this, it is also highly recommended that an objective third party expert review the plans and offer feedback.
If needed, how much should I be willing to spend on a professional succession plan?
Rates for professional consultants and experts will vary based on their experience. Ultimately an owner should be willing to pay whatever he or she feels is necessary to ensure future success of the company. Often the best place to find affordable (and worthwhile) consultants is talking to other family-owned businesses that have successfully managed succession.
Does the succession plan have to pass responsibility to a family member since it is a family-owned business?
No. The best succession plans, and family owned businesses in general, often have strict policies in place that prevent untrained or inadequate family members from working and/or taking complete control of the company. Family members at all levels should be held to the same hiring, review and firing policies of other employees. While some will prefer a family member to take over, the most successful businesses choose a successor who is best for the business regardless whether the person is family – extended or immediate – or not.
Should the succession plan involve lawyers or some kind of legal authority in any way?
Much like using business consultants as an objective third party, it is recommended that a lawyer familiar with family-owned business succession be involved. Lawyers can provide a stamp of authority on succession documents that prevent future legal battles that can hurt or completely destroy mature companies. This is particularly important in cases where more than one family member feels strongly that he or she should be next to take the reins.
Is a succession plan a guaranteed recipe for success for the family-owned business?
No. Even the most successfully family business with a proper succession plan in place sometimes fail in the marketplace. Challenges facing family businesses often include an unwillingness or inability to change, declining markets, and even poor internal operations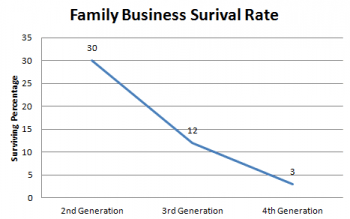 or management of capital. Any of these factors can lead to failure of a business that has previously enjoyed success. But a succession plan does provide the chance to reverse what otherwise are some daunting statistics around family business success rates over time as can be seen in the graph.
Should I ever revise the succession plan after initially formalizing it?
Yes, if needed. While it is important to have a succession plan in place well in advance of the passing of the torch it doesn't mean that the plan can't be revised as needed. Shifting markets, capabilities and demand all may necessitate a different strategy.  This may mean that a different person altogether should be appointed successor or simply that different aspects of the plan be strategically altered. Either way the plan should be flexible and ensure that legally no future issues are caused by making changes before it is set into motion.