How do you celebrate the 4th of July? For many of us, Independence Day is a mix of family get-togethers, all the hotdogs and hamburgers we can eat, and colorful parades down Main Street, with the night ending in a dazzling display of fireworks.
All of the day's festivities, of course, take place as a way to commemorate the adoption of the Declaration of Independence – declaring that the newly formed "United States of America" was free from British rule and the 13 states comprised a newly independent, sovereign nation. About 100 years later, July 4th was made an official holiday across the USA, and we've been acknowledging our national independence in grand fashion ever since.
Will you close your business on July 4th and join in the celebrations yourself? Or will you keep your doors open, ensuring you won't miss out on sales that day?
No matter which way you choose to go with your business on Independence Day, you'll need to let customers know. And we'll gladly help get your message out there – by providing you with free, printable Closed for July 4th as well as Open for July 4th signage templates.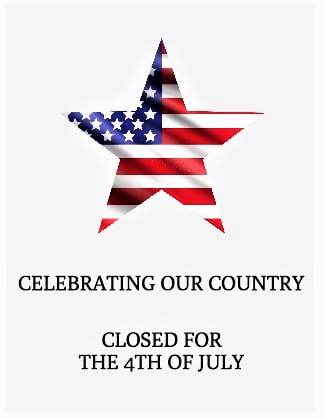 Receive Your Free July 4th Template
To get your free, printable July 4th signage template, all you have to do is go to our special 4th of July template page on the Signs.com website. Then, simply choose from any of the professionally designed July 4th templates we've created for you.
Within the hour (if not sooner!), we'll e-mail you the requested template, and you'll be all set to print the sign on your office or home printer. Then, all that's left for you to do is to hang the sign in your place of business (see below for specific location suggestions).
In addition to receiving a 4th of July template, you will also receive a discount code good for 10% off any custom sign we offer (one-time purchase) – everything from banners, A-frames, and aluminum signs, to window clings, posters, flags, and much more.
Plus, you'll be able to choose to opt into our e-mail list. Doing so will ensure you don't miss out on exclusive details on future Signs.com offers and products.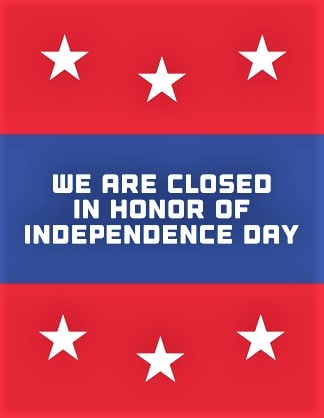 Location, Location, Location
You've chosen a free sign template or two (or more) and printed them out. Now, you just have to decide on the best placement for maximum exposure.
The obvious choice is at your store's front door or main entrance – here, you can certainly grab the attention of customers coming in and out of your shop, as well as passersby. But there are other possibilities to keep in mind, too, such as:
Secondary entrances – Don't neglect side or back entrances; they may not be used as frequently as your main entrance, but they might be where your most loyal, local customers enter your shop.
Cash register/check out – One of the best places to ensure that your buying customers are aware of your 4th of July operating hours. Also consider placing a sign in a frame or easel at the checkout line.
Vestibule/foyer — Place a July 4th sign here next to your sale/special of the day message, or alongside pictures of satisfied customers, local sports team sponsorships, etc.
Storefront window – Set a sign in a mannequin's hand or at its base, or hang around its neck; place on a frame and make it part of your Independence Day window display.
Interior walls – Any well-trafficked interior walls, including dressing-room walls, are good potential locations for July 4th signage.
Racks/displays – Place signs in frames atop or adjacent to a few racks or displays, particularly your sale or promotional items.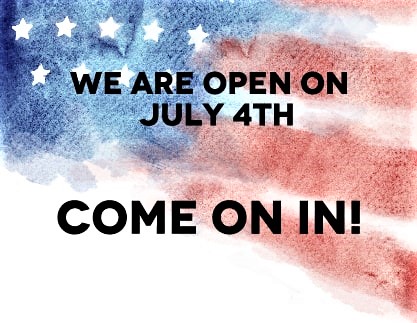 Red, White, and Blue
Time will tell if this year's Independence Day celebrations will be a bit more subdued due to COVID-19 – or, perhaps, the festivities will be even more raucous than in previous years, as folks choose to "get their summer on" after months of hunkering down and avoiding other people. You'll have to decide if you, your business, your customers, and your employees will best benefit from your shop being open or closed on July 4th.
If you choose to remain open, you might want to draw customers in by having a special Independence Day sale. You could put an emphasis on goods that might sell particularly well for a 4th of July celebration – red, white, and blue anyone? Or, take a more generalist approach and think get-together/party, or consider a broad summer theme.
Finally, keep in mind that just because you opt to open on July 4th doesn't mean you have to keep standard hours that day. You can always set and announce limited hours ahead of time. Or, depending upon your type of business and customer mix, possibly close early if you find your foot traffic to be non-existent that day. Another option: Limit your staff to just one or two employees, particularly if your store design allows for just a few personnel to work it effectively.
Have a fun and safe 4th of July – whether you're at work or at home – from your friends at Signs.com!