Aluminum is one of our most versatile and duable signage materials available. With its durability comes a professional appearance that makes it ideal for both indoor and outdoor signs. In addition to our standard aluminum, we also offer brushed aluminum and reflective aluminum to add variety and versatility to your signage needs. Understanding the difference between our standard aluminum, brushed aluminum, and reflective aluminum will help you pick the material that best satisfies your signage needs. We've assembled a list of these different types of aluminum with their common uses and comparisons between them to simplify your search for the perfect aluminum sign.
Standard Aluminum
Our standard aluminum signs have a long-lasting durability and an elegant simplicity. This basic aluminum sign is the least expensive aluminum sign we offer, making it an affordable signage solution. The face of the regular aluminum is semi-glossy. However, anywhere that ink will be printed on the sign will have a matte finish. All of our standard aluminum signs are pre-painted with coil coated white paint on both sides. Images and designs are then printed directly onto the surface of the aluminum, allowing the creation of virtually any color of sign. Standard aluminum signs can also be printed on both sides, offering additional versatility.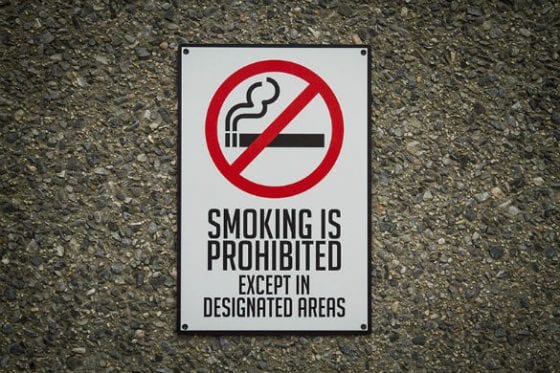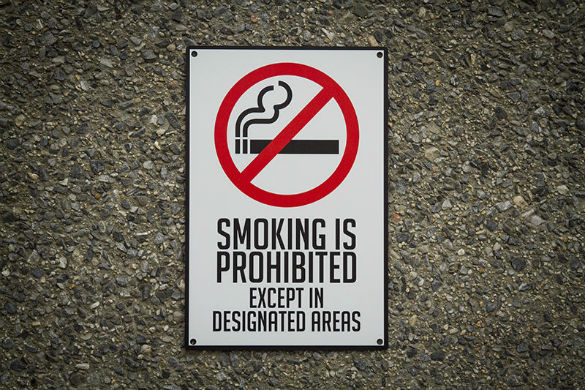 The standard aluminum signs we offer are composed of a polyethylene (light plastic) core sandwiched between two .008 inch sheets of aluminum. Within the signage industry this is called e-panel or dibond. We've found from our extensive experience that e-panel signs are more durable, offer cleaner edges, are more lightweight, and more aesthetically pleasing than a single sheet of aluminum that many other sign shops offer. Overall, the sign as constructed will be 2mm thick, making it a lightweight and extremely portable option.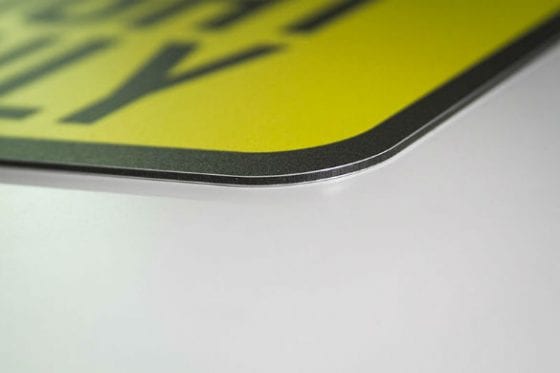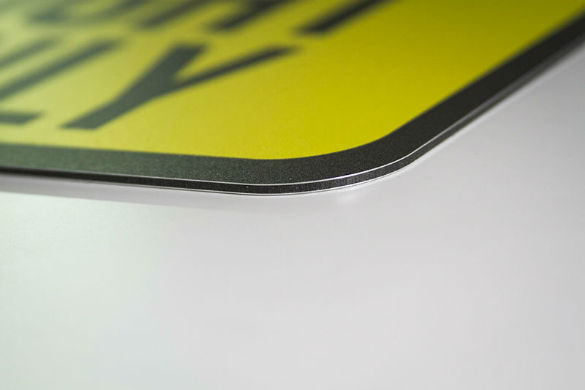 Weather resistance is an important quality of aluminum which gives these signs the ability to be placed both indoors and outdoors. This makes these signs perfect for traffic and warning signs, in business storefronts and lobbies, and retail or real estate signage. When properly placed and cared for these signs will last 5+ years.
Brushed Aluminum
Brushed aluminum is an attractive option that will upgrade the appearance of your business or home. Our brushed aluminum signs are constructed similarly to the regular aluminum sign, using a polyethylene core between two aluminum sheets. The finished product will be 3mm thick (in comparison to the 2mm thick standard aluminum sign). Though typically used indoors, this sign option is also weather resistant, allowing it to be displayed both indoors and outdoors. If the sign is properly cared for and placed in a suitable environment it will last 5+ years.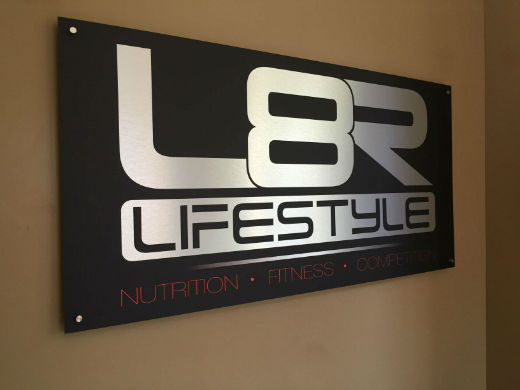 Unlike regular aluminum, brushed aluminum is not pre-painted white. Instead, the natural aluminum is brushed on one side creating a beautiful matte aluminum look.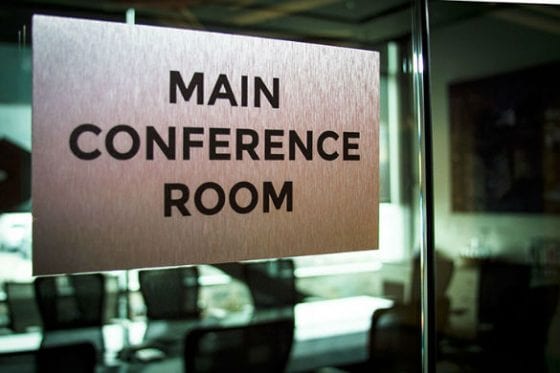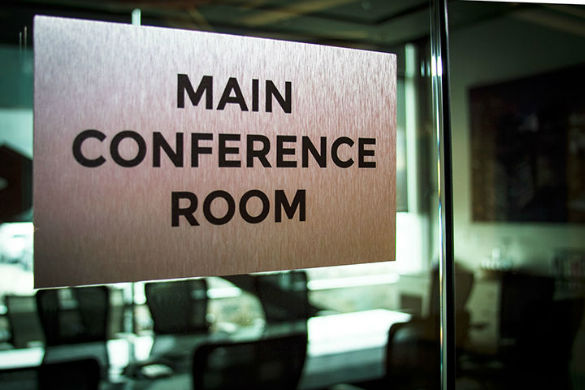 Brushed aluminum signs are an excellent solution for businesses looking to enhance their lobby with a logo, add name and number signs to rooms, and indicate directions throughout the building. The simple, yet professional look is sure to leave employees or guests with a great impression of your business or home.
Reflective Aluminum
Just as its name implies, this aluminum option has a reflective property that allows for additional visibility in the dark when light shines on the surface of the sign. The construction of the sign is similar to our other aluminum signs, with two sheets of .008 inch aluminum joined by a polyethylene core. The design, however, is not printed directly on the aluminum. Instead, your design will be printed on a special reflective vinyl overlay which is adhered to the surface of the aluminum.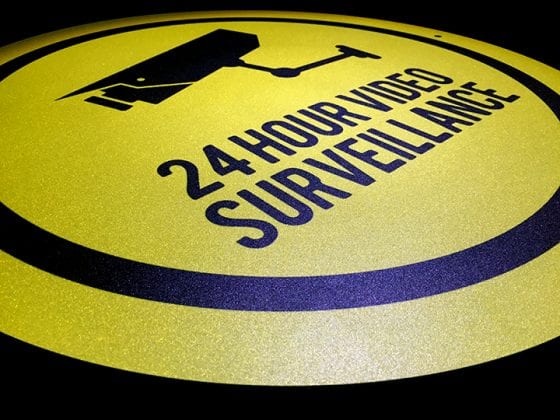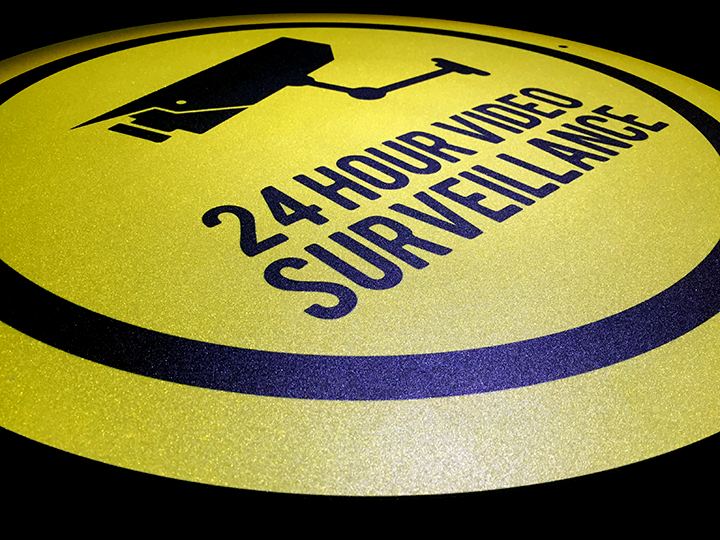 This special overlay is composed of a glass bead layer which allows for reflectivity but does not distort or blur your design. The overlay is attached using a high adhesive backing, so there is no need to worry about it separating from the aluminum. Reflective aluminum signs, like the basic and brushed options, are designed to be used inside and outside, with a 5+ years lifespan when properly cared for.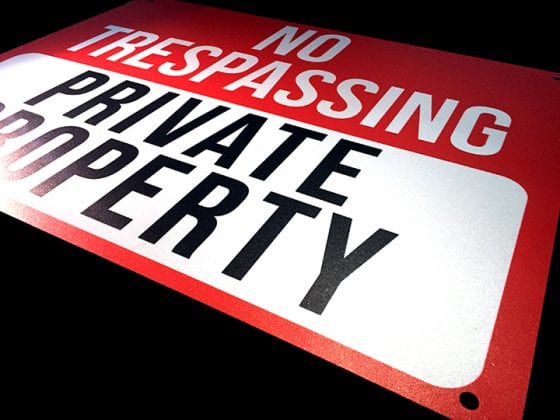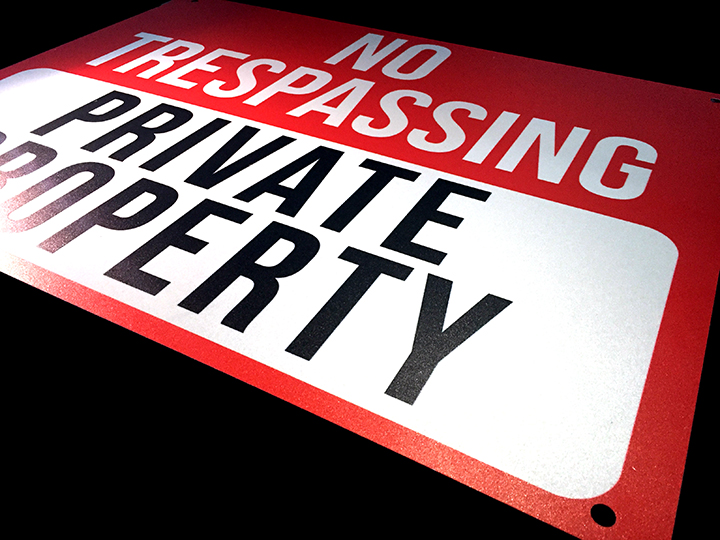 You will most commonly see these signs used as roadside directional signs, parking lot signage, warning notices, and business safety signs. The reflective property of this sign makes it perfect for drawing attention in dimly lit areas of buildings or nighttime situations.
What Should You Choose?
Now that you know the similarities and differences between these three types of aluminum signs, it's up to you to make the right choice for your needs. We've included the chart below that will help you choose the suitable aluminum sign.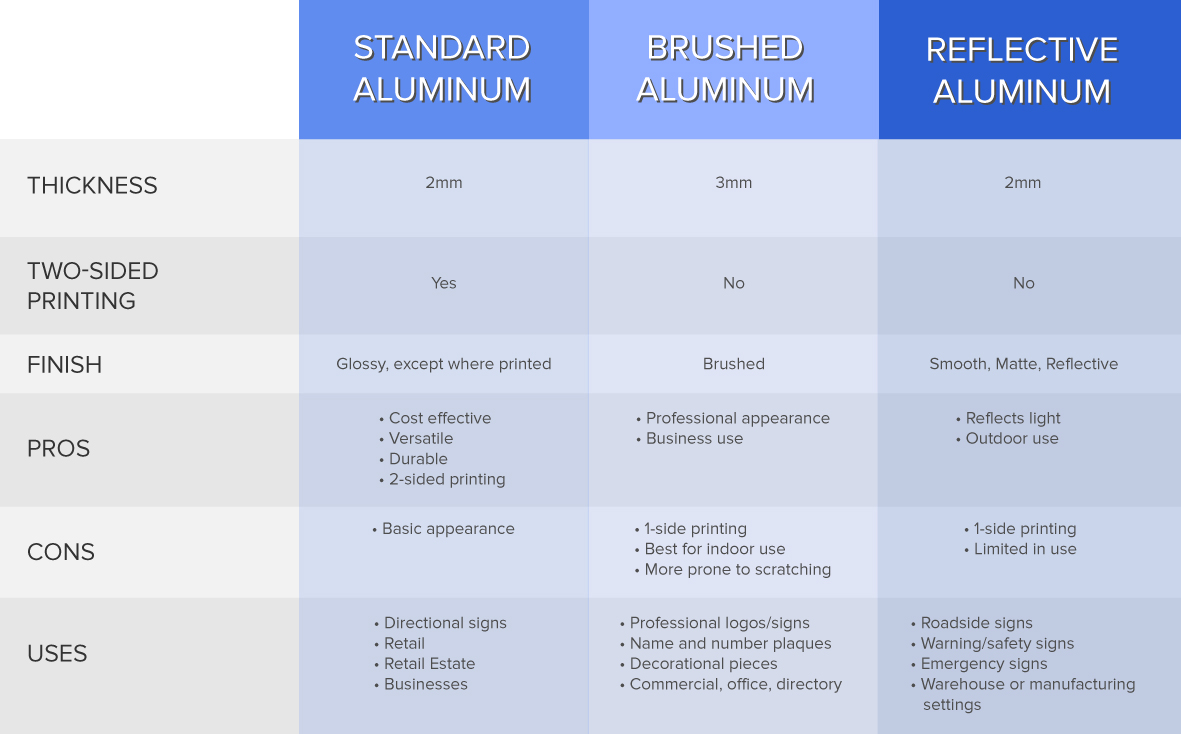 Though the three options have similar uses, there are specific advantages that set each apart from its aluminum family member. Regular aluminum signs are simple solutions for signs in businesses, parking lots, construction sites, and home use as well. If you're looking for a more professional look, then brushed aluminum signs are your answer. Lobbies and reception areas can be transformed with a well-placed brushed aluminum sign or decoration, while name and number plates will enhance the quality of your business decor. Because of its professional appearance, brushed aluminum is better suited for indoor use. Reflective aluminum signs, on the other hand, are especially useful for outdoor use.  This type of aluminum signage would be a better choice when wanting to place signs in parking lots, exterior shipping and receiving areas, on the side of the road, and at constructions sites that require signs with nighttime visibility.
If you're still having trouble deciding which aluminum is right for you, visit our product pages for  standard aluminum, brushed aluminum, and reflective aluminum. If you know your signage needs but are struggling to make a choice, call us at 888-222-4929. We also offer free design services if you need some help with the design aspect of your sign.