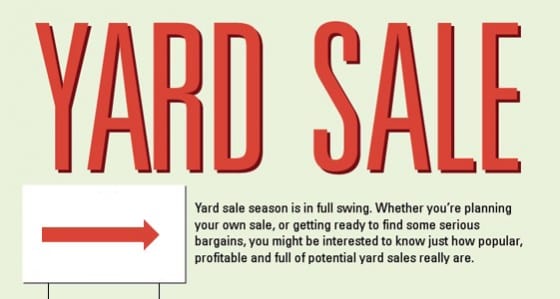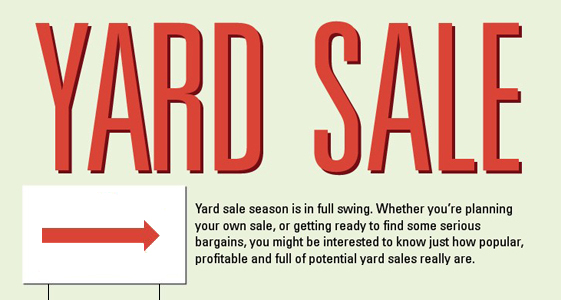 With school out and summer under way that means it is yard sale season. Whether it's hosting your own (we've got lots of signage!) or going out to find a deal, people across the country love garage sales! As such, we've put together some interesting facts and statistics on yard sales in the infographic below.  Happy selling and shopping this summer!
Click to Enlarge

Infographic Transcription:
Yard sale season is in full swing. Whether you're planning your own sale, or getting ready to find some serious bargains, you might be interested to know just how popular, profitable and full of potential yard sales really are.
The Demand
Average number of people who buy an item at a garage sale each week: 690,000
Average number of yard sales held each week in the United States: 165,000
Average number of yard sales listed on Craigslist each week: 95,000
The Money
Total weekly revenue from yard sales $4,222,375
Average price of an item at a yard sale: 85¢
Average profit margin for items purchased at yard sales and resold on Ebay: 462%
The Planning
Best day of the week to hold your yard sale: Saturday
Best time of day to open your yard sale: 7:00 AM
Best way to find the yard sale you're looking for: Yard Sale Sign
Number of directional yard sale signs to install for best results: 6-8
The Goods
Top 3 least-loved yard sale items: Stuffed Animals, Televisions, Magazines
Top 3 best-loved yard sale items: Tools, Collectibles, Sports Equipment
Yard Sale Shoppers Poll
42% expect to negotiate the price.
97% leave within 2 minutes if they don't see anything they like.
78% prefer items to be clearly marked with a price.
83% bring children with them
94% report that they buy items for their kids during yard sale trips.
Biggest Turnoff?
Overpriced Items 43%
Disorganization 22%
Dirty Items 19%
Hard to Find 14%
Sources
http://www.statisticbrain.com/garage-sale-statistics/
Signs.com Yard Sale Signs Poll