A yard sign can be a great tool when it comes to campaigns, information, or advertisements. As with any marketing, you want to get the biggest bang for your buck, so how much should you spend on your yard signs? There are a few factors that can affect your cost, read on to learn more.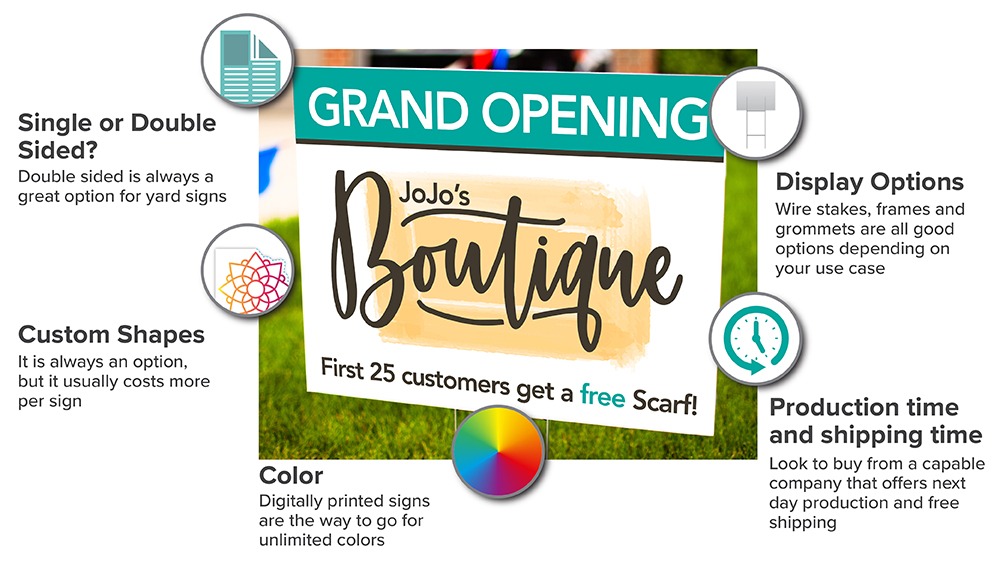 Single Sided vs. Double Sided
Double sided signs are ideal for locations where traffic will see both sides coming and going. The design can be the same or different, but you'll get a lot more traction for a lot less price. Usually a double sided sign is about a third less than just getting two signs. Depending on what kind of sign you are using, you can even plan ahead and use the same sign for two different events. For example, if you're using an A-frame design and you've got a shop with an upcoming sale, you can use one side for the current sale, then switch to the opposite side that you've had printed for the next sale. Using a double sided sign saves money, space, and you're using less materials, so you're also being environmentally friendly!
Custom Shapes
Having your sign custom cut will set you apart from the crowd, but also adds some additional cost. For example, if your sign is $10.00 initially and you want it custom cut, you may need to add up to $5.00. If you need a large amount of signs, that additional cost can add up quickly. If you're only ordering a few and the custom shape will be an asset to whatever you're doing, then go for it. When your budget is tight, consider using the regular 24"x18" size and make the shape of your graphics bold and noticeable. That way you'll have the effect of the shape without the additional cost.

Color: Should You Do More Than One?
Color signs definitely get noticed more than black and white, so play with your design and make it interesting using color. Some printing techniques, such as screen printing, cost a bit less initially but charge for each additional color. Digitally printed signs, while slightly more expensive, can print in full, brilliant colors without any extra cost. Color can play a big part in your signage, so be sure you use the right colors to really make your design pop. Not sure about color choice? Signs.com has done the research for you! Click here to learn a little bit about color and signage. 

Display Options: Frames, Wire Stakes, and Grommets
Your display method will depend largely on location and needs. If you're running for office, you'll probably do a lot of wire stakes on your yard signs for lawns and roadways. If you need a sign in front of your shop or business, an A-Frame could be a good idea. Each of these methods have different costs involved, so be sure to take that into account when you're looking at budget. The least expensive option is wire stake, and prices go from there. There are usually different options as far as how heavy duty you want your stakes or frames, so consider longevity in your sign. If you'll be hanging your sign, paying for grommet installation ensures your sign isn't damaged when you hang it.

Shipping
Shipping is a normal cost associated with the sign ordering process, but with each additional sign comes additional weight. If you're ordering hundreds of signs for the upcoming election, you'll need to add in the cost of shipping. Some printing companies, like Signs.com, use free shipping as an added perk, so do your research. Shipping also affects timing when ordering and receiving your signs, so be sure you know the details before you order. 

Production Time
Need your signs in a hurry? You may want to make sure your printer can accommodate your timeline and if there are rush fees involved. Signs.com is well known for ultra quick printing services, so rest assured you can get what you need, when you need it. Usually you'll want your yard signs up days or weeks before your event or election, so take this time into account as well. 
Minimum Order Quantities and Discounts
Sometimes you can get a price break when you order larger quantities. If you need 18 signs but get a significant price break at 20, you'll want to know. Ask about discounts for quantities and plan accordingly. Can you get signs at wholesale? Sometimes, although this is generally reserved for sign sellers/shops.

When done correctly, yard signs are a great way to get your message out. Using these tips, you can get a sign that will set you up for success. Get noticed, advertise the event, and win the election with custom yard signs.