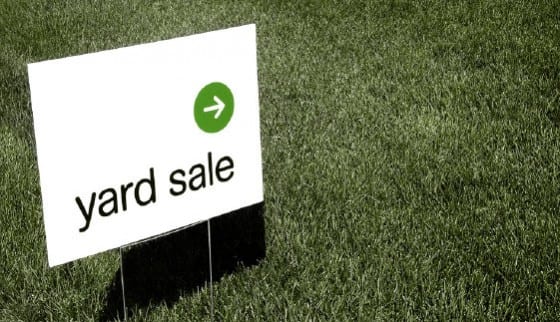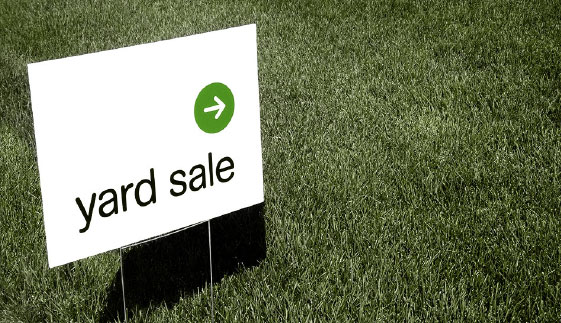 Whether you call it a garage sale or yard sale, there's a lot of competition out there for those yard sale dollars! Here are 50 yard sale tips that will help you host a successful sale… one that will blow away our competition.
Effective Yard Sale Advertising Tips
1) Design colorful, eye-catching signs that all match so that people can follow them right to your home. Start here for some great ideas.
2) Place signs all over your neighborhood two days prior to the sale to advertise in advance.
3) Place a directional sign every 2-3 blocks so you don't lose potential shoppers along the way.
4) Create signs using our Yard Sign material (corrugated plastic). It's durable and weather-proof, so if it rains the night before your sale, your signs will still look great!
5) Advertise in your local newspaper.
6) Advertise in your local online classifieds.
7) Place bulletin board ads around your community.
8) Put a few teaser items in your ads for the things you think will garner the most attention.
9) Don't forget to include your address in your yard sale ads! It's amazing how many people forget this important fact.
10) Spread the word amongst friends and neighbors.
11) Join with a neighbor or two to have an even larger sale, which brings more traffic.
Yard Sale Organization Tips
12) Gather everything the day before your sale and put it in the garage or somewhere handy so you can easily carry it outside in the morning.
13) Arrange a sitter for small children if possible.
14) Go to the bank and get $20 in $1 bills, and a roll of quarters so you can make change.
15) Get an early start: have your sale ready to go by 7:00 am.
16) Create a sign that says, "Absolutely NO Early Birds!" and place it on the park strip near the road, so you'll be able to set up and organize your sale without distractions.
17) Put price tags on all large items.
18) Make pricing signs to display with same-type items in large quantities. This works well for clothing, books, dishes, candles, etc.
19) Borrow or create as many tables as you need to properly showcase your stuff. Make some using sawhorses and plywood, if you have them.
20) Group like-items together. Books in one spot, cookware in another, clothing in another, etc.
21) Recycle or toss items that are dangerously outdated: car seats, old baby equipment, appliances with frayed cords, etc.
Sell At Your Yard Sale
22) Offer quantity discounts to help you get rid of more stuff. 3 books/$2 will sell better than Books: 50 cents each, and earn you a bit more cash on each sale.
23) Expect people to negotiate the price. You don't have to automatically accept their offer—they usually expect you to counter, so they come in a little lower than they actually expect to pay.
24) Set up a snack stand to keep the kids busy. They'll earn a bit of cash, too. Cold sodas and cookies sell well on hot days.
25) Say hello to people as they arrive. The atmosphere will be more friendly and they'll be more likely to approach you for information.
26) Stay accessible. People who want to buy might give up if they can't find you.
27) Don't leave your sale unattended—find someone to cover for you if you have to go into the house.
28) Don't leave the money unattended, either. Get a fanny pack or other money keeper that you can strap right to your body to hold change and sales proceeds.
29) Keep some small signs that say "SOLD" on hand for larger items that people need to return for.
30) Be careful "holding" items for people. Insist on a deposit of at least half. Otherwise, people tend to not come back if they haven't made a firm commitment.
31) Have some grocery bags and empty boxes for people to collect their purchases. They're likely to buy more stuff when they're not dropping their various treasures all over the driveway.
32) Keep pets away from your yard sale. Some people are afraid of dogs; others are allergic to cats. Plus, you'll have people backing their cars up—you don't want Rover to get hit.
33) Dust items that are dirty.
34) Install, inflate or otherwise set up merchandise. It's hard to sell a tent that's in the bag, for instance.
35) Set up an extension cord from the garage so people can test out electric items.
36) Set prices reasonably. At the very most, items are worth half of the lowest possible retail price; most of the time, yard sale prices reflect an 80%-90% discount.
37) Slather yourself with sunscreen throughout the day; you'll already be sore from moving boxes—you don't need a sunburn, too.
38) Drink plenty of water
39) Provide some snacks for helpers and don't forget to eat something, yourself.
40) Don't sell items that are broken without disclosing the condition to buyers.
41) Don't take checks. If they bounce, you'll be stuck with large fees from your bank.
42) Play some music to keep things lively.
Clean up Your Yard Sale
43) Make arrangements to donate items that haven't sold. Some charities will pick up your things; others require you to drop off at their facilities. You may be able to write off the value of the goods on your taxes.
44) Offer a Half-Off sale around 2:00 pm. Most yard sale shoppers are wrapping up by then.
45) Create small signs to add to your directional signs that advertise your sale.
46) Offer free stuff to shoppers during the last hour. Anything you won't keep, you may as well give away—then you don't have to haul it back into your house!
47) Place a "FREE" sign on large items that haven't sold and put them on the curb.
48) Place a "Free Stuff" ad in the online classifieds.
49) Take your signs down. If you've purchased long-lasting corrugated signs, you can use them next summer. If not, your signs will litter the neighborhood when they fall off the posts.
50) Consider making your sale an annual event. If you make your yard sale fabulous, shoppers will learn to look forward to it every year.