What size is a yard sign? Have you ever asked yourself this question while planning out your real estate listings, political campaigns or any other cause that you would like to display in a yard? We have seen thousands of yard signs at various sizes over the years at Signs.com. Using our experience, we wrote this blog post to go over the standard and common dimensions for yard sign sizes and to help guide you to the perfect sign.

What are yard signs?

First off, let's give a little insight into what exactly a yard sign is. Many yard signs are made from corrugated plastic with vertical fluting. Vertical fluting is made of small sections in the interior of the material that run like columns in a vertical direction.

This vertical fluting provides little holes that run all the way through the interior of the sign. This allows the wire stakes you may use to display the sign to be placed inside of the vertical fluting. The stakes can then be easily displayed in any yard or landscape. This is one of the most simple ways to display your yard sign. The corrugated plastic yard signs are typical 4mm in thickness.

When it comes to the material of yard signs, you have a few options other than corrugated plastic. There are also rigid plastic signs that work well displayed in a real estate frame or with grommets on the corners and hung up. Then there is the standard aluminum sign that is typically displayed with real estate frames.

Yard signs are generally displayed in yards, but can be displayed just about anywhere. So feel free to get creative with the ways you print and display custom yard signs. Common display methods for yard signs include wire stakes, metal frames, real estate posts and grommets. Common uses for yard signs include political campaigns, expressing political views, real estate, business use (sales, promotions, grand openings), directional signs (parking) or events (weddings, birthday parties, graduation, etc.).

What size are yard signs?
Are there a standard yard sign sizes I should follow? Yard sign dimensions are typically 24"x18" (2 feet wide and 1 ½ feet tall). This size works great for a variety of applications and is large enough to display information for people to clearly see as they pass by. This size is also compatible with a variety of display methods, including wire stakes and metal frames.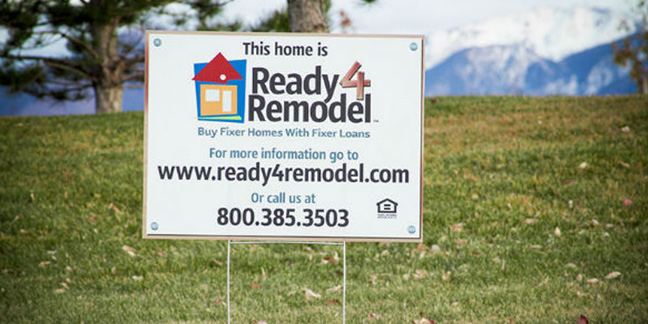 Although this is the standard size for yard signs, it is not the only size you can use. Other popular yard signs sizes include 24″x6″, 18″x12″, 36″x18″, 2'x2′ and 4'x4′. There are a few different reasons you may choose one of the above sizes. You may want a larger sign to be displayed in a difficult to see area. Or you already have real estate frames that are a certain size, in which case you need to order for those sizes. Understanding which kind of yard sign you are going to purchase and how you will display it are important factors to help you understand which is the correct yard sign size for you.

You may even consider ordering a jumbo yard sign. When you think of jumbo yard signs you may think of a large billboard or banner. When we talk about jumbo yard signs we are actually just talking about anything that is larger than the standard size. So while the standard size is 24"x18", if you opted for a 4'x4' sign that would be considered a jumbo yard sign. Even opting for the 36"x18" or 2'x2' option could be considered a jumbo yard sign.

Choosing a size based on your preferred display method

Wire stakes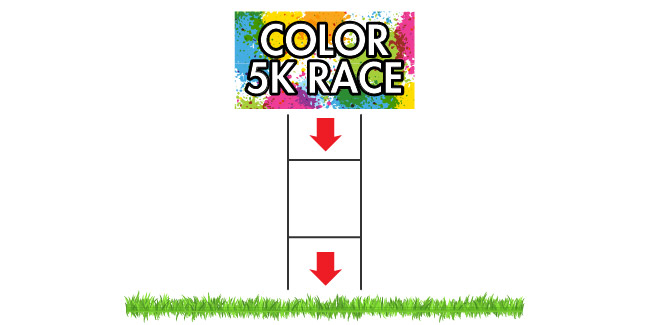 Wire Stakes are frequently used with yard signs that are made from corrugated plastic with vertical fluting. This means that the stakes you use to display the signs are placed inside of the vertical fluting. This is one of the most simple ways to display your yard sign. Make sure that your custom yard sign size is compatible with the size of stake you purchase. The standard size of 24"x18" is great for all wire stakes.

Signs.com features two different types of yard sign stakes. Our standard stakes are made of a 9 gauge steel. Our heavy duty stakes are made of ¼" steel and have a welded top of 9 guage steel. Both stakes work well, but the heavy duty one is a bit more stable than the standard one. Something else to consider when using wire stakes is when using only 1 wire stake, you should keep the size of your sign under 48" wide. If your yard sign is larger than 48" wide, we recommend ordering two wire stakes per sign to give the sign more support.

Metal frames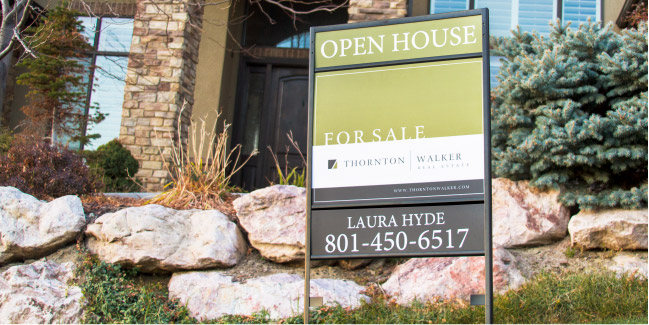 If you are using a metal frame to display your sign, you will need to match the size of the sign with the size of the insert location on the frame. Real estate frames are typically are made for a 24"x18" standard size real estate sign. It can hold various yard sign materials such as corrugated plastic, rigid plastic and aluminum. The standard height for real estate frames is 47" with a 24" standard width. The frames are made of a durable iron frame. 

Signs.com offers a few different options for real estate frames. We have standard frames that have a single 24"x18" insert location to display one sign. You can also get a metal frame that has either one or two added sign rider insert sections. Sign riders are often placed on metal frames above or below the main sign opening. Riders are used for displaying phone numbers, names, contact info or business branding on real estate frames. It is an additional tool to display more than just the yard sign in the yard. The standard size for sign riders is 24"x6." That is the size of the insert location for sign riders on most metal frames. Riders are typically sold separately from the yard sign and metal frame.

Additional Display Methods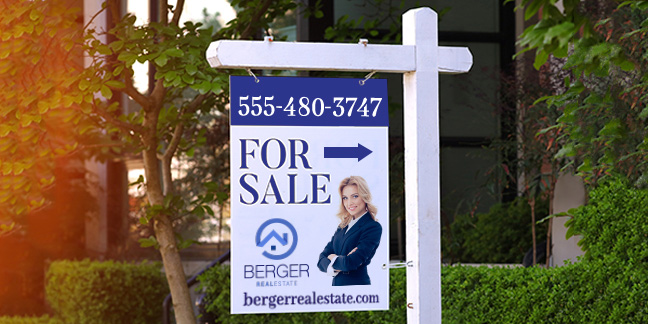 Another display option to consider for your yard sign is a real estate post. Most real estate posts are designed to fit yard signs sizes up to 24" wide. Some allow for signs up to 36" wide. Another very cost effective way to display your yard sign is with grommets. Grommets can be any size, since the grommets will be used to mount the sign to a fence or wall. So if you are purchasing a yard sign that doesn't match dimensions to the options we mentioned above, grommets is a good bet with any size.

Choosing a size based on your intended use

While your intended display method will play a large role in helping you determine the size you need for your yard sign, there are a few other things you should consider before deciding on the final yard sign sizes. For example, political campaign yard sign sizes can vary. If you want to stand out, may want to use larger signs. If you are running a political campaign and want to display a yard sign along the side of the road, you may want to order a sign large enough to make it easy for people driving by to see and read your sign.
A good rule to remember is the message on your sign will have roughly 10 feet of viewing distance for each inch of letter height. For example, if the text on your sign is 3" tall most people will be able to read that text from up to 30 feet away.

For real estate yard sign sizes your biggest consideration is to get sizes that match up with your display methods. As for business use, many businesses order yard signs from us to display inside or outside of their store or office. The ways these can be displayed can vary based on the use and location of the sign. If you are printing the sign with grommets and intend to hang it, the size can be as large or small as you would like. If you decide to purchase yard signs for an event, it may need to be a larger sign to get the attention of your attendees.
Ordering Yard Signs from Signs.com

Signs.com standard yard signs are consistent with the tips we provided in this blog post. Signs.com yard signs are made from 4mm corrugated plastic with vertical fluting. We also offer aluminum and plastic signs without vertical fluting for other yard sign displays. We offer standard display methods such as wire stakes, metal frames and grommets. Signs.com has double-sided signs for any type of display. Custom shapes are another great option that we offer on the site to make your yard sign pop.

Once you know what kind of sign you want and what size you want it to be, make sure to check it out on Signs.com. Our yard signs and real estate signs can be custom made at any size to fit your needs. Signs.com offers an industry-leading design tool to design your yard sign on our website. We also feature popular templates to help you get started with your yard sign. If you need help with your design, Signs.com is proud to offer free design services from our professional graphic design team to all of our site users.