Denier (pronounced "den-yer") is a unit of measurement based on the fiber thickness for each of the individual threads that make up fabrics and other materials.
How Is Denier Measured? And What Is It Measuring?
Simply put, the denier count for a piece of fabric equates to how much an individual thread from that fabric would weigh in grams if that thread were to be 9,000 meters long.
Before we get ahead of ourselves, it's important to note that manufacturers present denier count in one of two ways:
The most common format you'll see denier represented is as a whole number preceding the lowercase letter "d". For example, if you are looking at a material that is 300 denier, it would be listed as 300d.
Another way a manufacturer might present denier is two separate whole numbers, which represent the thickness of threads going in the machine direction (known as "warp"), by the thickness of the threads going in its cross direction (or the "fill"), respectively. For example, a 600d material would be listed as 600×600 denier. So to be clear, a material that is listed as 50×50 denier is the same as 50d, since all of the threads (both the warp and the fill) are the same thickness.
To better understand how the measurement for denier works you can refer to this equation:
1 denier (d) = 1 gram in weight for every 9,000 meters of thread length
To help put it in perspective, take a look at each thread in the image below. Notice how each thread has the same length yet differs in thickness. The thicker threads will weigh more than the thinner threads, as they consist of more material. Thus, threads that weigh more have a higher denier count than those that weigh less. Threads such as the ones shown below are then woven together with other threads of the same thickness to create materials such as fabric banners, shirts, tents, flags, & more.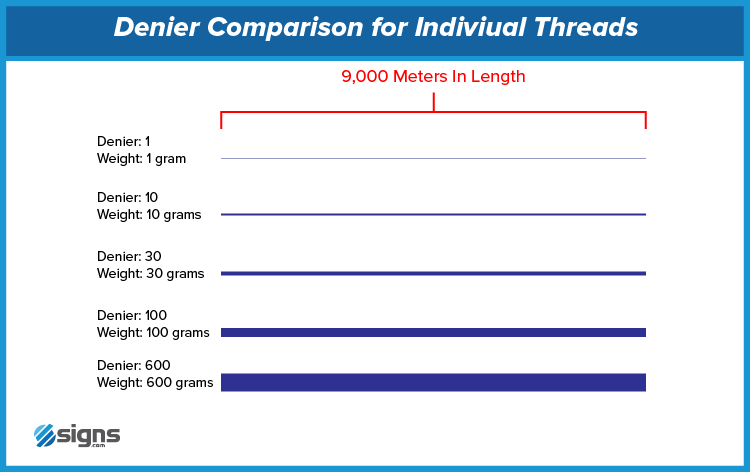 So what does that all mean for the material you are looking at? Let's use a standard t-shirt as an example. The t-shirt is made up of many threads woven together. If the t-shirt was 30d (30 denier) than that means each thread used to create that t-shirt would weigh 30 grams if that thread were to be 9,000 meters in length.
High vs. Low Denier Count. Which Is Better?
So you're looking to get some signage and want to know which denier count to go with. Is it better to have something with a low denier count or a high one? Well, it depends.
Generally speaking, the higher the denier count, the more durable the material will be. This is due to the thicker threads used to make up the material. So, if you're looking for something that is durable and can withstand outdoor wear and tear, you want to go with the highest denier material possible.
This is why you will see outdoor materials such as flags, pop up tents, and banners with denier counts ranging anywhere from 150-1,000d. Once denier counts start getting into the hundreds, you start seeing materials that are extremely durable, tear-resistant and abrasion-proof. It is also important to note that tensile strength (resistance to the material breaking under tension) increases with the denier count. Banners, for example, are designed to withstand tension up to 154×17 lbs/inch, which is more than enough tensile strength when hanging the banner with four corner grommets.
If you are more concerned with low weight and smoothness, you will want to go with a material that has a lower denier count. The lower the denier count, the less the material is going to weigh as a whole and the finer that material will be. Benefits of having thinner material usually include a reduction in cost as well as ease of storage and transportation (due to the low weight of the material). This will, however, lead to the material becoming more prone to tearing.
It is also important to note the amount of light certain materials will allow to pass through based on their denier count. The higher the count, the less light that will be able to pass through. If you were to hold a piece of silk up against the sun, you would easily be able to see through it. However, if you were to do the same with a vinyl banner, it would block out all light, making it so you could not see through at all. This is important to consider with something like a pop up tent, where you will be mainly using it outdoors and will not want to have a lot of sunlight passing through the material.
What Are Some Common/Standard Denier Counts?
The denier count for fabrics, banners, and other materials can vary anywhere from less than 1 to 1,000+. Generally speaking, the thicker the fabric, the higher the denier count. Here's a comparison chart to give you an idea of some common denier counts for materials you may be familiar with: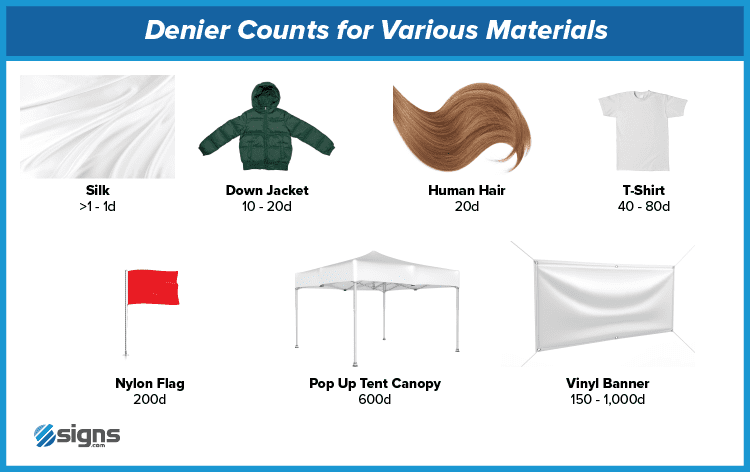 With so many different types of materials and applications relying on denier count as a measure of thickness and durability, it's important to consider a material similar to the one you're using when determining what count is best for you.  Generally speaking, microfiber materials like silk makeup anything that is 1d or less. Light fabrics such as down jackets and thin tents will be around 10-20d. General outerwear, such as t-shirts, sweatshirts, & khakis will range from 40-80d. Heavy-duty fabrics, such as flags, pop up tent canopies, backpacks, vinyl banners & more can range anywhere from 100-1,000d.
All of our signs are crafted for impressive durability; if you're looking for a banner and are having trouble choosing one that would fit your needs, check out our vinyl banners, mesh banners, or fabric banners to learn more.  
Have any other questions about signs? Give us a call at 888-222-4929 or shoot us an email at support@signs.com