This week we had the pleasure of talking to Josh Chalofsky, the co-founder and COO of SimpleTire, for our small business success story series.
Josh purchased clear window decals to decorate the SimpleTire office space.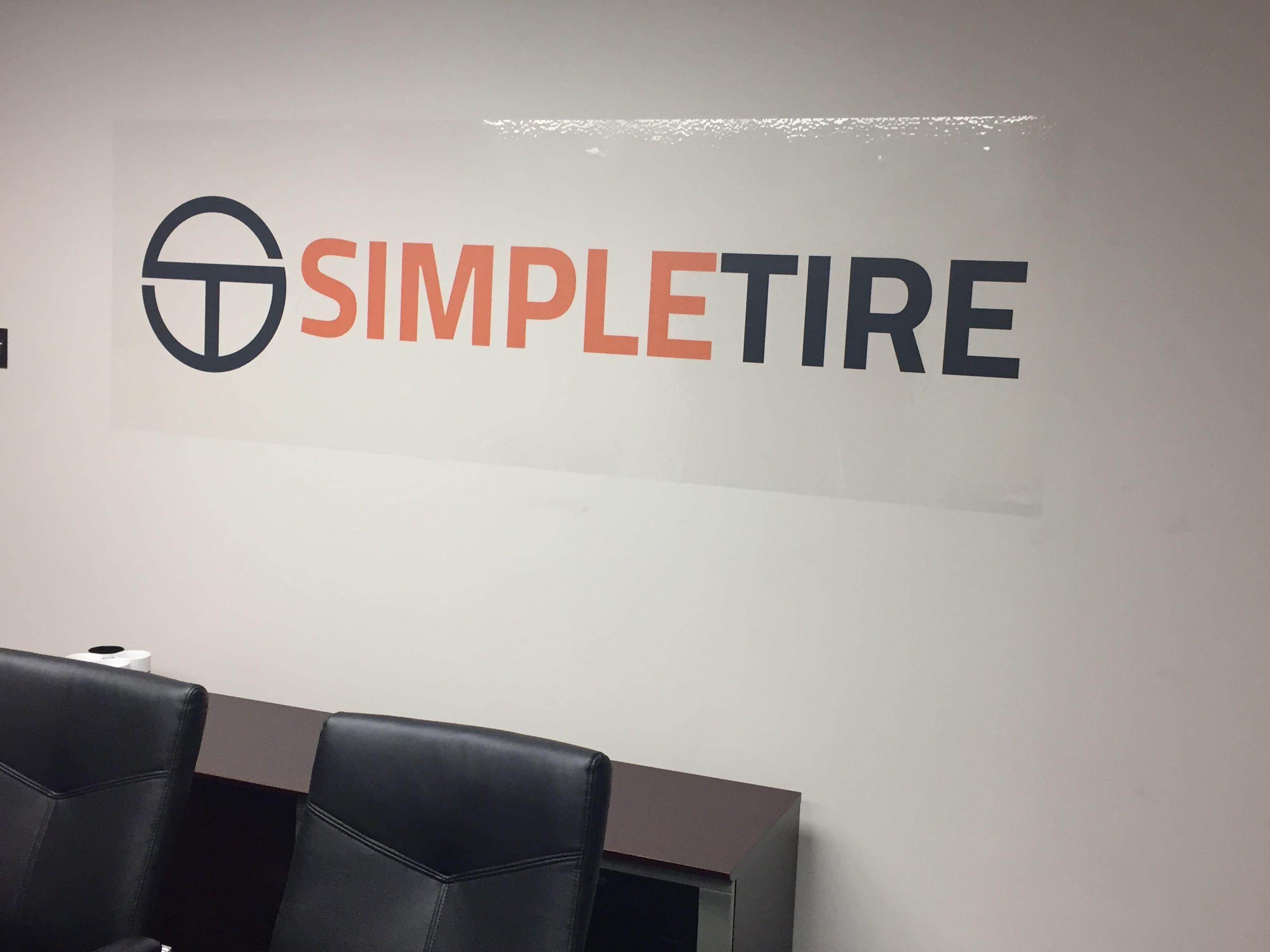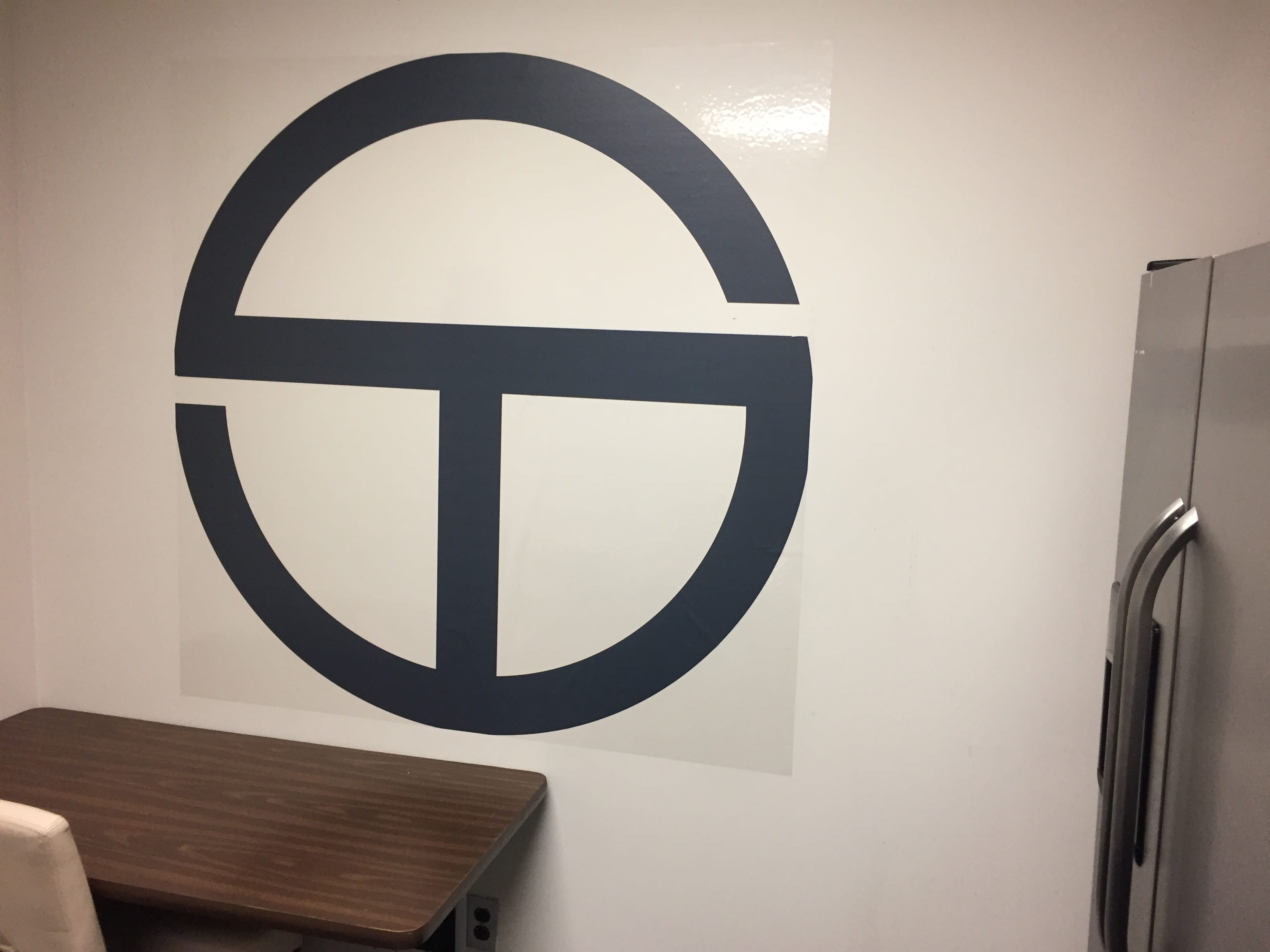 The decals placed on the walls in the SimpleTire office.
Tell us about yourself.
I'm the COO of SimpleTire. I work with the management team on the execution of the company's operations and sales.
I began my career working in the television and media field, and was involved in media operations at The Discovery Channel and ran television operations for the National Football League.
The rest of the time, and best of time, I'm a husband and dad.
What does SimpleTire do?
SimpleTire.com is an online tire retailer. We get people new tires for every vehicle at the best price, and with free shipping on popular tires.
Where did the idea for your company come from?
People had been buying tires the same way for a long time. All across the country, they'd been going to local stores and buying the same tires, but at different prices.
I asked the question, "Why not create a company that enables people to buy any tires, anywhere in the country, and at the best possible price?"
Did your experience in the media field play any factor in leading you to think about SimpleTire?
Yes, after running operations for Discovery Channel and the NFL, I quickly learned how to manage people, and apply my knowledge to create operational controls for our own company. It helped me understand logistics and expectations that we used for SimpleTire.
What sets you apart from your competition.
SimpleTire has the largest inventory and the best prices.
We have access to more than 50 million tires. Those tires come from factories and warehouses all across the country. More than 500 suppliers compete with each other on price and delivery so that SimpleTire customers get the best deal.
Without giving away any secrets, how were you able to build relationships with the factories and warehouses?
It was extremely difficult. It took a lot of cold calling and selling the idea. Many thought it was not going to work, while others wanted to give it a chance. However, now people are calling on us.
What is one strategy for gaining customers that you have been successful with?
SimpleTire has been successful by being highly targeted with advertising efforts. In general, we've reached people at the right moment in the shopping process. Each dollar spent has been tracked closely and attributed to a sale or not.
Is there an area that you've struggled with in regards to customer acquisition that you believe is critical to future success? If so, how are you overcoming that?
We've been successful reaching customers online, but we understand to realize our goals, we need to go offline and reach customers through traditional marketing initiatives.
What do you mean by traditional and how do you think this will expand your reach?
Display advertising and PR are traditional marketing areas that we've underutilized. Advertising will help us become a better known brand and understand our value proposition. For PR, we have a compelling business story that I think resonates with the public.
How do you compete with the bigger competitors that are similar to yours but have a recognizable brand and large marketing budgets?
Easy question, better prices and more tire inventory.
What is one of the biggest challenges you have had with your businesses and how did you overcome it?
In the beginning, we seemed to be the black sheep of our industry due to the disruptive nature of our business. Everyone told us this idea wouldn't work, and no one would participate with us.  We used that negativity as a positive and kept on pushing through. Now, partners in our industry reach out to us to do business with.
How long did it take for SimpleTire to take off?
It took 3-4 years.
If you could rewind time is there anything you'd do differently? If so, what?
I think if we were more transparent from the start we would have gained more acceptance early on. It would have made it easier for us to grow, but you can't look back now.
If you had advice for other SMB owners, regardless of the industry, what would it be?
Have direction and be willing to stick with it.
Create a product or service that people need and can't do without.
Have a passion for what you do, otherwise it will never be successful.
How do you "WOW" your customers?
As I've said, customers are always impressed by our prices! The second thing is our speed of delivery. We often get tires to people in just 24 hours.
What do you think the future holds for your business?
We are experiencing crazy growth — even by internet standards! I can't share any specific initiatives, but can say a large aspect of our mission is to make the tire buying process simpler with each project we undertake.
Without sharing detailed financials can you speak to your growth to this point and why you think it will continue?
Since our inception, we have experienced year over year triple digit growth. We have grown faster than any other company I have been part of (and it seems people around us feel the same way). We will never stop developing our process and always look for better ways to serve customer needs. Because of this, we will continue to grow at the same rate.
Where can you be found online?
https://www.facebook.com/TiresOnline
https://twitter.com/SimpleTire
https://www.instagram.com/simple_tire/
Editor's Note: We would like to thank Josh for spending time doing this interview. SimpleTire is proof that industries are beginning to shift from brick-and-mortar locations to online retail. The premise of selling tires online seems farfetched, but the simplicity of the brand's website allows for customers to quickly and seamlessly purchase tires. A simple online interface, competitive pricing, and a vast tire inventory has positioned SimpleTire as a strong player in their market. Commitment to customer satisfaction – using incredible pricing and fast delivery – has helped the company grow at a rapid pace. Targeting the customer at the right moment during the buying process has also helped SimpleTire become a widely used online service. Josh, we wish you and SimpleTire the best of luck; we know you will continue to succeed and help change how consumers research and purchase tires.