In this week's small business success story interview, we chatted with Kristina Gagliardi Wilson, the founder of Poofy Organics.
Kristina purchased clear window decals and opaque window decals to advertise her business on her storefront windows to instantly catch attention of potential customers.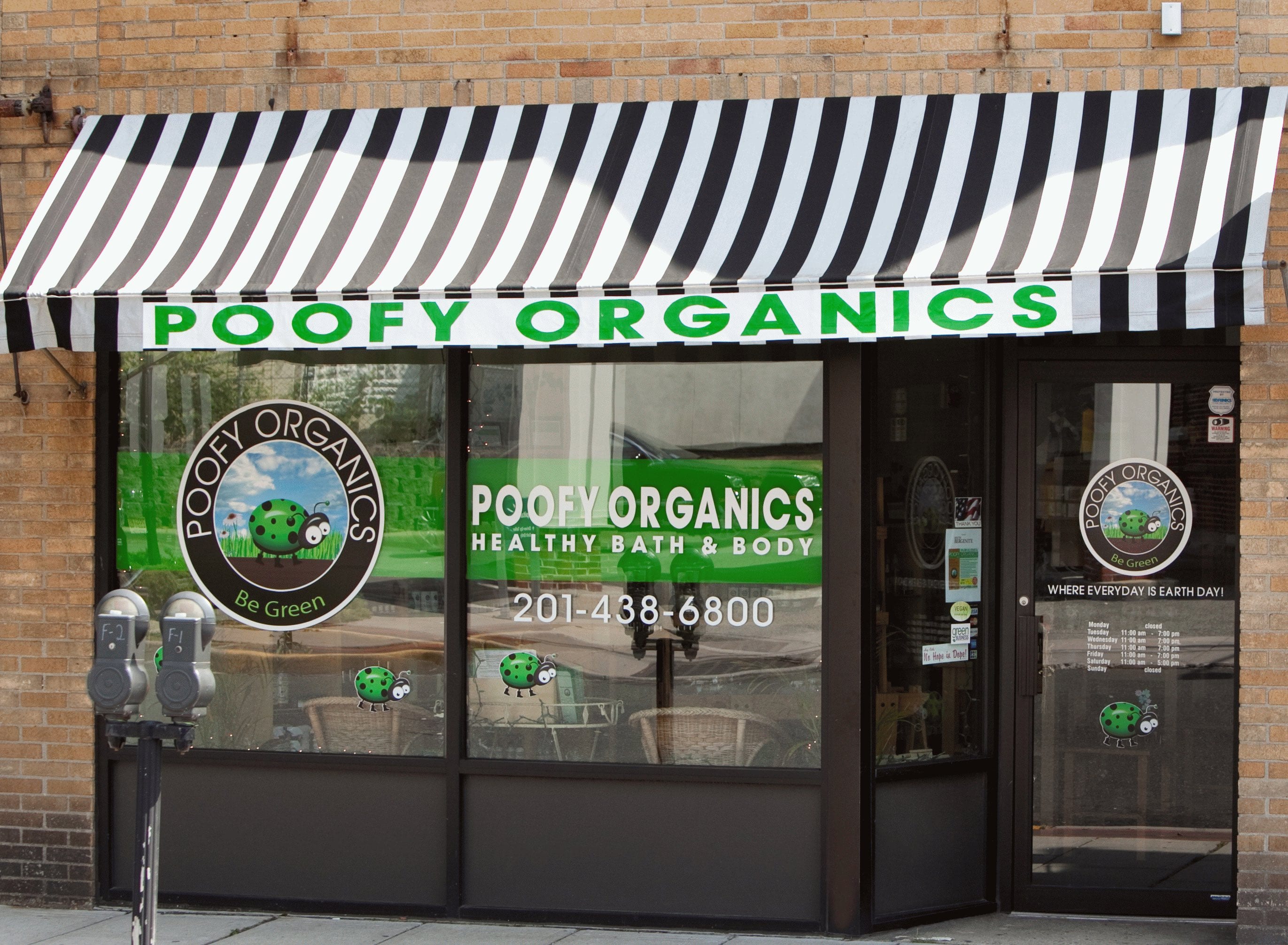 The Poofy Organics storefront with window decals for branding.
Tell us about yourself.

I am the founder and CEO of Poofy Organics, an organic personal care products company located in Rutherford, New Jersey. I am married and have two children. I am a graduate of Rutgers University where I received a BA in psychology. I received a double Master's of Education from Saint Peter's University and Montclair University.
Before graduation, I held several retail management positions, which helped to lay the foundation for Poofy Organics. After graduation, I launched a career in several teaching positions ending as an adjunct professor, teaching students in a master's program at Montclair University. My career shifted dramatically when a family member was diagnosed with cancer. I was determined for my family to stop using products laden with toxic chemicals. I poured myself into years of research until I felt confident enough to make my own products.
I have spent nearly a decade creating and manufacturing products for Poofy Organics and I have become a well-known name in the personal care industry. Poofy Organics is a USDA Certified Organic operation and I am responsible for overseeing the entire operation, including
all aspects of the certification. In addition, I work as a private label product specialist for several contracted companies and a personal mentor and educator to all of my sales consultants. I am a certified aromatherapist, which shows my dedication to the safety and usage of essential oils in the products I create. I have an avid following and often consult for a variety of blogs and publications dealing with organic integrity and natural personal care products.
What does Poofy Organics do?
Poofy Organics is a USDA Certified Organic company that manufactures personal care products. Each product is made in our facility in NJ where it is hand created, poured, labeled and shipped from our location. We offer an opportunity for those who wish to pursue their own own Poofy Organics business where they can sell products from a replicated website either online or at in-home parties.
Where did the idea for your company come from?
When my mother was diagnosed with breast cancer, I found no products that I considered safe enough for my family. I began to make products and figured I would offer them to customers.
Where and how did you know where to go to start your research? Did you have any connections or guidance?
I began my research on EWG's website, including their SkinDeep Cosmetic Database. I also delved into books and the internet. I had zero guidance—just went with my gut. I have two master's degrees, so I'm guessing that helped me to separate actual research from phony propaganda.
How long did it take between research and capital to feel you were ready to launch Poofy Organics?
Originally when I began my research, it really was only to supply that information for my own family and our personal care products. It was a process. So, after I found myself making products for us, I figured others may want affordable organic products as well.
What sets you apart from your competition?
We are one of the few USDA Certified Organic personal care companies. We have the largest number of certified products of any certified organic company. While most companies use heavy machines or manufacturing plants to create their products, our products are made in house with simple mixers. For those interested in our business opportunities, we offer low sales minimums and minimal pressure.
By choosing to stay clear of machines and manufacturing plants, do you need more employees to keep up with demand? How do you keep making each product on time?
Yes and no. Thankfully, we have grown in increments. We see the demands coming. Every now and then we get swamped and are not able to keep up—so we work longer hours or come in on unscheduled days. Our products barely stay on the shelves. We try to make them as fresh as possible, but at any given time, we have about two batches of each product on the shelves ready. That has worked for us. If we have an upcoming sale, we know which products are big time sellers for us, so we make more ahead of time.

What is one strategy for gaining customers that you have been successful with?
We chose to use our guides (sales consultants) as our marketing team. Their passion for our education regarding toxic ingredients in the personal care industry makes them a perfect fit for our company.
 If your guides are your marketing team, how do you market to your guides? How are they recognizing you and joining you?
We post on Facebook every now and then, but at this time, it's really the guides who market to others, such as their friends and families, maybe some Facebook groups where others share the same hobbies and interests. Some who join us are new to the brand while others have been long-time customers and are making the switch to sales.

Is there an area that you've struggled with in regards to customer acquisition that you believe is critical to future success? If so, how are you overcoming that?

We've struggled with attaining a larger male audience. Although we feel that for the most part, women are the gatekeepers for the family and the products that enter the home, we are missing an integral portion of consumers. We have created a men's line to help with that.
Creating a men's line is really being proactive to your problem. How long ago did you launch the men's line and how successful has it been?
So, we launched about 3 years ago. To be honest, it is a slow-selling line. We do have those male customers who continue to purchase it, but it is definitely more difficult to market to men when it comes to personal care products.

How do you compete with the bigger competitors that are similar to yours but have a recognizable brand and large marketing budgets?
We feel that our unique traits fill a need within the retail market that larger companies are not accomplishing. If customers seek out the gold standard in the industry, they will find us!
When going up against your competitors, you mention unique traits. Can you give us a few examples?
Definitely being USDA Certified Organic is an advantage. It separates us from a LOT of competitors in the industry. In addition, we are a small company so a lot of our customers can appreciate that. We aren't owned by big-time corporations, such as Clorox, etc. We handmake everything, which, nowadays does not really exist. I create each and every product myself without any outside help—no formulation companies, etc. The business is also a truly family-run business. My brother manages the operation with me. My mother works in the kitchen and my father helps to pull orders and works the retail location. My daughter helps on her days off and my husband, although he has a full-time job, helps me with the financial aspects of the business.
What is one of the biggest challenges you have had with your business and how did you overcome it?
General lack of knowledge in running a business online. When I created Poofy Organics, there were so many aspects of running a business that I had not learned. The financial education was necessary because in the beginning, there was no budget to pay for someone else to handle it.  We also made mistakes with several vendors. While we wasted quite a number of years pursuing the wholesale market, we found out the hard way, that it wasn't going to work for us. Lastly, obtaining and maintaining our USDA Organic Certificate remains one of the most difficult parts of the business. It is incredibly vigorous.
What was it about the process to get USDA certified that made it so tough?
LOL. EVERYTHING. And, it continues to be that difficult.
If you could rewind time is there anything you'd do differently? If so, what?


No, I would not. We would not be the business we are today without the suffering and mistakes. I feel grateful for the journey.
If you had advice for other SMB owners, regardless of the industry, what would it be?

Be realistic: We go above and beyond every day to solve problems for our customers. In some cases though, they will ask for something that we just cannot physically provide. If we've truly exhausted our resources, it's OK to be realistic with the customer and tell them of our limitations. We can guide them to a product that might work better for them in the long run.
Take your breaks: Working too much won't solve anything. Take your breaks daily to increase your own productivity.
Acceptance: Accept that you do an amazing job already. Accept that you may need to take a step back on the workload in order to be more productive. Accept that you cannot make everyone happy but you will try to do whatever you can. If you can't, it's not the end of the world.
YOU are in charge of YOUR business! No matter where you are in your business journey, it is important to examine your daily process periodically and decide if something new needs to be implemented. If you are consistently working your business and your sales are not increasing and you feel like giving up, instead of closing up shop, assess your process, try to be objective and find a new method/step to try!
How do you "WOW" your customers?
We wow our customers with new products and flash sales.
What do you think the future holds for your business?
I believe we will continue to build our business incrementally. People are really beginning to acknowledge that the government does not have regulations in the personal care industry. While more and more people become enlightened, we will continue to grow!
Without sharing detailed financials can you speak to your growth to this point and why you think it will continue?

We have had a substantially rapid success rate. We have increased each year. We began with a space of about 200 square feet to a retail storefront of 400 square feet. We added on another storefront for production, which was 1,000 square feet, and two years ago, we moved into a facility of 3,200 square feet. In November, we also moved into the next door location and added on more room to make over 5,000 square feet.
Where can you be found online?
Website:
Editor's Note: We'd like to thank Kristina for spending the time doing this interview and providing us with a wealth of knowledge on running a small business. Kristina built Poofy Organics on a foundation of incredible quality for personal care products, while offering unmatched, organic production. Her determination in keeping the company true to its standards has set it apart from larger brands. This gives Poofy Organics the freedom to cater directly to a customer's needs. Becoming USDA certified gave the company leverage within the industry and positioned it to succeed in a short time frame. With Facebook marketing and an impressive word-of-mouth effort from customers, Poofy Organics has spread awareness of its health-conscious products. It's impressive to see how Kristina has turned this family-run business into a successful small business. We wish Kristina and Poofy Organics the best in future endeavors. Keep up the great work and continue shaking up the industry!