In today's segment of our small business success series, we chatted with Brian Lim, the owner of EmazingLights. Brian also has two other companies, iHeartRaves and INTO THE AM.
Brian purchased brushed aluminum signs to indicate conference rooms in the Emazing Group headquarters.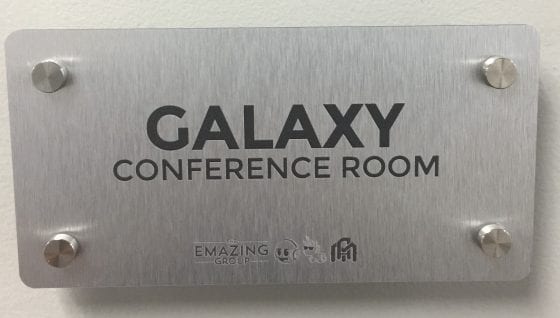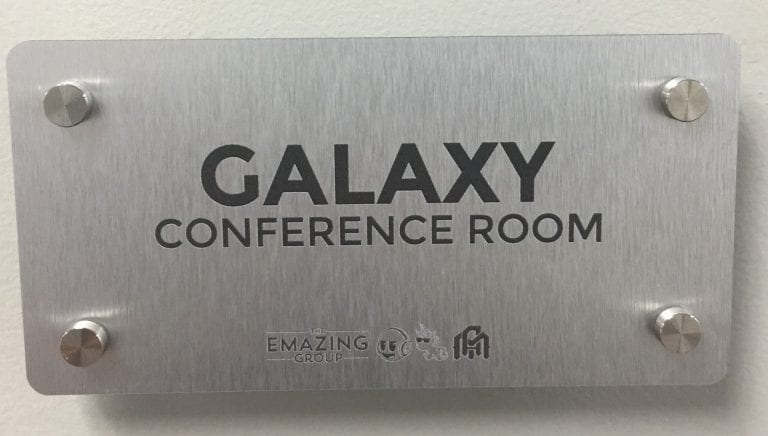 Tell us about yourself.

I developed my passion for gloving* on the dance floor back in 2010. That night, I took $100 out of my pocket and made it my mission to pioneer gloving into a legitimate art form through EmazingLights, while simultaneously growing fashionable sister brand iHeartRaves with my wife Christine. I started building EmazingLights by hosting "Friday Night Lights" gloving events out of the trunk of my car. With hard work and networking, I was able to grow the Emazing Group brand (EmazingLights, iHeartRaves, IntoTheAM) into a 50+ person company with over $30 million in revenue. EmazingLights was growing fast enough to be recognized on the Inc. 5000 list as the 189th fastest growing company in 2014. This achievement – along with my appearance on ABC's Shark Tank – propelled my company to where it is at today.
*Editor's Note: Gloving is a modern dance form that implements gloves with LED fingertips to enhance the dancer's hand movements. The result is a mesmerizing, unique light show effect.
Can you elaborate more on what gloving is and what about gloving made you fall in love with it enough to pursue it into a business?
I started gloving when my girlfriend (now wife) put gloves on me at the club Avalon. I was able to dance around with them and entertain a small group of about 5 people around me and got addicted to the feeling. From there we went to festivals doing double team glove light shows and fell in love!
How far did that first $100 get you?
That $100 was used to buy 4 full glove sets and some accessories. Sold everything and reinvested it all back in and grew it to what it is today.
What does EmazingLights do? What does iHeartRaves do? And what does INTO THE AM do?
EmazingLights is pioneering the new Gloving Movement into a skillful expression of art.
iHeartRaves' mission is to inspire individual creativity and expression through fashion at Electronic Dance Music events, festivals, and beyond. We provide wildly unique apparel for anyone inspired by the EDM movement.
At ITAM, we are a team of artists and creators, who share a common vision. We see clothing as a canvas to express what drives you. Since 2012, we've developed premium apparel that elevates self-expression and provides unparalleled comfort for wherever your passions take you.
Before iHeartRaves, were you making your own outfits? Did you stumble across INTO THE AM or did you already have connections there?
Yes we were making our own outfits like tie dying our shirts, etc. Piecing items from various stores we had to search forever to find. INTO THE AM was one our favorite vendors when we started iHeartRaves. We eventually got closer with the founder, Matt, and decided to acquire the company and bring it in house.
Where did the idea for your companies come from?
EmazingLights started because my now wife got me into gloving. Fell in love with the art form and went to festivals doing double team light shows with her.
iHeartRaves started 1 year later because everyone kept asking us where we got our outfits from at electronic dance music festivals.
INTO THE AM was acquired because their core values matched with ours.
What sets you apart from your competition?
We live, eat, and breathe our own products as all of our brands were started off of my personal passions. Through the Emazing Group we have created a structure where we are able to hire talent that any one of our brands wouldn't be able to afford on their own. We control the entire manufacture and sales process from A-Z.
How hard was it to get the manufacturing down? What did that process look like?
Very difficult. Whether working with local or offshore manufactures it comes down to processes. We are very anal about our product quality and we require our vendors to follow our strict guidelines that had to be built out over the years.
What is one strategy for gaining customers that you have been successful with?
We have the facemelt crew and unicorn crew that expand our brand directly to our target audience.
Is the facemelt crew a paid collaboration or how did this relationship come about?
We reward the facemelt crew with free festival tickets, prizes, and other miscellaneous rewards for attending festivals on our behalf and spreading light arts. We started the first facemelt crews here in SoCal and people absolutely loved it. From there we decided to expand the program nationally to what it is today.
Is there an area that you've struggled with in regards to customer acquisition that you believe is critical to future success? If so, how are you overcoming that?
It was very hard to scale the unicorn crew and facemelt crew as you have to organize fans from across the world to represent our brands at music festivals all over.
How do you compete with the bigger competitors that are similar to yours but have a recognizable brand and large marketing budgets?
iHeartRaves connects with the consumer on a deeper level than just selling them apparel. We live the same lifestyle and understand what ravers go through and create products specifically for ravers.
What is one of the biggest challenges you have had with your businesses and how did you overcome it?
Scaling up from 20 to 50 full-time team members has been tough as we made a huge investment in our future. We had a 20 million expense footprint when we were only at 12 million top-line revenue. We overcame it by recruiting the right people and executing our business plan.
How did you determine which qualities the right people had when recruiting? You mention executing your business plan. Do you have any advice for other business owners on how to achieve that kind of successful execution?
We defined our own companies' core values and mission statements about 2 years ago. I thought it was corporate fluff that companies did in the past just to look more legit but I found the true value behind them. Core values are the center of everything for your company and if you don't live by them there is nothing but chaos and inconsistency.
If you could rewind time is there anything you'd do differently?
No regrets.
If you had advice for other SMB owners, regardless of the industry, what would it be?
Sweet spot in life is the intersection of your strengths and passion. And don't hire when you're hungry.
How do you "WOW" your customers?
By creating the best products for our target audience and by providing Amazon-like customer service. Our community programs are unparalleled because we love the EDM scene!
What do you think the future holds for your business?
We plan to grow 30% year over year.
Where can you be found online?
Websites: www.emazinglights.com, www.iheartraves.com, www.intotheam.com
Facebook: EmazingLights, iHeartRaves,  INTOTHEAM
Twitter: @EmazingLights, @iheartraving, @INTOTHEAM
Instagram: emazinglights, iheartraves, intotheam
Editor's Note: We like to give a huge shoutout to Brian for taking time out of his busy schedule to do this interview. The Emazing Group is great example of risk-taking and nurturing your passion to transform a niche industry. Knowing the needs of a target audience and how you can create products that meet those needs is one of the ways the Emazing Group has built a devout following and transformed the EDM scene. Patience, passion, and products is what separates the successful small businesses from those that are struggling. As a business focuses on its customers, it will find success. Having brand ambassadors also helps the Emazing Group directly reach its target audience, giving firsthand demonstrations for the unique EDM products. Brian, we wish you the best in all your future endeavors and look forward to seeing the Emazing Group take over the EDM scene.