In the latest edition of our small business success series, we caught up with Wesley and Ashley, owners of Evolve Strength Training.
They purchased a brushed aluminum sign to showcase their company name.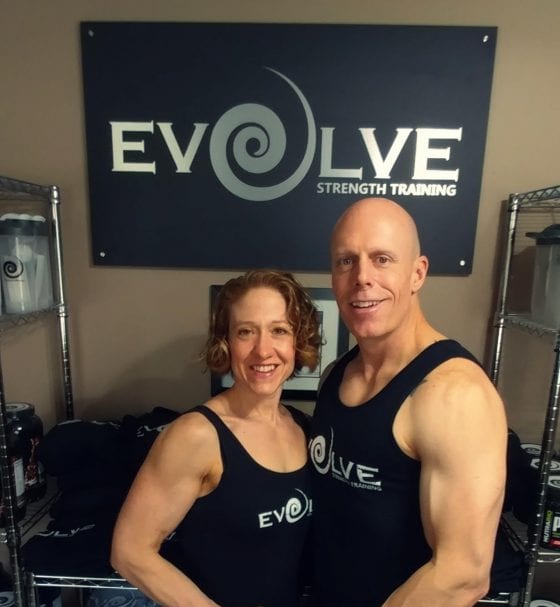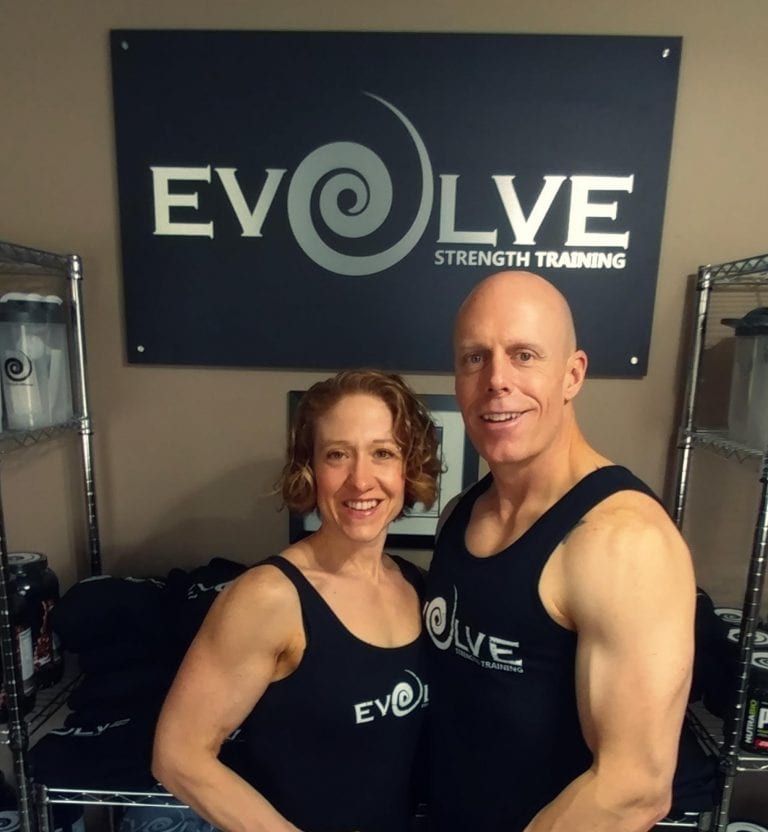 Tell us about yourselves.
We are a husband and wife team with a passion for leading a strong, healthy lifestyle and started Evolve Strength Training together as a means to share our passion and help others. Both of us have struggled with weight issues in the past, having tried many of the fad diets/exercise programs on the market today. We realized these programs weren't sustainable and many of them were simply unhealthy. At that point we decided to educate ourselves and learn as much as possible about training and nutrition and incorporate what we learned in a way that was healthy and sustainable. Wesley became a NSCA Certified Strength and Conditioning Specialist, one of the most respected designations in the industry, while Ashley has more than 15 years of experience as a Licensed Professional Counselor, and specifically helps our clients with skills to help in the areas of emotional eating issues, stress management, and mindfulness.  Over the years, we believe we have developed a model that not only works, but is easy to teach and allows one to develop a practical way of incorporating strength training, nutrition, and wellness into their lifestyle. Everyone has a different lifestyle and trying to use one approach to every client is not the answer. We work with our clients in a way that teaches them how to develop what works for them. After all, if they cannot eventually do it for themselves it will not be sustainable long-term.
What does Evolve Strength Training do?
Evolve Strength Training provides online personal training, guidance in nutrition, and wellness coaching. We write custom training and nutrition guides for our clients based on their individual needs and goals, and continually monitor and adjust them to insure their success. We believe in today's world providing this training online is an advantage. We are always connected to our clients and have the ability to monitor everything they do in real time primarily through our Evolve Strength Training app for iOS and Android. We also have an online store in which we carry nutritional supplements, Evolve clothing, and merchandise. We have published an eBook as well, available exclusively on Amazon.com, titled: Unlocking the Optimal You: Your Path to a Stronger, Leaner, Happier Self. Our book essentially summarizes and teaches our model regarding training and nutrition, and also teaches some cognitive skills one can use in their daily life, mindfulness skills, and includes our year long training program called S.P.H.E.R.E. In addition, Ashley discusses some parts of her personal journey in it. Unlocking the Optimal You is a roadmap to becoming strong and leading a healthy sustainable life. We are also working on a cookbook, which we hope to have out by the end of the year.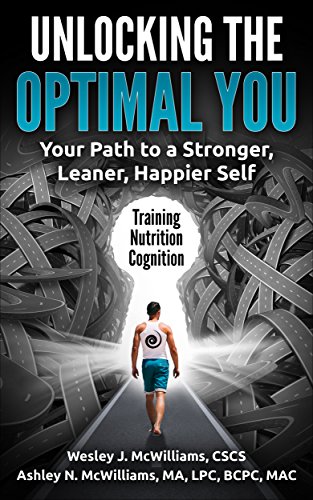 Where did the idea for your company come from?
We are both passionate about helping others and helping others reach their fullest potential in life. The idea for our company sprang from our passion for sharing our knowledge and wanting to help others, who like us at one point in our lives, were stuck in a rut, confused, and weren't sure which direction to go. We enjoy it so much it really does not feel like work at all!
What sets you apart from your competition?
Sustainability. The fitness industry is a multibillion-dollar industry for a reason. America has high rates of obesity, and many people look for a quick fix to lose weight and turn their lives around. As such, many companies prey on this hope and make a quick buck by selling a dream, selling products or services that are not realistic, not healthy, and not sustainable long-term. We are not that company. We believe in teaching our clients the why before the how. We believe in teaching our clients WHY we are having them do what they are doing. Once they have a thorough understanding of the WHY, we teach them HOW to do it. We feel if our clients do not understand the scientific basis, or reasoning behind what they are doing, they will have a much harder time following the strategy when it comes time for them to do it on their own. The same strategy applies to the supplements we sell. We partnered with a supplement company, NutraBio, who offers full label disclosure, so everything we sell has every ingredient listed, and we only sell products with ingredients we believe have enough independent research backing them to be effective for their intended purpose.
When it comes to your supplements, you said you partnered with NutraBio. How were you able to find them? What was the process for finding the right supplement partner like?  
Initially we were going to launch our own line of supplements as we felt there were far too many products on the market with proprietary ingredient blends, did not contain the ingredients we would choose, did not have the ingredients listed in effective dosages, or all of these. After determining the costs and liability involved with manufacturing our own products, we decided to take a hard look to see if we could find a company with similar thoughts and values as ours. We were familiar with most supplement companies on the market but had not heard of NutraBio.  We stumbled upon their website, and upon looking over what they had to offer we instantly knew we wanted to partner with them. Many of their products were nearly identical to the ones we had designed! Also, they do all of their manufacturing in their own facility in New Jersey, and they have every product lot produced independently tested to ensure quality. It was a perfect match!
What is one strategy for gaining customers that you have been successful with
There are several things that have helped us be successful in gaining customers. First and foremost is honesty. We are upfront and honest with all of the content we put out as well as when we are contacted by potential customers. We try to put out content that is backed by science in a way that's easy to understand and incorporate. Again, we like to explain the "WHY."  Secondly, we are very responsive to people who contact us, and we do not withhold information. We will give out as much free information as necessary to help someone who has questions. We also feel we offer a tremendous amount of value in our services. We devote a lot of time and energy into each of our clients and charge a very reasonable amount.
Is there an area that you've struggled with in regards to customer acquisition that you believe is critical to future success? If so, how are you overcoming that?
Getting our message out. The fitness industry is very large, and as such there is a ton of conflicting information being put out by just about everyone. It can be very challenging to overcome all of the misinformation being put out. We are a small company with a limited budget, so we rely on spreading our message through social media and word of mouth. We do this to keep our overhead down and pass on the savings to our clients.  
How well has social media worked for you and what kind of posts do you find work better than others? Which social media platform do you get more engagement on and why do you think that is? Does Evolve Strength Training spend any of their budget on social media promoting or marketing?
We did spend a limited amount of money on advertising through social media when we first started. We had marginal results at best so we decided to build ourselves through social media organically. Again, we think the key to doing this is to leverage your connections, and more importantly always be available to answer questions, acknowledge comments, etc. You have to always be engaged if you want results. We have used most social media platforms but have found for us, Facebook and Instagram have given us the most engagement. Facebook seems to be utilized more by the middle aged to elderly crowd, while Instagram seems to be utilized more by the younger crowd. One thing we have found is a post without a visual, such as a picture or video, gets very little attention. High quality, interesting pictures get the most attention. As an example, we mentioned we are coming out with a cookbook this year, so we tend to prepare and experiment with many different meals, and we often take high quality food pictures and post them. People love to look at food! Keep it interesting and keep it visual.
How do you compete with the bigger competitors that are similar to yours but have a recognizable brand and large marketing budgets?
We don't even try to compete. There will always be companies with much larger budgets than ours selling a false hope to people. We do what we do because we believe in our message, and we know it works. We do not worry about what other companies are doing; we just focus on what makes Evolve Evolve, and we believe that is what will propel our growth moving forward.
What is one of the biggest challenges you have had with your business and how did you overcome it?
The biggest challenge facing our company is not a past challenge but a future one. We just started our company a few months ago, and the startup process went according to our business plan. However, we have experienced relatively rapid growth, and our largest concern at this point is how we will handle future growth. We only have so much time to manage things ourselves, so we will ultimately have to decide how large we want the company to grow. At this point we are not sure if we will want to ultimately keep it at a size we can manage ourselves, or grow as much as possible and take on additional employees.
When it comes to growth, what is your biggest fear about it and what excites you about it?
Our biggest fear is being able to find employees who share the same ideas and have the same passion for what we do as we do. Finding the right people is oftentimes the limiting factor in business success. We will never sacrifice our business model for growth. If we cannot find the right people to work with us, we will not grow any further than what we can handle together, simple as that. What excites us about growth is knowing our message is spreading and we are helping people positively change their lives! That is the entire reason Evolve exists.
If you could rewind time is there anything you'd do differently? If so, what?
At this point, there really isn't anything we would have done differently.
If you had advice for other SMB owners, regardless of the industry, what would it be?
Always stick to your roots as to what made you want to start your business in the first place. Growth is great, but not at the expense of who you are as a company. Never lose sight of your passion for what you do!
A lot of business owners struggle with pricing their product properly when starting out. You have three nutritional and training packages in 4 or 12 week options. How did you come to those prices?
Our prices are lower than they should be. In fact, if we had more overhead than we do they would be much higher. That being said, we wanted to price our services in a range we felt most people can afford. We are truly passionate about helping people change their lives, and thus we tried to set our pricing so those who want help can afford it. We keep our operating costs to a minimum so we can continue to offer our services at affordable prices.  
How do you "WOW" your customers?
Many of our customers cannot believe the amount of attention they get from us. We are very hands-on and rapidly respond to any question or need they may have. They are also amazed at how we explain the reasoning behind what we are having them do and help guide them, rather than just handing them a plan to follow.
What do you think the future holds for your business?
The future is wide open for us! We feel like we can grow our business to any size we want, and that is very exciting and scary at the same time. We will only continue to grow the company as long as we can provide the same level of passion and service to our clients as we do now.
Without sharing detailed financials can you speak to your growth to this point and why you think it will continue?


We are a relatively new company, but so far growth has been good. We believe growth will accelerate as more and more people find out about us and our message, and we have a base of clients who can share their Evolve success stories with others.  
Where can you be found online?
Website: www.getevolvestrong.com
Facebook:https://www.facebook.com/GetEvolveStrong/
Instagram: https://www.instagram.com/getevolvestrong/
Twitter: @GetEvolveStrong
Editor's Note: We wanted to offer our thanks to Wesley and Ashley for taking the time for this interview. We know it's not easy running a growing business with the added time commitments of personal strength training and coordinating nutrition plans. The dedication of both Wesley and Ashley when it comes to living the lifestyle they preach is inspiring. Owners who follow their passion and stick to their morals will find greater success. As Evolve Strength Training focuses on preaching the "why" before the "how," the clientele will become self-motivated to follow a healthier lifestyle. Customer-centered business models are the best for customer retention and obtaining referrals. We know that Evolve Strength Training will continue to grow and a rapid pace because of its dedicated and honest owners. Wesley and Ashley, we wish you all the best and look forward to seeing Evolve Strength Training continue to change the workout industry.