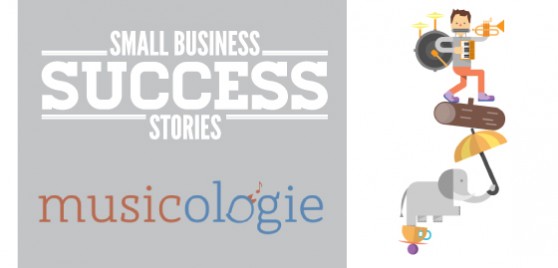 Our small business success interview today is with Kay and Joseph Barker of Musicologie. Musicologie offers custom music lessons and is located in Columbus, Ohio.
Kay and Joseph bought several signs from us for their converted music studio where they offer their music lessons.  As can be seen below these custom plastic signs were used for parking, restroom and a door number and can be used for both indoor and outdoor use. They offer an affordable and versatile signage option for small businesses.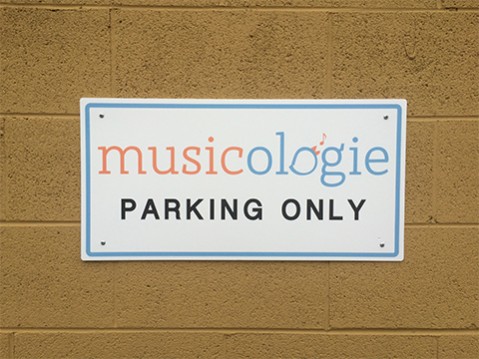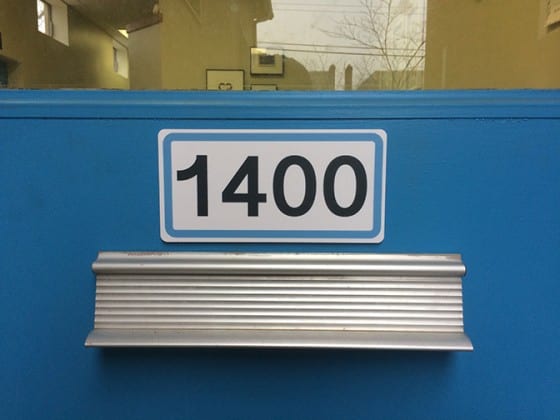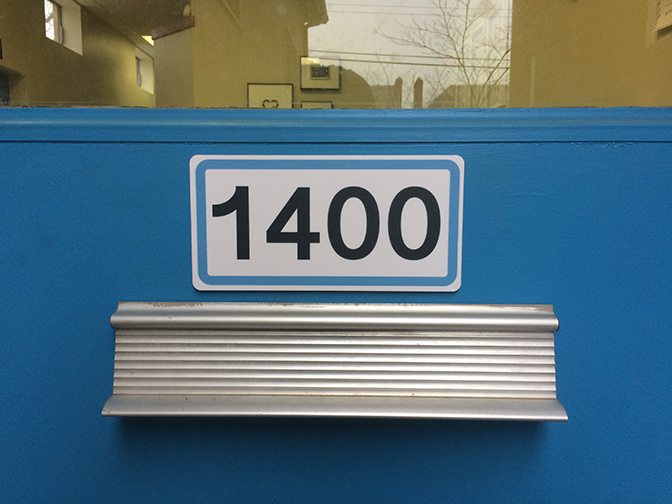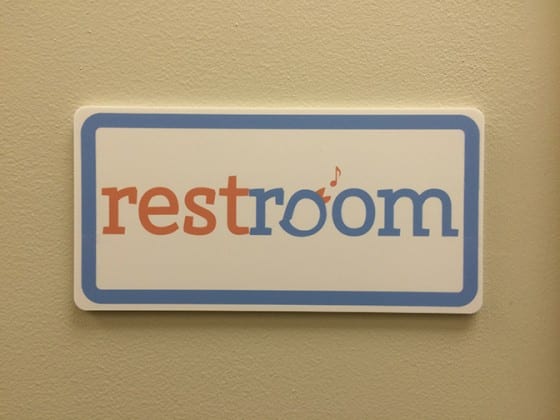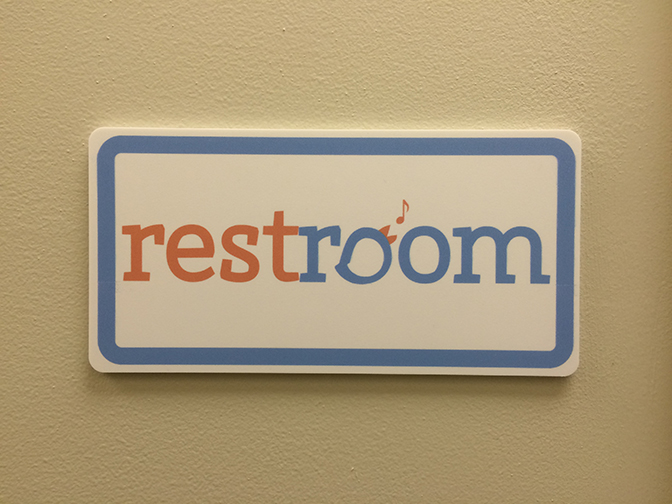 Tell us about yourselves
Owners Kay and Joseph Barker both entered the music world as bright eyed 5 year old piano students. Kay quickly fell in love with singing, writing lyrics in a spiral notebook and Joseph scored piano pieces rather than doing his theory assignments. They met in college, bonded over Chopin, and after graduation, armed with degrees in vocal performance, psychology, and philosophy, toured nationally with their band Bella Ruse (bellaruse.com). Like many musicians, they taught lessons and produced records for other musicians when not traveling. But what started as a side gig during breaks turned into a passion with Kay teaching a growing number of students out of her house, and Joseph producing music in a converted bedroom. Both of the businesses grew quickly and in 2014 the Barkers opened Musicologie in Columbus, Ohio. The bigger space in the gorgeous Grandview Heights neighborhood includes four practice rooms, a two room recording studio and five additional teachers.
What does your company do?
Musicologie is a music lessons school and recording studio in Columbus, OH. It's a space where learning music is fun and engaging. We don't just do normal music lessons – we host shows and workshops, we get our students involved in the recording songs, they meet and learn from local musicians, and get a personalized, comprehensive music experience.
Where did the idea for your company come from?
When I (Kay) started thinking about moving my teaching studio out of our house and into a separate space, it seemed like a great opportunity to move Joseph's recording studio too. Things started clicking and we realized that seeing a recording studio in action, and being able to be a part of that would be an exciting and encouraging opportunity for students taking private lessons. Musicologie allows us to marry the traditional private music lesson format with an interactive professional music experience. When a beginning student gets to see a session player or singer in her element, it's an incredibly inspiring experience. And our students can get even more involved by doing songwriting workshops and recording their creations. Music is creative and collaborative and we want our students to be able to be a part of that exciting community from the very beginning.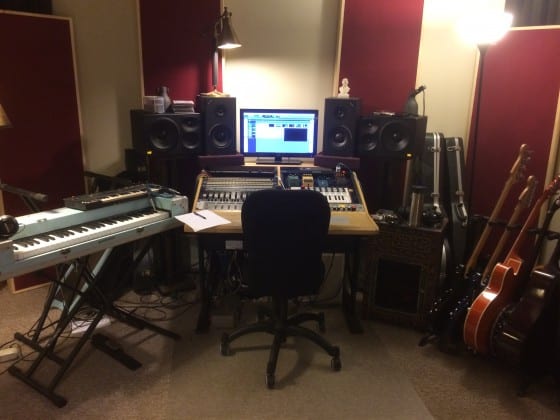 What sets you apart from your competition OR what is your unique selling proposition?
One problem that a lot of studios have is high teacher turnover, which creates a bad experience for the students. The teacher-student relationship is the foundation of good music lessons, and students should be able to be sure their teacher is not only superbly qualified, but committed to the long term development of the student's skills. Our formula is simple: we pay our teachers better and so we can get and retain the best people. Our teachers are working musicians, connected to the music community and committed to perfecting their craft. Our combined teaching/recording space is also different from other studios. It provides unique musical opportunities to our students and fosters a creative environment for learning! We also have recently partnered with the local non-profit Music Loves Ohio to provide need based scholarships to our students.
What is one strategy for gaining customers that you have been successful with?
Online presence is huge. A lot of our students come from google searches. Ranking high in organic google search results has been incredibly important. At least half of our new students find us that way. It's taken a lot of time and energy to get our site to where it's at, but it's been absolutely worth it. We also gain students through personal recommendations from current students, teachers and friends. There's no shortcut to that. It means being present in the community and active in the local schools, and delivering a great lesson experience every time.
Is there an area that you've struggled with that you believe is critical to future success? If so, how are you overcoming that?
It's essential that everyone who comes in has a consistent experience. That's been a little bit of a challenge since private lessons are such a personal thing. But we've come up with an assessment process that our teachers do with every new student to make sure we understand their goals and abilities, and pair them with the right teacher and the right curriculum from the very beginning.
What is one of the biggest challenges you have had with your business and how did you overcome it?
We wrote our business plan less than a year ago, and we've already been up and running for six months. The biggest challenge has just been managing the whirlwind that is starting a business, and getting it done quickly and on budget. Both of us are used to doing things ourselves and we're control freaks, so we've had to learn how to relinquish tasks to other people. We now have a team that includes an accountant, realtor, lawyer, various contractors and of course our teachers. Finding people that we trust to build that group has been incredibly important.
If you could rewind time is there anything you'd do differently? If so, what?
We've been really happy with the success of Musicologie so far, so there's not much we'd do differently. But we're still new, so talk to us in a year and by then I'm sure we'll have made lots of mistakes we can tell you about! One thing we're really happy we did do was to not accrue large amounts of debt in the beginning. We kept our costs down by teaching and recording out of our home for as long as we could, and only made the leap into a commercial space with more teachers and a larger recording facility when we could fund it almost entirely by ourselves. Because of that we were confident we could be profitable right away, and that's given us a ton of freedom and flexibility.
If you had advice for other SMB owners, music related or not, what would it be?
– A business plan is essential, even if you don't need to get funding and you're the only one who ever reads it. You should reference it continuously, evaluate your  progress and make revisions if necessary. It helps you keep focused and taking the right steps toward your goals.
– Build a team you trust implicitly
– When you're testing new ideas, you always need someone to encourage you, and someone whose honest opinion you can trust. But you also need a devil's advocate. That's the person who imagines the worst case scenario and makes you defend your ideas no matter how good they seem. They'll keep the bad ideas from getting out, and help hone the good ones into great ones.
– Get everything in writing, not just big things like leases. Usually things will be fine, but contracts are made for the off chance that things go wrong.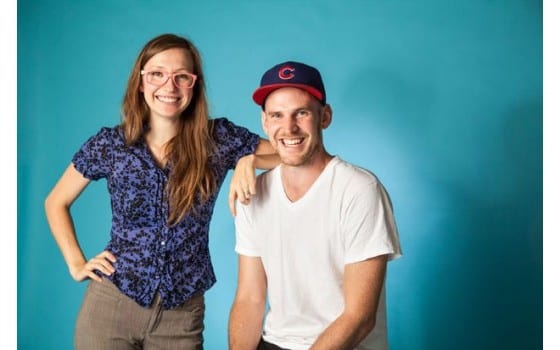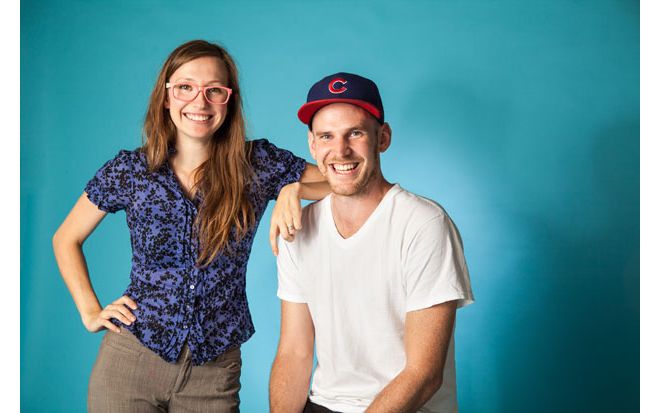 How do you "WOW" your customers?
Two ways: with our amazing teachers, and our space. First of all, our business model is totally different than most because it's not about getting costs down so we can deliver products cheaply or developing logistics or proprietary processes. We're only concerned with connecting a music student with a teacher who can give them the tools to achieve their dreams. And many times that student is with the same teacher for years. That takes trust and a close personal relationship. But when you find that relationship, anything is possible. Our teachers know how to develop a personalized lesson experience, and know how to make lessons engaging for any student. Because of that flexibility, we're able to take on an incredible range of students. People often come to us with non traditional students – like a non verbal autistic boy who just started – because they know we have teachers who can design a lesson experience for them. Our teachers are therefore our most valuable asset, and we treat them that way. The space at Musicologie is the other wow factor. is designed to be inviting, comfortable and creative. All the tools are there for music creation at any level. It's not just boxy, bland, practice rooms.
What do you think the future holds for your business?
Both the music industry and music education are changing continually so we feel like we're in a really exciting place. There are a lot of great new ideas about how music should be created and taught, so keeping up with that will be a challenge. Music will always be an important part of people's lives, but we'll have to be able to respond quickly to the changing industry and be able to deliver the kind of education experience our students want. In the near future we'd like to open another location in Columbus, and collaborate more with non-profits like Music Loves Ohio.
Without sharing detailed financials can you speak to your growth to this point and why you think it will continue?
We opened in August with enough students for the two of us, and now we have 5 additional teachers. We've seen steady growth in student numbers over those months and our retention rate has been incredible. And that's all with almost no marketing budget, so we're confident we'll continue to see the same, if not better, growth in the next year.
Where can you be found on the internet?
Website – MusicologieLessons.com
Facebook – Facebook.com/MusicologieStudios
Editor's Note: Thanks to Kay and Joseph for the insightful interview. Their music lessons, which are actually much more, fulfills success factor  number one of any business: have an unique selling proposition or something that sets you apart. Kudos to them for finding one and growing a business using it. They both also astutely recognize that good teachers are critical to their business success. As such they spare no expense on making sure they retain these teachers. The ability to do so is driven by their foresight in growing their business without taking on lots of debt. Avoiding debt and the financial freedom that comes from doing so has been one of the common elements of most of our interviews. Lastly, they both realize that you need to have not only talented people on your team but ones you implicitly trust. Thanks for the lessons and advice guys!