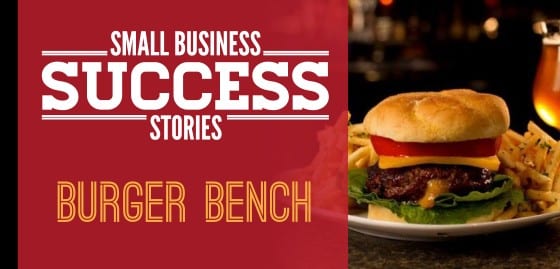 Our small business interview today is with Derek Loranger. Derek is the Owner and Founder of Burger Bench, a soon to open burger restaurant located in historic Escondido, California. This interview primarily focuses on the process of opening a restaurant. We'll follow up with Derek in the future for questions on how to operate and manage a restaurant on a day-to-day basis.
Derek and his partners purchased a large vinyl banner from us to advertise the future opening of their burger restaurant.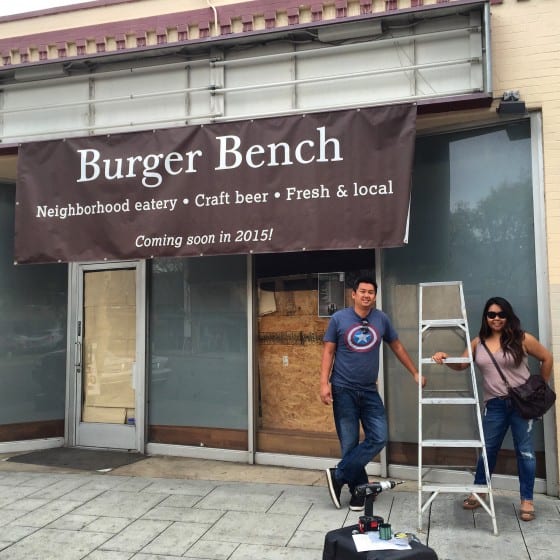 Tell us about yourself
Born and raised in Southern California, and self-taught in almost everything I know, I have been interested in the outdoors and technology as long as I can remember. I would go to the beach or play basketball part of the day and then would program in BASIC for the rest of the day.
I formed my own digital video production company, which ultimately led me into web design and user experience research while blogging about the outdoors. Throughout the years, my wife and I always imagined being our own bosses, owning something of our own. For the past decade, we've fantasized about opening a burger restaurant.
What type of restaurant are you opening? What will be offered?
The restaurant we are opening is called Burger Bench, where you order at the counter and we bring out your food. Located in Historical Downtown Escondido, we have an emphasis on fresh and local ingredients. We are hoping people will come and enjoy the food, knowing that it came from down the street.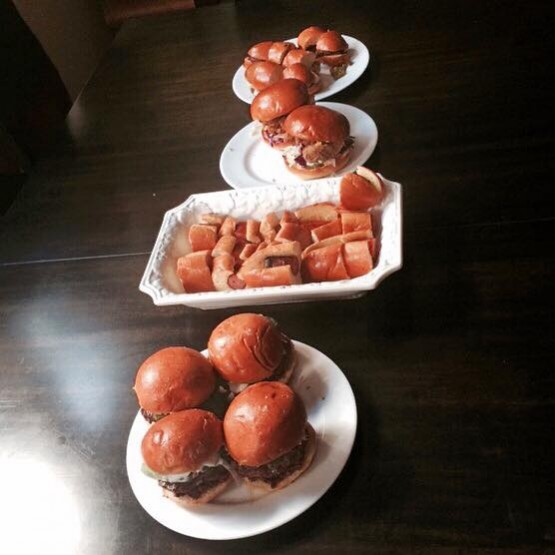 Where did the idea for your company come from?
We've been playing with the idea of opening a burger restaurant for about a decade. What really solidified it for us was when we were living in Carpinteria, CA, where I had a technology job. Once or twice a week, we would find ourselves at the local burger spot, which had been in business 100 years. Right by the beach, it was popular with both tourists and locals alike.
It wasn't a giant burger that filled us with regret. Rather, it was a nice size, and had the right crunch and flavor to eat more than once a week, if that was what you're craving. We realized that was the type of burger we wanted to make, should we ever gather enough courage to try it.
Was it always a dream to own your own business such as a restaurant? If not, what was the motivating factor or "a-ha" moment that made you take the plunge?
Like I mentioned above, we had been thinking about it for many years, but just never had the opportunity to try it. Our jobs were great and we were comfortable.
Then one day, I was laid off with several other employees, due to restructuring. I had no notice and was escorted out of the building, which was their standard procedure. When I had woken up that morning, I was happy and comfortable, and that afternoon, the reason for me being in the Santa Barbara area was gone. By the end of that day, I had secured the social media names for Burger Bench and we had decided to sell our house and head back to San Diego to open a burger restaurant.
It was that fast. We were just looking for an excuse.
Before long, my wife's sister and her husband were partners and away we went.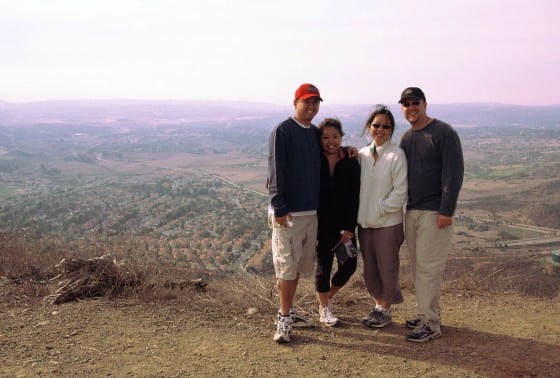 How do you think your tech background will help you in running a burger restaurant?
The current trend in tech companies is agile and lean development. The idea is that you release small changes or enhancements to your products, learn from it, and refine it from there. My background is in user research, so understanding the goals and preferences of my customers to provide them what they truly want has been important for me for my whole career.
The main point is that it's OK to make changes to your product, as long as you get the proper information from your customers that you've done it right. I don't want to be stuck with a menu that isn't working or be out of touch with my customers. I want to talk with them every day, ask the right questions, and make their experience at our restaurant, from the food, the lighting, and down to the background music, the best it can be.
Where will your restaurant be located? Any history to the area or building itself?
Burger Bench will be located in Historic Downtown Escondido on Grand Ave. This has been the 'Main Street' of the region since the 1800's. Festivals, parades, farmers markets, and a special event called Crusin' Grand, which brings in thousands of visitors, all happen down Grand Ave.
The owner of the original Escondido Times-Advocate, a local newspaper, built the building in 1924. The paper was written and printed in the building up until the late 1940's, as I understand it. As part of our construction, we are exposing the beautiful brick walls and rafters that are over 90 years old, while adding some modern touches of our own.
The city of Escondido has been enthusiastic about us bringing a burger restaurant into the area. They've been very supportive throughout the entire process.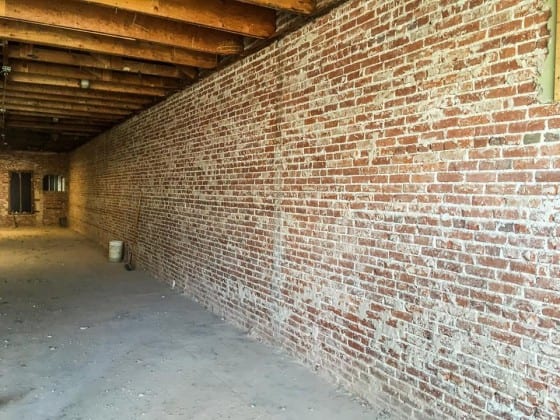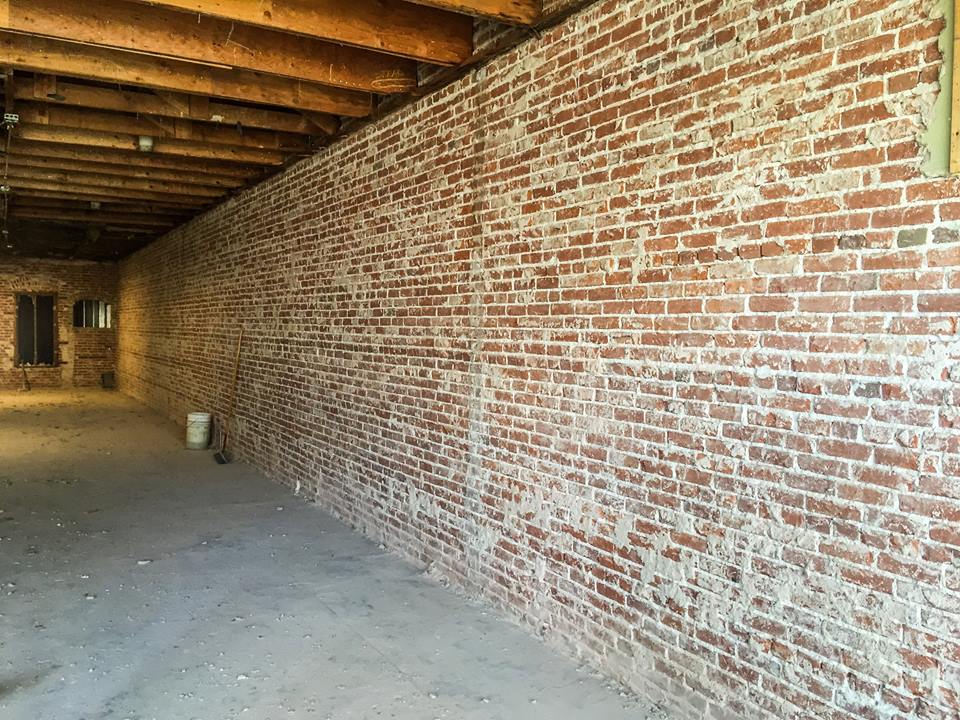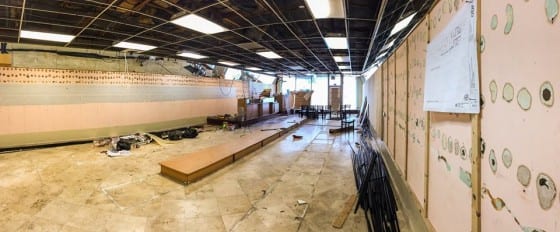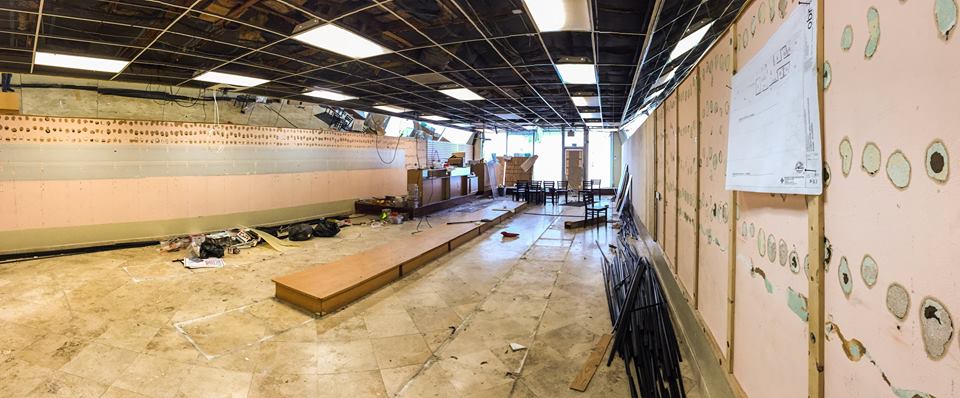 What will set your business apart from the existing competition OR what will be your unique selling proposition?
Fresh and Local is our mantra and it's been great to meet local vendors. Everyone we've spoken to is so enthusiastic about a restaurant that is distinctly San Diegan.
San Diego is seeing such an explosion of quality craft beers, that it makes sense to offer only local San Diego craft beer. The buns we will be using are baked daily less than two miles away. The wines and eggs will be from the same city. Our bacon will be from Julian, our produce will be from the local farmers market, and even our dairy products will be sourced from local vendors.
We are proud of what San Diego County has to offer and feel that the freshness of the ingredients will come out in our recipes.
Can you outline the process so far from idea generation to opening and offer advice/insights from lessons learned to others who are just starting the process?
My biggest nuggets of advice to someone starting a restaurant are:
       Don't be afraid to ask for help; don't try to do it on your own.
       Do your research.
       It's never too early to start getting things in place.
       Be organized
       Make Decisions.
Don't be afraid to ask for help: We didn't have any restaurant experience, other than being discerning patrons. So we asked questions. When we went out to eat, we watched the kitchen wherever possible and asked questions of the servers and cooks. We've even hired people we've met while dining to chat with us outside of their work to educate us on certain things.
Do your research: If we didn't know something, we found someone who did, observed it for ourselves, or bought a book on the topic. Everyone has been eager to share his or her knowledge and it's made the process much easier than it could have been. I spent many hours on Grand Ave to understand the customer base and busy times of the day and week.
It's never too early to start getting things in place: Don't think you'll have time to do it later. We've been getting our vendors involved early, as they each have a different level of expertise and can help keep the costs down by offering solutions to a problem that another vendor is up against. Your launch date will come more quickly that you know, so get those ducks in a row ASAP.
Be organized: This definitely comes from my years in the tech industry. Sharing spreadsheets with action items assigned to individuals is one of the best ways to clearly communicate the goals of the project. In this case, the project is opening a restaurant. We are carving out new processes for us and learning so much that many things would slip through the cracks if we weren't tracking our goals and progress in a shareable way.
Make decisions: Many times I've heard people talk for an hour during a meeting and then leave the room without a decision being made, even if the decision is to simply make a decision at a future specified time. When opening a restaurant, many decisions hinge on other decisions, so being quickly decisive can get the ball rolling so much faster. However, you have to be flexible when you need to revisit an earlier decision based on new information. Otherwise, you'll trap yourself in the we already decided this, therefore it cannot change deadlock.
What is one of the biggest challenges you have had in this process and how did you overcome it?
One of the biggest challenges has been the lack of domain knowledge in the realm of opening and running a restaurant. We solved it by doing research, as noted above. We leaned on experts, did field research, and read a lot of books.
What do you think will be the most critical factor to long-term success for Burger Bench?
Consistent quality in the overall user experience.
How do you think customer service will impact your long term success? What specific plans do you have in place to ensure that this is an advantage and not a detriment?
See the section about my tech background. We have to make sure our bad day doesn't become a customer's bad day.
What about online reviews? Have you put in place a strategy for these as they can be make or break for restaurants these days it seems?
You have to take reviews with a grain of salt. You aren't going to please everyone all of the time. Try not to get defensive. A defensive owner responding to a one star review just looks sad sometimes.
Be proactive with your customers and anticipate problems and solve them before they get posted online. Many negative reviews are simply by customers who didn't get a satisfactory resolution. Asking a customer how you can make it up to them goes a long way to nipping that in the bud.
Are you able to share what your marketing plan will be and what areas you think will be most successful? What will be your focus?
My focus will be on social media, getting the word out during the many events on Grand Ave, and supporting the Escondido community as much as we can. For each marketing initiative, I'll try to find ways of measuring its success so we'll know what to do more of and what to remove from the list of strategies.
In what ways have you closed knowledge/skill gaps to start your business? Friends? Hired consultants? Self-taught? Any advice for other SMB owners/entrepreneurs facing similar challenges/gaps?
See above in the advice section.
Any advice to other entrepreneurs who are on the fence of taking the risk of starting their own business/changing career paths but may have fear (financial or otherwise) of doing so?
Know your limitations. If you are not a detail-oriented person, are not very organized, or cannot multitask, then I would not recommend opening a restaurant.
However, to be optimistic, the skills often learned in the tech industry, such as project management, collaboration, and delegation are very transferable to starting your own business. Many people I have known in the tech industry, including myself, have said, "If I was in charge, I'd do it right."
Starting your own business is the opportunity to do just that.
What are your short and long term goals for Burger Bench growth?
Short term, we want to assess our customer base and determine whether we should be also open for breakfast or weekends or every day.
For the long term, we hope to open other Burger Bench locations, or if it suits the location, perhaps a restaurant of a different variety. We will rely on what we learn from our experience and make those decisions once we feel we know the answer.
What is your open date?
We are aiming for a late spring 2015 opening date.
Where can you be found on the internet? (website, social, etc.)
Website – http://www.burgerbench.com/
Facebook – https://www.facebook.com/burgerbench
Instagram – http://instagram.com/burgerbench
Twitter – https://twitter.com/burgerbench
Editor's Note: We appreciate Derek taking the time to do this interview with us despite a super busy schedule as he prepares to have a successful opening of his restaurant. Derek provides at least three great tips on how to open a restaurant. First, he is keenly aware that he'll need something to differentiate himself (fresh and local) from the many other restaurants (without a doubt this is critical for any business).  He also implicitly understands that location for a restaurant will be essential to his long term success. His downtown location should prove to be perfect for this requirement. Lastly, Derek through his previous professional experience recognizes the importance of having a vision and smaller goals and then adjusting course as needed. This forethought, accountability, and propensity to act rather than freeze when faced with decisions can make or break a successful launch and subsequent viability of a business. Thanks Derek!