Though all sources seem to reporting an upswing for the economy, some small businesses are still feeling the pinch. Not to worry – here are some cost-cutting tips to help you lower expenses and increase profits.
Go Green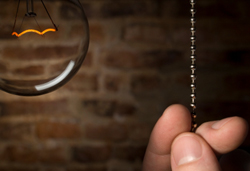 Remember when you were growing up and your dad was constantly harping on you to turn off the lights when you left the room? Well, Dad was onto something. Assess the lighting at your office or store and make sure you're not overdoing it. Turn off lights in areas such as storage rooms and bathrooms when they're not in use.
Keep the temperature of your office or store between 68 and 70 degrees. Your customers and employees will be comfortable and your heating and cooling bill will look better. Install automatic thermostats when possible and set the temperature to minimize cooling and heating in the middle of the night when no one's around.
Turn off equipment when it's not in use. This can save energy consumption by as much as 25 percent. Computers, printers and televisions are some of the biggest culprits.
Buy Used
Shelving, racks, restaurant equipment and office furniture can all be found in classified ads for a fraction of the price of new.
Community Savings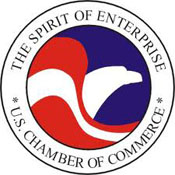 Join your local Chamber of Commerce to find businesses that offer discounts to other members. Join a local warehouse club to get discounts on everything from office supplies and light bulbs to cheese trays for the employee appreciation party.
See if other business owners are willing to go in with you on supplies so that you can get a bulk discount. This can work for services, too. One shop referred his window washer to three other businesses next door and they all got discounts since the washer could manage four clients without driving around.
Consider bartering for goods and services. Ask around – you might be surprised how many business owners are eager to barter, too.
Cut Your Phone Service
More people than ever are ditching home phone service in favor of cell phone-only service in order to save money. You may be able to do the same for your business. Make sure you have good reception – you don't want to drop a call in the middle of a customer inquiry. If cell service isn't sufficient, try using a VOIP.
Find More Efficient Employees
Start-ups can save money by finding interns through local colleges and universities. College kids can offer a unique perspective to your company – they're young, bright and innovative. Collaborate with schools to help your interns earn college credits for the time they spend working for you.
Don't pay idle employees year-round. Instead, use temporary labor during busy times.
If you're spending enormous amounts of time with payroll and employee benefits, consider outsourcing those tasks.
Online Goodies = Big Time Savings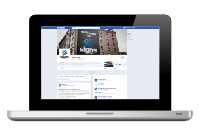 Participating in social media sites such as Facebook, Twitter and Google+ is free and can give your business a much-needed publicity boost. Create business profiles and stay in touch with customers by offering discounts or updates.
While you're online, it might be worth it to check out online retail options for your business. When local business is slow, try offering products through Ebay, Amazon or Etsy. They'll each take a cut of your profit, but you might find that e-tail helps get you through sales slumps. You may eventually build your own e-commerce website, too.
Collect customer emails and send out newsletters and promotional material on an ongoing basis.
Don't Forget the Signage
Vinyl banner and Clor-Plast signs are inexpensive signage options that offer multiple uses. Consider using magnetic signs on your vehicles to increase your visibility to potential customers for a minimal price.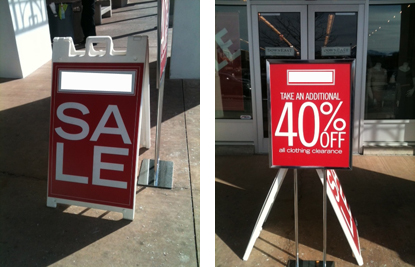 Save money on signage by choosing designs that can be used multiple times. For instance, if you host sales every quarter and offer 40% off, stick to a basic year-round theme with minimal text. That way, you'll be able to re-use vinyl banners (see all banners) and yard signs.