Ah . . . customer service. Is there anything that enrages the general consumer population, frustrates executives or keeps account managers up at night more than the topic of customer service? The purpose of this article is not to debate the validity of customer service. In fact, I'll go on record to say I am firm believer in it. But not just customer service for customer service sake. I mean well thought out, intentional and genuine service. Why? Because acquiring a new customer can be 6 or 7 times more costly than retaining a current one. And, because increasing retention rates by a mere 5% can increase profits from 25% up to an astonishing 95%. (1)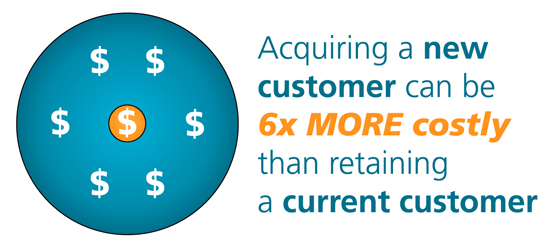 That being said, my focus is on you fakers out there. You know who you are. You are the ones who read a case study on Zappos, American Express or Southwest Airlines and think, well, if we only do this, we can cut costs (and corners) and make it look like we care about our customers. Yep, I see you hiding behind your fancy online chat tools and email forms, your social media interns going blind watching Twitter feeds. Many businesses are trying to "act" like they care about customer service, but in reality it is only fake. Here are a couple examples of offenders and the learning you can take away form their shortcomings (their names have been hidden to protect the guilty).
Social Media Mess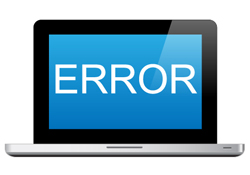 A couple weeks ago I had an issue with a certain social network. I wanted to change the image out on one of the Signs.com social pages. Unfortunately, when I tried to use the default image upload feature, nothing happened. OK, so it must be the browser right?  Nope, no browser would work. OK, so it must be our internal network. I went home and tried. Again, nothing. I couldn't even get an error message.
At this point, I did what any marketing professional would do. I took to social media to complain about social media. I posted comments on various other social platforms directed at company's inability to change my image. I was shocked when I got responses on both networks within 5 minutes saying someone from customer support would be reaching out to me shortly. Sure enough, I received a polite email asking me to describe my issue and if possible, send screen shots. I thought this might turn out to be a good experience after all.
After a few emails back and forth, the customer service agent had me email my image, stating that she would pass it on to the "tech" guys. Sure enough, a few minutes later my new image was uploaded. You might think that this is pretty good right? My image is uploaded, the services has been nice and responsive. All true, except I immediately got a email saying my service ticket was closed. Nothing was said if the problem was fixed. I responded another time asking what the issue was and could I know change the image on my own. No response. I went to our profile and no dice. And, still to this day, I cannot change the image.
AHHH spider!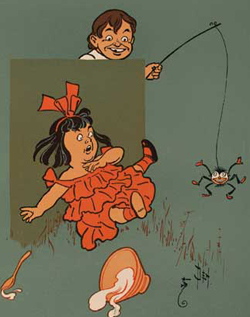 A few years back I was working on a commercial. We wanted to feature a free e-book that was available for download if viewers came to our site and filled out a form. Problem was, we didn't have the e-book printed and we wanted the "talent" to hold it up while doing the video shoot. Being the low man on the totem-pole, I raced to the nearest copy/print store with the design files and specific instructions to hurry . . . we were on a time crunch and a budget.
After getting to the store, it took at least 10 minutes just to get the employee who was trained to print it on the right machine. After that, another 10 minutes to explain to the teenage girl what I wanted. Finally, we were ready to go to print. That is when all heck broke out. I hear a blood curdling screech and someone yell SPIDER. Sure enough, there is a huge spider crawling next to where my already late project was about to be printed (I do have to say, the spider was HUGE and a little creepy).
Easy fix, right? Smash the thing and get on with my print job. Nope, that would be too easy. First, all 4 employees in the store had to gather around it and take pictures. The boys thought it was increasingly funny to freak the girls out by pretending they were going to kick the spider at them, which resulted in more screaming. Some wanted to smash it, but some invoked their inner PETA. All the while, the clock is ticking. I finally raise my voice loud enough to drown out the shrills, requesting that they get back to my project. In the end, the book was printed, but not until I spent 50 minutes at the store.
I just want some coffee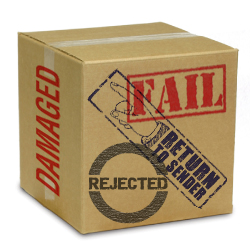 Right after Christmas this past year, my family decided that it was time to trade our 10 year old coffee maker for a new-fangled single serve espresso version. Reluctantly, I laid my trusty 12 cup maker to rest and ordered up its replacement.
It arrived just a few days after ordering, but when we tried to fire it up it was broken. We immediately called customer service. The woman helped me place an order for a new one. She also said she would include a return label for the broken one. Two weeks went by. We hadn't seen the new machine, so I called customer service back. She couldn't even tell me when they'd be sending my replacement machine because the returns were handled by the manufacturer and it usually took 4-6 weeks. Although I expressed unbelief that a company would think it was ok to take a month and a half to fix a problem, I was told to wait.
In the meantime, I received DAILY promotional emails, telling me about sales on the coffee pods, which I couldn't use because I didn't have a working machine. My frustrations seemed to rise with each email about the newest Colombian dark roast I received.
Now it had been six weeks. I called again. The agent still couldn't tell me when my machine would arrive. She couldn't transfer me to anyone that could tell me. I spoke to her manager. No one had any info. I told them fine, cancel my replacement, give me a refund and send me a label for this broken machine. They said they couldn't send me a label and cancel the replacement since they'd already ordered it.
Now at the breaking point, I filed a report with the Better Business Bureau. I found that I wasn't the only one with issues. Also, I found out that the machines were recalled because some 9 year old had received second degree burns when the machine clogged. I was still getting the promotional emails.
We called Visa and filed a report to get our $200 back. In the meantime, I had a huge box sitting in my office. It contained a pretty big hunk of broken metal. I emailed one more time, asking for a label. Email went (you guessed it) UNANSWERED.
Week THIRTEEN. I come home from work to find a box sitting on my porch. Guess what? A brand new machine. At this point, I didn't want it and had even gone out and bought a different brand. I went to my computer to write yet another email and found an email telling me about a product recall.
I opened up the new machine they had sent that very morning. Guess what? It was RECALLED!!! After three months, they sent me a recalled coffee maker to replace my broken one that I didn't want anymore.  Now, I'm not sure what to do with either of them. I'm afraid that if I return the broken one, they'll figure that I have a new one and Visa will charge me the $200 again. I wrote another email and told them they had two weeks to send me a label for this recalled machine or I would dispose of it. Still haven't heard back from them.
Conclusion
In all three cases, each customer service agent was likely instructed to be kind and considerate, helpful and responsive. Unfortunately, that's probably all that happened. They were instructed by some manual which went in one ear and out the other. In order for customer service to be great, there has to be an investment. But this investment doesn't have to cost millions. In fact, according to an article published by Penn's Wharton Business School, "there are lower cost ways to enhance service such as focusing on hiring and staffing policies around customer service; improving the execution of a social media strategy, and adopting human resource policies to make sure employees are satisfied in their jobs and convey that satisfaction to customers."
I will go one step further by saying this investment doesn't even have to be monetary. Just putting customer service top of mind, every day, will begin to foster a culture of service that will be seen and employed by everyone at your company. Great customer service is achievable, even for small businesses. It just requires a little effort.
(1) Bain & Company, Harvard Business Review, 2001
(2) http://knowledge.wharton.upenn.edu/article.cfm?articleid=2954