As a new business owner, you might feel a bit overwhelmed with everything that needs to be accomplished during the day. You need to apply for permits, contact vendors, negotiate a lease, hire and train employees, stock shelves, order signage and plan your marketing strategy. The last thing you have time for is a leisurely lunch with a guest speaker and a bunch of other business owners, right? Wrong. Joining your Chamber of Commerce and attending its events is a great way to help you get your business off the ground.
Mentors
The Chamber of Commerce is a great place to look for mentors. After all, many of the members you'll meet have been in business for years. They've made their share of mistakes, and also made many good business decisions. At mixers and other Chamber events, you'll have the opportunity to meet veterans of the trade and learn from them.
Education
Most Chambers of Commerce offer multiple educational events throughout the year. Classes on leadership development, local labor regulations, advertising and other business practices may be taught be industry professionals and experts and are usually offered for free or at a greatly reduced price. Take advantage of the opportunity to get as much education as you can.
Chamber websites can also be helpful when needing immediate information. The U.S. Chamber of Commerce offers numerous small business toolkits, events and education to SMBs through their main website. Recently, they even posted an article on signage and display advertising.
Specialty Groups
You'll find special groups for small business owners, minority business owners and women's chamber groups, as well. In these groups, you'll have the opportunity to meet with other people who are addressing the same issues that you might face. For instance, at one Women's Chamber meeting, a speaker discussed the difficulties of being accountable to both a growing business, and a growing family.
Legislation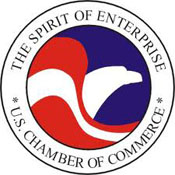 Most Chambers of Commerce are involved on some level with local or state legislation that affects business owners. Some Chambers, such as the Salt Lake Chamber, focus heavily on legislative matters. Marty Carpenter, Director of Communication, told me, "We try to help lawmakers be aware of the unforseen consequences that legislation may have on local business owners." 80 percent of the Salt Lake Chamber's membership is small business owners. The Chamber also offers a Women's Business Center and a Leadership Program.
The U.S. Chamber of Commerce is heavily involved in legislative matters. Lobbyists work tirelessly to keep business owners' best interests in the minds of congressmen and representatives.
Other Benefits and Costs
Other benefits include mixers and other networking opportunities, advertising on websites and member directories and discounts on insurance and travel.
Membership dues vary, depending on your location and the size of your city. Dues might range from $50 to $500 for basic membership. In some areas, businesses belong to more than one Chamber of Commerce. For instance, business owners in the suburbs of a larger metropolis might join their small, local chamber in addition to joining the larger city chamber.