Have you ever wondered about the differences in small and large print materials? You see it all all the time—whether it be the flyers posted on the office refrigerator or one of the many billboards you pass on an almost daily basis. What is large format, what is small format and how do these worlds differ from each other?
We'll answer what large format and small format printing are and give you ideas and examples to help you know where to start on your print project.
Large format (wide format) printing includes any printed medium between 18" and 100" wide. Prints that are more than 100" wide are called super wide or grand format. Small format printing includes everything from standard copy paper printing to personal printing devices to large quantity printing through industrial printers but at small sizes than large format printing.
What is Large Format?
Large Format (which is also known as wide format) is any print with a width between 18" and 100". Print widths that are over 100" wide are super wide or grand format. There are several applications to large format printing. Many businesses utilize large format print materials for aluminum signs, banners, vinyl lettering, vehicle decals/wraps and more. You'll often see examples of large format prints in retail stores. Many stores will hang promotional signage up in storefront windows as well as within the store from the ceiling tiles. Take a look that the following table to see some of the most frequent types of large format print applications along with common sizes and uses.
Product
Common Sizes
Common Uses
Vinyl Banner

— Frequently produced in 13 oz or 18 oz material. Can also be made from mesh vinyl, cloth and other flexible material.

6'w X 3'h 5'w X 3'h 4'w X 2'h

Hang from buildingString up between postsAttach to chain link fenceHang over street

Corrugated Plastic (Yard Signs)

— Most commonly 4mm thick, corrugated plastic is a partially rigid material that is flat on both sides with vertical fluting in between, making the signs light but also durable.

Used with wire stakes to place in the ground Often used for political campaigns and in real estate

Rigid — Rigid materials such as aluminum, wood, acrylic and plastic are commonly used in wide format products. They make great signage for businesses because they are durable as well as aesthetically pleasing.

24"w X 18"h60"w X 36"h18"w X 18"h24"w X 24"h

Mounted to storefronts or walls as business signageHung on interior walls for branding or directional signageMounted to posts

A-Frames (Sandwich Boards)

— Most frequently used by small businesses and restaurants as sidewalk signs.

Placed out on sidewalks or in front of buildingsSet up on roadside to direct traffic

Flags

— Flags are a popular print material. They can be cut and printed in many shapes and sizes. Common types are rectangle flags and feather flags.

Rectangle Flags:

Feather Flags:

Hang from a polePlace along roadside
There are a few different methods for printing large format. The earliest prints in large format were completed using lithography and screen printing technologies which are still used in certain situations today. In lithography and screen printing, material is laid flat while the press or screen with the design works ink into the material leaving the impression. In some cases, the material is laid in a movable bed and rolled through the press to apply the ink. As you might imagine the larger the desired print, the longer the setup time and thus more expensive each single print costs.
Near the end of the 20th century, large format truly took off with the advent of digital printing methods. Inkjet, laser, and UV Printing have evolved rapidly. You can now print very clear images in vibrant color on nearly any substrate. Most digital printers today have a feeder which pushes the material through the printers allowing inks to be applied from the printhead. These are called roll printers (aka "roll to roll"). Some digital printers are designed to print on rigid materials like the aluminum signs mentioned above. The material is loaded onto the bed and pushed through the print heads on rollers—these are called flatbed printers. See the examples of both below: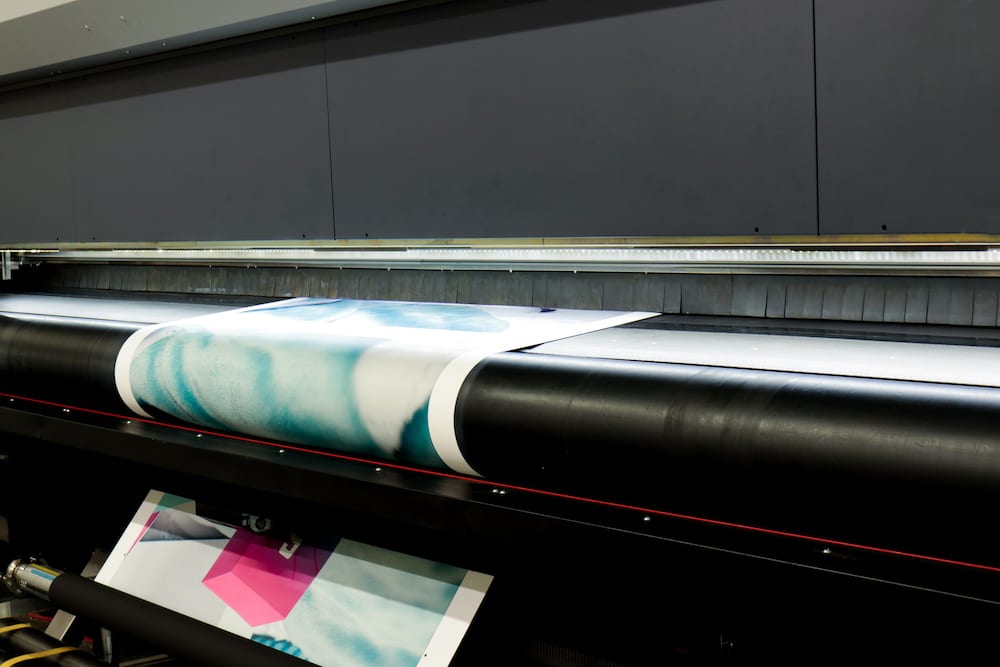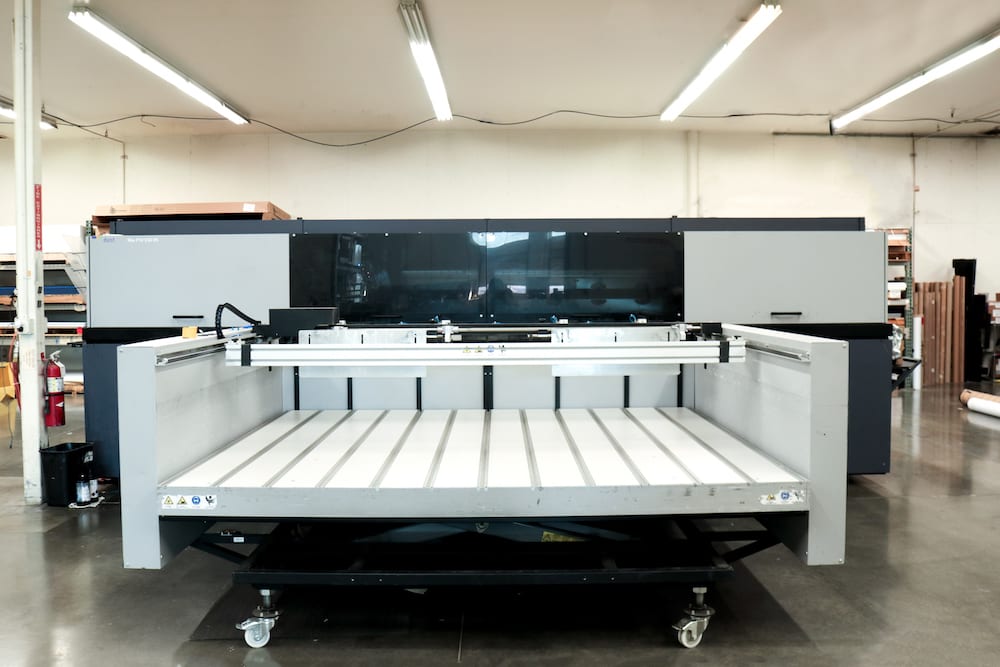 The most common types of large format printing today are:
Screen Printing – a process that involves transferring ink through a screen. This method works particularly well with fabrics and were the same design will be printed in large quantities.

Offset Printing – Where ink is transferred from one surface to another, usually through a series of rollers.

Digital Printers – Ink is printed through heads and the printing machine feeds material through the printer as the print heads release ink.
Check out our blog post which describes these print technologies in more detail.
Displaying a piece of art, advertisement, or attention-getting graphic in large format is a fantastic way to get noticed as a business. Despite the fact that big commercial printers, which can be very cost prohibitive for anyone except large companies, large format printing is a growing industry with more cost-effective print options available all of the time. Printing technologies and the spread of such companies with access to these printers now allow you to print stunning graphic designs or custom artwork on virtually any medium.
Signs.com proudly employs state of the art digital UV printers for all of your wide format jobs. This means your design can be printed on almost any material from plastic, to vinyl, to metal up to 48" x 96" in most cases. The UV Printing process also makes your design more durable on your sign. Learn more about the way digital UV ink works here.
Large Format Highlights:
Print width between 18" and 100"

Grand format has print width over 100"

Common large format prints include vinyl banners, yard signs, aluminum signs, a-frames and flags

Prints are created using lithography, screen, and digital printing

Digital printing method allows for vibrant color on most surfaces
What is Small Format?
Small format printing includes a much broader definition in the printing world. Your personal printer sitting on your desk at home is a small format printer, for instance. Depending on the type of paper you buy, you can inkjet or laserjet print lots of different media from photographs to pamphlets and (of course) copy paper materials. From the commercial print industry many small format products are printed with high quality inks on industrial printers that can produce large quantities in a very short period. You are familiar with a lot of the products associated with small format printing. See the table below for some of the most common applications, sizes and uses of small format print products:
Product
Common Sizes
Common Uses
Business Cards

— Often made from 14 pt cardstock or 20 mil vinyl magnets. Business cards are customizable and sold in bulk

Provide contact information

Postcards

— Versatile, print product made to several different sizes. Usually printed on cardstock.  

5.8"w X4.1"h5"w X7"h6.5″w X 9″h

Travel & tourism Business direct mail

Flyers

— Usually printed on standard copy paper or on higher quality glossy paper stocks.

4"w X 6"h5.5"w X 8.5"h8.5"w X 11"h

Frequently used to inform people about events, promotions, etc.

Brochures

— Frequently printed on lightweight cardstock, brochures (or pamphlets) have a bifold, trifold or z fold.

Information pieceFold-out messaging material with images and text.

Stickers — Everything from bumper stickers to labels. Stickers are used personally and commercially for a myriad of reasons.

2"w X 2"h4"w X 2"h6"w X 6"h10"w X 3"h

Used on vehicles, as promotional handouts, and more.
Similar to large format, there are several different types of small format printers. The large quantities usually needed for small format products like business cards or postcards means that most jobs are professionally printed onto larger sheets and then cut down to size after printing and drying. This process is usually done via offset printing, but can be completed with digital printers as well. Due to the time to set up, cost of materials, and other factors, it is much more affordable to order small format products in bulk rather than purchasing one print at a time. Sellers of small format printed materials usually provide discounts when purchasing higher quantities of the same print.
Small Format Highlights:
Print almost anything on hundreds of material types

Some prints can be done with personal printers

Great for marketing materials like business cards and brochures

Inexpensive, especially for large quantity orders
What Format is Best for You?
Now that you have a better understanding of large format vs. small format printing, you should be able to make a more informed decision about what type of printing you will need for your project.
Large format printing gives you the freedom to make a bold statement by printing whatever you want on several sign materials from flexible to rigid and durable to light. With large format printing you can get great indoor and outdoor use signs that easily capture attention of passersby. You can also order in smaller quantities or one off prints. Small format printing, on the other hand, often means that you'll need to order your designs in bulk due to the cost ratio of set-up time, materials and size of the print job. With small format however you may find lots of value in promotional products that can be distributed to a large, but targeted audience.
There are major differences separating small and large format printing—it comes down to how you plan to use the end product. Now that you have a better understanding of these printing worlds, take a look at our large selection of large format and small format options by browsing our products found on our site. When you order from Signs.com, you'll get high quality, fully customizable signage and quick turnaround times on your orders.