Giving you the highest-quality and most professional-looking sign is our highest priority here at Signs.com. Not only do we offer incredible materials to print your design on, we also have chosen the best printing methods to make your design as vibrant and long lasting as possible. The advantages of different printing styles allow for customizable printing for any type of material, purpose, and size.
Three of the most popular used printing methods are UV printing, screen printing, and offset printing. Each process is unique in its own right, providing for high-quality printing on a variety of materials. We've outlined each method below, showing you the diversity of the printing industry and how your products benefit from these state-of-the-art processes.
Digital UV (Ultraviolet) Printing
The first thing you think of when you hear about ultraviolet light is probably the sun. You're on the right track when it comes to the digital UV printing process. Though the printer doesn't harness the sun's power to print your signs, it does however use the same type of UV lighting to dry specialized ink onto the material of your choice. Unlike solvent inks that air dry or cure using heat, UV ink instantly reacts to UV light, drying it quicker than any other current method. Why does this matter, you ask? Because the ink dries instantly, it does not have time to evaporate into the air or be absorbed into the material it is printed on. As a result, the printed color is more vibrant and can be printed on a variety of substrates. Preventing the ink from evaporating into the air also means significantly fewer emissions from volatile organic compounds (VOC's) harming the environment.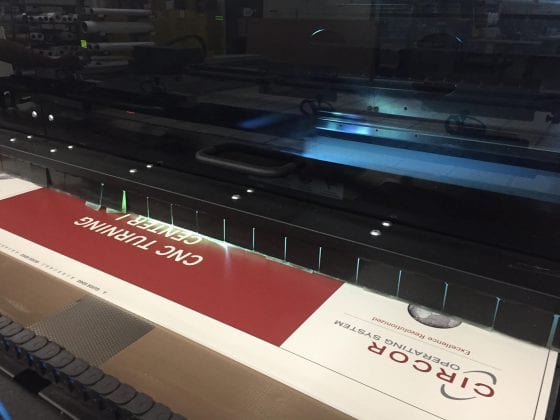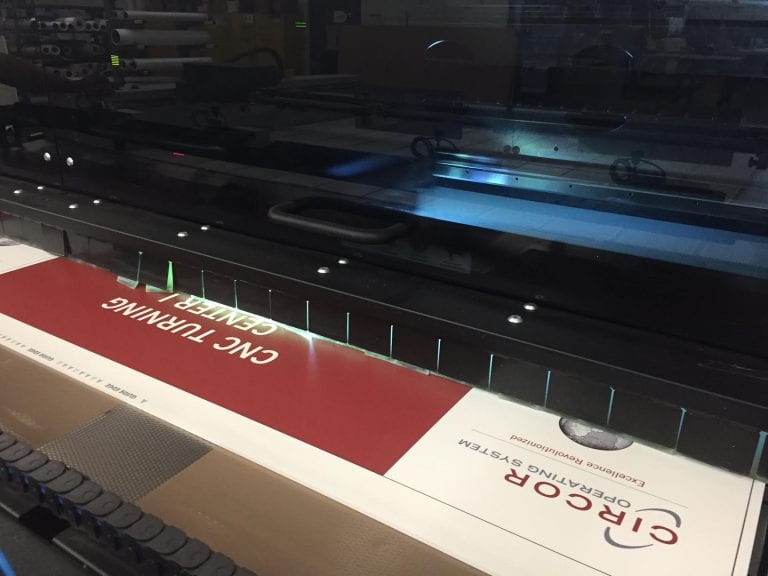 UV ink is as durable as it is vibrant. The design that is printed on your sign will be scratch and abrasion resistant, meaning that you won't have to worry about the ink chipping from the material. Granted, if you purposefully try to remove the ink it will scratch with constant or very harsh abrasion.
Pros:
Prints on virtually any surface
Environmentally friendly
Vibrant colors
Quick drying
Cons:
Very expensive equipment and printers
Ink can be brittle if not cured correctly
Ink does not dry flat
Screen Printing
Modern screen printing has been around since the early 1900's (anciently designed by the Chinese) and has gained popularity over the years as the go-to process for printing on clothing and a variety of materials like plastic, glass, and metals. What sets this process apart from other printing methods is the use of a stencil (screen) to imprint images onto the material. The process works similar to that of a stamp, where ink is transferred from a stencil onto a surface.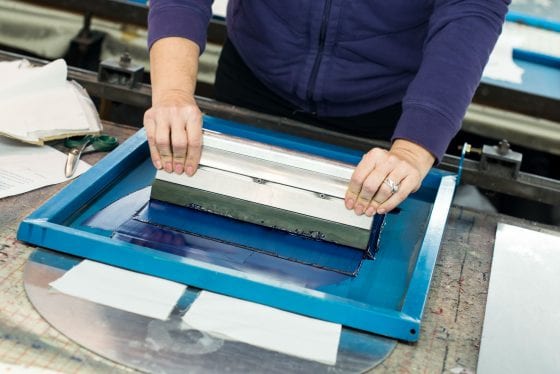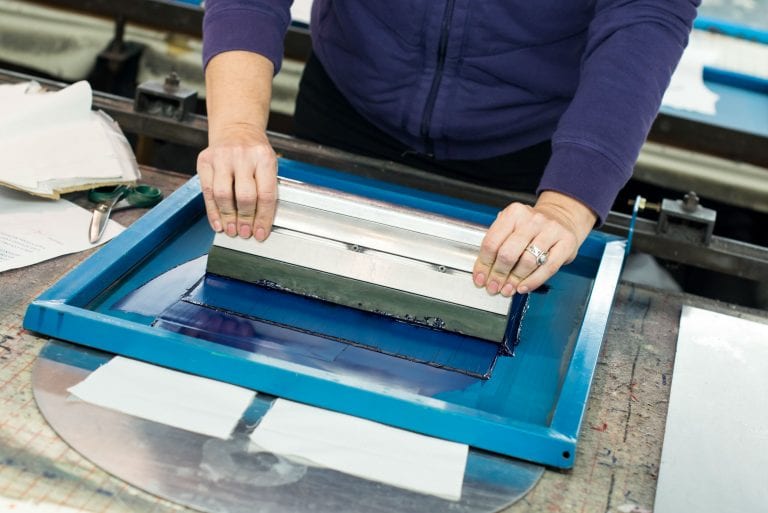 In the case of screen printing, a mesh is used instead of solid stencil, but ink is still transferred from the mesh onto the material as pressure is applied to the mesh, forcing ink onto the surface. When multiple colors are used in a design, layers of stencils are used to allow colors to print separately into your design. While this gives a high quality look to a design, it is hard to print intricate designs using screen printing due to the limiting size of the mesh stencil. It's not recommended that you use screen printing to produce photos because of that limitation.
Clothing is the most common material that screen printing is used on. Screen printed ink adheres to the fabric after it is cured, giving it a long lasting appearance even after being washed countless times, making it perfect for clothing. Because individual screens are used for a single design, smaller quantity orders are not recommended. The setup cost of the actual screen for small run sizes makes it an inferior method when compared to UV printing for lower quantity uses. Likewise, the cost of printing will increase if you print multiple designs because of the need to have multiple screens created. Screen printing works best for very simple designs (shirts or yard signs) printed in very large quantities. This is because the cost of setting up a screen is offset by the size of the job and multiple screens do not need to be used.
Pros:
Works on a variety of substrates
Ink can withstand multiple washings
Affordable for high volume simple printing jobs
Cons:
High setup cost
Higher cost per unit on small orders
Material size is limited
Slower printing and turnaround time due to set up and curing
Offset Printing
Offset printing is a commonly used method to mass produce magazines, flyers, brochures and other visual communication publications. What makes offset printing ideal for those products is the assembly line style of printing. This assembly line integrates multiple printers in a row, which pages are cycled through. Each printer is designed to print only one color at a time in a CMYK format (cyan, magenta, yellow, black). This process uses ink instead of toner, making for a more vibrant, solid color. Offset printing is ideal for printing publications because the ink does not crack when the paper is bent or folded.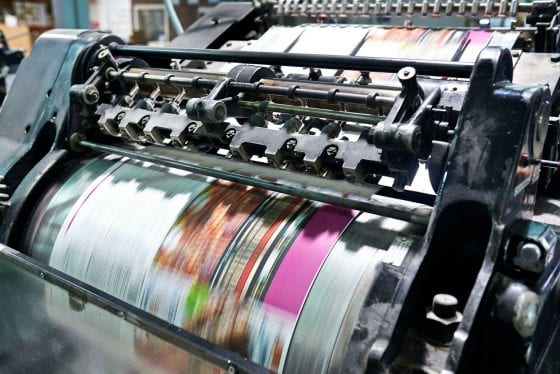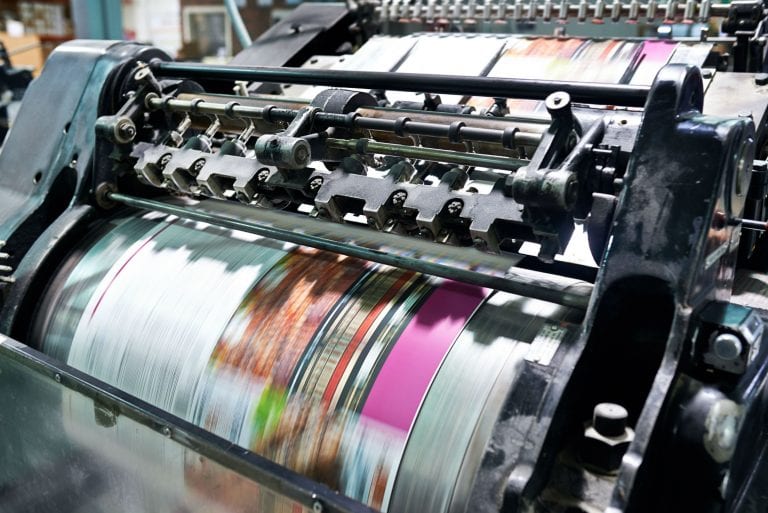 Offset printing is best used for larger production quantities because of the need to calibrate each printer in the assembly line according to the required specifications of each task. Offset printing is limited to printing one side of a page at a time, so double sided printing requires cycling a page through a second time.
Pros:
Ink used instead of solvents
Ink does not crack when folded
Can produce at extremely high quantities
Cons:
Complicated setup of printers
High cost of printers
Typically for smaller format printing only
For quick reference, here's a comparison chart of the three different types of printing processes used in the printing industry.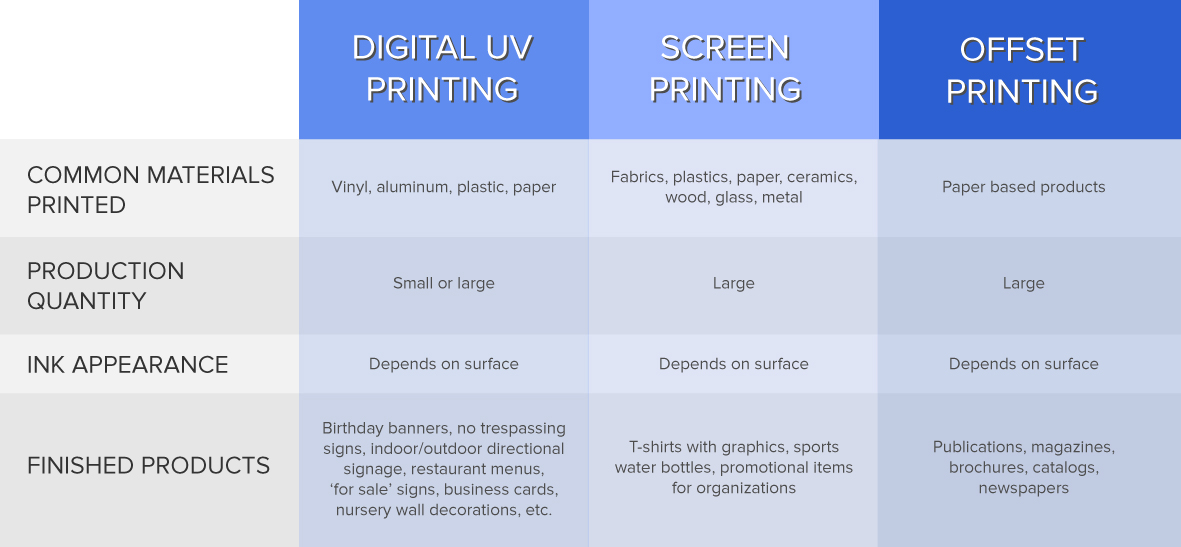 What Printing Method Does Signs.com Use?
We implement digital UV printing on the majority of our signs. The versatility and quality in printing with UV ink is why we use it for creating your custom sign or banner. Not to mention the fact that it is the most environmentally friendly option of the three main printing methods. Some of the most popular products that we offer with UV printing are: vinyl banners, aluminum signs, rigid plastic signs, acrylic signs, and window decals. Digital UV printing allows for quick turnaround in printing, which is why we can produce your sign in a day and get it shipped out to you as soon as possible. All of our product pages include the printing method that is used to create your design so, if you're curious what is used, just check underneath the product description for an overview of the printing process. While we prefer to use UV printing on our world class large format printers, we do also have the capabilities to do screen printing and offset printing. Thus, if you're in need of a very high volume printing job with a fairly simple design, contact us for more details and pricing. Regardless of what your printing needs may be, we will help you get your job done using the best printing method for your needs.