Wire stakes play an essential but often overlooked role in outdoor signage. How would your intended audience see your well-designed yard sign if not for wire stakes?
For those unfamiliar with wire stakes, these are what you use to secure signs into the ground. Without them, a yard sign will not be able to stand on its own unless it's meant to be hanged, framed, or propped up against a surface. Wire stakes go by different names: lawn stakes, yard sign stakes, sign step stakes, step stakes, and H stakes—the last one being a reference to their standard shape.
A Closer Look at Wire Stakes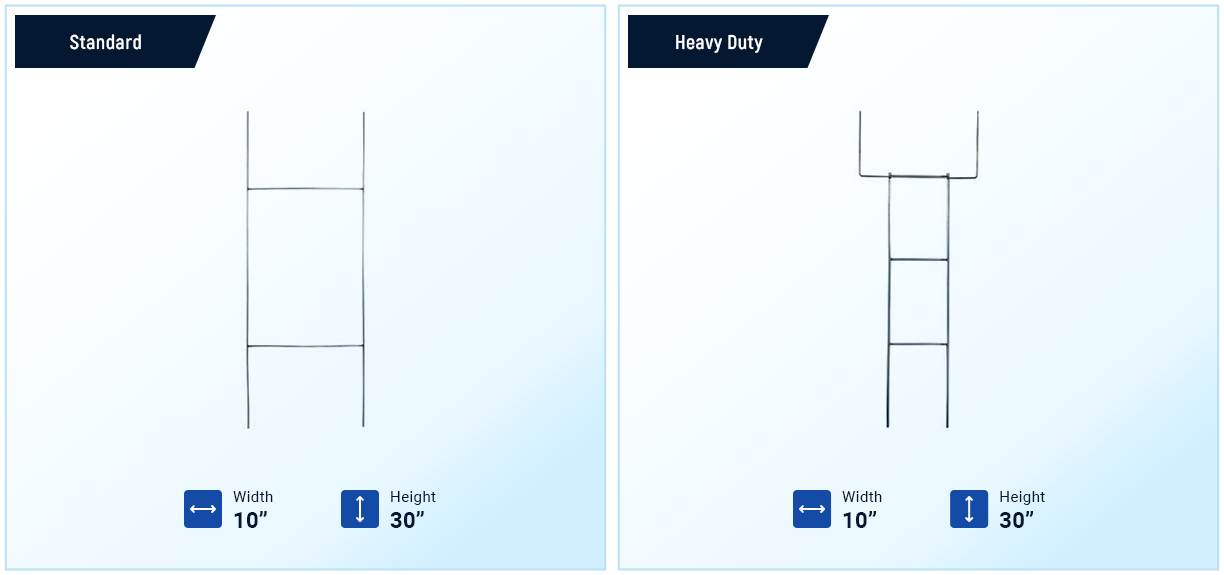 Sign manufacturers usually offer wire stakes in two versions: standard and heavy-duty.
Standard wire stakes are 9-gauge steel wires welded together to form an H-shaped frame with two horizontal bars. They are usually offered in 10" x 30" that can hold custom signs as wide as 24". Because of their versatile size and lightweight yet durable nature, standard wire stakes is the more popular option of the two versions.
Heavy-duty stakes are also made of 9-gauge steel wires, except for the base crafted from 3-gauge steel. The design is also different, with longer steel bars and a wider top for a more stable hold. Since heavy-duty stakes are almost twice the weight of standard stakes, they last longer, even in inclement weather. They are also easier to drive into tougher surfaces.
Because wire stakes often come in a standard height that positions your sign about 12" off the ground, you may have to cut them yourself if you want to adjust your outdoor sign's height. For 9-gauge steel, the best tool is a pair of bolt cutters. Remember that this is a potentially dangerous tool, so follow safety guidelines before using one. Better yet, check with the nearest hardware store if they offer wire cutting services to avoid accidents.
Are Wire Stakes Right for You?
Wire stakes are among the most preferred modes of displaying signs for several reasons.
They are lightweight and do not take up much space, making them easy to ship and transport.
They are easy to install and remove, perfect for short-term promotions.
Their size and design are suitable for smaller outdoor signs, such as those used for real estate and local promotions. Thus, wire stakes are highly recommended for business and property owners who want to catch the attention of passersby and for political candidates targeting neighborhoods and communities.
How to Install Wire Stakes
Installing wire stakes is very easy—remember to have your signs printed on corrugated plastic with vertical fluting.
Mark the flutes where you plan to insert your wire stakes. Ensure that they are the same width as your wire stakes.
Once you have the guide points for insertion, line up your wire stakes and carefully push them into the corresponding flutes. In case of resistance due to manufacturing errors, do not force your stakes in to prevent damaging the sign. Remove them slowly and make the necessary adjustments to your markings.
Drive the stakes deep into the ground until the lower horizontal bar is close or directly on the surface. This is best done on damp soil. You can also dig a hole to make it easier—pour water afterward so the ground can fill up the extra space, securing your newly staked sign.
Depending on the state where you live, there are rules to note, such as quantity, allowed distance from the sidewalk, permits to secure, and more. You can check them out in this guide.
Where To Buy Wire Stakes
Most physical and online sign printing businesses sell wire stakes as add-ons to sign orders, but they can also be purchased separately. Here at Signs.com, we offer both standard and heavy-duty H stakes in retail and bulk.
Outdoor yard signs are a cost-effective, affordable promotional tool for business and advertising needs. If you are looking for ways to attract more attention and interest from passing pedestrians and drivers, consider adding signs with wire stakes to your advertising efforts.