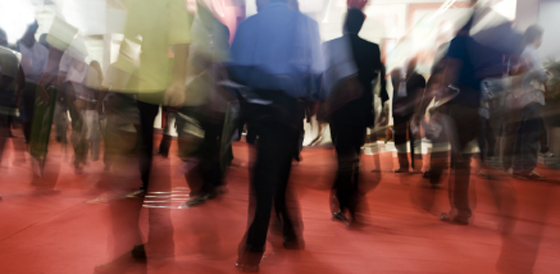 This is part 1 of a 2 part series on how to effectively attend a trade show.
Attending a trade show is expensive. By the time you add up airfare, rental car, hotel, food and registration fees, you've dropped a chunk of money on an activity that doesn't even generate new customers for your business. So why go? It's a great way to learn more about your industry and stay abreast of the latest trends. The key is to plan ahead so that you can get the greatest return on your investment and come away from the show with new knowledge.
What are your goals?
Some shows are so huge that you'll never have time to talk to every sales rep from every vendor, so prior to attending the International Sign Association (ISA) show, Signs.com identified several goals. We wanted to check out new, innovative products that we can offer customers. We also wanted to touch base with some of our suppliers and get to know their staff. As the copywriter at Signs.com, I was looking for industry news to report back to our readers, and also for writers from other companies with whom I could collaborate.
Make a Map and a Plan
Prior to the show go online and check out the list of vendors. Print out a map of the trade show floor and highlight the booths you want to visit so you don't miss anything important. If you have questions that you want to ask, write those down too, so you can make the most of your visit with company reps.
Pre select conference meetings. Email people that you really want to meet with and schedule time (some shows have an online planner for this purpose). Sign up for courses and classes offered as part of the conference. The most popular courses sell out early, so register well in advance.
Book hotels and flights as soon as you know you're going to attend. Large conventions fill up local hotels, and airfare tends to increase the closer you get to travel time. Try to  book a hotel within close proximity to the convention center so you can walk to the show and avoid cab fare.
Pack for the show
Your wardrobe will depend somewhat on your industry. If you're looking for new construction equipment for your general contracting business, you can get away with jeans and t-shirts. For the ISA show, Signs.com staff dressed in business casual clothing. The general rule is to wear what you normally wear at work. Some convention centers really blast the air conditioning, so it's wise to bring a light jacket or sweater if you get cold easily. We were in sunny Orlando, where the weather was 82 degrees and I was wearing a sweater the whole time.
The most important component of your wardrobe is undoubtably shoes. We saw women wearing suits and stiletto heels at the show. They certainly looked professional as they hobbled around with pained looks on their faces. It's not worth it. Wear comfortable shoes that are broken-in. Last month at the Global Shop expo in Las Vegas I made the mistake of wearing new shoes and developed blisters of epic proportions. By the time I got home, I could barely walk from the gate to baggage claim at the airport. My poor feet finally healed three weeks later, just in time for the ISA show.
Socks that fit properly will help prevent blisters, but you should still probably bring some Bandaids. Even with comfortable shoes, you'll be walking miles on concrete floors.
Electronics and Other Equipment
Bring your camera if photos are allowed at the show (many shows are very strict about photographing booths and security will confiscate your camera if they catch you). Photos of products you're interested in will help you remember details when you get home. In a pinch, you can take pictures with your phone.
I had iPad envy at the ISA show; lots of attendees were walking around with their lightweight, easy to use tablets. There are plenty of advantages to bringing a tablet: you can take notes about products, take photos and scan QR codes so you can avoid carrying around too many brochures and catalogs. Tablets are also great for keeping up with social media at the show: you can send out tweets and update your company's Facebook page while you're walking around. By the time I attend the next trade show, I hope to bring a new iPad with me (maybe my boss is reading this…hint, hint).
Most trade shows issue you a badge that vendors will scan in order to get your information, but it's not a bad idea to carry some business cards with you, too.
If you don't have a cool iPad, you might consider bringing a small notebook, especially if you plan on comparing products from several vendors. You can bring a pen too, but there will be dozens of freebies at the show if you forget or lose yours.
Now you're ready to go. Watch for our next article in the Trade Show series: Walking the Trade Show. We'll give you some insider secrets about how to make the most of your time at the show.