Think all signs are the same? Think again. In many cases, the effectiveness of a sign is determined by its use. Is it going outside on your storefront or hanging in window? Is it leading your customers to an event or simply helping them navigate to your store? When starting the design process, think of these 5 functions of a sign and get the most bang for your buck.
Recognition and Awareness (Outside Signs)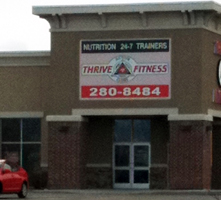 In the most basic sense, a sign on the outside of your store provides information. It makes people aware of your existence. It identifies the space as belonging to your business, and lets customers know that they're in the right place.
Make sure that your signage is clearly visible from the street and that it is easily read. In a 2011 study by BrandSpark, 49.7 percent of people surveyed indicated that they had driven by and failed to find a business because the sign was either too small or unclear (1).
Complement Other Marketing Efforts (Inside and Outside Signs)
You've probably heard the term "branding." Think about the McDonald's golden arches. Studies have shown that even small children can connect the arches with McDonald's. Your business might never become quite as globally famous, but it would be great if local consumers recognized your logo and connected it to your business. Your other marketing pieces, such as coupons and print ads, should feature your logo and business name. Your on-site signage should reinforces your "brand" to customers, in turn helping them begin to recognize it in other settings.
Entice Customers to Purchase (Outside signs)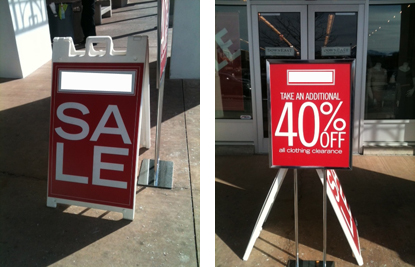 Signs can be used to prompt consumers to make impulse purchases. Signs advertising big sales or discount days entice customers into your store for specific items. A customer driving down the street might not be thinking about buying a new pair of jeans, but if she sees a big sign in the window of a clothing store, advertising a sale on jeans, she might stop in to have a look.
For the greatest impact, these signs should be as large as possible, and displayed in a prominent spot.
Entice Customers to Purchase Something Else (Inside signs)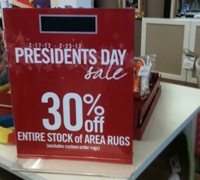 Once the customer is in your store with the intention to buy something, provide them with signs to point out other things they may find interesting. You might have a sign placed on an easel directly inside the doorway, announcing the sale of another item, or a table of merchandise with a sign displayed prominently.
Directional or Wayfinding (Outside signs)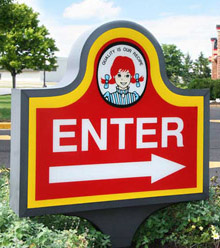 Directional, sometimes called wayfinding, signage helps get your customer from the street to your store in the safest, most convenient way possible. These signs need to be well-placed and easily read so that drivers have time to change lanes, slow down and signal to turn into your parking lot. If your business is located in the back corner of a shopping center, or is difficult to see from the street, a directional sign not only lets customers know where to turn, it makes others aware that your business is there.
(1) Kellaris, James J. 100,000 Shoppers Can't Be Wrong: Signage Communication Evidence from The BrandSpark/Better Homes and Gardens American Shopper Study. 2011.