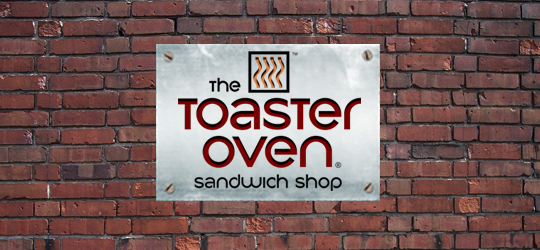 Recently I had the pleasure of speaking to Mitch Monson, co-founder of The Toaster Oven, a small chain of sandwich shops in San Francisco and Berkeley, California, for our small business success stories series. He gave me some insights about how the company got started, what they do and how they have become one of our small business success stories!

The Planning Stage
In 2004, Mitch and his friend Cameron Wilkinson were both working in the corporate world and becoming financially successful in their careers, but they wanted more. Mitch told me, "A lot of entrepreneurs have a desire to be creative. They have the personality type where they want to have their own thing or they don't necessarily fit into the corporate mold. From our college days, we had always talked about starting our own business." He and Cameron found a silent partner, Todd Lloyd, who contributed some of the up-front capital. The introduction of a third partner, "forced us, from the beginning, to be really serious about the business plan, think about the business objectives and treat it like a big business, instead of just two college buddies cobbling together what we thought was best," Mitch said. He attributes part of Toaster Oven's success to the intensive planning that was done prior to opening the first shop. From start to finish, the planning phase took an entire year.
An Important Mentor 
Successful business owners often speak of mentors that changed their thinking and gave them valuable insights. Mitch credits a mentor from his pre-college days: former President of Oracle North America, Gary Kennedy. Gary taught Mitch that successful entrepreneurs do one of two things: they either invent something totally new, or they find a way to make the "mutually exclusive" co-exist.
The Cornerstone of The Toaster Oven
Mitch and Cameron weren't planning on becoming inventors, so they recognized that they needed to find a business where they could differentiate themselves from competitors in order to be successful. Mitch noted, "When we'd talked about different concepts, I was always of the opinion that we needed to have a business that could make mutually exclusive things mutually agreeable." Mitch, who was living back East at the time, noticed several eatery concepts that hadn't yet made it to the western half of the U.S. He and Cameron decided something similar might work in San Francisco.
Overall, sandwich businesses seemed to have some mutually exclusive characteristics. Some offered fast service and low prices, but the product was typically low quality, served in a fast-food environment (with plastic booths, for instance). There were other eateries that offered high quality and a nice atmosphere, but at high prices and with slower service. Mitch and Cameron wanted The Toaster Oven to challenge the notion that patrons would have to shell out a lot of money and spend the majority of their lunch hour in order to enjoy a quality meal.
Changing The Game
To be successful, The Toaster Oven needed to make four components, which don't normally co-exist, mutually agreeable: quality, speed, ambiance and price.
The menu at The Toaster Oven focuses on hot sandwiches typical of a sandwich shop: ham, turkey, tuna, meatball, etc. But there are some differences that give them an artisan flair. The shop orders only high-quality meats and cheeses and slices them on-site daily. The addition of a giardiniera pepper mix adds a unique flavor. And the bread (a major component of sandwiches, after all) is specially prepared. Mitch explained the process: "Normally at a cheap sandwich shop the bread is fully baked. When you re-heat it, it comes out burned on the edges. We can get a consistent, artisan-type taste by simply using par-baked bread that bakes up beautifully when we put it through our pizza ovens, at the moment it's ordered."
Getting customers through the line quickly took care of two of the components–speed and price. In the sandwich business, there is a small 2 1/2 to 3 hour window per day to make money. Mitch wondered, "How am I going to have the competitive advantage of being able to serve more people during those 2 1/2 hours than the competition?" The answer was in the layout of the sandwich line, which allows The Toaster Oven to ring through up to four customers every minute–much faster than the competition (other sandwich chains normally average one or two customers per minute). By putting customers through the line quickly and selling more sandwiches than competitors, The Toaster Oven can offer their product at a low price–right around $5 per sandwich.
Ambiance was the other important feature to distinguish The Toaster Oven from the low-price, cheap-quality competition. Each shop has some main design tenets: distressed millwork, warm colors, antiqued metals and a wall featuring vintage toasters. Soft lighting and familiar classic-rock tunes add to the inviting, comfortable atmosphere.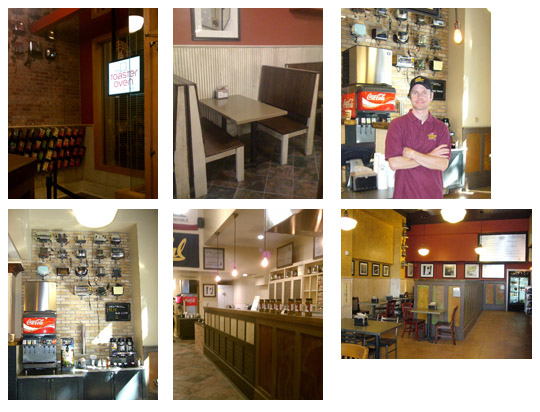 Marketing
I asked Mitch about the marketing strategy for The Toaster Oven. "We don't do coupons. We don't do a reward program. When a new store opens, we usually have a grand opening with a special like, 'buy a sandwich, get a free drink.' After that, our business lives and dies by customer experience and word of mouth. We place a lot more focus on our employees' attitudes and trying to foster an atmosphere of abundance and hospitality for our customers than we do on typical coupon marketing."
Signage
In addition to word-of-mouth, The Toaster Oven utilizes signage to attract business. Since they are located in areas where there is mainly foot traffic, an A-frame sign placed on the sidewalk is highly visible. Keeping consistent with their branding, the signage maintains an informal tone. One design includes a product picture, the store logo and the words, "5 dollars can taste good. Let us show you how."
Mistakes
Every small business owner makes a few mistakes and the owners of The Toaster Oven were no exception. Their business model relied on a heavy foot-traffic location where business people walked to lunch, which worked well for locations on busy San Francisco streets. They tried to open a fourth location in a suburban area and it failed. Mitch explained their mistake, "We took a step away from our main business model. We tried to push our concept to an environment where the population was retail driven instead of business driven."
Then they made another typical mistake, "We tried to convince ourselves that we needed to spend more money. We spent more on marketing and diversified product offerings. We basically threw good money after bad. After eight months we shut it down." Luckily, the other locations were doing well and they were able to harvest the equipment and open another San Francisco location, so not all was lost.
Success
The first Toaster Oven opened in 2005 in the financial district of San Francisco. The owners hoped that they could reach profitability within the first year–they reached that goal during their third month. Seven years later, The Toaster Oven boasts five locations, 48 employees and sales of $2.75 million per year.
Advice
When asked what advice he would give to potential new small business owners, Mitch told me, "Serve your customers well and find your competitive advantage. Ask yourself: What are you going to make mutually agreeable in your industry that's normally mutually exclusive?"