Today's guest post is courtesy of Andrew Johnson, internet marketer and operator of NewsUtah.org. Enjoy!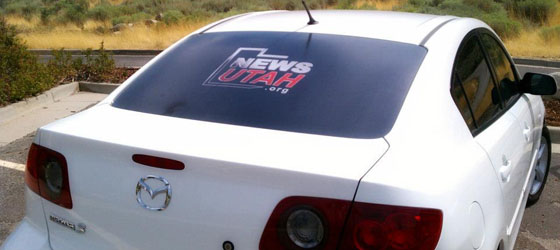 Think about all of the ways to market a product or service these days – there's search engine optimization, pay-per-click ads, social media, content marketing, trade shows, seminars, radio, television, newspaper . . . the list goes on.
I firmly believe that a business should be open to any and all forms of marketing, and must be both proactive and reactive to the changing competitive landscape.
But what exactly can a sign do for your business or website?
I recently purchased a rear-window graphic from Signs.com for my vehicle, which displays the logo for a website that I run.
Here are three things I've noticed that the graphic has done for my website:
1. It sparks conversation
When you stop and think about the amount of advertising the average person is subjected to on a daily basis, you could easily see how aggressive the average business needs to be to get their message across to the masses.
Signs have been known to attract half of a start-up business' new customers, and 50% of new customers say that an on-premise sign is how they learned about that business.
For me, the vehicle graphic on my car has initiated many conversations about my website, and I've been tracking a noticeable increase in direct traffic to the site since having the graphic installed.
2. It increases brand awareness
I'm sure you can instantly recognize the name of a local plumbing, heating and air conditioning company by the unique color of their vans. Or the local news station's satellite truck by the placement of their logo on the sides.
Branding is a vital component to any business strategy, because consumers tend to become loyal to their favorite brands. But in order for people to become loyal, they need to understand the "why" behind the brand.
I believe the more often a consumer is presented with a particular brand, the more likely they are to investigate that brand to see if it would benefit them. I also think they're bound to engage with that brand if they see their peers interacting with the brand as well.
I'm slapping my logo on everything these days, from email signatures to cups, as well as the window graphic on my car. The result? As I mentioned before, I've seen an increase in the number of visits to my website from people who type my brand name in the address bar and hit enter.
3. It raises curiosity
I can't begin to tell you all of the times when I'm stopped at a red light, and the person in the car behind me stops, glances at my window graphic, and then reaches for their phone. (Disclaimer: Never become distracted while driving!)
My website is up against some pretty fierce competition. That competition is established, well-branded and the community is loyal.
There haven't been many newcomers to the fold, so when someone sees the logo on my car, their curiosity makes them want to learn more.
What is that person in the car behind me doing with their phone? Well, they could be updating their Facebook status about how painfully-long the red light is, but they could also be using their phone's Internet to look up my website. I can't qualify that theory without getting out of my car and asking, but I can usually see them looking directly at my window graphic while they're typing on their phone.
I've been running my website for just over a year now, and the revenue it generates for me is invested right back into marketing and advertising. The window decal I had installed has generated so many positives for my brand, and in the large scheme of things is an integral part of the overall strategy for my website.
I'm curious to hear about your marketing strategy. How do you leverage the use of signage to grow your business? Leave your comments below!
About the author: Andrew Johnson is an Internet Marketing consultant, and runs the Utah news website NewsUtah.org. He was born and raised in Canada, and now makes his home in Salt Lake County with his two kids.