It's a huge day for us here at Signs.com! This morning, we announced the full release of our brand new website, which includes features like a full-service e-commerce platform, online design tool and personalized design services and support (read the press release here). The new website is designed to offer our customers a best-in-class experience when shopping for signage online.
"We're extremely excited about the launch of our new website" says Signs.com COO Nelson James. "There is high industry demand for a company that creates quality signage through a quick and easy online platform — and we're here to fill that role."
Online Design Tool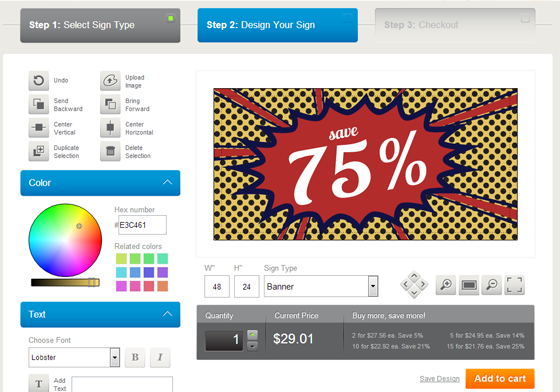 Foremost among the website's features is a unique online design tool, built from the ground up, which gives you the power to create, save and buy custom-designed signs from the convenience of your home or office. Whether you start from a blank template or choose one of Signs.com's professionally-designed templates, you can customize size, colors and text or add images to design the perfect sign.
E-commerce and Account Management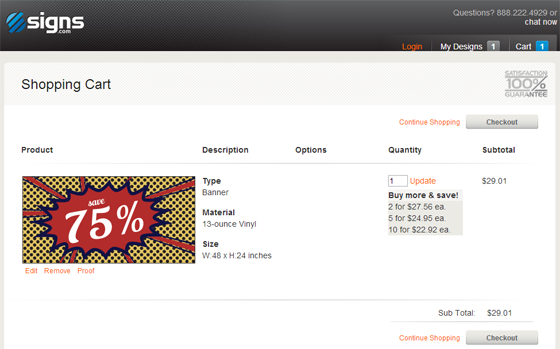 Another key enhancement is a new e-commerce and account management platform that fully automates the shopping experience for buying signage online. The new platform allows you to not only purchase signage, but also design and save your creations to a unique user account. And our design tool automatically saves your design, just in case you accidentally close your browser.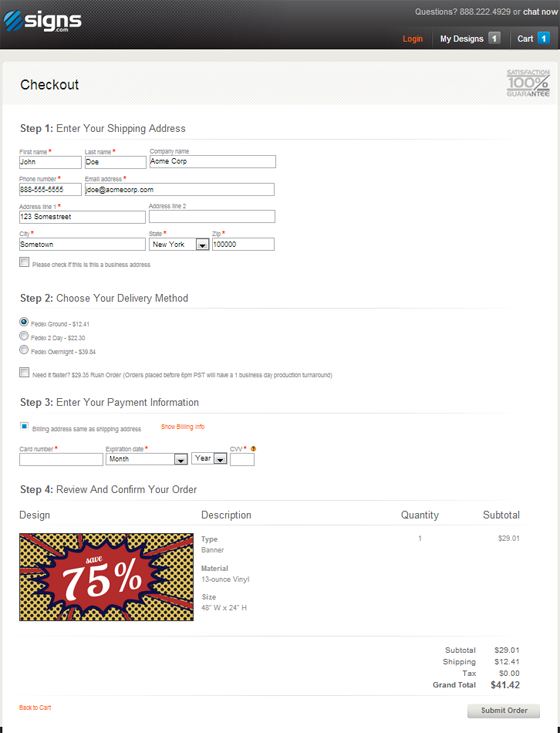 Personalized Design Services and Support
Although customers have full access to the new design tool, we know that not everyone has a keen sense of design. That is why Signs.com will continue to offer free personalized design services to assist individuals and businesses in getting the best sign design possible. Ultimately, we want to make sure that you get exactly what you need to promote your business or event. We want you to be happy with the sign you receive and the experience you have with Signs.com!
Professional Production
Signs.com is backed by Ferrari Color, a highly successful digital graphics company  considered to be one of the top five large-format printers in the nation. Its capabilities and experience have made it the choice of many respected organizations such as Lucky Brand Jeans, Whole Foods, and Starbucks, as well as many professional sports teams.  Ferrari Color will act as Signs.com's main production facility.
"Ferrari Color has spent over two decades perfecting the manufacturing process, and researching the best materials to offer our clients," said Kirk Green, CEO of Ferrari Color. "Signs.com is now able to bring this strength to individuals looking for a higher-quality sign option."
So take us for a test drive. Select from our custom banner types including our most popular vinyl banner. Design a sign with the new design tool and give us your feedback. We would love to hear from you! And stayed tuned this afternoon and tomorrow as well will be posting complete how-tos on the design tool and personalized accounts.