In this installment of our Small Business Success Story series, we chat virtually with Steven Pribek, owner of the Urban Harvest Brewing Company in Milwaukee. Steven's passion for his craft and business is evident here, as is his admiration for his staff – which he considers to be "short-term ambassadors to the city, sharing info about other breweries and must-see locales for out-of-towners."
On the signage side of things, Steven has installed a window decal from Signs.com to ensure customers and passersby are quickly aware of the brewery's standard operating hours.
Tell us about yourself
I'm Steven Pribek, and I am the owner and brewer for Urban Harvest Brewing Company (UHBC). I started as a homebrewer for a number of years, developing a collection of recipes that were brewed over and over. With a passion for the brewing process, I began to explore the dream of one day opening a brewery. After a few years of research, writing a business plan, and a longer-than-expected search for our current home, I opened UHBC in the great city of Milwaukee in April 2016.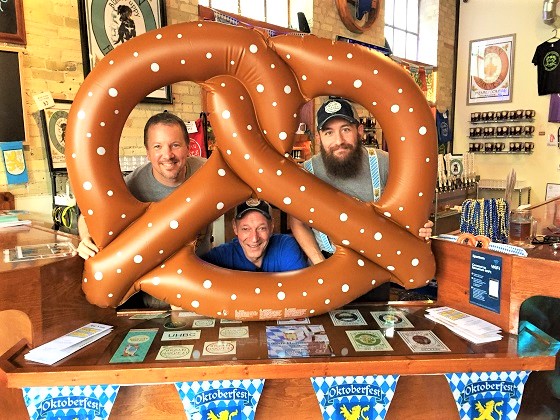 What is one thing most people don't know about you?
I raced mountain bikes for about 10 years.
What does your company do?
Urban Harvest Brewing Company is a nanobrewery with a taproom located in the city's most historic and diverse neighborhood. All of our beers are brewed onsite with our two-barrel system. We offer 11 year-round beers and we mix in seasonals and limited-release taps throughout the year. You can only purchase our products in-house because the demand and small capacity of our system limits us from distribution at this point.
Where did the idea of your company come from?
On a visit to Golden City Brewery in Colorado during a mountain biking trip. I absolutely loved the idea of a small, local, neighborhood brewery. As I mentioned earlier, I had been home-brewing for several years prior, and that's where I first said, "I want to open a brewery!"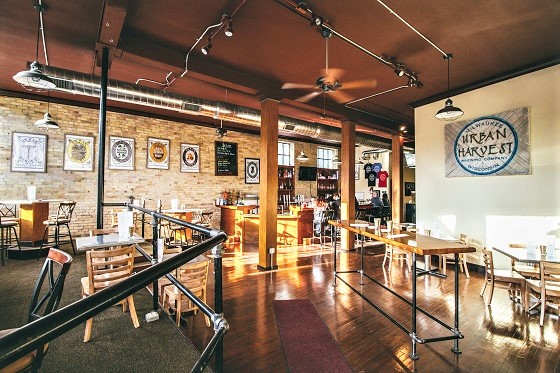 A Little Bit of Something for Everybody
What sets you apart from your competition?
Not being as large as some of the other local breweries, I feel we are able to provide a more personal experience for people who visit our taproom. We try to take the time and get to know our customers – from members of our "mug club" to first-timers and out-of-town visitors. On the beer side, we focus on drinkability and crisp, clean "go-to" brews. Of our 11 year-round beers we offer a wide selection: four IPAs, some malt-forward selections, a few on the lighter, easy drinking side, and some more traditional styles. There's a little bit of something for everybody. In addition, our rotational/seasonal beers are very popular, and we'd definitely add them to our year-round selections if we had more tap space.
How do you market your business?
A lot of what we do is by word of mouth, and I'd like to think that the beers sell themselves. Facebook is pretty much a go-to for us when it comes to sharing information about events, beer releases, merch sales, etc. We have a great website, but we're limited in the things that we can change on it. Facebook allows us to share things on the fly and it's obviously used by a lot of people. When time allows, and it makes sense, I will post on Facebook and Twitter. I wish I had a person to just take care of our social media, but small business equals small staff, so my hours to focus on social media are limited.
How do you "wow" your customers?
It starts with our beautiful taproom that features Cream City brick – a light, yellow-colored brick synonymous with Milwaukee and found in many of its historical buildings. Once you step through the door, you find an inviting space that you can relax in with family and friends. But the biggest part of our "wow" factor comes from the amazing staff I'm so lucky to have. The genuine effort that they provide to our customers is priceless for UHBC. Not only are they developing relationships with returning customers, but they also serve as short-term ambassadors to the city while sharing info about other breweries and must-see locales for out-of-towners.
What are one or two strategies for gaining customers that you have been successful with?
Be who you are. Be genuine and passionate about what you do. Keep a clean facility and try to make your customers as comfortable as possible.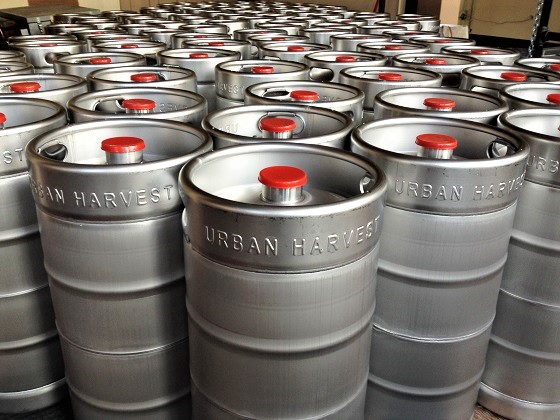 How do you compete with competitors that are bigger than you?
We don't look at it as competition. Much of our industry is based around the fact that people like variety. We see a good percentage of customers who are visiting multiple breweries either through the course of a day or across several days. Each brewery has their own unique way of how they operate and the feel of their taprooms or facilities. As I noted earlier, we try to offer a diverse menu of beers for people to choose from, but also keep some new, exciting options rotating in throughout the year.
Battling COVID-19, Focusing on the Future
What is one of the biggest challenges you have had with your business – how did you overcome it?
The size of our brewing system limits our production capabilities. We're in the process of searching for an off-site production facility that we can put a larger system in to allow for distribution.
And, of course, COVID-19 has presented challenges. The first thing we did in that regard was order two can seamers, allowing us to offer our brews in 32-oz. and 16-oz. "crowlers" – aluminum-can versions of our usual growlers. With our taproom shut down and being limited to curbside pickup, we recognized that there would be a limit to the number of glass growlers people would be willing to collect. And even though it limited our sales options, we chose to not take growlers back for refill as the safest way to operate.
When weather allowed, we opened up our sidewalk patio – with social distancing and table-occupancy maximums in place. As we look to colder temps and re-opening our taproom, we're purchasing air-purification units and two ionization units to be used in conjunction with our existing furnaces. As we did with our outdoor space, we'll space tables to reduce our capacity, there will be no service at the bar, and ordering will be done from each table using bar codes. There's more, of course, but those are just a few of the steps we've taken to keep our business going while battling COVID.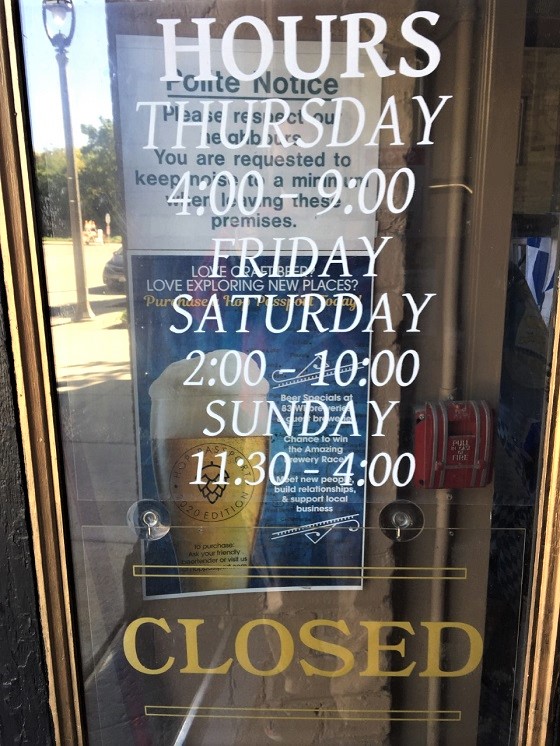 If you were to start again, what would you do differently?
Absolutely nothing. There are some aspects of operations that are difficult and less than efficient, but I like to focus on the future. Improve when and where you can, and things will work out.
What is the one thing you would do over and over and recommend everyone else do?
Take the time to step back, take a breath, enjoy and appreciate the good things in life, and realize how lucky you are.
Is there a book that you recommend our community should read?
Wisconsin's Best Beer Guide: It features writeups for 200 Wisconsin breweries, providing information and fun facts for each location, including "stumbling distance" and additional suggestions for things to do and places to visit near each brewery. Also, most breweries have an offer or discount to redeem when you have the book signed.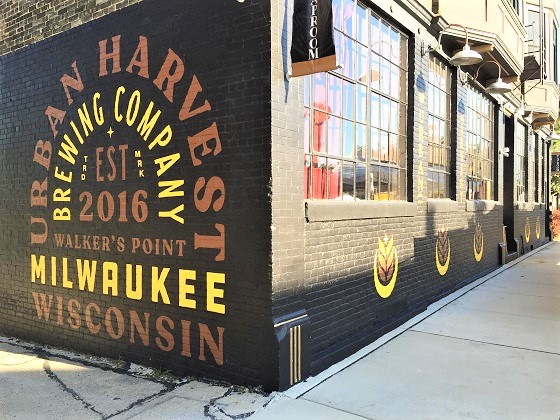 Smart Growth
Can you speak to your growth to this point and why you think it will continue?
We've been pretty conservative financially up to this point, which puts in a good position for smart growth. UHBC will grow in steps that will be made as we assess where we are – and where we look to expand.
Where can you be found on the internet?
On our UHBC website: www.urbanharvestbrewing.com/ and on Facebook: www.facebook.com/urbanharvestbrewingco. Also, on Twitter: https://twitter.com/UrbanHarvestBC