Our most recent interview in our small business success series is with Paul Hadfield from Revzi. Revzi is a small business helping other small businesses grow!
Paul bought a brushed aluminum sign to display his company name inside the company office and clear window decals for branding.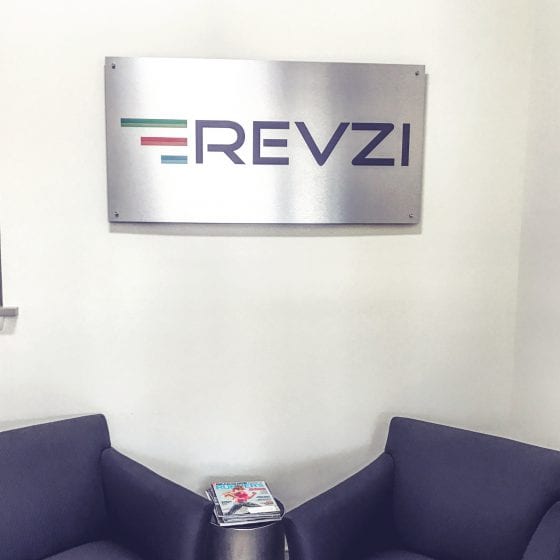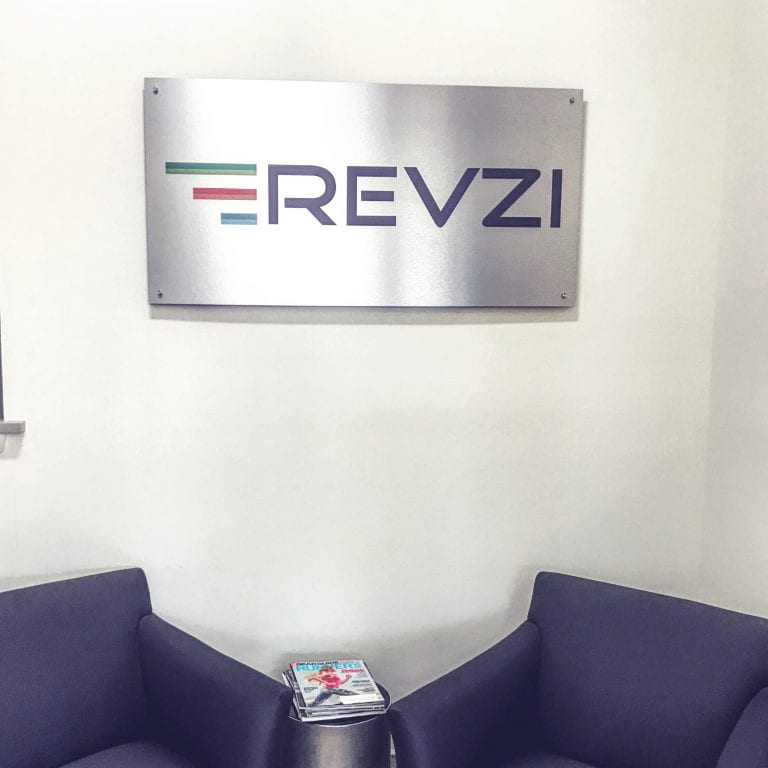 Tell us about yourself.
I love building businesses and helping others do the same. I'm fortunate that my favorite hobby is growing Revzi, so I wake up every day excited to start. I'm obsessed with making every minute count, so I don't like a lot of down time. When I do, it's spent with my beautiful wife Cassie and my incredible daughter Scarlett.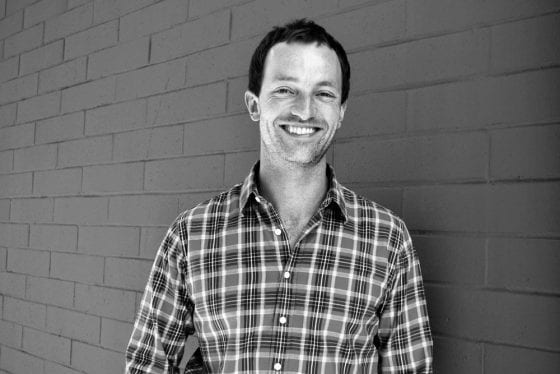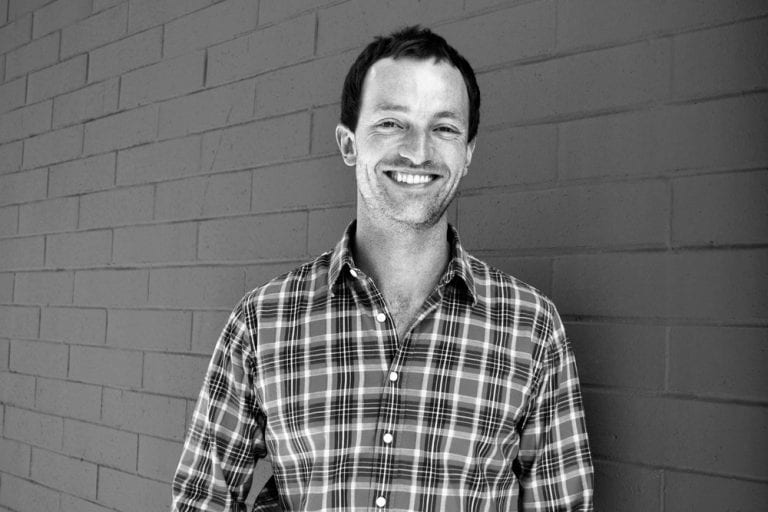 Since growing businesses has become a hobby, how many businesses have you helped grow? Did you know this is something you always wanted to do or did you stumble upon it through an opportunity or chance?
This is my second business. I ran my first company for 9 years and sold my shares to my former business partner. Prior to that I had a series of commission only sales roles in my early 20s that taught me that a college degree doesn't determine your success. The level of work does.
With having a wife and daughter, how do you balance work and family time?
I'm not sure I would ever say that any entrepreneur has a balanced life. However, I continue to try to find the best way to always give as much as I absolutely can to both my family and my work. The best hack I've made so far is to eliminate all the things in my life that don't benefit either.
What does Revzi do?
Revzi helps small to medium-sized businesses build their brand online and turn potential clients into paying customers. Through internet campaigns and custom software, we help our clients better understand their own customers and improve operational efficiency to grow sales.

We are currently headquartered in Chicago, Illinois and will be opening branch offices in Denver, Colorado and Irvine, California by the end of 2017.
Does Revzi specialize in a specific niche of business or is it any business? You mentioned making it affordable for business owners to market their business. How do you price your services? And are your services based on month-to-month contracts or does it vary depending on the client?
We work with restaurants, retail, and service industries. Our pricing comes in different packages, but we feel we can provide a lot of value on most every budget. We do have some services that are month to month, and others that require a 12 month commitment.
Where did the idea for your company come from?
Revzi was created to help our clients focus on the things they want to do most, which is run their business. Many business owners do not have the time to or money to market their business properly or accurately analyze what parts of their business are working and what aren't. We've spent years crafting on offering that helps them do both on a budget that's affordable.
How long would you say it took Revzi to start making a profit, and was it just you who started the company or did you have other people want to join in from the beginning?
It was just me in the beginning. I didn't take a penny of income from the company for its first 18 months in operation. The company became profitable relatively quickly, but everything is put directly back into the company so we can continue to scale at a rapid pace.
What sets you apart from your competition?
The internet has changed everything. Small to medium sized businesses can now compete with national corporations if they understand how to target the right buyers, compel them to purchase, and use the right tools to monitor and analyze customer activity. Revzi's mission is to help our clients do so.
There are other marketing and branding companies out there. What makes Revzi different?
We provide the most transparent, cost-effective solutions for small businesses. And, the level of our support and customization we provide our clients is unparalleled.
What is one strategy for gaining customers that you have been successful with?
One avenue that has proven to be successful is social media sponsored campaigns. By using "look-a-like" lists that target other consumers that fit the characteristics of our ideal clients we have been able to capture the attention of many new customers. Coincidentally, this is a service we also provide to our own clients. In addition, if we find a customer that we think would benefit from our services, we'll either send them an email or pick up the phone to introduce ourselves.
Is there an area that you've struggled with in regards to customer acquisition that you believe is critical to future success? If so, how are you overcoming that?
We deal with the same challenges many B2B companies do, and the most common in customer acquisition is competition. When we first talk to a prospect, we need to provide compelling reasons why they should spend their valuable time meeting with us to learn why we might have a solution better than their current one. And, if given the opportunity to continue the discussion, we need to back up the same idea. Perfecting our prospecting approach has been just as critical as building out our suite of services.
How do you compete with the bigger competitors that are similar to yours but have a recognizable brand and large marketing budgets?

By focusing on small items that larger competitors don't, like white-glove customer service and more customization within our offering.
What is one of the biggest challenges you have had with your business and how did you overcome it?
It's easy to keep going when things are good. But when nothing is going right, that's when many want to fold. The biggest challenge is always focusing on the end goal and staying positive through every bump in the road.
If you could rewind time is there anything you'd do differently? If so, what?
No. I have no regrets. I always try to look forward.
It's really neat that you don't have any regrets! Are there any hiccups along the way that you learned from? If so, can you give us an example?
Don't hire anyone that isn't a 100% culture fit for your business. Trust your gut. If you find one little thing that you are letting yourself overlook, it will come back to haunt you.
If you had advice for other SMB owners, regardless of the industry, what would it be?

Focus on your strengths and not your weaknesses. If you are good at sales but terrible at accounting, find a good CFO and be the sales manager. Your business will flourish if you surround yourself with those that fill in where you are weak; just don't hire someone to replace you with the skills you are already the best at.
How do you "WOW" your customers?

We've put together a series of products that costs much less than most expect given the value of what they provide. And, we have an incredible team of consultants that work tirelessly to help our clients grow their business.
What do you think the future holds for your business?
We'll continue to expand across the country and help as many businesses as we can.
Without sharing detailed financials can you speak to your growth to this point and why you think it will continue?
We've grown from 2-14 employees in 13 months, and we will triple in size this year.
Where can you be found online?
Website: www.revzi.com
Instagram: https://www.instagram.com/gorevzi/
Twitter: https://twitter.com/gorevzi
Facebook: https://www.facebook.com/gorevzi
Editor's Note: We would like to thank Paul for setting aside the time to do this interview with us in the midst of his busy schedule. Paul's perseverance and discipline as an entrepreneur has helped Revzi to flourish. Revzi's ability to cater to multiple industries is a key factor in how the company has been able to profit quickly. With a completely customer-centric experience, Revzi tailors its services to the need of the individual client. This 'white glove' customer service model gives Revzi the upper hand on larger corporations that offer similar services. Small businesses thrive when they can offer customizable, quality services. Efficient customer acquisition through quality prospecting and sound sales pitches are also one of the many ways Revzi is growing rapidly. Employee culture also adds to Revzi's growth; having employees that are a perfect fit really is crucial for running an effective business. Revzi's growth is exciting to see and we wish Paul and the rest of the company great success as they look to expand to a multi-city operation.