In the latest edition of our Small Business Success stories, we talked with Jesse Jones-Patrick. Jesse is one of three sisters who started and continues to run Pretty Pallets.
Jesse purchased an ultra-portable retractable banner to help showcase the Pretty Pallets brand as it travels around the Pacific Northwest.
Tell us about yourself.
I am the middle daughter of 3 girls, originally from California. My husband and our gaggle of pets moved to Southern Washington in April of 2016 to be closer to my sisters. I graduated from American Public University in 2015 with a bachelor's degree in IT Management and worked in tech for Seagate and Google for several years before starting Pretty Pallets with my sisters. I was originally a photography major until I realized that art was likely not a sustainable income or profession. I've always loved DIYing, decorating, crafting, baking, etc., so when the opportunity presented itself to start a small business for other like-minded people to enjoy, we jumped on it.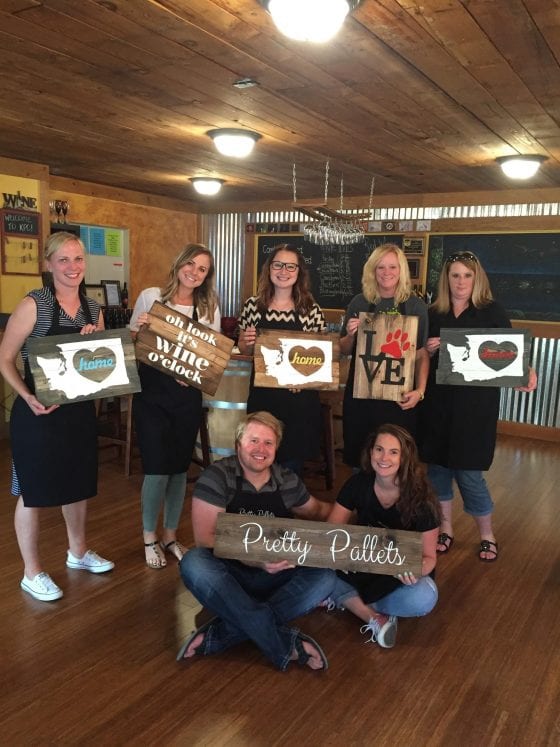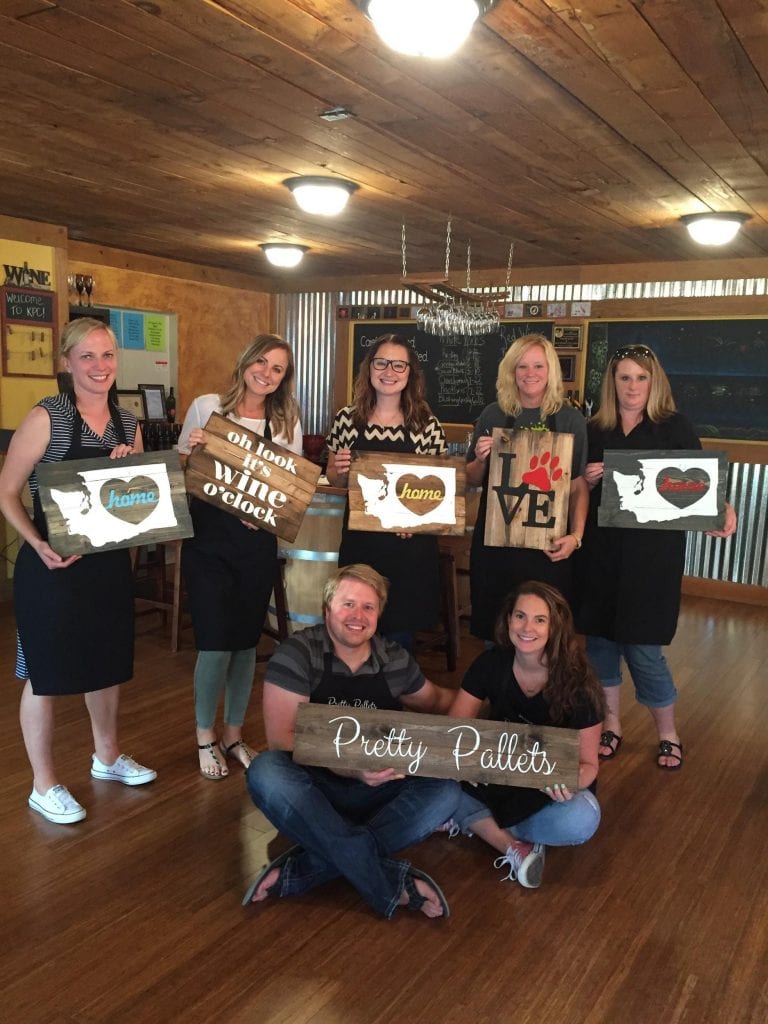 How and when did the opportunity to start Pretty Pallets happen?  
The idea arose in December of 2014 when I wanted to attend a pallet party but couldn't find one anywhere near me. I pitched the idea to my sisters and they loved it. We really didn't love the idea of the paint and sips where everyone painted the same thing, and then tucked it away in their closet afterwards. We wanted something people loved and they'd feel proud displaying in their home.  
What does Pretty Pallets do?
Pretty Pallets offers in home/on location pallet painting parties. My sisters and I take wood shipping pallets, disassemble them, sand them, assemble into 11×16" signs, and stain them prior to a party. We work with each guest to find a stencil design that fits their style or we design one for them.
We partner with wineries, breweries, and local craft rooms to host public parties. We travel for every party and host private parties in our customers homes. We provide everything the day of including instructions to make a unique piece of art people actually take pride in, all the materials needed, set up and clean up, and all in a fun, stress-free environment.
We also sell our hand painted signs nationwide through Etsy.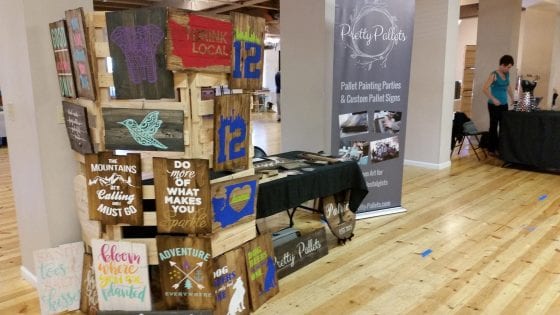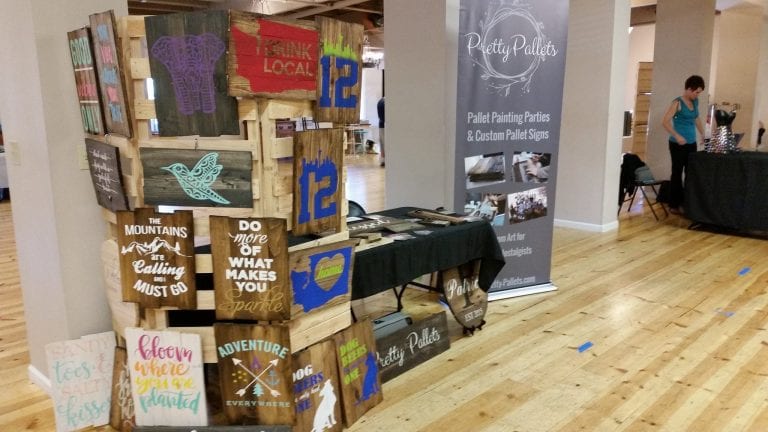 Where did the idea for your company come from?
I had seen pallet parties popping up in the Midwest, and when I went to find one near me, there were none. I was never a huge fan of the paint and sips because they were never something I'd truly want to hang in my home. The pallet sign idea was so unique and it's definitely something I would hang in my home (and I now have several).
What sets you apart from your competition?
The fact that we travel seems to be one of our biggest advantages. We don't take on the added expense to rent a studio that requires people come to us — we go to our customers. This can present a few obstacles with lighting and seating, but we've always made it work and our customers feel so much more at ease and relaxed in their own home (or their friend's house).
Since we also partner with breweries and wineries, we're able to offer food and liquor without needing a license. Most of our public parties are after work, so it's a wonderful way to unwind, have dinner and drinks prepared for you while you're painting a pallet.
How did you approach these breweries and wineries? Did it take much convincing?
I have a background in partner acquisition, so this partnership opportunity was really twofold. We partner with breweries, wineries, and restaurants on their less than busy nights — which could bring in an additional 10-12 guests who will be purchasing food and drinks. It's really a win-win for both of us. Once they host their first event, each place has requested to book us again. It's also a fun event the restaurant/winery/brewery gets to take credit for putting on for their customers.
What is one strategy for gaining customers that you have been successful with?
Social — meeting your customers where they are. I was a bit hesitant because I didn't want our social platforms to replace our website (which we worked VERY hard to build). Getting in front of people where they already are takes little time for you as a business owner but removes several steps for your customers to find you. It really pays off in the long run.
Photos speak 1,000 words, and that couldn't be more true for our success. We take photos of every party and post a special album on Facebook. Our party hosts like and share, and it exponentially increases our reach. It's the best form of marketing, and it's free.
Is there an area that you've struggled with in regards to customer acquisition that you believe is critical to future success? If so, how are you overcoming that?
When we first started out, I was living in the San Francisco Bay Area, and I was working for Google's Small Business Marketing Department — so you'd think I'd have an upper hand on customer acquisition and know the "secret sauce." I thought I did too — and then I realized the Bay is so incredibly concentrated that it was really difficult to get a foothold. When my family moved to a small town in Southern Washington, word of mouth and networking proved to be our best acquisition strategy, along with good experience and customer reviews. Since then, it's been a snowball effect of business success and growth. We do monthly drawings for gift cards if someone reviews us, and we offer referral discounts and coupons to encourage people to spread the word. We also run a lot of "Like & Share" social posts to get traffic to our site and our Etsy store. Our network will only extend so far online, but our followers have the potential to take us to new levels, and we give them opportunities to and reward them accordingly.
How do you compete with the bigger competitors that are similar to yours but have a recognizable brand and large marketing budgets?
We offer a more intimate experience than some of the larger big-box organizations are able to offer. When you talk with us via social or email, you're likely speaking with one of the owners. There's a lot less "red tape" and policies to adhere to (since we're the ones that make them, we can break them for our customers). We stand by our product and our customers — if someone isn't happy, we're not happy. We don't just sell products — we sell experiences, and we want everyone to always have a positive experience with Pretty Pallets.
Can you walk us through a Pretty Pallets party from beginning to end? And what do you do on your part to ensure your customers have a positive experience?
When guests arrive, we introduce ourselves and encourage them to pick their pallet (each pallet is unique and we offer 3 stain options). We provide both written instructions as well as a verbal and visual overview of the 4 steps to pallet painting before we hand out their stencils. We like to keep our events more of a "party" style rather than interrupting the flow with constant instructions. We then walk around the room to ensure everyone is receiving the assistance they need and answer any questions. We work on keeping the mood light, positive, and fun, and reminding everyone they're here to have a good time.
What are the biggest challenges you have had with your business and how did you overcome them?
Originally one of the biggest hurdles was the paperwork with the city/state. Filing it was clumsy and bureaucratic. It seemed like they didn't want me to start a small business and were destined to deny me. But I digressed and persevered, and alas Pretty Pallets was born.
Another challenge has been the minutia of it all. We're a very, VERY small team, but sometimes it looks like we're a much larger, more staffed team. So in the beginning I was available just about 24/7 so we wouldn't miss a sale, or a party opportunity — and that was very taxing on me and my family. Hiring efficient people with the same desire to succeed really helped take a lot of stress off me. Also setting your customers expectations for when you're available also really helped relieve some of the stress and anxiety.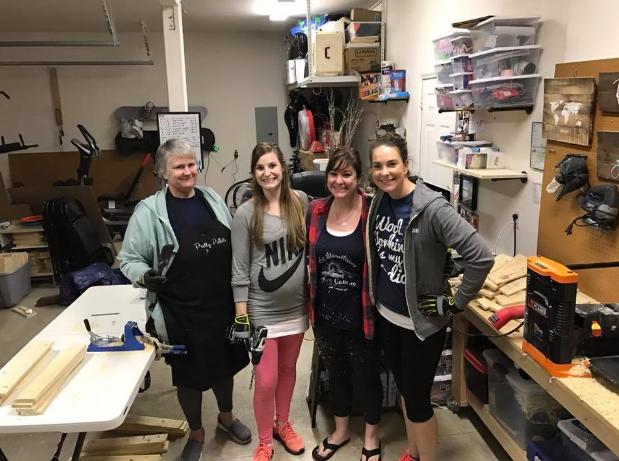 If you could rewind time is there anything you'd do differently? If so, what?
Not really — I'm a pretty big advocate for everything happening for a reason, and without it, you wouldn't be where you are today, with the same knowledge you've garnered from your experiences, regardless of if they were good or bad.
If I really had to say, I may have hired someone sooner. I was trying to save money, and stretch myself as thin as possible (free work is free work, right?). Now in the long run, we run so much more efficiently and we're able to accomplish even more now, which means more potential revenue.
If you had advice for other SMB owners, regardless of the industry, what would it be?
Don't give up.

Have patience.

Take pride in what you do.

Understand that your business is a living, breathing, growing thing and it will change. Be open and willing to accept change.

Growth is good — but it comes with growing pains. Knowing that upfront helps you to prepare for it, recognize it, breath through it, and hit it head on.

Don't be afraid to take risks.

Don't feel like you can't move forward until you have all the minutia figured out. Take the leap and let things fall into place over time.

Sometimes it's important to take a step backwards in order to take 2 forward.

Don't give up (in case you missed it the first time).
How do you "WOW" your customers?
We take quality incredibly seriously. If it's not something we're happy with, we don't release it — to Etsy, or out to our parties. We have incredibly high standards, and if it's not something we would personally pay for, or hang in our homes — it doesn't leave our workshop.
We really try and do everything for our customers as far as set up/break down and clean up, and leave them with an amazing experience they didn't have to work TOO hard for. We know people are busy, and we really want to offer them a fun and relaxed environment to be crafty and respect their time. We're thankful they choose to spend that time with us.
What do you think the future holds for your business?
This is still a pretty new idea out in the Pacific Northwest, so we're finding a lot of people really enjoying it, booking more parties, and telling their friends who are booking parties. If paint and sips are any indication that people have a desire to craft, I think we'll continue to grow and expand into new regions.
Without sharing detailed financials, can you speak to your growth to this point and why you think it will continue?
We are coming up on our first full year of launched parties and we've grown a lot. We hired our first employee in September who works with us full time. She helps us manage our Etsy store and designs all of our custom stencils for parties, for both our Seattle and Portland locations. Last year, our goal was to host 10 parties in the year; we ended up hosting 36. We hit our revenue goals by 3x our initial projections. And we sold over 600 signs on Etsy — an aspect of the business we hadn't really planned on.
We are looking to continue our expansion by adding consultants to help with the demand of our parties. Our biggest struggle right now is keeping up with the demand. We are currently booking 3 months in advance.
Where can you be found on the internet?
Website: www.Pretty-Pallets.com
Etsy Shop: www.etsy.com/shop/ThePrettyPallets
Facebook: Facebook.com/PrettyPalletsPortland
Pinterest: Pinterest.com/prettypallets
Twitter: twitter.com/PrettyPallets
Instagram: www.instagram.com/theprettypallets/
Editor's Note: Thanks so much to Jesse for taking time out of running a business, hosting fun parties and making beautiful pallets to talk with us about her business. Like Jesse, any small business can find success through social media marketing and outreach, allowing them to advertise directly to their customers. The personable nature of social media can be utilized to interact one-on-one with current and potential customers, allowing you to know how to best cater to their needs. Jesse's idea of selling experiences, not just products, is an exceptional practice that can transform a business from solely a money maker into a customer orientated, experience building organization. Pretty Pallet's strategy of partnering with local breweries, wineries, and restaurants is a perfect example of how a small business can find success in a business partnership. Work with local businesses to create unique opportunities for customers to enjoy services from both entities. Jesse, your business can be used as a model for success. I know we enjoyed working with them, and I'm sure everyone who does in the future will as well. Good luck to you and your sisters with the future of your creatively fun business!