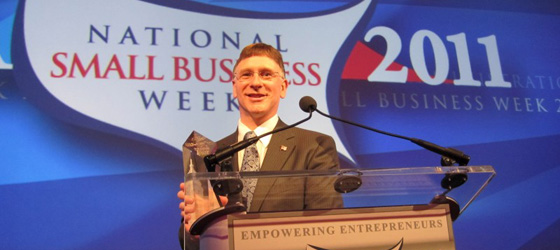 Last week I had the pleasure of speaking with Rick Cochran, President and CEO of MMIC (Mobile Medical International Corporation). Mr. Cochran was named the 2011 Small Business Person of the Year by the U.S. Small Business Association. He has also received many other awards for his contributions to business and community and in 1999 was inducted into the Smithsonian's National Museum of American History in Washington, DC.
Every small business owner has struggles and worries that keep him up at night. Some businesses succeed; some fail. I asked Mr. Cochran if he would share with us some of the basic principles that he believed attributed to his success and helped shape him and his company into what they are today.
Cultivate Relationships and Build Trust
Mr. Cochran spent several years working in the healthcare industry prior to founding MMIC. During his work with one company, he met with vendors in order to convince them to let the company carry their product lines. During that time he learned that his reputation and character were the most important factors in gaining trust amongst those with whom he wanted to do business. He cultivated relationships that paid off—every supplier he contacted signed up.
Later, Mr. Cochran founded a healthcare consulting company that provided ambulatory surgical centers (precursors to the products developed by MMIC) to physicians and facilities around the country. He worked closely with private physicians to gain their trust and form a strong reputation. Those contacts and the relationships he built during that time would later prove to be indispensable.
When MMIC was in the planning stages it quickly became clear that capital was needed. Mr. Cochran sent a letter to 70 physicians with whom he had worked in the past. This is not generally considered an effective strategy – advertising agencies tell clients to typically expect somewhere between a one-half percent and three percent response to such letters. Mr. Cochran received a 50% response – 35 physicians responded positively. This success was due in part to the individual trust level that Mr. Cochran had previously formed with those people.
Solve a Problem for Success

While working in the healthcare arena, Mr. Cochran often spoke with physicians, some of whom worked in small rural communities and other locations where patient volume was low. The physicians often brought up a dilemma they faced: they really needed surgical facilities, but simply didn't have the case volume to justify the enormous investment that such equipment would cost.
People often wish they could start their own business, but they have no idea what that business should be. Mr. Cochran told me, "When you hear of a specific problem more than a couple times, find a solution and you've got a business."
The problem was clear: physicians needed low-cost surgical facilities. Mr. Cochran had an idea for a mobile surgery unit (MSU) that would solve that problem. He founded MMIC in 1994. Since that time, the company has found many other markets with similar problems and it now offers two product lines. The first is a commercial line that serves rural communities, hospitals who need temporary solutions during renovation, communities who are engaging in disaster preparedness and others in the private sector. The second product line provides both U.S. and international military units with shelter solutions for a variety of purposes.
Balance Work and Family
New business owners often work 60-70 hour weeks, especially during the first few years. When you've quit your stable job and invested money into a new enterprise, it's terrifying to think about what will happen if the business fails. Many owners respond to this stress by working obsessively to the detriment of all other aspects of their lives. But ignoring your family deprives you of one of the things you need the most: love and support.
Mr. Cochran told me that making the transition from a stable salary to self-employed was scary, but that the support he received from his family was invaluable. He remarked on the importance of balance, "You have to keep a balance between work and your family. You need support from the home front in order to be able to grow a successful company, but it's also important to stay involved with your spouse and children. Those relationships matter most."
Take Creative Approaches
Mr. Cochran has managed to draw some of the most talented people in the field to work for MMIC. The executive and sales teams at the company are comprised of accomplished, experienced people. Board members include former Secretary of the Veterans Administration, R. James Nicholson, and Paul K. Carlton, former Surgeon General of the U.S. Air Force. Both of these respected, knowledgeable men work closely with MMIC in strategic business development. Mr. Cochran was able to draw successful people to MMIC by using creative approaches, "It's not just about the money. You have to put a package together that inspires and excites people to work with you."
At one point, the company experienced a shortage of available cash and it became difficult to pay employees. For awhile, employees worked without pay. How did MMIC avoid losing talented people during this time? The company took care of its people and treated them like family. And MMIC came up with a creative solution to a big problem: employees who were willing to see the company through a rough patch received bonus pay and stock in addition to past wages.
Have Passion for Your Business

I asked Mr. Cochran what advice he would give to someone who is contemplating opening a small business. He said, "I've watched a lot of businesses come and go. People have a neat idea, so they start a business. But one year later it's gone. They don't realize the enormity of the challenges they'll face. You can't do this half-hearted – you have to be all in." This kind of passion and dedication has made Rick Cochran a successful small businessman.
You can learn more about MMIC by visiting the company website: http://www.mmicglobal.com/