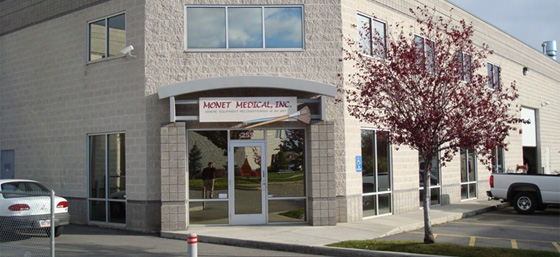 Each year, the U.S. Small Business Administration honors entrepreneurs from all over the country. One exceptional individual is chosen from each state to receive an award and special recognition during Small Business Week in Washington, DC. In 2011, Andrew Caprio, owner of Monet Medical, was chosen as the Utah Small Business Person of the Year. I met with Mr. Caprio last week to talk with him about his business success. He shared his story with me, and told me about the three rules he set for himself early on.
In 1997, Mr. Caprio attended a "How to Start Your Own Business" workshop at the local SCORE (Service Corps of Retired Executives) office. He was working for a company in the medical equipment industry, but figured that opening his own business might be a good "Plan B." After he completed the SCORE workshop, he began to draw up a business plan and think about the logistics of starting his own company.
In 2000, Mr. Caprio's employer filed Chapter 11 bankruptcy. As part of the restructuring of the company, his department was closed. He quickly garnered several attractive offers from other companies, but wondered if his layoff was actually a blessing; it might provide the perfect opportunity for him to pursue his own business.
The decision was difficult. Every prospective small business owner faces this dilemma in the beginning – take a stable job with a guaranteed salary, or take the risk of starting a company that might provide opportunities and personal growth that can never come from working for someone else. It's not a decision that can be made lightly.
When faced with life-altering decisions, Andrew Caprio relies on the strength of his religious beliefs to help guide him. He prayed and reflected on the matter until he was able to come to a decision that felt right. Equipped with his education and experience in the medical equipment industry and 10 months of severance pay, he set up Monet Medical in his basement on September 7, 2000.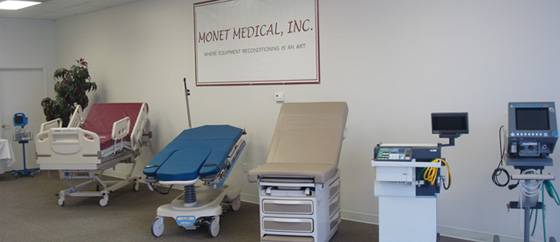 Monet Medical, Inc. purchases surplus moveable medical equipment (everything from portable defibrillators to hospital beds) from facilities all over the country. The equipment is then reconditioned both biomedically and cosmetically. The company slogan is "Monet Medical… Where Reconditioning is an Art" (The company gets its name from the impressionist painter Claude Monet). Mr. Caprio believes that each piece of equipment that comes through his business should be reconditioned with great care before it goes on to its next home. Equipment goes through a stringent reconditioning process that includes biomedical testing and calibration, paint, detailing, quality assurance and three separate inspections.
During the first year, the company reconditioned 771 pieces of medical equipment. After 14 months of operating out of Mr. Caprio's basement, Monet Medical leased its first small space in a strip mall. Business steadily increased and after nine years in business, the company was able to buy the building that is Monet Medical's home today. In 2010, the company reconditioned 4,868 pieces of medical equipment that will be used in hospitals, clinics, physician's offices and other medical facilities across the country.
Recently, Monet Medical added several new manufacturers to its product line, opened two new offices and entered some new markets: home healthcare, medical colleges and universities, and medical equipment planning/consulting. In addition, the growing company plans to welcome six new employees in the next few months.
From the start, Andrew Caprio set three rules for his business:
Pay the bills.
Never lose a sale because you can't afford it.
Never sell company stock.
This careful attention to finances has helped Monet Medical survive and even thrive during a recession.
I asked Mr. Caprio what he considered his biggest challenge as a small business owner. He told me, "It's important to realize that some decisions are bigger than you. Some of them are the kind of make-or-break decisions that have enormous impact on your business. While it can sometimes be advantageous to be conservative, if you're too risk averse you could miss out on an opportunity that will really benefit your company."
From humble beginnings as a small company operating in a basement, to winning the 2011 Utah Small Business Person of the Year award, Andrew Caprio has proven opening his own business was the right decision.