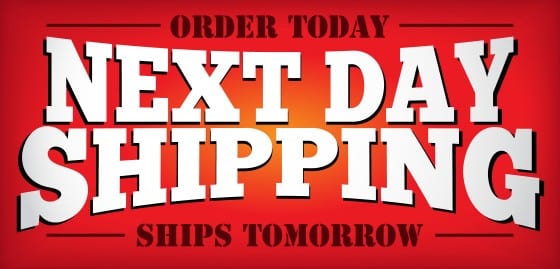 They say good things take time. But with world-class technology and production, that time can now go by pretty fast. Like one-day fast.
We are happy to announce that Signs.com is now offering one day production. This means that as long as you finalize your order before 5 pm EST it will ship out the next day!
There are five simple rules to our "Order Today Ships Tomorrow" production – no other fine print or too-good-to-be-true hidden policies! The five things to keep in mind are:
Orders will be shipped the next business day (Mon – Fri.). Holidays are 11/27/14, 11/28/14, 12/25/14, 1/1/15.

Orders after 5pm EST will be shipped in 2 business days.

One day production excludes unusually large orders. Please call us for details as signage needs and orders can vary greatly.

Excludes product offerings not listed on our website.

Excludes floor decals.
These exclusions can easily be found by hovering over the "details" of our Order Today Ships Tomorrow widget found throughout our website. This same widget includes a countdown timer until the next cutoff time.
You can now have your sign(s) in as little as two days by selecting overnight shipping when checking out!
With our world class production facility, price match and satisfaction guarantees, free professional design services and the easiest online sign experience on the web we hope this exciting announcement of our "Order Today Ships Tomorrow" policy will mean you join the thousands of happy Signs.com customers. We look forward to helping you design and get the sign you want … and FAST!