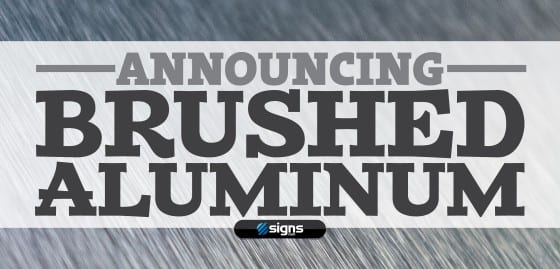 We are happy to announce that we now offer custom brushed aluminum signs. Like our standard aluminum signs the brushed signs are made of an E-panel material that consists of two thin aluminum sheets and a reinforced plastic core only our brushed aluminum signs are 3MM thick as opposed to our 2MM thick standard aluminum signs.
This material has proven to be very durable and light without losing it's aesthetic appeal. Here's what the E-panel material looks like: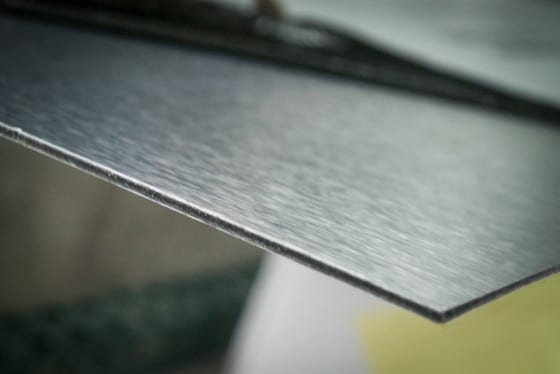 Below is a quick summary of the main things you should make note of as you create your own custom brushed aluminum sign.
Made from E-panel like our standard aluminum signs
Default is a "brushed' metallic look (standard signs are painted white)
White ink will not be printed. Any white that is part of your design will not print, but instead will take on the "brushed" appearance.
Available options for the brushed aluminum signs include contour cut, halo cut, drilled holes, round corners and standoffs. The only one that isn't available for the brushed signs that is available for the standard aluminum is double sided. The brushed aluminum signs can only be printed on one side.
Our design tool will default to a "brushed" background. You can still upload your own logo or file if you want a part of your final design to be a solid color instead of brushed in appearance. This default background can be seen below.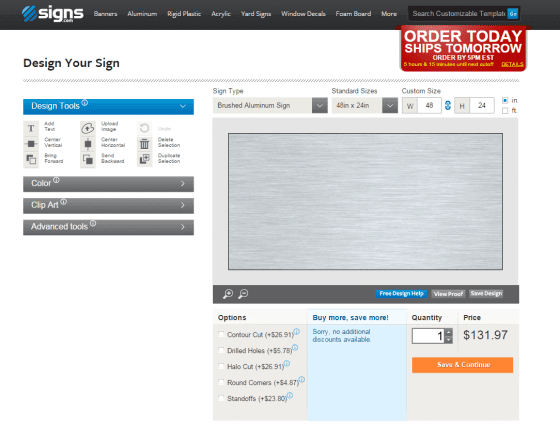 Your brushed aluminum sign can be used in a variety of ways including as branded signage for exterior and interior use. These can be displayed outside your building or even in the lobby or reception area. These signs also work great for directional usage, directory signs and even restroom signage. They also look great in the home as home decor or pieces of art. We've included some examples of these beautiful signs below. You can also click over here for a more in-depth look at the difference between brushed aluminum and standard aluminum signs.