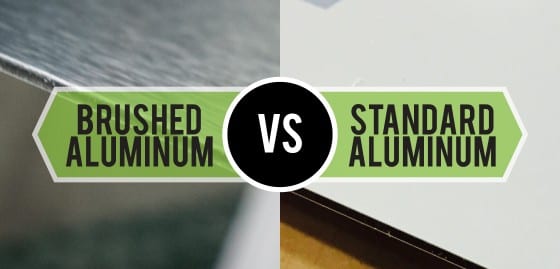 In today's Signage 101 post we discuss the difference between a standard aluminum sign and a brushed aluminum sign. We offer both of these types of metal signs and while they are fairly similar in most aspects, but there are a couple of major differences that you should be aware of before deciding to buy one or the other.
In addition to today's explanation of the differences between the two types of aluminum signs we currently offer more information that can be found on their respective product pages here: aluminum signs and brushed aluminum signs.
First, let's quickly discuss the similarities between these two types of aluminum signs. Both signs are made from a material known as E-panel. E-panel consists of two thin aluminum sheets with a reinforced plastic core. The plastic core is polyethylene, which is a hard plastic. The plastic core makes both types of metal signs significantly stronger and more durable than your typical aluminum sign that only consists of a thin aluminum sheet. The E-panel aspect can be seen in the pictures below.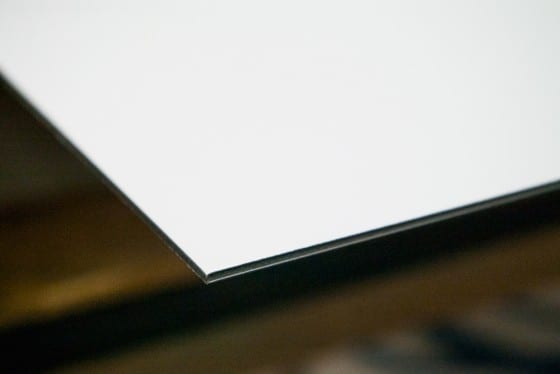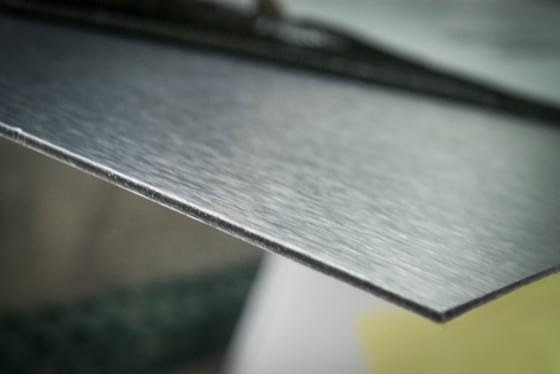 Both types of signs are for all intents and purposes identical in terms of functionality. Both can be used inside and outside. Both signs can be attached or affixed in a variety of ways but are most often posted using drilled holes (an option we provide during the design/checkout process) and some combination of screws and washers. Lastly, both have proven to be a versatile and affordable signage option for a wide variety of businesses and homes.
Standard Aluminum vs. Brushed Aluminum Signs – Differences
The more important part of today's post is to discuss the differences between the two signs. While they are few they are significant.
Default Color & Appearance
The first major difference is what both the standard aluminum and brushed aluminum look like in an unprinted state. i.e. What the raw material would look like if you were to order each with nothing printed on it.
The standard aluminum sign does not have the aluminum look (most often described as silver or metallic) that is commonly visualized when aluminum is mentioned. Rather, our standard aluminum signs are manufactured with white paint on both sides. We then print your design onto the white surface. Thus, anywhere your design does not cover on the sign will be white in appearance and not metallic. This can be seen in the pictures below.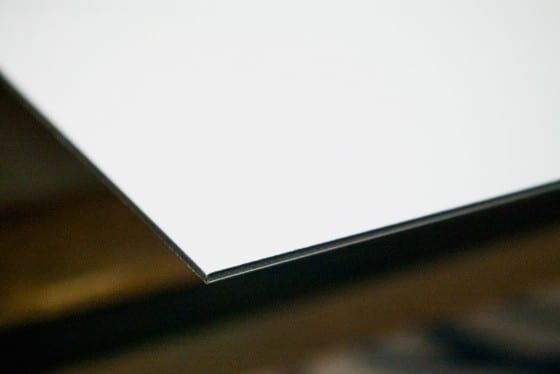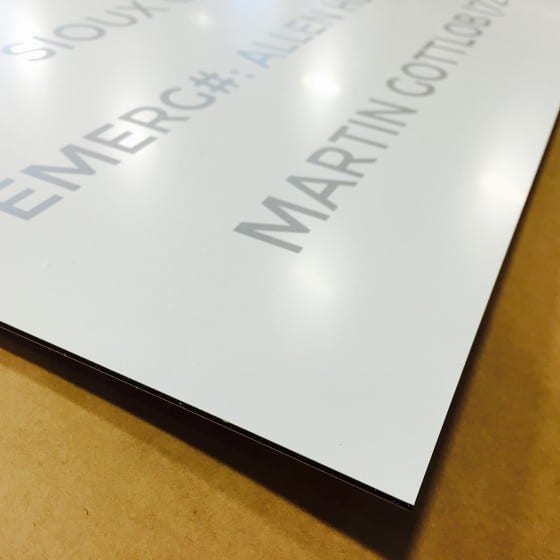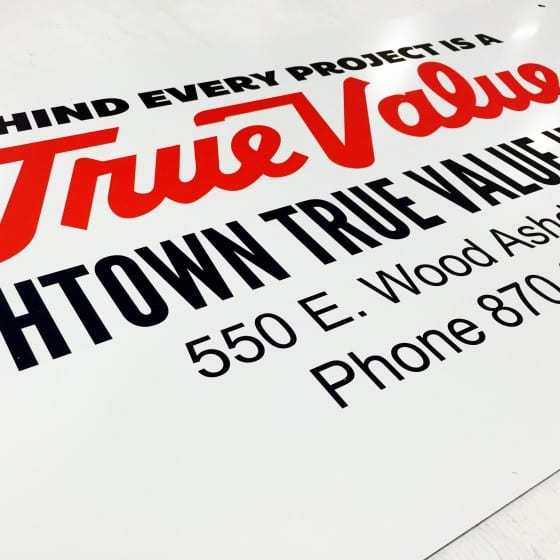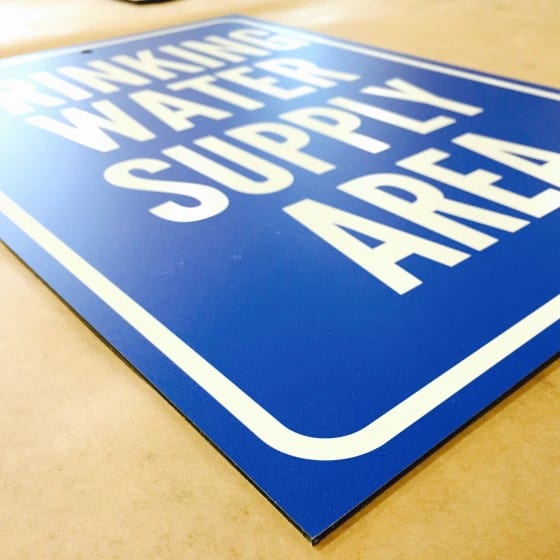 Alternatively, the brushed aluminum signs are not printed white and have the metallic look that one would envision for aluminum signs. But rather than a smooth metallic it is brushed in nature. This brushed appearance can be seen below.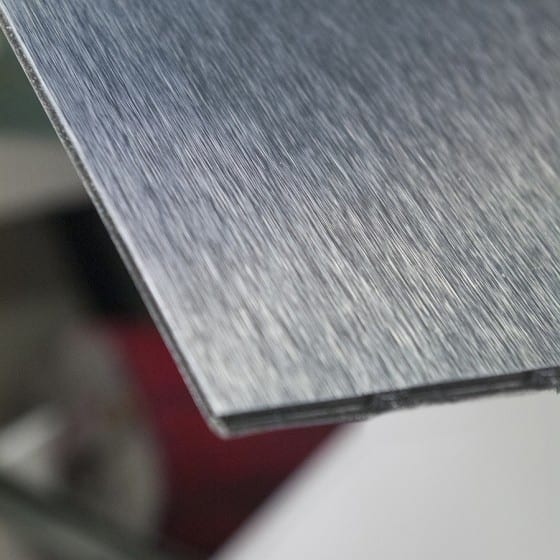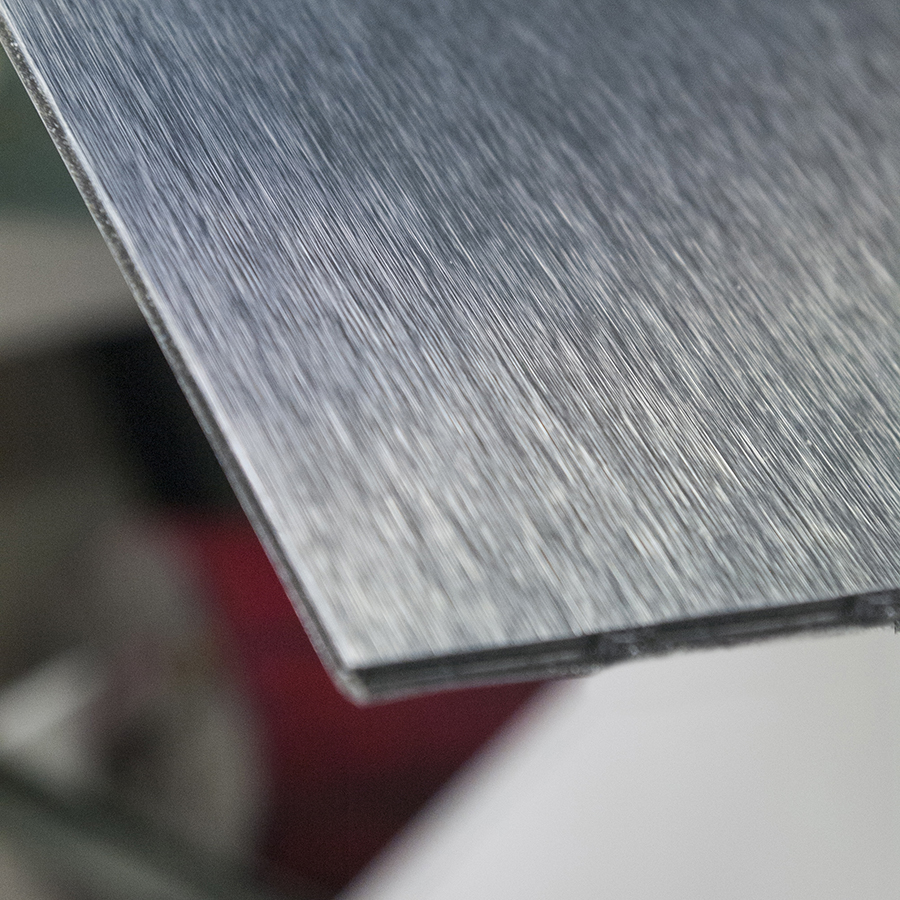 For both standard aluminum signs and brushed aluminum signs we will print directly onto the surface of the sign.
Thickness
Our standard aluminum is 2MM thick (.079 inches). Our brushed metal signs come manufactured at 3MM thick (.12 inches).
Double Sided Functionality
Another difference is the ability to print double sided signs with the two different material types. As alluded to above, the standard aluminum signs are manufactured with white on both sides to allow for double sided functionality. Our brushed aluminum signs do not have the capability of being printed on both sides. There is only one "brushed" side on which we will print while the back side of the sign (that in majority of uses won't be seen) will have a standard metallic appearance. For standard aluminum signs the "Double Sided" option is available to be selected both on the design tool and in the Shopping Cart.
White Ink Print Consideration
Because we print directly onto the surface of both types of aluminum signs there is one more major difference that needs to be taken into consideration. This difference is how white ink and thus any white part of your design is treated.
For standard aluminum signs because the surface of the sign is white before printing your design, any white element or portion of your original design will come through as white. Our printers will print everything as normal and recognize that the white portion of your sign can simply use the existing white of the sign.
For brushed aluminum signs, white ink is not printed. Because the printers use CMYK colors and the surface is not originally printed white, no white will be included in the actual printing of your design. Any white portion or aspect, no matter how big or small, will not be printed white but rather retain the brushed appearance where it would have been white.  This critical difference can be seen below where the original picture is on the left and the printed version on brushed aluminum is on the right.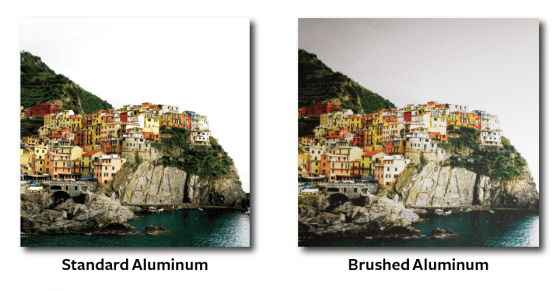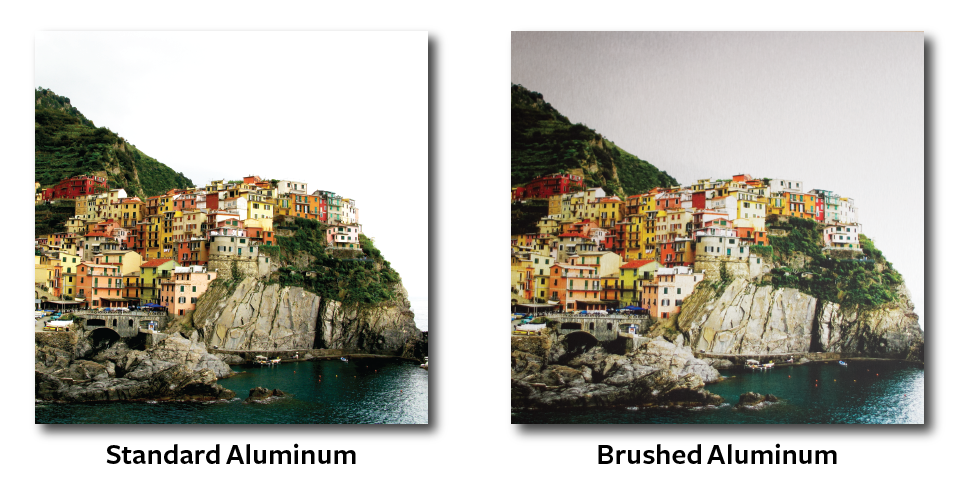 With the pictures above one can see where the original white instead has a brushed look when printed.
With a clear understanding of the default material appearance of standard and brushed aluminum and how white is treated in the printing process you can rest assured you'll get the look you'll want. Whatever your vision, we're confident that Signs.com will be able to help you achieve it.
Get started on your sign today by jumping over to a product page – aluminum, brushed aluminum – browsing our customizable sign templates, uploading your own file or contacting us for free design help.